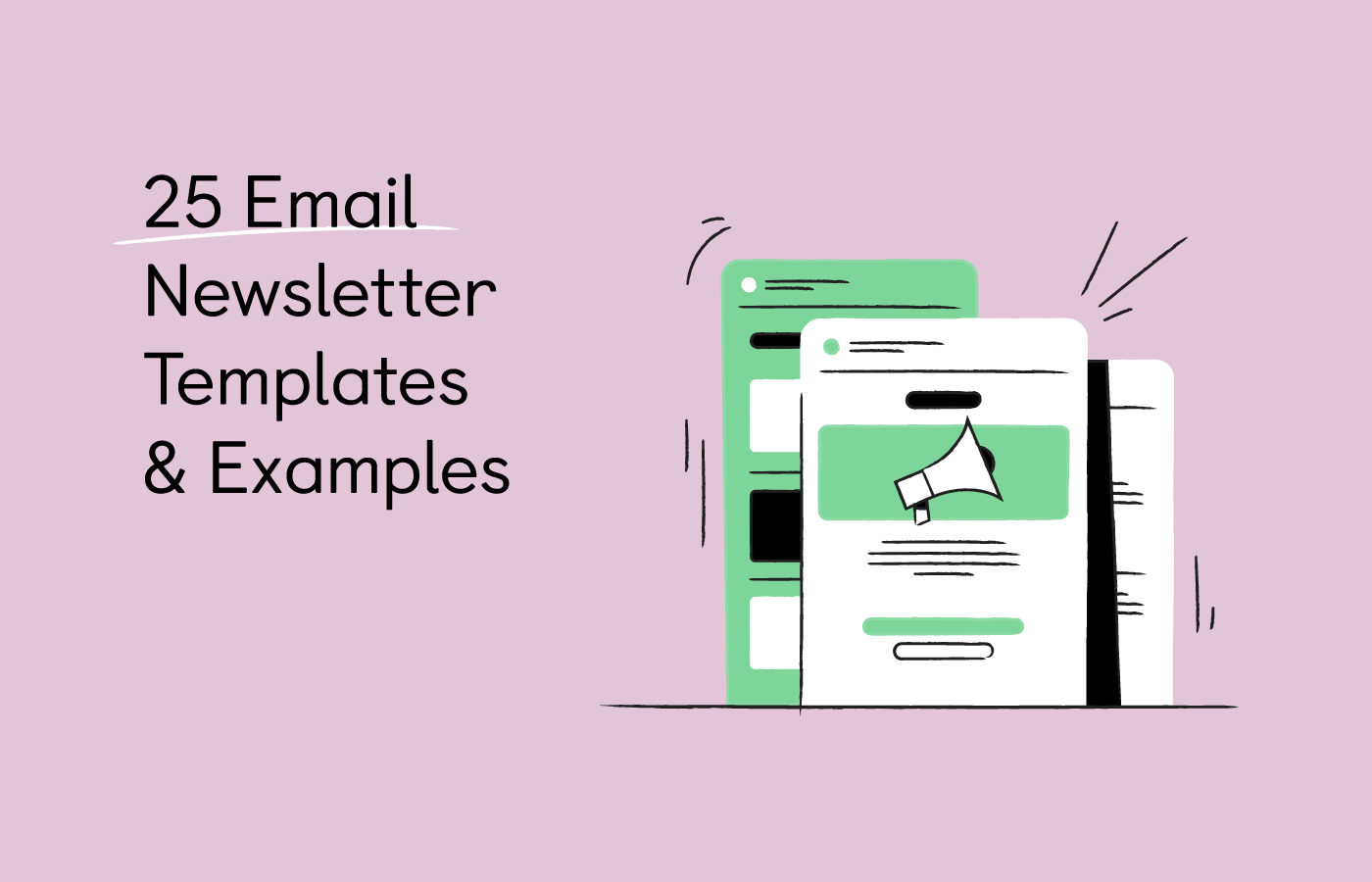 Want some help with email newsletters?
If so, you'll find great email newsletter templates here (if you're a Shopify store owner, you can customize and use them, too). We've added email template tips to help you make beautiful and engaging newsletters.
But there's more. How about seeing how others employ these tips? If that sounds good, take a deep dive into the newsletter examples section. But stick around until the end: there's a compilation of useful email marketing resources for entrepreneurs and marketers.
Jump to content sections:
Email Newsletter Templates
Email Newsletter Examples
Email Newsletter Examples
We've collected 15 email newsletter template designs from Firepush Email Marketing. Note that Firepush works only on Shopify, so using them requires a Shopify store. But the best practices and tips apply to every platform ;)
Guidelines to use templates:
Add Firepush to your Shopify store [free]
Click Campaigns > Create New in the main menu
Choose, customize, and send your email to subscribers.
1. Sale Newsletter Template
This email newsletter template is perfect for ecommerce stores to announce sales. The message has a large hero image, which is great for displaying announcements and other messages.
Ecommerce businesses will also appreciate the two call to action buttons in this newsletter example ("Shop women" and "Shop men.") They encourage recipients to check out the sale, and the contrasting black color makes them impossible to miss.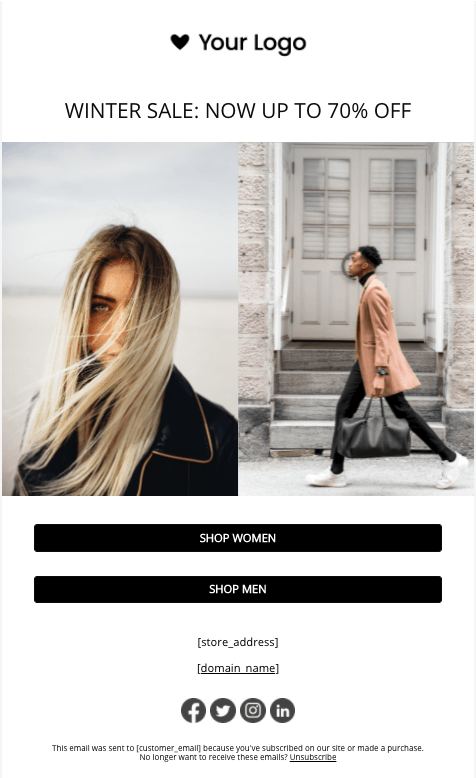 2. Promotional Email Template
With this email newsletter template, you can promote sales and promotional offers at your Shopify store. It opens with a message about the sale—great opportunity to motivate recipients to go see products.
To give customers a little taste, this easy newsletter template also includes a couple of discounted products. The prices before and after the discounts show how much they can save (41% of customers shop because of discounts, by the way). You can add more products, of course, as this newsletter sample is customizable.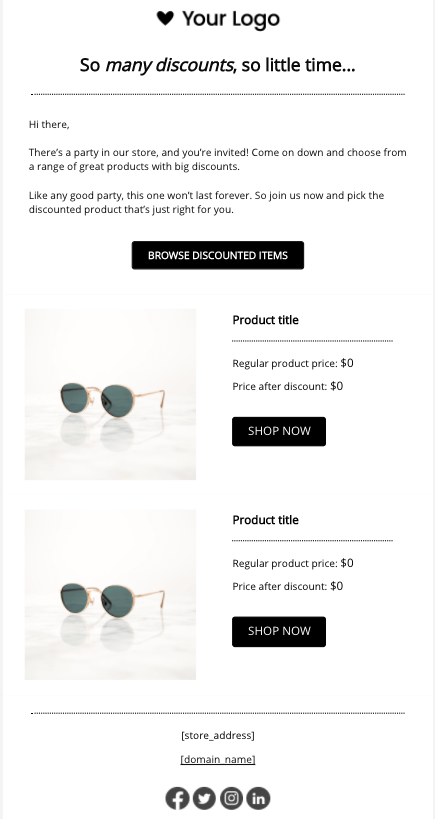 3. Email Template with New Product Arrivals
You can use this newsletter sample to update customers on new product arrivals. It opens with a quick message, so you can add a personal touch and write some words to encourage customers to engage.
To get people to check out the products, this email newsletter template design includes product sections. The original template has four, but you can add more. Just keep the number of products under ten—we don't want to overwhelm customers.

4. Marketing Email Newsletter Template with Special Offer
This marketing email template shares a sale promotion. You can use it to promote your offers and special deals, but it's also good for flash and sitewide sales.
Two great features to note in this online newsletter template. First: it's short & sweet, so you'll convey your message very easily. Second, the template has a section for a promo code or a discount to make the deal even more attractive.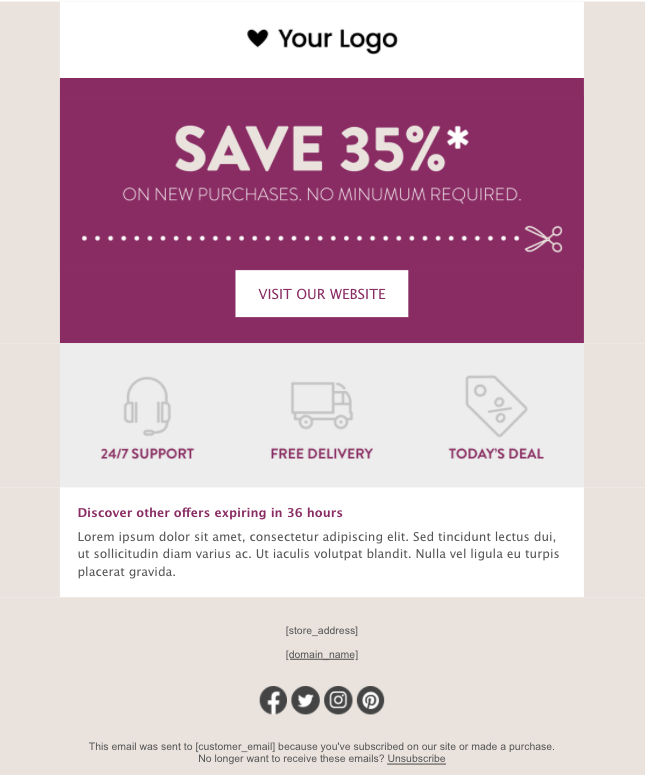 5. Retail Industry Newsletter Template
This email newsletter template is designed to drive customers to product pages. It has numerous content sections to raise awareness of many deals. There's also a large hero image with a free shipping announcement, which is a good way to grab attention.
You can use this newsletter template for different marketing purposes. Add popular products, and you'll make a great newsletter to drive sales. Want to encourage in-store visits? Place a section with in-store deals to get them interested.

6. Seasonal Sale Email Newsletter Template
Promote a bunch of products with this simple newsletter template. Write a compelling message to encourage customer engagement, add attractive product visuals to grab attention, and place some branding—and you'll have a beautiful email.
Ecommerce businesses from all industries can use this sample newsletter template. The email layout makes it work well in terms of product presentation and structure.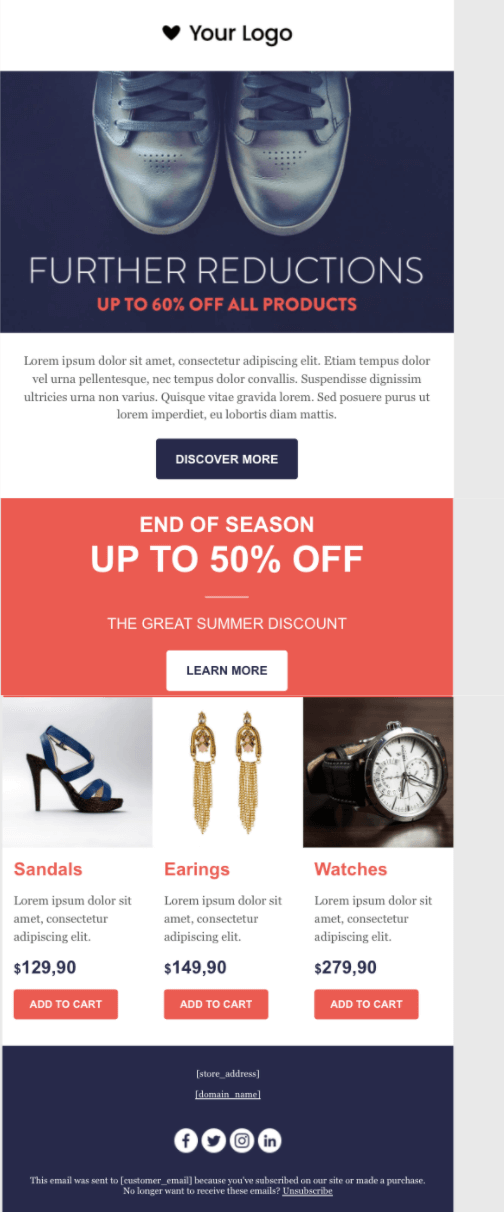 7. Product Email Newsletter Template
This newsletter template design is great for retailers to drive traffic to multiple product categories. It opens with a headline that conveys the main message, so the recipient doesn't even have to scroll down to understand what it's all about.
One great thing about this newsletter template is the use of white space. As you'll see in the email examples section, this technique is important to keeping readability high.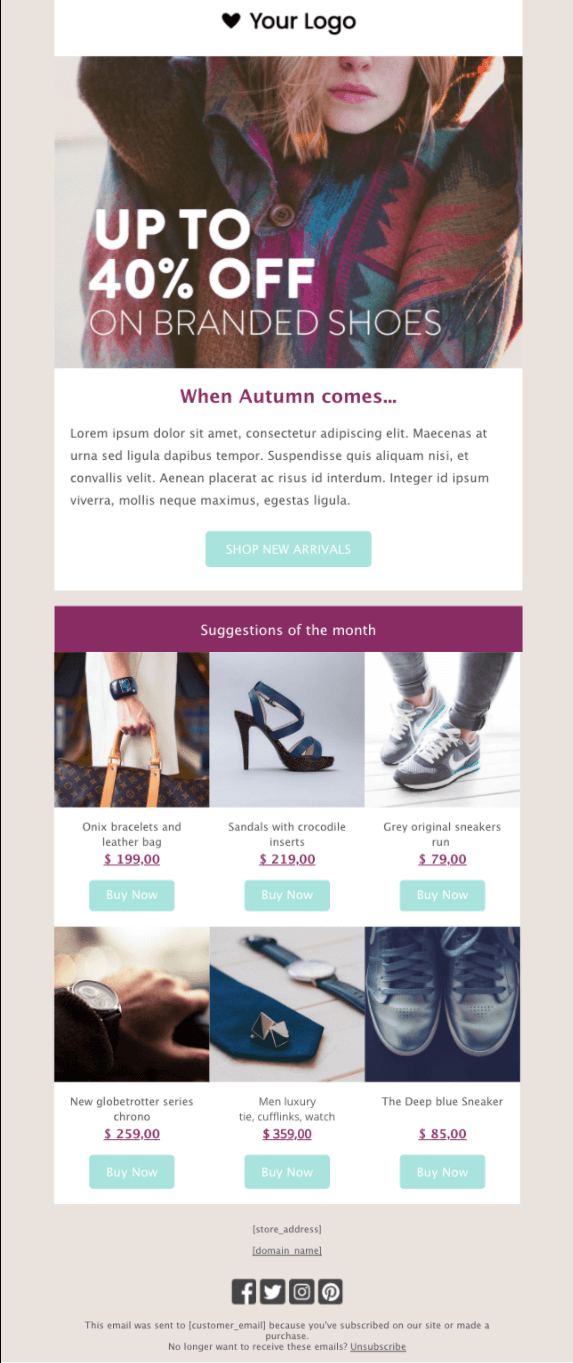 8. Personal Blog Newsletter Template
If you're looking for email newsletter templates to promote blog posts, consider this one. It's packed with different sections to share blog articles, ebooks, success stories, videos, and other content with readers.
Unlike marketing email templates above, this email design is content-focused. This means more parts with written content to allow sharing story previews.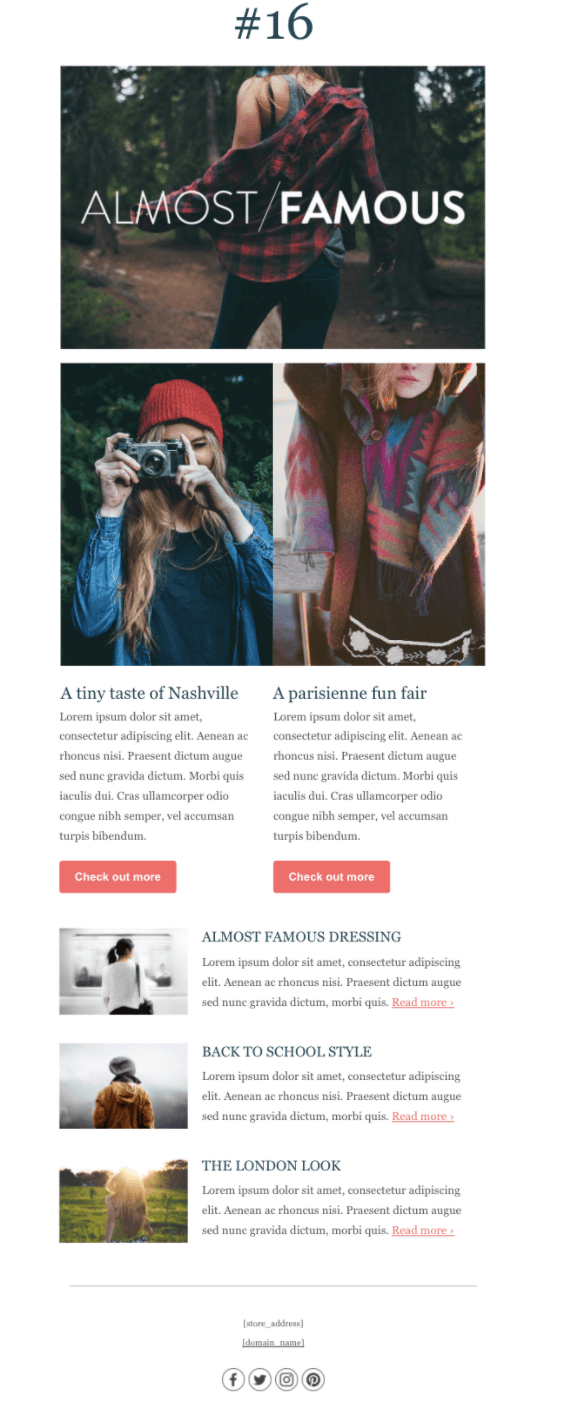 9. Blog Content Update Newsletter Template
Take a look at this email newsletter sample if you're running a blog. The layout allows sharing multiple types of content while keeping the message readable—a great quality of blog newsletter templates.
Owners of cooking blogs, for example, can send recipes, ebooks, articles, videos, and other content with this newsletter template. All they need to do is add visuals and short content descriptions.

10. Company Newsletter Template
Want to make a great first impression as a company? This newsletter template can help. A dark theme here creates an elegant look and also ensures high readability, which is perfect for presenting content.
Most written content is presented in light-colored sections, so you won't have to worry about readability on the dark background. But everything can be changed in this cool newsletter template thanks to the email editor, so you'll find the perfect design.

11. Blog Newsletter Template
Here's one more template for a blog newsletter. This time, it has a light background, but follows the same, tried-and-tested email layout (hero image on the top and content sections below). The text is brown and black on white, so it's easy to keep content readable.
So, if you're looking for a simple newsletter template that highlights your content, consider this one.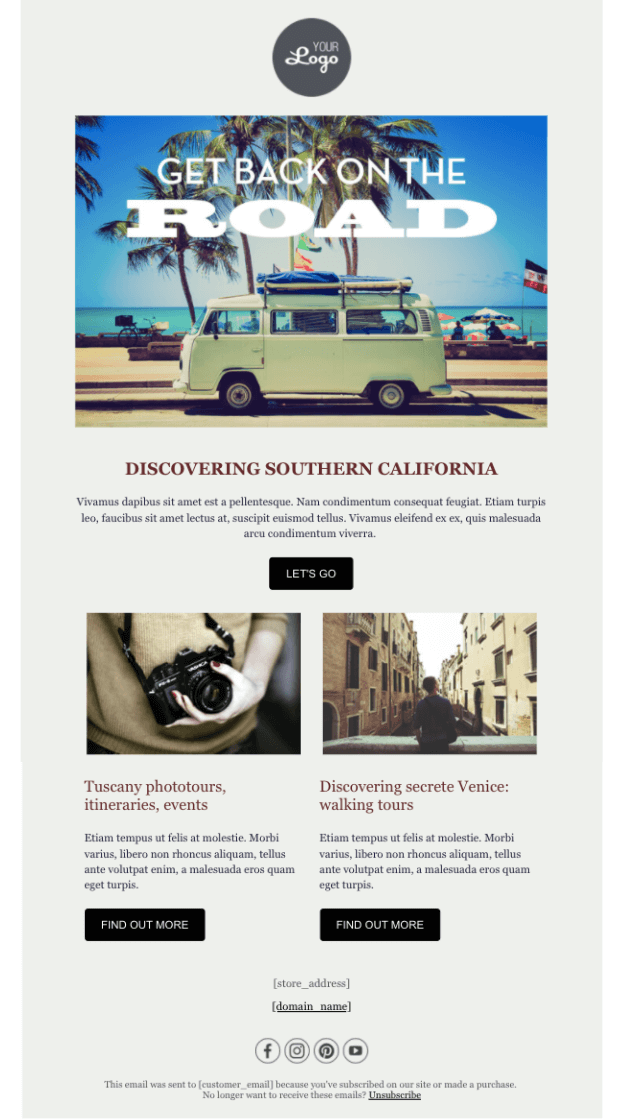 12. Email Newsletter Template for Hotels
This dark-themed email design is perfect for a weekly email newsletter template. You can share links to product pages, search pages, and blog posts—the layout allows combining these elements naturally.
You can improve this versatile layout even further. One idea is to add trust signals like notifications about free booking cancellation, minimum deal costs, and photos of properties.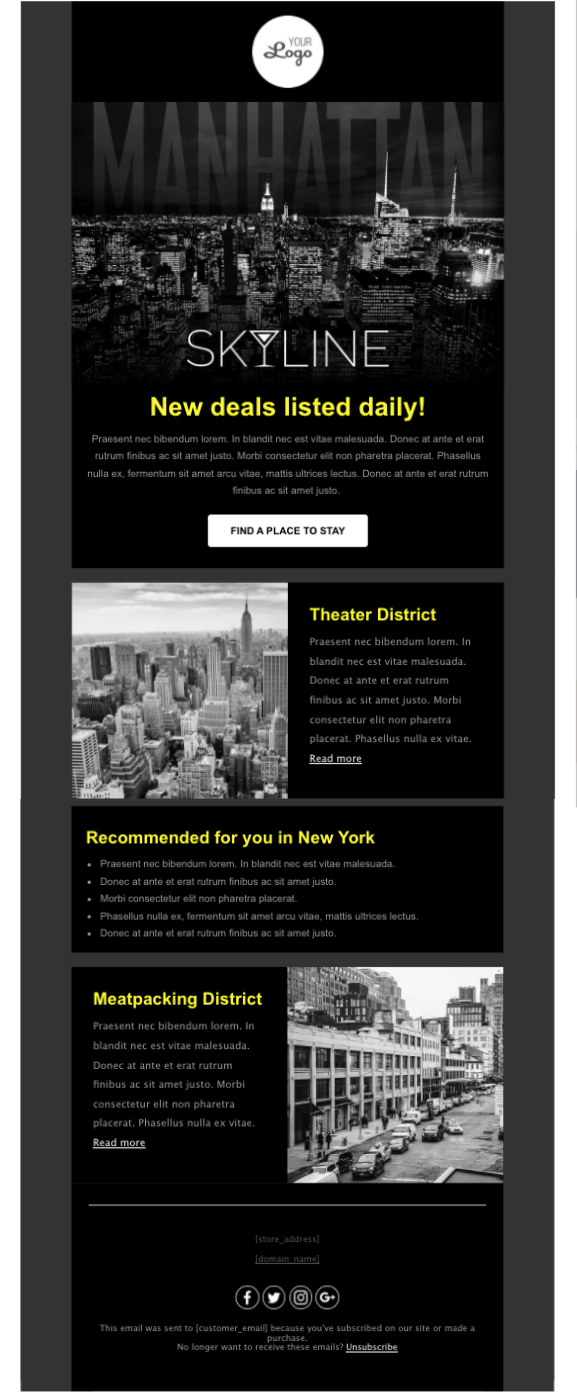 13. Customer Survey Newsletter Email Template
This newsletter template design was made for sharing surveys. You can send this email to collect customer feedback about your business or customer service. Giving feedback is easy: the customer just has to click the button to go to a feedback form.
Also, note the customer service section at the bottom of this email newsletter template. It's a good way to encourage shoppers to get in touch—all they have to do is reply.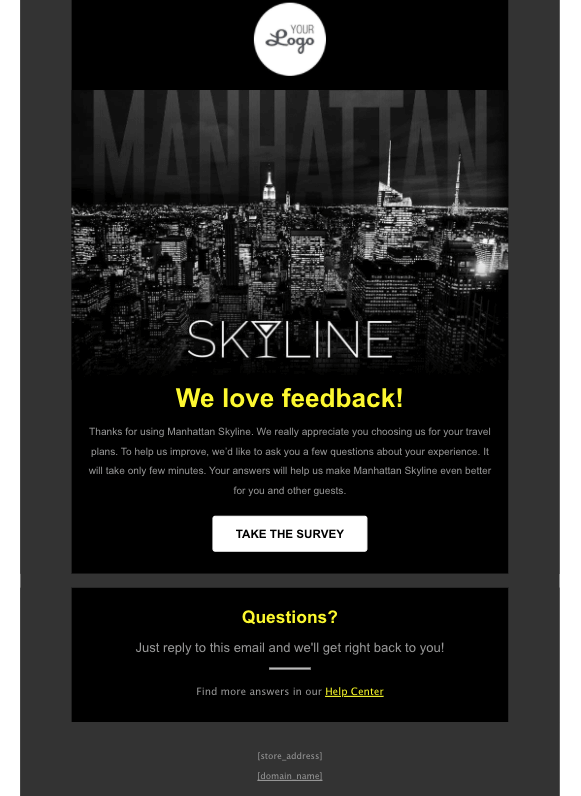 14. Hospitality Industry Email Newsletter Template
Another great email newsletter template for hotels. It's best for sharing different types of content, including product pages and blog articles (but you can add more sections).
The template opens with an image of a beach, which is hard to resist. Below, you can add some hot deals, discounts, or other offers, and send blog posts to help clients choose the destination. And there's plenty of CTA buttons in this newsletter template to convert that interest.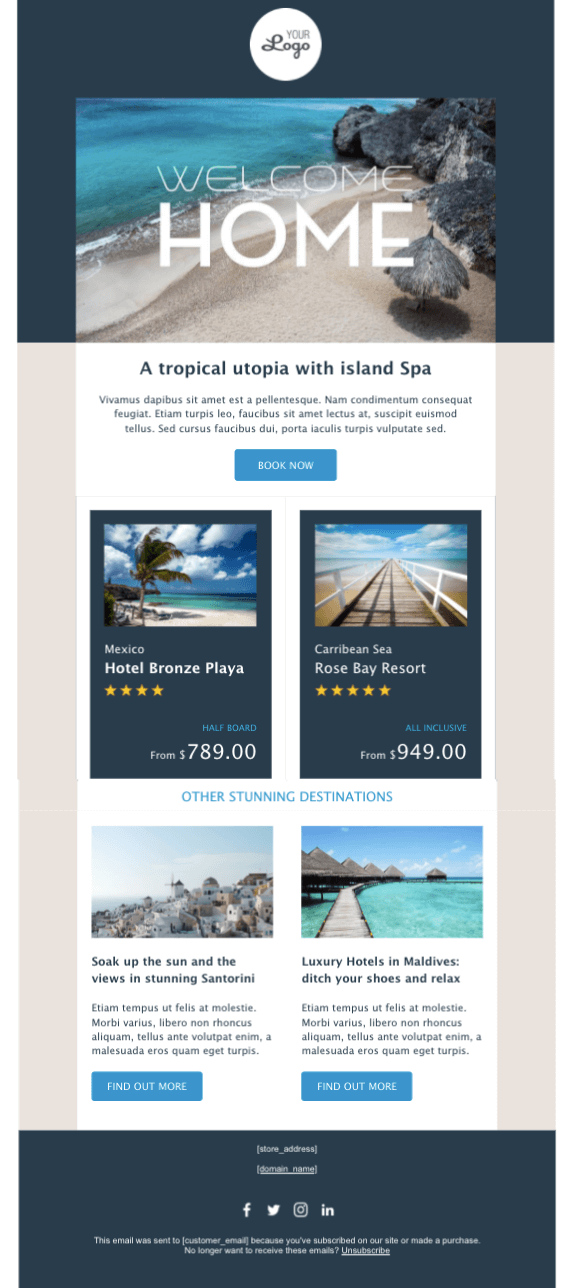 15. Email Newsletter Template with Simple Layout
This simple email newsletter template was designed for personal blogs. But the straightforward layout format makes it suitable for B2B newsletters, too—there are multiple content sections to customize.
Use this website newsletter template to give value to your potential customers or blog readers. Be sure to add your social media profiles to allow people to follow you on Facebook, Twitter, and Instagram.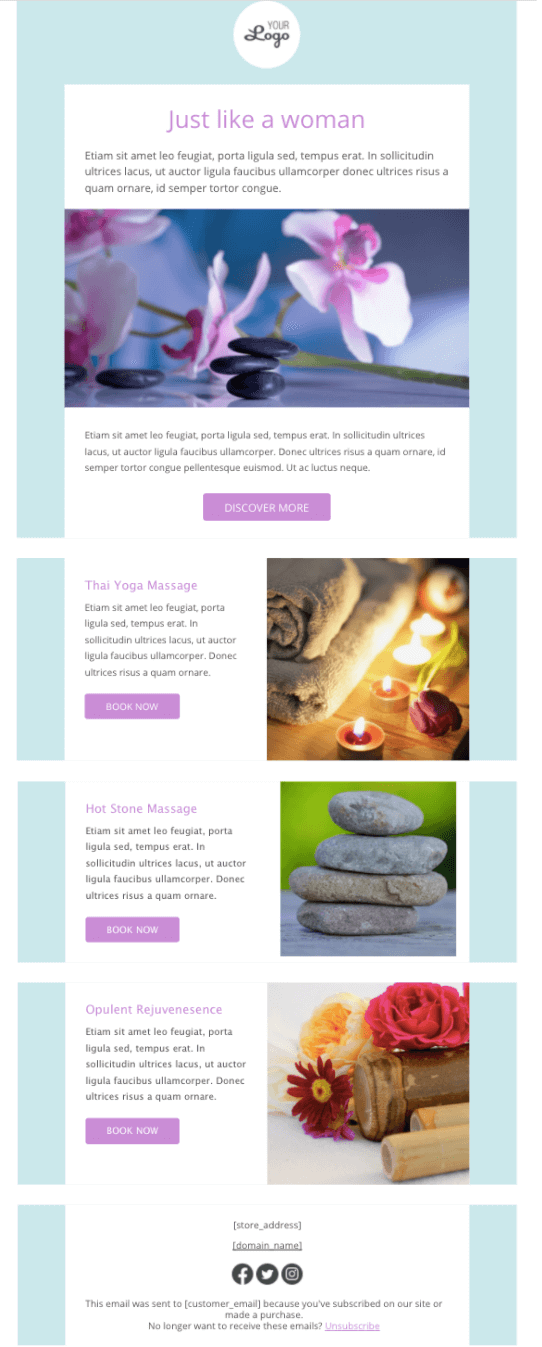 Newsletter Examples from Ecommerce Brands
Now, let's see how online businesses are using similar email newsletter templates to engage customers. These examples can give you ideas to use specific email newsletter formats, layouts, and techniques to engage subscribers.
16. Ecommerce Newsletter Example (Holo Taco)
This newsletter sample design has a black background and a single content column. Holo Taco, a nail polish seller, uses this format to showcase products with customer-generated content.
Takeaways:
High readability
Clear design and structure
Catchy copy to engage customers
Mentions of products to encourage exploration

17. Weekly Newsletter Example (Canva)
This is a simple SaaS company newsletter design. Thanks to a clear, single-column structure, Canva presents a lot of information in an easy-to-understand format.
Takeaways:
Use multiple content sections to present information (especially instructions)
Add CTA buttons to every section to make content exploration easier
Use conversational language to give a simple explanation of complex product features
18. Monthly Blog Newsletter Example (Paysend)
Paysend, an international money transfer service, uses this two-column newsletter format to share blog articles. It's simple, minimalist, and easy to navigate.
Takeaways:
Use a lot of white space to make blog articles stand out
Add no more than two articles in a row to not overwhelm the readers
Use the bottom of the newsletter to send some promotional offers

19. Marketing Email Newsletter Example (Threadless)
This message follows the essential format rules of email newsletter templates: a large hero image, a few columns with products, and a contrasting CTA button. This way, Threadless has a good chance to convey its marketing messages.
Takeaways:
Add your marketing message in the hero image
Use a lot of white space in the product section to differentiate each item
Give trust signals at the end of the message (100% satisfaction guarantee, free returns, etc.) to encourage buying

20. Creative Newsletter Template (Beardbrand)
What if we move the hero image from the top to the bottom of the newsletter? The marketing team at Beardbrand added a customer review at the top, and they ended up with this creative newsletter template design.
Takeaways:
Use a customer review instead of the hero image to attract attention
Make sure the review is easy to read (larger font + white space)
Back the customer review with a picture (where possible)

21. Weekly Promotional Newsletter Example (Leesa)
This ecommerce email newsletter has a simple goal: drive traffic to the company's website and get sales. Giving a clear message was a must, and Lessa did a great job.
Takeaways:
Pump up the white space to differentiate content sections
Ensure you're offering value (Leesa described its products' health benefits)
Add a customer review to increase customer trust and encourage conversions
22. Beauty Brand Newsletter Example (Oxygen Boutique)
This newsletter example uses an influencer to engage customers. Such a tactic requires brands to provide relevant advice and tips before offering products.
Takeaways:
Provide links to content that gives customers valuable advice
Describe why the influencer should be trusted
Recommend only relevant products to achieve the benefits mentioned by the influencer

23. Product Launch Newsletter Example (The 5TH)
This email template sample's visuals and structure are amazing. The 5TH used high-quality images to encourage customers to check out the new watch, which was a must. Also, note how each content section adds something new to help learn about the new product.
Takeaways:
Use dark themes to give newsletters an elegant look
Short text keeps customers focused on the amazing product visuals
Add multiple CTA buttons to make it easy to go to the product's web page

24. Survey Email Newsletter Example (Asphalte)
Asphalte uses customer feedback to design clothing, so it often sends surveys to learn about buyers' preferences for the next season. Getting an appreciable amount of feedback requires clear and engaging emails, and the brand does that well.
Takeaways:
Use a clear heading to convey the purpose of the newsletter
Make the most important text in bold to help recipients understand your intentions
Make the question and answers stand out with larger fonts and contrasting colors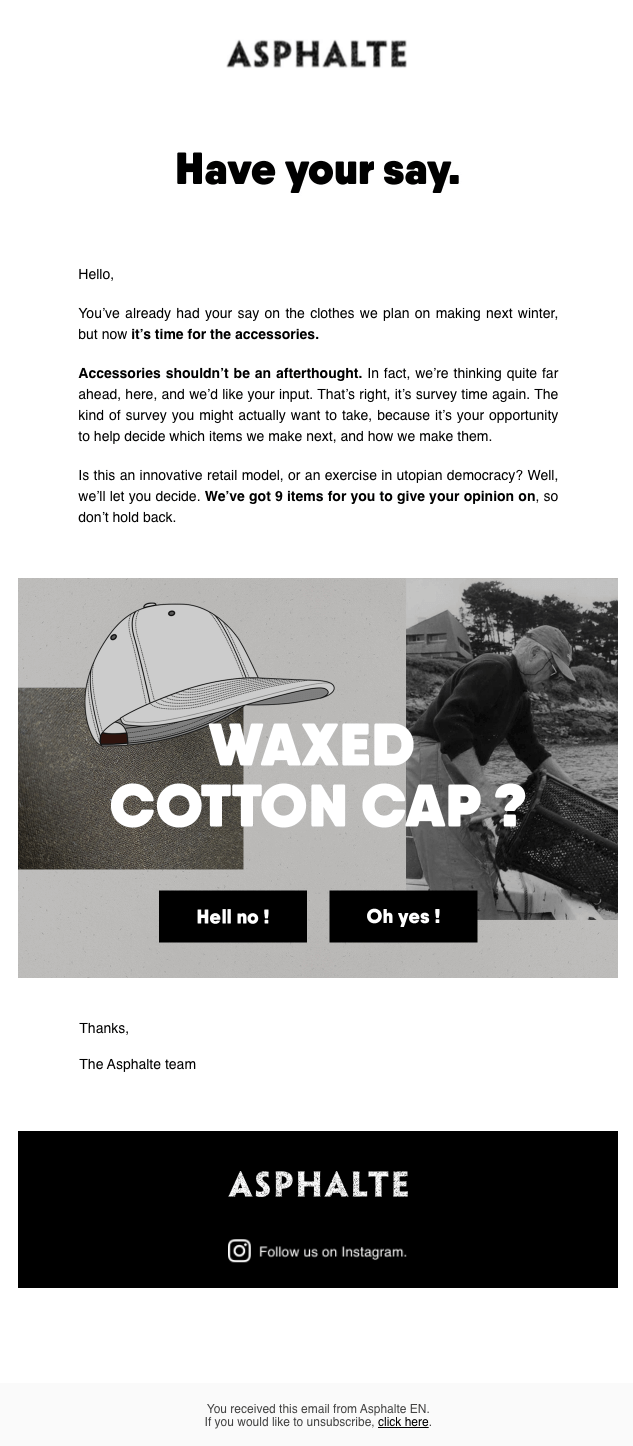 25. Marketing Newsletter Example (Redbubble)
Why even read this beautiful email newsletter? Redbubble does an amazing job explaining why the recipient needs to check out the latest designs and presenting some options to consider.
Takeaways:
Write a short and focused text to introduce the email
Use content sections to present different product categories
Differentiate sections with colors for easier navigation

Useful Resources for Shopify Email Marketing
Want to engage more customers with email marketing?
Consider these detailed guides:
Email Newsletter Templates: Summary
Designing great email newsletters is simple.
Seeing the best practices of designing email templates will help you make amazing designs. Thanks to these template examples and tips, you're now much better positioned to create engaging newsletters.
Mix this template design knowledge with valuable email content, and your email marketing should bring you conversions. Good luck!