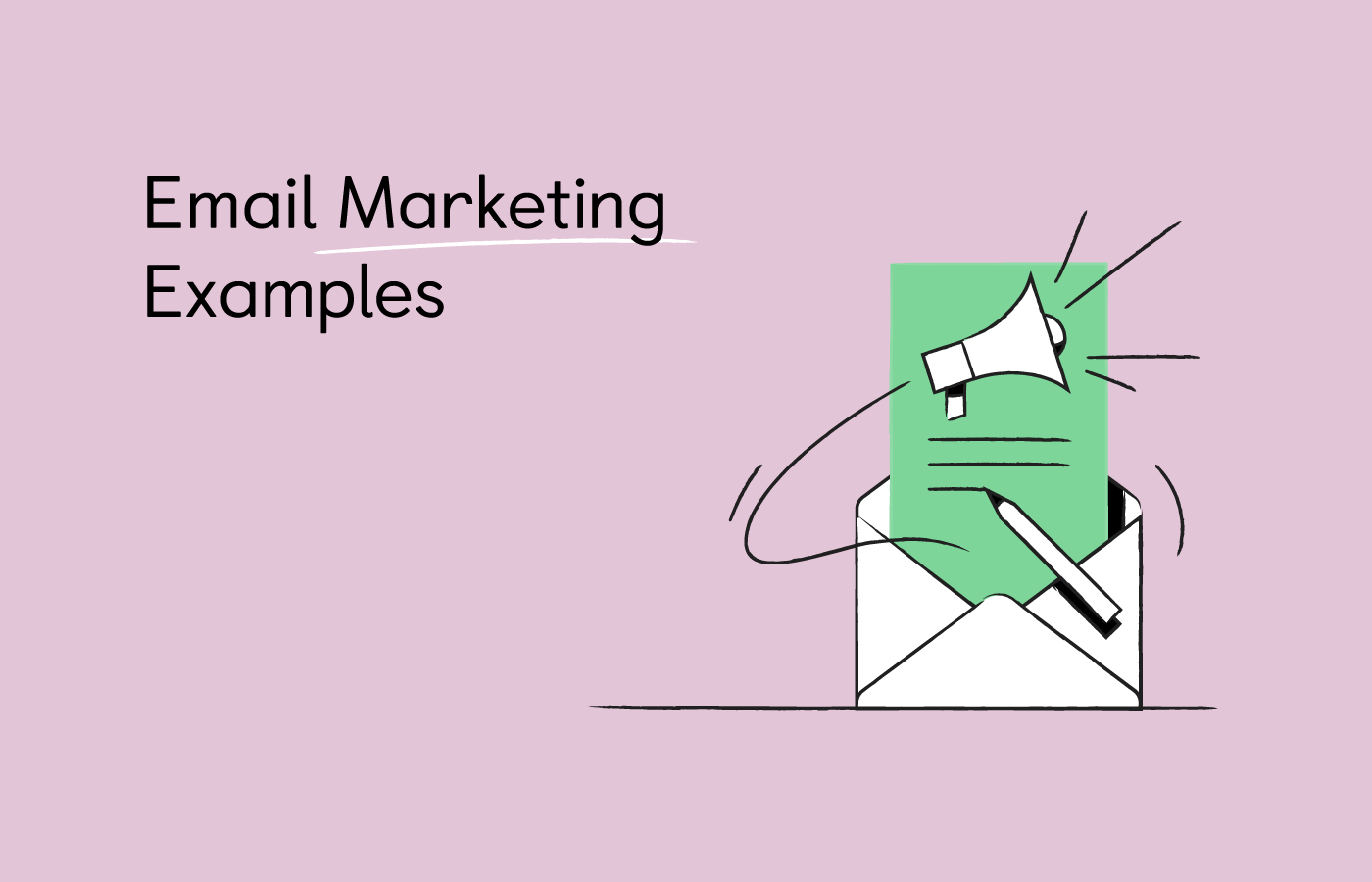 Two persons:
A marketer who does minimum email customization
A marketer who creates unique and creative email marketing campaigns
Who do you think will win? Obviously, the second one.
Customers are more likely to engage with creative, interesting, and unique emails. To show you some, we're sharing 15 great email marketing examples made by highly skilled marketers.
In this guide:
15 email marketing campaign examples
Ideas for your future email marketing campaigns
Not what you're looking for? Check out these, too:
Email Marketing Examples
1. Beardbrand: Add a testimonial with a "relatable" problem
Subject line: Do you even curl, bro?
Type: Promotional

About 87% of customers read online reviews before buying. This email marketing example uses a testimonial to show a problem: complicated mustache grooming. Subscribers who share the same concern will relate, so they will be more likely to check out the product.
Why this email works:
Colorful product visual
Uses a customer testimonial
Conversational, simple-to-read text
Attention-grabbing subject line with a question
Multiple links for extra chance to drive website traffic
Idea for your email marketing campaign:
Use a customer testimonial to show how to resolve a specific problem with your product. This technique can engage subscribers who'd like to tackle the same problem.
Customer reviews increase trust and credibility. If you'd like to get more reviews, check out this list of Top-Rated Shopify Apps that includes Shopify review apps.
2. Bison Coolers: Use a funny GIF
Subject line: WE'RE HEADED OUT...
Type: Abandoned shopping cart reminder email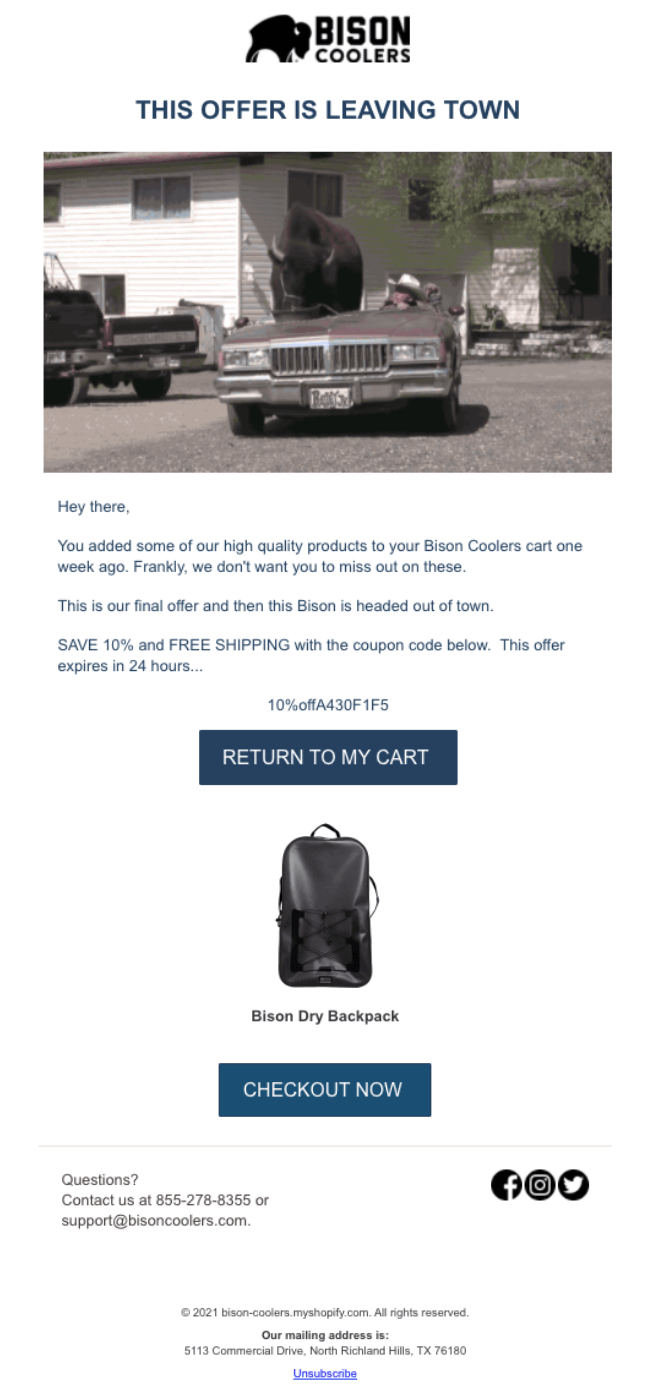 This is one of the best email campaigns in terms of creativity, hands down. Bison Coolers opens the email with a GIF showing a real bison that enters a classic car, probably Chevy, and drives away in the passenger seat (or two seats, to be exact).
Why this email works:
Funny GIF that grabs attention
Super creative, engaging copy
Discount to encourage finishing the purchase
Multiple CTA buttons to increase the chance of conversion
Bold email subject line in all caps: "WE'RE HEADED OUT"
Idea for your email marketing campaign:
If your customer persona is fun-loving, consider using funny GIFs and other visuals to capture their attention. This is why this message is one of the most engaging marketing email samples on this list.
3. Vessi: Show that a product can help in a unique way
Subject line: Not too late!
Type: Promotional

Some of us are guilty of forgetting to buy presents, and Vessi is trying to help in this marketing email sample. The message encourages readers to buy a gift card for Mother's Day in a creative way.
Why this email works:
Lack of distracting elements
Website links to encourage browsing
Creative visual that simulates a text conversation
Trust badges to encourage buying (free shipping, pain-free exchanges, flexible payment)
Idea for your email marketing campaign:
Create a unique visual to imitate a real-life situation where customers could use your product or service.
Like in the Vessi's email marketing sample, the email has a simple yet awesome visual that emulates a conversation with a gift receiver. That's about 40 minutes of work for a graphic designer that can make a difference for customer engagement.
4. H&M: Create a simple and clear layout
Subject line: TGIFlash Sale: 20% off ⚡
Type: Promotional

H&M follows the practices of good email marketing examples: a clear subject line, value-driven headline, a discount, product visuals, and benefits of taking the deal. Together, these elements grab the customers' attention and make them check out the entire email.
Why this email works:
Subject line with a promotion to let subscribers know about the sale
Clear value explanation thanks to a large "20% off sitewide" headline
Promotion of the brand's loyalty program to encourage customers to join
Benefits of the loyalty program for extra motivation to become a repeat customer
Idea for your email marketing campaign:
Share a message about an upcoming sale by using a similar email layout. It will help to get your message across quickly and keep customers focused. This email layout example should also be great for promoting loyalty programs.
Customer loyalty programs are a must for online stores. If you'd like to know how to create one, this Shopify Marketing Guide has tips and examples.
5. Canva: Pack the message with animated, helpful content
Subject line: Bring your designs to life with animation
Type: Newsletter

Canva has some of the best email marketing examples when it comes to newsletters. Each newsletter is filled with helpful information for Canva's users. This one, for example, offers tips on making visuals with animations and shares templates for more comfortable working.
Why this email works:
Many relevant visuals
Plenty of contrasting CTA buttons
Simple email organization and navigation
Invitation to join the brand's online designer meetings
Helpful resources such as tips, templates, and free visuals for designers
Idea for your email marketing campaign:
Send a bi-weekly product update newsletter to share updates on features and benefits for users or customers. Keep it organized, especially when the email should contain a lot of content.
6. Oxygen Boutique: Ask "retlatable" questions and educate customers
Subject line: So, what is collagen?
Type: Promotional/Educational

Do you really know what collagen is? We hear about it in skincare product commercials, but our knowledge often boils down to "it helps our skin." That's why Oxygen Boutique tries to educate customers about this important protein in this example of good Shopify email marketing.
Some of the best email marketing campaigns educate rather than sell. They show a problem or explain a topic, provide a fact-only description, and propose products that help solve the problem or take advantage of the new knowledge. This email marketing example does exactly that.
Why this email works:
Educational content that address a common topic that the company's target customers might be interested in learning
Plenty of conversion opportunities with multiple products containing collagen
Clear structure and layout for comfortable reading and product exploration
CTA under each product for easier product research
Idea for your email marketing campaign:
Educate your customers about something they're likely to be interested in learning about. This way, you can show customers why they need your products. Research supports this: customers are 131% more likely to buy after they read/watch educational content.
7. PRESS Health Foods: Make your customers the heroes of the story
Subject line: Health at your door within twenty-four.
Type: Promotional

"Home after a long day, an empty fridge but no time to shop or cook up something?" This marketing email sample starts by establishing a problem that many can relate to. Then, it moves on to tell us that there's an easy way to get rid of that problem: ready-made meals.
We like marketing email examples that don't feel "pushy" despite listing many products, and this one falls in this category. A person who's interested in getting home deliveries would be interested to check out more bundles, so the email displays some.
Why this email works:
Headline with a clear customer value (free delivery)
Little storytelling to make the situation more relatable
Product bundles with a quick description of benefits for customers
Multiple contrasting CTA buttons provide more chances of conversion
Concise description of potential goals of customers and how products could help achieve them
Idea for your email marketing campaign:
Make customers the heroes of your story.
Describe a situation in which they're likely to find themselves in at some point, and empathize with them ("no time to shop or cook something?"). Show that your products could help and add some motivation such as free shipping to reduce hesitation to try them out.
8. Asphalte: Use a pop culture reference
Subject line: Paul wants his shirt back.
Type: Promotional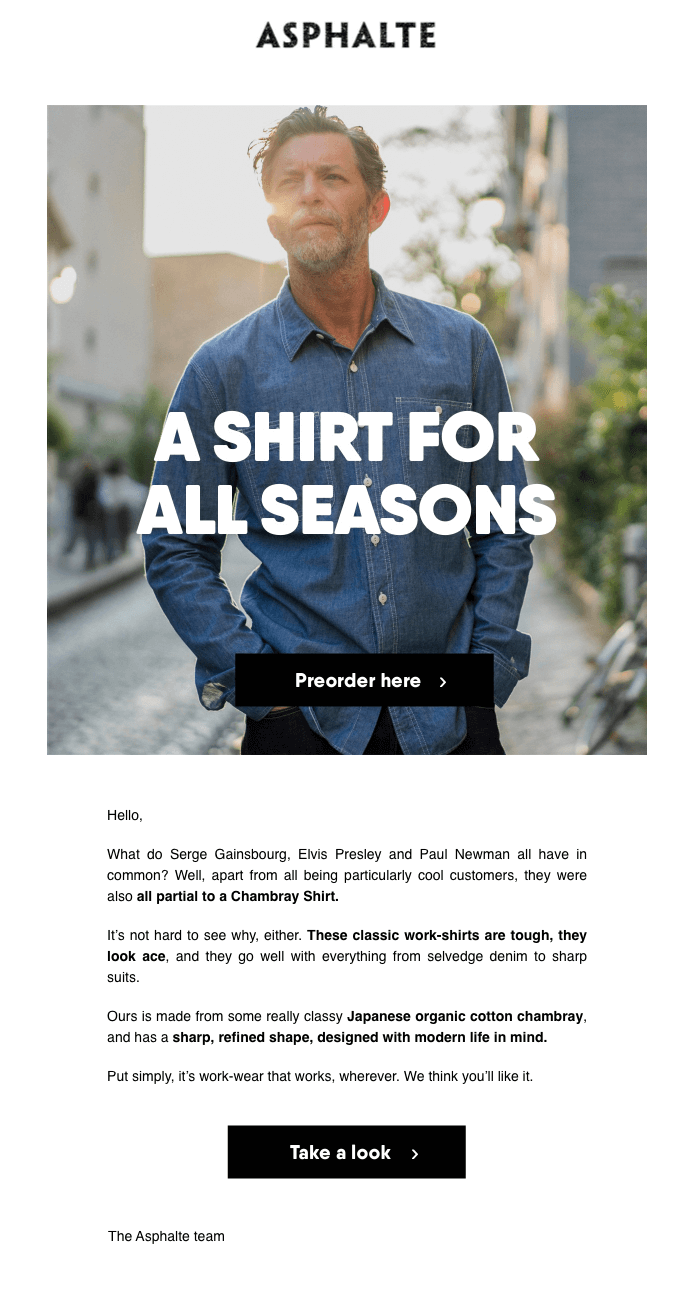 This is one of the best email marketing examples that shows how well a company knows its customers. In this case, Asphalte's target customers are males who like to dress in classy but cool clothes.
Many of those customers know such classic style heroes as Paul Newman and Serge Gainsburg, so Asphalte begins this email marketing example with them to get readers' attention. What follows is the transition to the product that the style icons loved, and Asphalte proposes to check out their version. That's so relevant and engaging!
Why this email works:
High-quality, unique visual
Action-oriented CTA button copy
Profound knowledge of customers' interests and preferences
Engaging copy with the most important parts in bold to get our attention
Idea for your email marketing campaign:
Consider using a pop culture reference in your emails. Those can be the best email marketing campaigns because they will stand out from typical marketing emails.
9. Wandering Bear Coffee: Explain the benefits of buying
Subject line: Never Wake Up Without Coffee Again ☕
Type: Promotional

The goal of this marketing email sample is to announce a discount for a subscription service. It gets the point across beautifully thanks to a huge image and headline that grab our attention. So, customers will understand the message within two seconds.
Why this email works:
Huge, high-quality visual with multiple products
Discount code to convince customers to convert
Clear customer value explanation thanks to a large headline
Contains a customer review to increase the credibility of the offer
Multiple sections with products to encourage product discovery and conversions
Engaging text that describes the benefits of subscribing to the coffee delivery service
Idea for your email marketing campaign:
Add a large headline on a black visual to ensure that a customer quickly understands your message after opening your email campaign.
10. Meow Meow Tweet: Share your brand values and mission
Subject line: Your 10% off welcome code
Type: Welcome email

Over 80% of customers are loyal to brands whose values are aligned with theirs. That's why this welcome email campaign example tries to make a good impression by sharing the brand's values and mission.
Why this email works:
Engaging, interesting brand story
Discount to encourage making the first purchase
Short, manageable pieces of information about the company
Photo of brand founders makes the story more credible and relatable
Personal message from the founders makes the email feel like a letter
Idea for your email marketing campaign:
Share your brand's story, values, or mission in welcome email marketing campaigns. It's a great way to introduce your company in a relatable way and encourage people to learn more about it.
Welcome emails get 4x more opens and 5x more clicks than promotional campaigns. These 26 Examples of Welcome Examples can show you how online stores engage subscribers
11. UPPERCASE: Make an email read like a personal letter
Subject line: Open me!
Type: Welcome email

This is one of those email campaign examples that look like a page from a DIY magazine. And That's exactly what UPPERCASE is: an online magazine/blog for creative people led by Janine, a publisher and an editor. She also wrote a personal message to the new subscriber to welcome them into the community of creativity and DIY.
Why this email works:
Colorful visuals attract readers' attention
Modern, organized, and clear email layout
Many website links to encourage brand exploration
Welcome message from Janine makes this email example feel like a personal letter
Clear instructions on how to engage with the company to get the most value (join the brand's social media groups, etc.)
Idea for your email marketing campaign:
Write a quick welcome message to make your welcome email read like a personal letter.
Consider adding your photo as Janine did, and it'll make your company more "human" in the eyes of readers. We tend to connect to other people, not companies, so it'll be a good move to make your brand feel more approachable.
12. HELM Boots USA: Help customers complete the purchase
Subject line: Was there a problem checking out?
Type: Abandoned shopping cart recovery email

HELM Boots' email isn't just an abandoned product reminder. It's a request to assist the subscriber with any problem they might have had during the checkout. The customer can use the "We want your feedback" button to indicate the reason why they left and get help.
Not many email marketing samples contain the same commitment to helping customers. But it's not the only great thing about it. There's a stunning product visual, lots of trust signals, and extra website links.
Why this email works:
Clear layout and lots of white space to differentiate elements
Large product visual that shows how the product looks "in action"
Customer survey to get feedback and help them to finish the purchase
Opening headline that lets the customer know that the product is high-quality
Extra shopping encouragement and risk-reducing messages in the "No risk. All reward" section
Idea for your email marketing campaign:
Ask your customers why they haven't finished the purchase with a survey.
eCommerce research suggests plenty of reasons why people abandon shopping carts, and many are totally fixable. Examples of email marketing like this one show that companies do that, so there's a chance that your customers will respond, too.
13. Highway Robery: Use some humor
Subject line: We tried poetry and we tried flowers. Here's 10% OFF.
Type: Abandoned shopping cart reminder email

Humor makes some of the best marketing emails, and this one is a great example. It begins with an interesting subject line that indicates previous attempts to convince the customers to finish the purchase.
The email itself opens with a discount, and continues with "If that's not enough, we might start seeing other people." A hilarious message that's in line with the playful and friendly communication style of Highway Robery.
Why this email works:
Engaging subject line
Creative, funny, and super short text
Discount to convince the customer to place the order
Beautiful visual showcasing products in action
Contrasting CTA that stands out thanks to lots of white space
Invitation to get in touch if the customer has some issues with the order
Idea for your email marketing campaign:
Add some humor to your cart recovery emails.
Start with an engaging subject line (this is critical since almost 34% of customers open emails based on subject lines alone). In the body, write some creative copy (make a story, add a real-life situation, or use some funny GIFs).
14. Made In: Use an expert to increase credibility and trust
Subject line: Performance Non Stick The Pros Use 🍳
Type: Promotional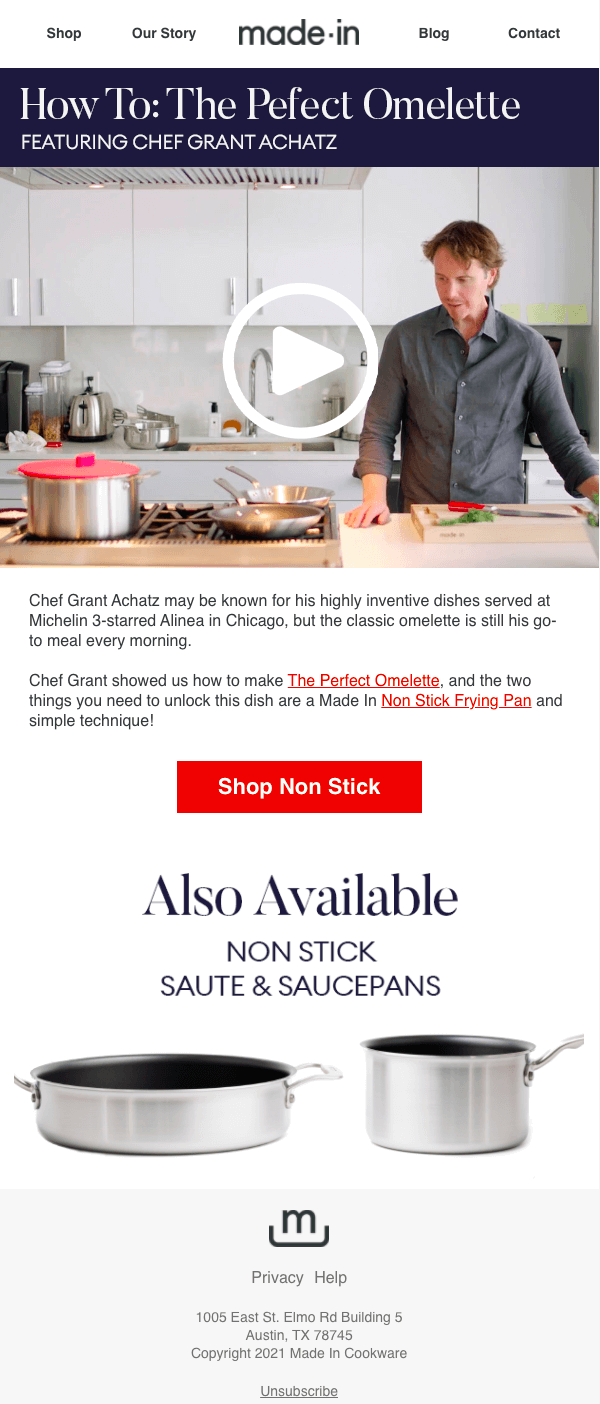 This marketing email uses an expert to increase credibility and customer trust. There's a video of a famous chef making his favorite dish with a non-stick frying pan, which customers can try with a Made In product.
Many email marketing examples use expert proof to promote products because it's an organic boost for marketing. In this specific campaign, it's a video, which is a great media that can engage many subscribers.
Why this email works:
Headline clearly indicates customer value
Video with the expert educates customers
Color of the CTA button focuses our attention
Social proof featuring a well-known known celebrity
Additional products that encourage product exploration
Idea for your email marketing campaign:
Use social proof in your shopping cart recovery emails.
Some of the best email campaigns have experts, celebrities, influencers, and other people who target customers might trust. So, it's a great idea to convince subscribers to buy.
15. Minimalist Baker: Generate leads with content
Subject line: NEW! 38 Plant-Based Memorial Day Recipes
Type: Newsletter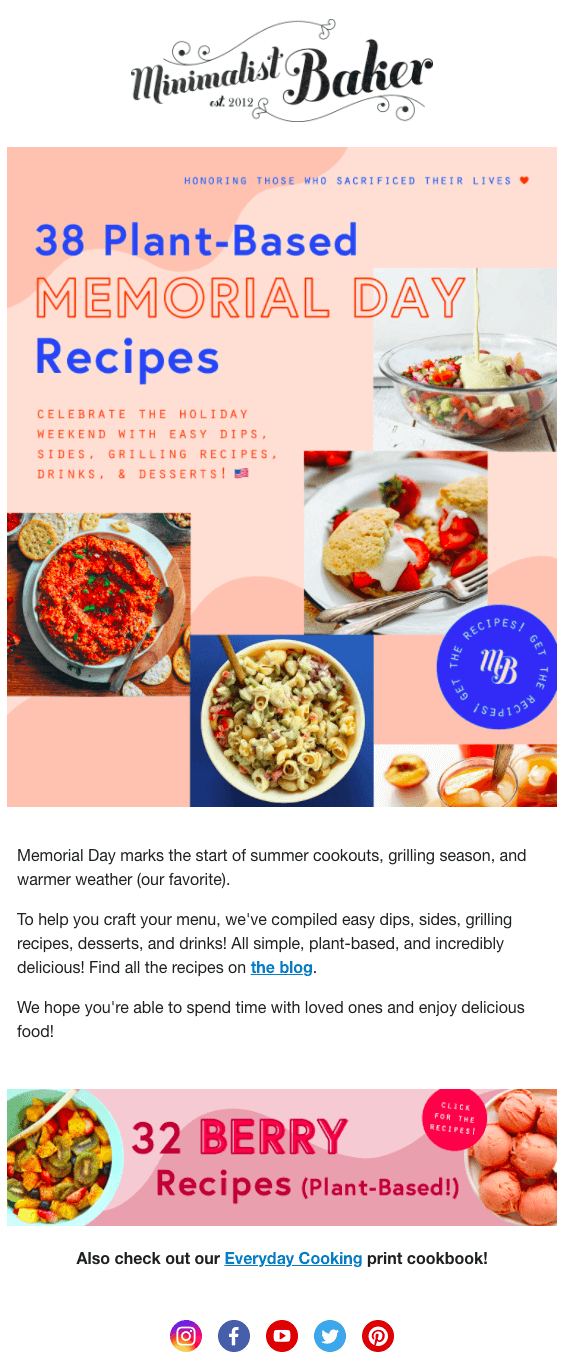 This marketing email example is an explosion of color. Minimalist Baker captures our attention with a huge colorful image showing delicious-looking meals. The company does that because the goal of this email marketing campaign example is to convince subscribers to check out the new cookbook.
Why this email works:
Colorful, engaging visuals
Friendly and simple-to-read text
Eye-catching headlines that encourage reading
Helpful free content that the brand's subscribers want
Multiple ways to drive traffic (free content pieces: "38 Plant-Based Memorial Day Recipes," "32 Berry Recipes," and "Everyday Cooking")
Idea for your email marketing campaign:
Engage customers with educational content such as eBooks, checklists, or guides.
Educating subscribers is an effective way to increase their loyalty and engagement, so the best email campaigns often include messages with customer-oriented content. The most important thing is to connect the content to the benefits of using your products to make your emails relevant for subscribers.
Best Email Marketing Examples: Summary
That's it, 15 awesome sample email campaigns for online businesses.
Hope they gave you ideas on how to create beautiful and engaging emails worth the highest open and click-through rates. Several important things unite these sample marketing emails: clear design and layout, high-quality visuals, unique content, and engaging copywriting.
Regardless of the strategy you'd like to take with your email marketing, feel free to use the ideas and tips from these marketing email examples. Good luck!