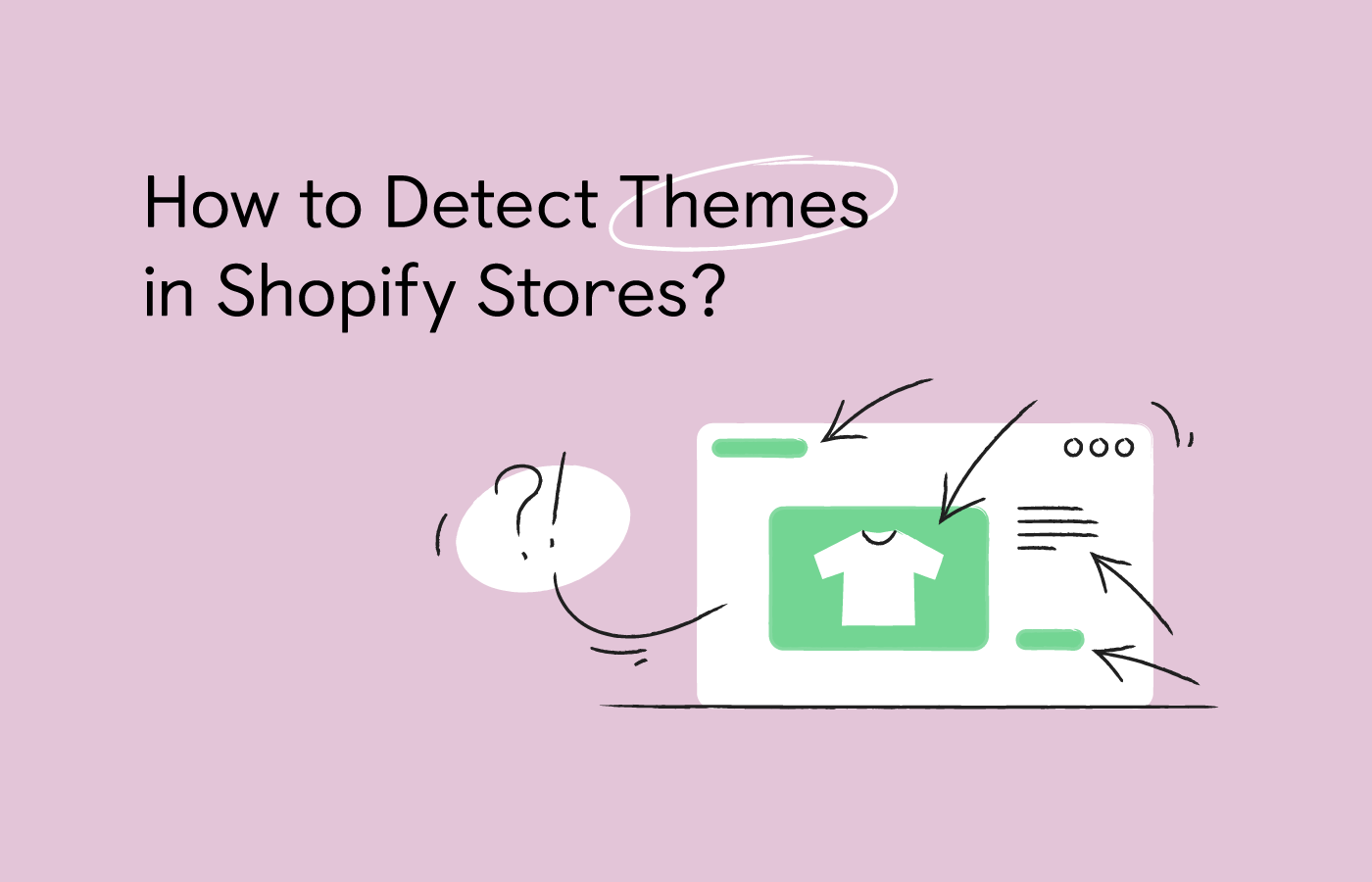 "How do you find out what theme a Shopify store is using?"
This is a common question that appears on Shopify community forums and online discussion boards. Basically, someone comes across a good-looking store and wants a similar design for theirs.
But is finding a Shopify store theme something worth doing?
Yes.
Following the best practices of competitors and other businesses is a legit business technique. There's nothing wrong with adopting something borrowed as long as it's not an exact copy. Besides, it happens all the time — just think about how similar the designs of modern smartphones and laptops are becoming.
In this post, you will find:
Looking for other information about Shopify? These guides should be useful:
Legit Reasons to Find Out What Shopify Theme a Website is Using
Let's begin with a simple question:
Why would anyone want to detect a Shopify theme in the first place?
You might have your reasons, but let us give you more. There could be even more benefits to this project than you had previously thought.
Here are the best reasons to find out a Shopify store theme:
Personal interest. If you really like a Shopify theme, then there's nothing wrong with checking its name and using it for your business.
Stand out from competitors. Knowing your competitors' designs should help you understand how to make yours more unique.
Test a preferred theme in action. Assuming that you like a Shopify theme, you can take it for a spin by browsing the competitor's website or even placing an order.
Reveal competitor's weaknesses. A theme might also help discover certain shortcomings in customer experience as provided by a competitor.
Find out best practices in the niche. A competitor's theme can reveal some of the best practices in the industry (features, functions, speed, security, scalability, design, UX, checkout, etc.)
So, finding out a Shopify theme is about more than just design preferences. It could be a part of your competitor analysis that helps to discover what's working for others.
Without further ado—
How to find out what Shopify theme a store is using?
How to Detect a Shopify Theme
There are two ways to find out more about a chosen Shopify theme: manually or via a dedicated tool. Both are fairly easy, but let's look at them in more detail so you can choose the one that works for you.
Detecting Shopify Themes Manually
The manual way involves some work but it's fast and simple. The idea is to use your browser to find out information about the theme in the web page source.
Let's demonstrate with an example. We'll find out the theme that Notiq, a popular Shopify store that sells luxury planners, is using.
For that, we'll turn to Google Chrome.
While on Notiq's homepage, we'll click the right mouse button (on Windows) or click anywhere while holding the Ctrl button (on Mac). Click View Page Source in the menu that appears.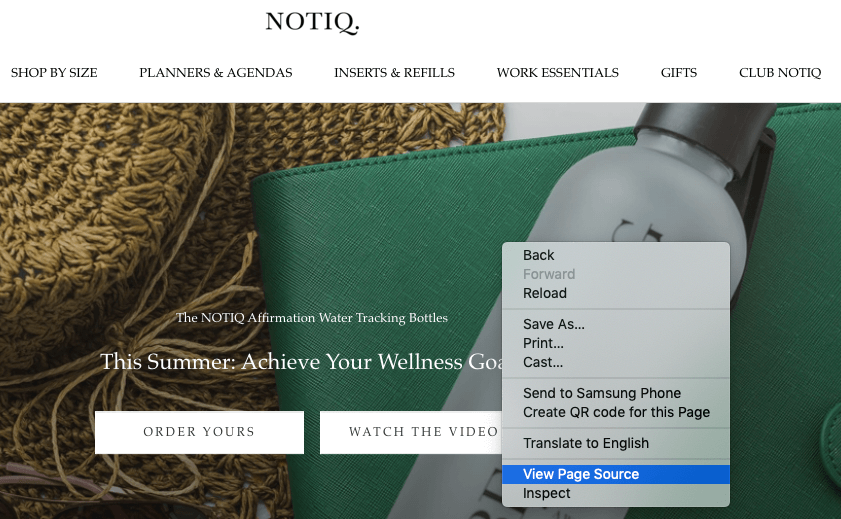 Author's screenshot
The feature will open the HTML code for the page.
Use Chrome's search feature (open it with Ctrl+F) and type in "Shopify.theme."
The search will now show the line of code with the theme's name. Here's how it looks on Notiq.com — as you can see, this store's theme is called "Prestige" (check line 147).

Author's screenshot
Every time you'll search the source of a Shopify store, you'll find the same line code with the name. So, the whole thing will take you less than a minute.
You can check this name in Shopify's theme store. In case you find nothing, there's a good chance that the theme is custom-made.
So, to summarize—
Visit the Shopify store whose theme you'd like to find out. Press the right mouse button (or press and hold the Ctrl button when you click) on any area on the page you visited. Find the theme using the search feature. That's it.
Using a Shopify Theme Detector
Finding out a Shopify theme's name manually is pretty easy but there's a good reason to use a Shopify theme detector app. Unlike the manual way, it gives you so much more useful information about the chosen store.
For example, Shopify Inspector by Koala is one of the most useful ones. That's how you get a complete profile of a competitor's store, in seconds.
This Chrome extension:
Finds the theme's name and page on the Shopify store
Lists basic theme information
Discovers traffic data
Lists popular products sold by that website
Identifies Shopify apps the store is using
The Shopify Inspector's menu is really simple (please see the image below). Just go to a selected store and start the check in just a couple of clicks.
After checking is done, you can click the information you're interested in to get valuable insights. Or, you can choose to track the chosen store for future references (for example, you might want to see what apps or features this store adds in the future).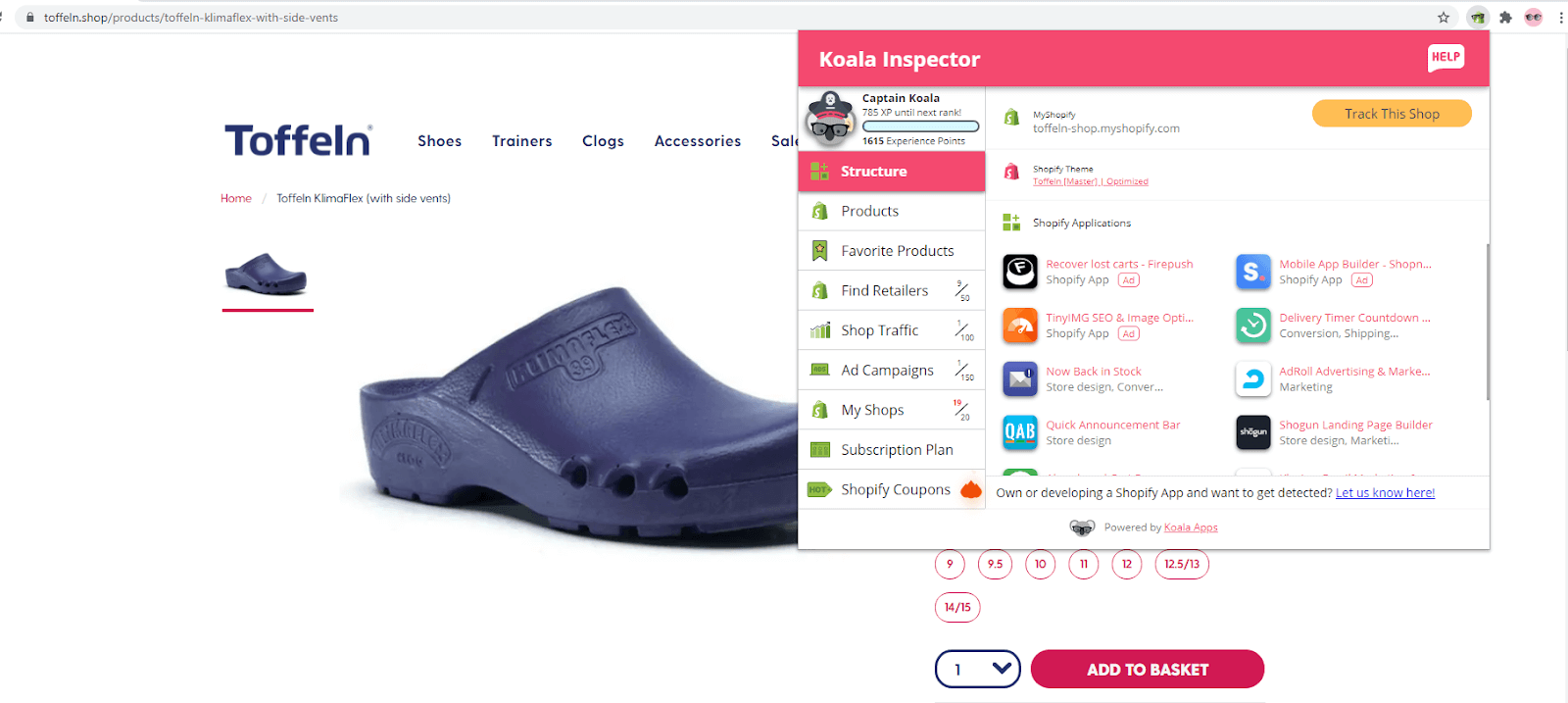 Author's screenshot
So, using a Shopify theme detector like Koala's is a good way to keep an eye on competitors, too. This could be really useful for new entrepreneurs looking to find out about the practices their top competitors are using to get customers.
And since Koala is a Google Chrome extension, there's no need to add one more app to your Shopify store. Just activate it when you need to find out a Shopify theme or get other information. That's basically it.
How to Detect Shopify Store Themes: Summary
So, there you go, two ways to find out what theme a Shopify store is using. The whole process takes less than a minute but can give you useful information about your competitors. Besides, if you use a Shopify theme detector, you'll also get some insights about competitors.
So, next time you have a "What Shopify theme is that?" question, feel free to use our tips. Happy exploring!