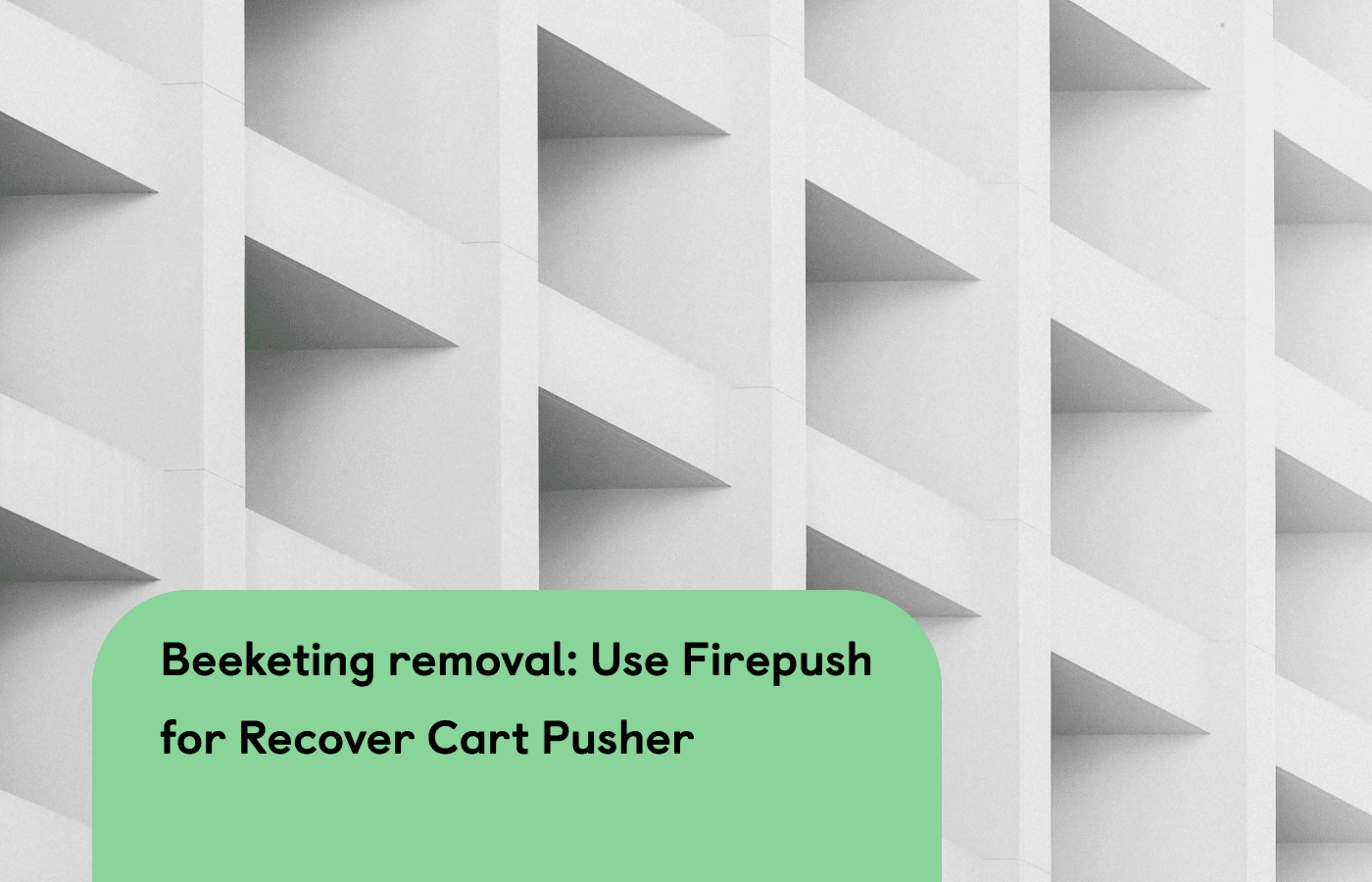 Shopify has recently announced that twelve apps from Beeketing and one app from BoostFlow (Beeketing's secondary company) are set to be removed from the Shopify App Store as of August 27th, 2019.
As per a statement posted in the Shopify Community, this action has been taken by Shopify as a result of multiple violations of the Shopify Partner Program Agreement, including inadequate support for merchants and abuse of the Shopify marketing tools.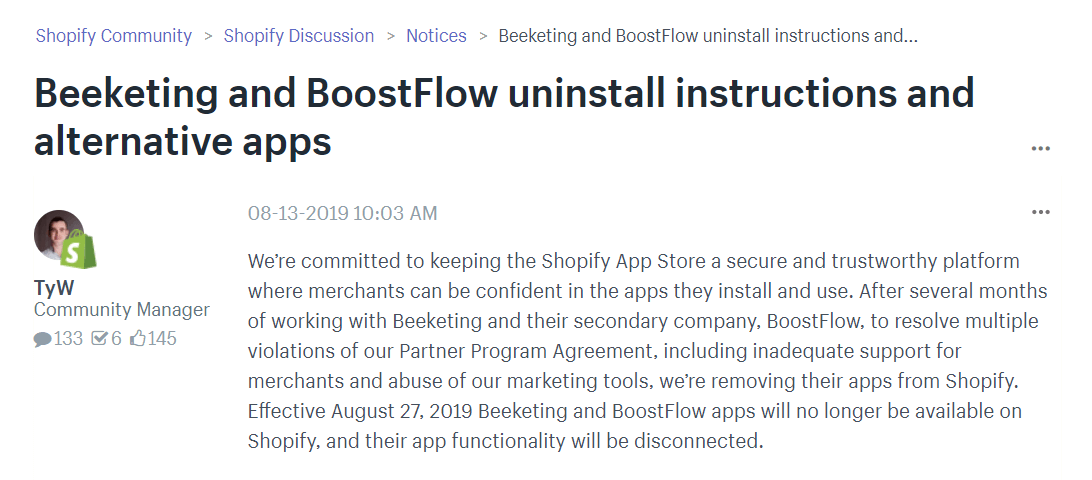 *Screenshot from Shopify.
This is the full list of apps being removed:
Sales Pop by Beeketing
Boost-Sales - Upsell - Cross-sell by Beeketing
Mobile Converter by Beeketing
Countdown Cart by Beeketing
Quick Facebook Chat by Beeketing
Checkout Boost by Beeketing
Personalized Recommendation by Beeketing
Happy Email by Beeketing
Happy Messenger by Beeketing
Recover Cart Pusher by Beeketing
Better Coupon Box by Beeketing
Mailbot Email Marketing by Beeketing
Countdown Timer & Sales Pop Up by BoostFlow
If you're one of the many merchants currently using one or more of these apps, you may be concerned about what steps to take next to ensure your marketing activities carry on uninterrupted.
You should explore alternative apps as soon as possible, as these ones will disappear from the Shopify App Store on the above date and their functionality will be disconnected.
We recommend you consider the Firepush app first and foremost, as it provides many of the services offered by Beeketing and BoostFlow, all in one app! In particular, Firepush is an excellent alternative to Recover Cart Pusher.
If you would like to know more about Shopify Partners programs, you can read about it in this post
Why consider Firepush as an alternative to Beeketing Recover Cart Pusher
Firepush is an all-in-one omnichannel marketing app, trusted by hundreds of Shopify and Shopify Plus stores. Here are five reasons why you should install Firepush today:
1. Firepush covers all the major marketing channels
Recover Cart Pusher works across one marketing channel only: web browser notifications. A key benefit of Firepush, is that it covers four marketing channels. Firepush enables you to send automated abandoned cart notifications not just through web browser notifications, but also by email, SMS, and Facebook Messenger too. This means you can reach your subscribers no matter which device they use and provide a seamless customer experience for them on all channels rather than individual channels alone.
2. Send a whole range of marketing campaigns with Firepush
Firepush helps you recover lost sales from abandoned carts in real-time, but that's not all. With Firepush, you can send automated welcome greetings to new subscribers, flash sale notifications, countdown push messages, delivery updates and even request a review from existing customers.
Want to get really creative with graphics and images within your campaigns? Firepush for email is the ideal solution. Whereas Firepush SMS, Messenger, and web push notifications are perfect for time-sensitive communications - they're sent and received instantly with no time delay.
3. Firepush makes cross-selling and up-selling simple
Use Firepush customer insights to determine individual buyers' shopping patterns and behaviors, so you can target them with other products they may be interested in. Firepush also makes it easy to re-engage old shoppers who haven't purchased from you in a long time.
4. One single dashboard for easier campaign management
Firepush has one easy-to-use dashboard from which you can launch your abandoned cart alerts and as many other marketing campaigns as you like, across any of the supported marketing channels. You can see your campaign stats on one page at a glance, and delve into your marketing data to see how your subscribers are interacting with your communications.
5. No coding experience needed
Firepush is incredibly easy to use. With a one-click install, and a setup process that takes no longer than a few minutes, you can start recovering sales from abandoned carts (and sending a host of other marketing campaigns) right away.
Another Beeketing app alternative
Firepush, with all its useful features, is a great alternative to Recover Cart Pusher by Beeketing. It's a complete marketing solution for Shopify stores. You can get started with Firepush for free and upgrade when you need to. There are several flexible pricing plans to choose from, with many offering bonus messages free of charge.
In case you're looking for an alternative to Quick Facebook Chat by Beeketing, we recommend you check out the Tobi app.
Tobi is an intelligent automated marketing tool that covers email, SMS and Messenger marketing to drive sales for Shopify stores. Tobi's Messenger bot is a FREE feature of the app and helps you connect with your subscribers on a more personal level, to drive engagement and conversions. Learn more about the Tobi app here.