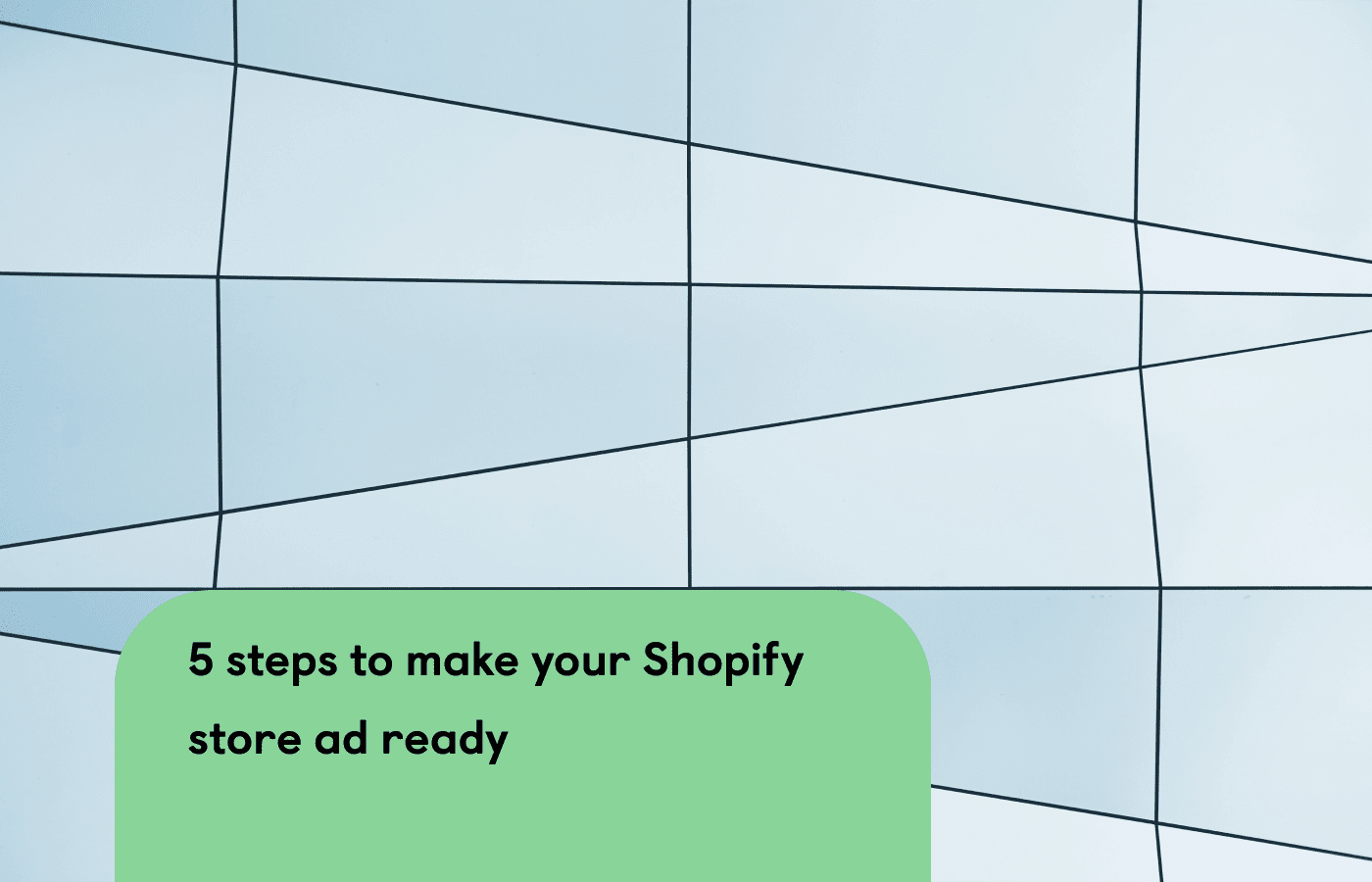 In 4 years of RetargetApp history, our account managers reviewed over 10,000 online stores to make sure that they can run ads on Facebook and Google.
When we review the stores, our main goal is to help online store owners save time and avoid dozens of potential problems ahead. For the same reason, we came up with a list of 5 simple steps you should make before your first online ad goes live:
Make sure your website is finished and accessible
Make a test purchase
Check the advertising policies
Check your product images
Check your product names and descriptions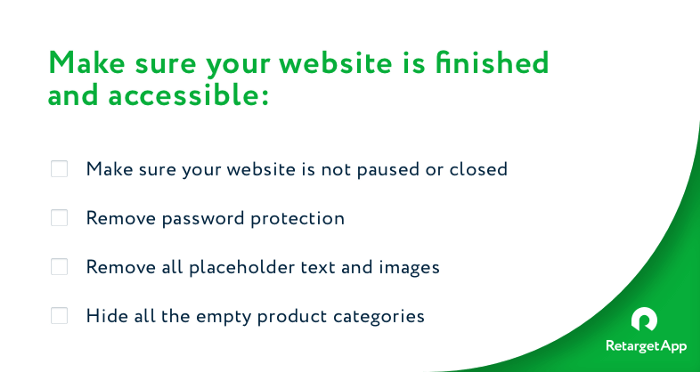 If you invite guests, it would be strange to lock your house and leave just before they come. When you run ads that take your potential customers to a non-functional landing page, you do just that — and waste a lot of money.
Another common mistake is to start ads before your store design is completed. Default products and banners with text like "insert your slogan here" give your customers an impression that you didn't care enough. They also make your store look non-functional and visitors will most probably leave it right away.
Tips:
Before you launch ads, view your store as a regular visitor would. Ask a couple of your friends to do the same.
If you spot any unfinished sections, default products and banners, be sure to remove them before the ads go live.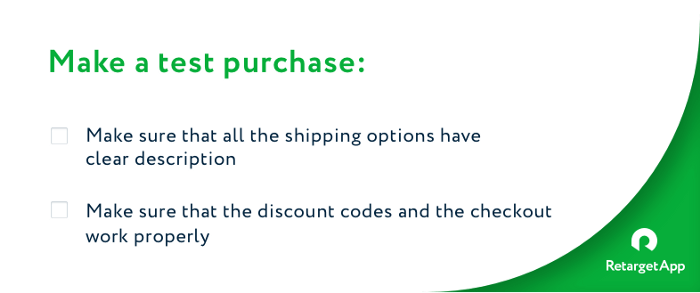 There are many reasons why making a test purchase is a must. In terms of this list, it's all about making sure that your store works the way you want it to work. This refers to discount codes, shipping options and the destinations you ship — and don't ship — to.
Tips:
Add a few products from your store to cart. Once the products are in the cart, go to checkout. Try inputting random addresses from countries you ship to — you can use an address generator like this one.
Not to pay for your own products, you can generate a discount code for a 100% discount. Don't forget to disable it once you are done.

Advertising on social media is powerful, but it has its limits. Before you run ads, be sure to learn, what is okay and not okay to promote — to do this, check out Facebook Advertising Policies and Google Ads policies.
Note that your ads are checked automatically, so certain words in product names, descriptions and URLs can trigger ad disapproval even if the product itself is perfectly eligible for the promotion. For example, "Bazooka sushi maker", "Bullet thermos" or "Smoke weed everyday t-shirt" may get your ad account in trouble.
Tips:
Make sure that you don't promote any drugs, weapons, illegal services or any other products specifically prohibited by Advertising Policies.
If you are advertising restricted materials (anything alcohol-related), be sure that you know about the appropriate age and regional restrictions on Facebook and Google.
If your website does feature something that cannot be advertised on social media, be sure that it doesn't appear on the main page of your store, in your product catalog or on your Facebook business page.
Pay attention to category names and product URLs. Categories like "Sex toys" or "Hunting knives" on the main page will cause trouble even if you don't directly advertise any products from these categories. The same refers to products with URLs like store.com/products/spy_camera_small.

Product images are the only way for your customers to learn what you offer. It is tempting to copy the low-quality pictures from the wholesale website and call it a day, but it's not what you do if you actually want sales.
Another reason why you should care about images is that you normally use them for ads. The rules for a good product image are really simple: they should be at least 600 x 600 pixels in size, clearly show your product and have as little text as possible. Even if you are dropshipping, it is a good idea to invest in a photoshoot of a product, or, at the very least, find the best available image online.
Tips:
Even if you somehow manage to upload a smaller product image to Facebook, the ad with it will not run. Make sure that the images meet the requirements.
Use this tool to check the ad images for text — if there's too much of it, your ads will cost you more and be shown to fewer people.
Avoid "before and after" images if they show unrealistic or highly unlikely results.

A poorly written product description is one more thing you should beware of — if it looks fishy or doesn't answer default questions, your store visitors will steer clear of the product even if they were potentially interested.
A good description should include info on material, color and sizing info, as well as product availability and estimated shipping time — all this will let you avoid potential chargebacks and negative customer reviews.
You could omit things like Brand, SKU, and Vendor unless you find this info absolutely necessary — the shorter the product description is, the better. Just be sure to find the perfect balance between "brief" and "informative".
Tips:
Never leave the product description blank.
Proofread all your product descriptions. Be sure they don't contain mistakes or anything prohibited by the Advertising Policies.
Include the shipping information — especially if you don't do next day delivery.
Running an online store is a tough job that depends on too many factors. While these steps alone won't guarantee immediate success, they will help you make the prospecting or retargeting ads you run — by yourself or with the help of an app — a reasonable investment with a good return. Good luck and may the sales be with you ;)