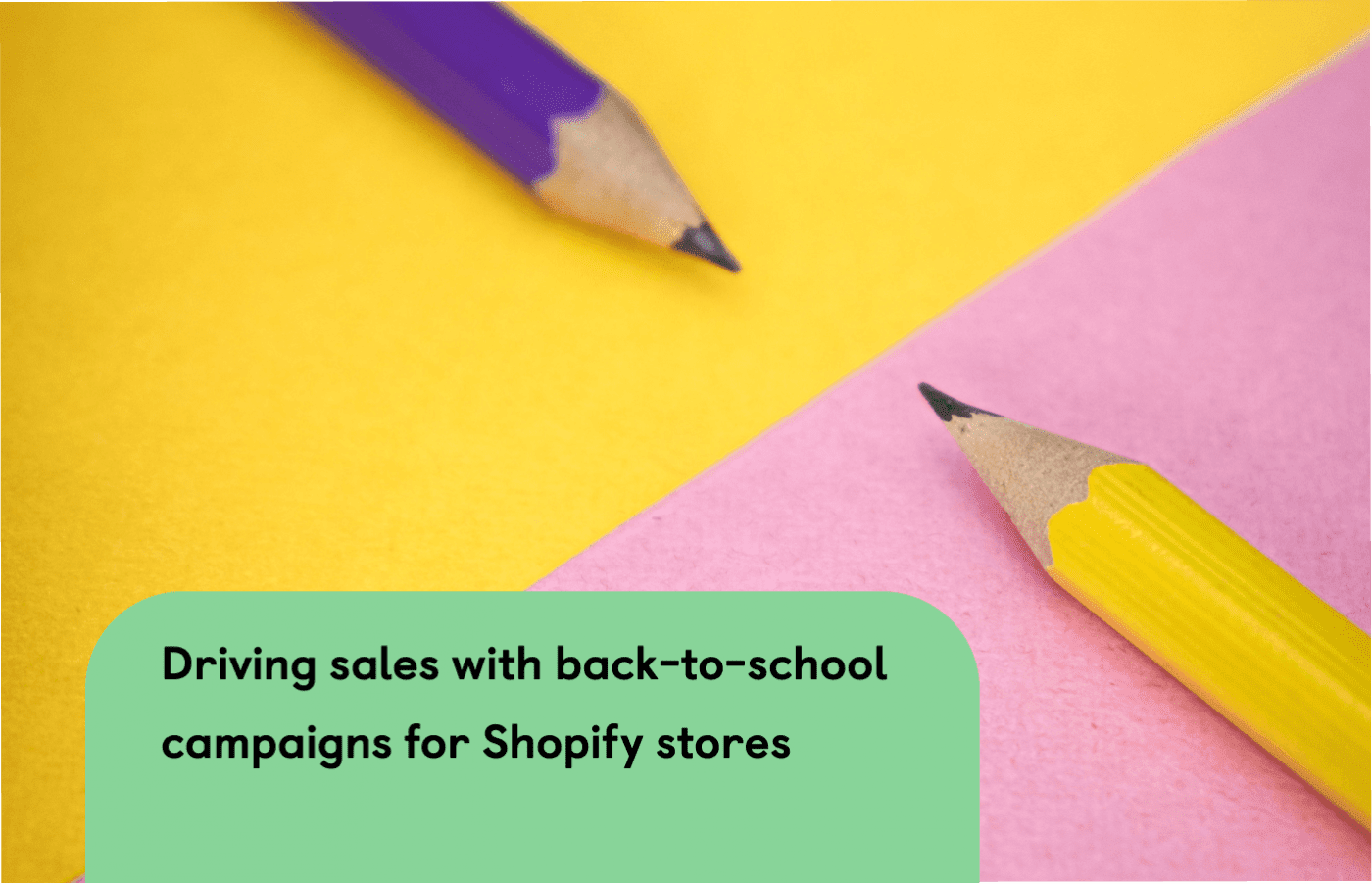 As far as seasonal shopping goes, back-to-school (B2S) shopping is one of the biggest events in the retail calendar, only surpassed by Black Friday and Cyber Monday. The 2019 B2S season is predicted to achieve spending levels of $80.7 billion according to the National Retail Federation, with 49% of consumers planning to shop online.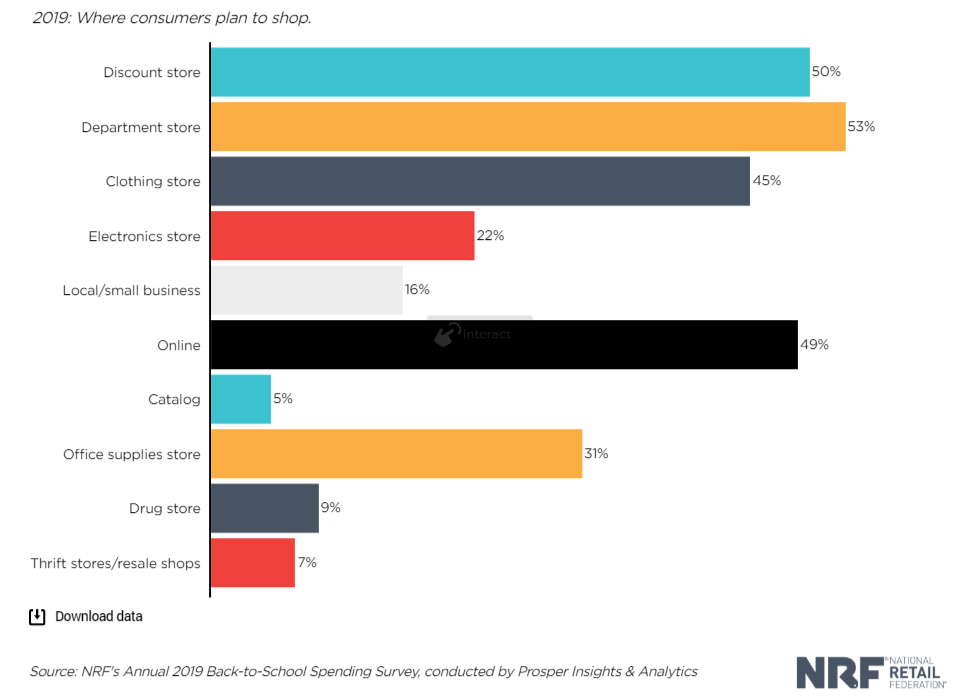 *Screenshot from NRF.
Although B2S shopping has already started this year, with many parents taking advantage of Amazon Prime Day back in July, there are still plenty of opportunities to rake in sales before the summer break is over - and even after that first week back at school in September.
In this article, you'll gain consumer insights relating to B2S purchases and learn about what types of promotional campaigns tend to work best. You'll also find several SMS and push notification templates that you can use in your marketing campaigns, using an app like Tobi or Firepush.
B2S consumer insights from 2018
To get an idea of what to expect from this year's B2S shopping season, let's look to the 2018 results. Here are some key statistics reported by Shopify:
Online revenue from B2S shopping reached $58.1 billion in 2018.
66.7% of orders were made using a desktop device.
On the Shopify platform, however, mobile sales accounted for 66.5% (desktop equated to 33.5%).
orders increasing by 59% YoY and desktop orders growing by 29% YoY.
For Shopify sites, mobile sales growth surpassed desktop sales growth with total mobile Shopify businesses saw a consistent surge in sales over the weekends throughout the B2S shopping season and especially the Labor Day weekend (this year, Labor Day is September 2nd).

*Screenshot from Shopify.
Best dates for back-to-school marketing
B2S shopping gets into full swing during August and the early part of September, with more online shopping done via desktop Mon-Thurs and mobile shopping happening at the weekends, most likely when shoppers are out and about. These predicted back-to-school shopping dates below can be used as a guide - they're based on 2018 survey data from RetailMeNot.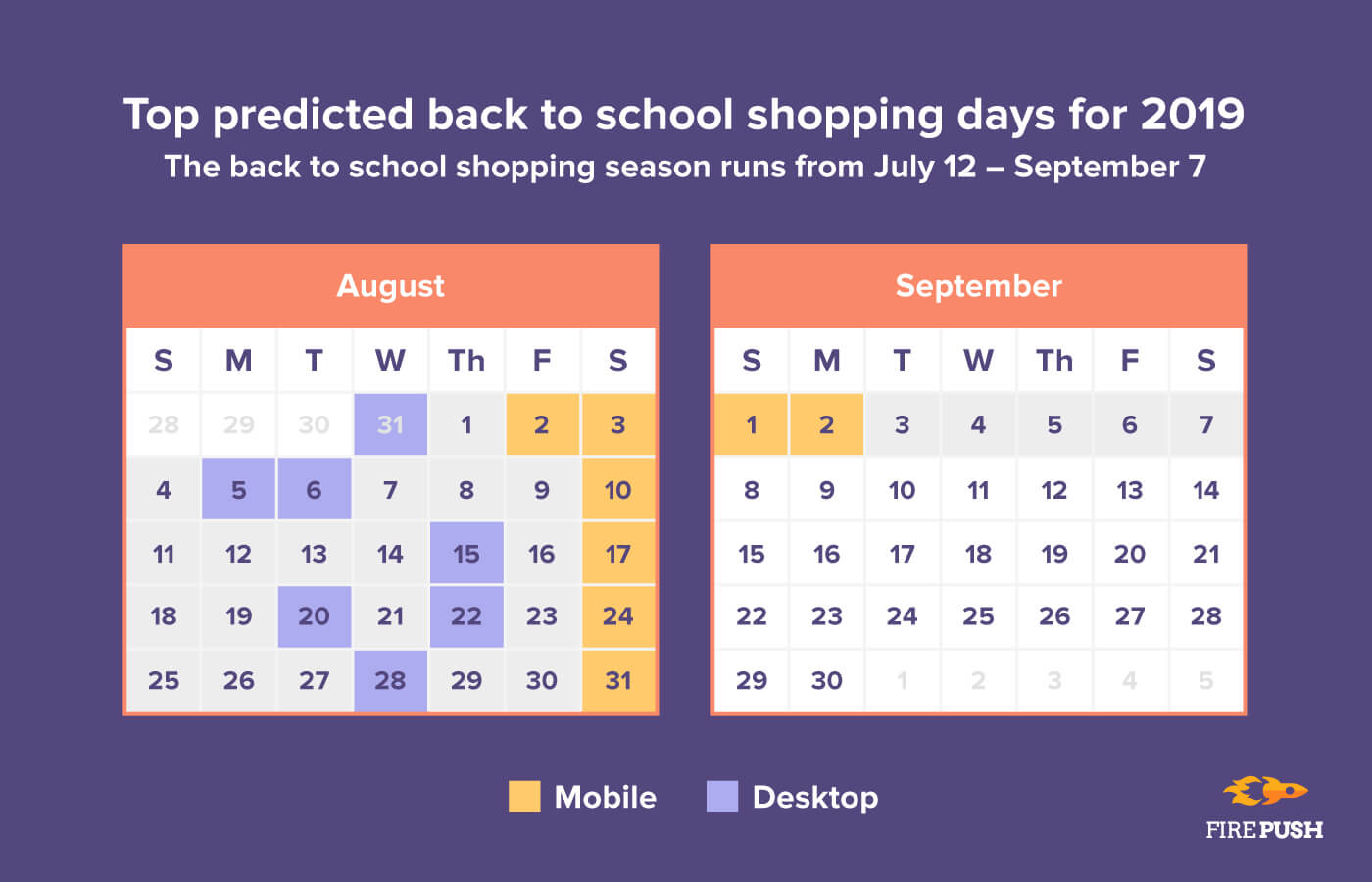 It's worth planning your digital marketing campaigns around these shopping trends when more parents and guardians are likely to be shopping for back-to-school supplies.
What types of B2S marketing campaigns are most effective?
Research undertaken by RetailMeNot. highlights that certain B2S promotions work better than others. The campaigns that get the best results include codes for money off in-store, exclusive codes for a percentage off online and in-store, storewide discounts and cashback on tiered totals.
Other effective promotions include a percentage off sale items, a percentage off a category, an extra discount on clearance items and free expedited shipping.
How to deliver your B2S marketing campaigns
Past trends show that back-to-school mobile sales growth is increasing. For your B2S campaigns to make an impact, you should ensure your marketing messages are accessible on all devices and send them via all marketing channels.
An omnichannel marketing app like Firepush can help with this. With Firepush, you can send a range of promotional messages automatically which appear across all devices, through web push notifications, SMS, Messenger, and email. Alternatively, the Tobi app covers automated email, SMS and Messenger marketing too.
SMS and web push notification templates
So what exactly should you say in your marketing campaigns to make B2S shoppers sit up and take notice? For inspiration, check out these free message templates below which you can tweak and use for SMS and web push campaigns. Don't be afraid to use emojis - they can really add an emotive, human touch to marketing messages.
Back-to-school SMS campaign templates
[Your company name here]. Back-to-school essentials - save BIG with 20% OFF! Click here [redirectToURL]. Use code: B2S20. Unsubscribe here [unsubscribeURL].
[Your company name here]. All your kid needs to make back-to-school a breeze. Shop NOW at [redirectToURL] for free shipping! Unsubscribe here. [unsubscribeURL].
[Your company name here]. Get 20% off all school stationery! View here [redirectToURL] Bring on back-to-school! Unsubscribe here. [unsubscribeURL].
Back-to-school web push notification templates
Back-to-school essentials - 20% off!
Stock up on school supplies and save big with this discount code: B2S20. Available till Friday!
Be ready for First Day at School!
Get everything your kid needs to make their first day back at school a breeze. Shop today for expedited free shipping!
Get 25% off all school stationery!
Take advantage of 25% off pens, pencils, notebooks and pencil cases this August. Bring on back-to-school!
Top takeaways
Back-to-school shopping season has already begun, but there's ample time to make the most of this retail event if you haven't started already. Many B2S shoppers will be hunting for deals in August, especially at the weekends and most certainly around the Labor Day weekend.
So take time now to plan your special offers and deals. Bear in mind that online shoppers need a good reason to choose your store over your competitors, so focus on promotions that offer real value and are likely to provide engagement.
When you're reading to send out your B2S campaigns, a marketing automation app like Firepush or Tobi will help your marketing messages get noticed, no matter which device(s) your subscribers are using. Take advantage of our free SMS and web push message templates to help you get started.