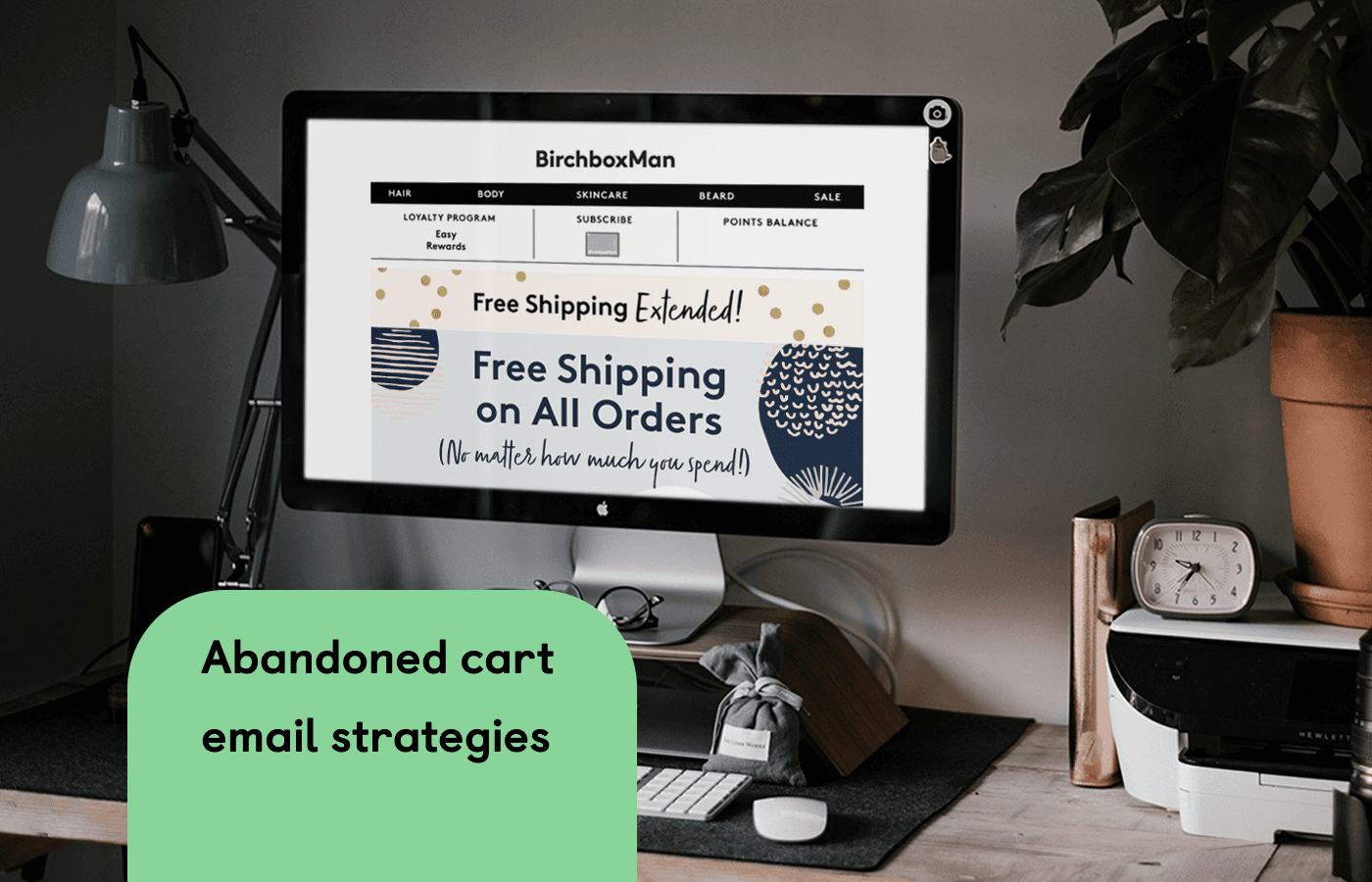 Your potential shoppers browsed your store (you spent lots of time and effort to set up an online store of your own), read reviews, looked at some pics, put something into their cart, then…left. Who are they? Absolutely, they're the members of the Cart Abandonment club!
Have you ever browsed an online store, read reviews, looked at some pics, put something into your cart, then…leave? If so, welcome to the Cart Abandonment Club!
Lots of us are unknowingly bringing the common nightmare to every online merchant: cart abandoned. There are lots of studies surrounding cart abandonment statistics. Some of them place abandonment as high as 80%, but some place this rate as 55%. However, Baymard Institute paints the most accurate picture.
They calculated 41 different studies and found that the average cart abandonment rate is 69.57%. That means there are 7 out of 10 shoppers abandons their cart, which troubled so many e-commerce merchants.

Statistics from BayMard Institute
To tackle this pain, online store owners need abandonment cart strategies to win back the so-called "lost sales". That's why in this post, we're covering 12 strategies to help you do that.
Let's get to it…
What is an Abandoned Cart for an Online Store?
Not everyone who puts a product to their cart completes the checkout. When a potential customer provides their information of contact, then continues to navigate to the checkout page, but doesn't complete the order, their cart is stored as an abandoned cart.
A few of the users simply forget to purchase the product or they are distracted by other factors which hinders them from purchasing that product.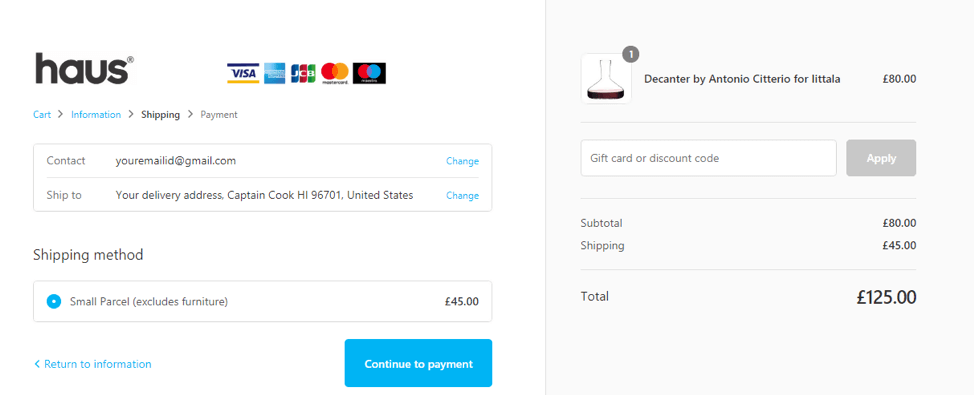 If you leave this website after filling up your information, you would reflect on their list of customers who abandoned their carts.
The online stores face a far bigger challenge of abandoned carts in comparison to the physical stores. There are a number of reasons why online shoppers leave their carts abandoned.
So now:
Why do Online Shoppers leave their carts abandoned?
Online shopping is a bit tricky. People who visit one website are often also visiting other online sites for a similar product. Most people are comparing the services, return policies, price, shipping cost, and many more factors before finally buying an online item. If they find a difference in prices, or they simply get confused, they tend to leave their cart abandoned without completing their purchase.
Baymard Institute deployed some in-depth research to determine what triggers cart abandonment. They found there are 58.6% of US online shoppers abandoned a cart because "I was just browsing/not ready to buy".
Baymard Institute segmented out this reason, and focused on the remaining reasons, then they get the following: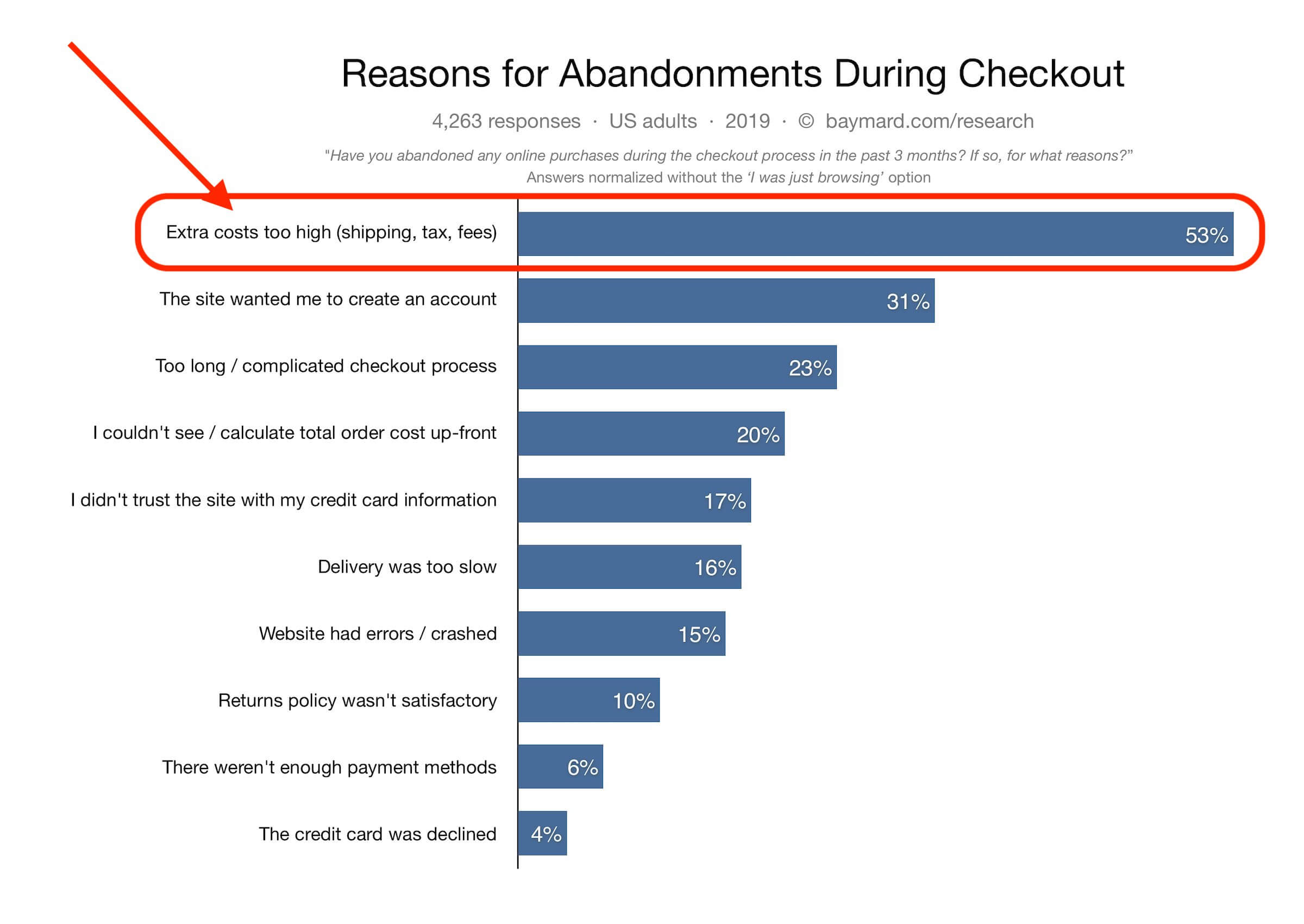 Extra costs are the Number One reason why online customers abandon their carts.
Among other factors, extra costs like shipping fees, taxes performed as the biggest dealbreakers. 53% of the survey respondents cited this as the reason leads to their abandonment.
This statistic shows that we should offer free shipping or extra incentives for our online shoppers. And, this leads us to the next part:
12 Most Effective Abandoned Cart Email Strategies
#1. Offer free shipping
Everyone loves free shipping. In their report in 2018, Walker Sands found that: 79% of people expect free shipping when they shop online. So, why don't you give Free shipping offer a try? We're sure you can easily customize this when set up your shipping information.
The problem with most of the customers arises when it comes to paying hefty costs in the form of shipping. They are first attracted by the low prices of the product and suddenly the overall prices skyrocket when they finally come to the checkout page. If you offer them free shipping, they will come to know that you have given them a favor of reducing their hassle of doing the calculations.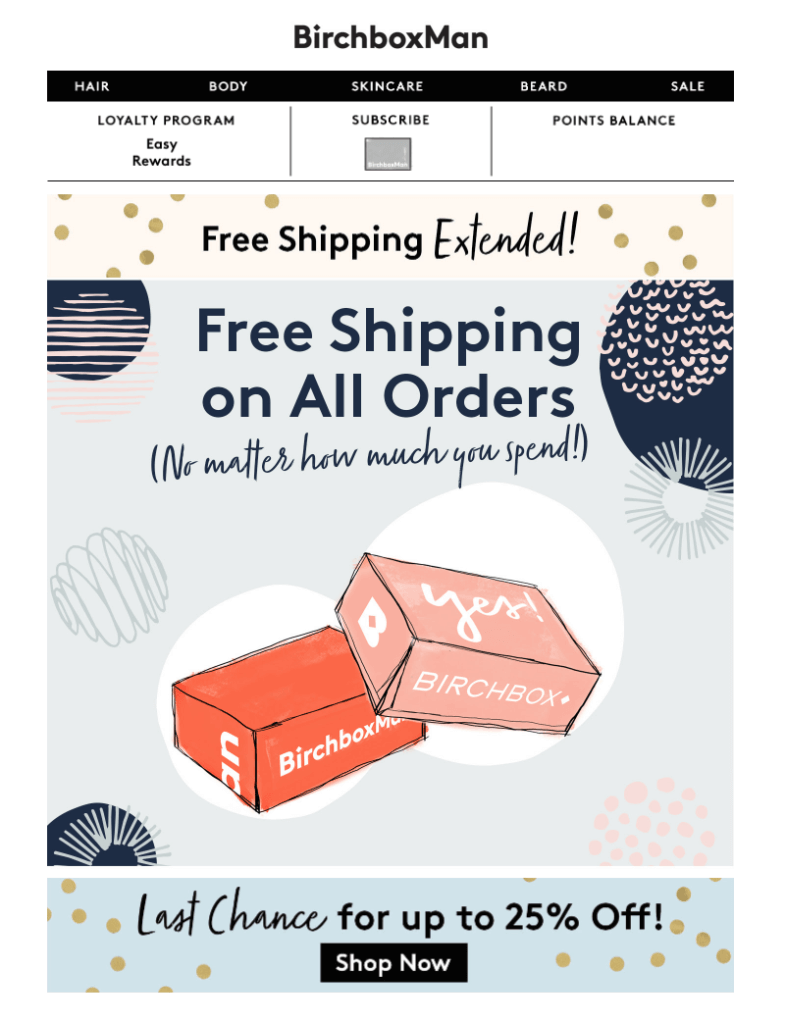 BirchboxMan reminds its customers with free delivery option
#2. Use a catchy subject line
Nowadays, sending an email to a potential customer is not that simple task. You need to stand out of his huge list of emails so that he chooses to at least click your email to read what is inside that.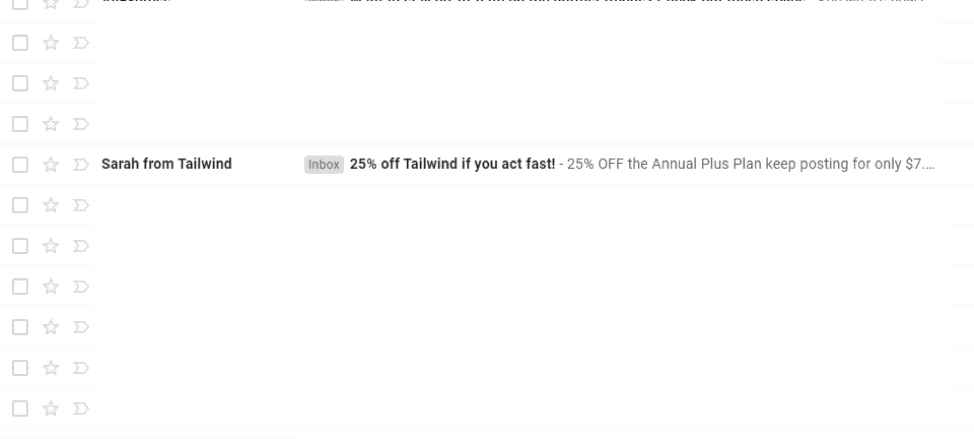 This kind of subject line has a lot to offer to a potential customer. It reminds him of his lost purchase, gives him a discount of 25%, and also pushes him to act fast to complete his purchase. The subject of your email matters a lot when it comes to sending an abandoned cart email.
#3. Mention sale with a reason and inform when it is ending
One of the highly effective abandoned cart email strategies is to mention the reason why you have put your product on sale. In the screenshot of the similar email below, you find a reason that they have put their product on sale in celebration of St Patrick Day. They have mentioned that the product is 50% off but for a limited time only. They have not mentioned when the sale is going to end but it would also be a great idea if you mention that sale is going to end in 12 hours so that customer acts fast and completes the purchase.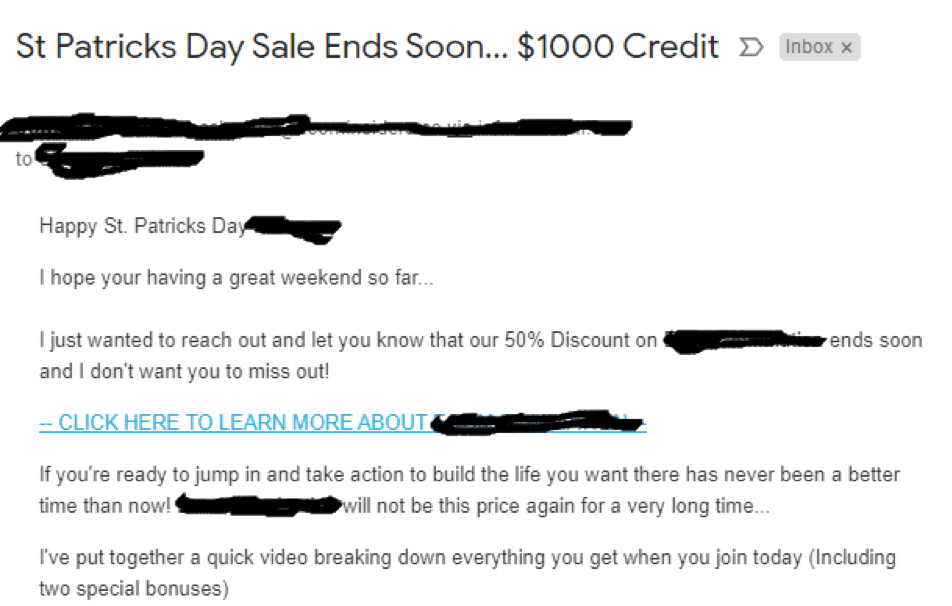 #4. Use customized promo code to the right customers
In another study of 99firms, 46% of online shoppers leave their carts abandoned just because their discount codes didn't work. This means that if you offer your potential buyers a valid discount code, they are very much likely to return and buy your product. That said, discount codes do help you in optimizing your profit.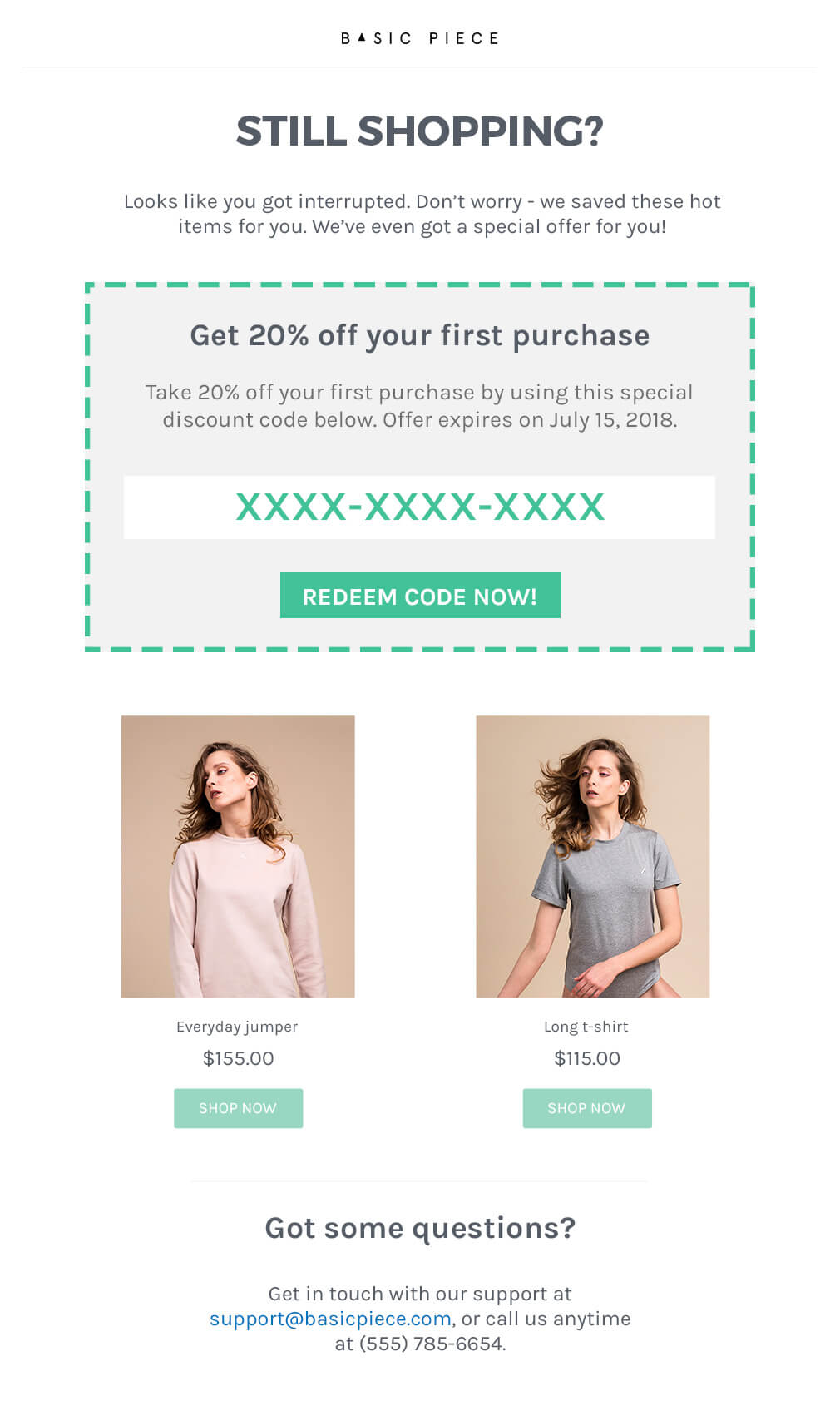 #5. Include product link and promising pictures in the email
Customers are not going to spend much time reading your email. He might actually have logged into his email for other important tasks related to his life and work. You need to hook your customers with the product's sparkling features and a link directs to the product page (of course, you should add crucial elements that help your product page converts). By doing this, your don't have to make any efforts for buying that product. It is very much possible that he might have forgotten about how the product actually looked like. So it's important that you also include the best pictures of that product in the email in a presentable manner.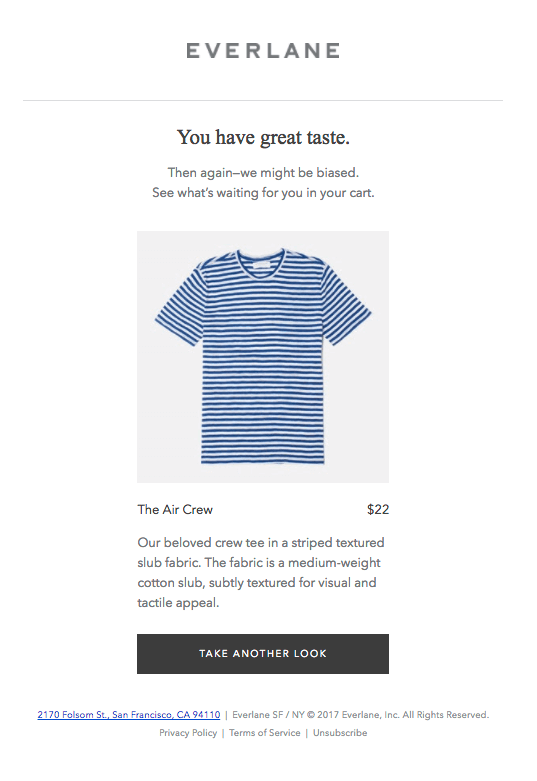 Everlane reminds its shoppers with a simple email
Everlane works well in showing its online shoppers the products they have abandoned. The brand displays a clear picture of the product, with a concise description. And of course, Everlane also puts a compelling CTA to push the customers to click to navigate to the product page.
#6. Write alternative product description describing pain points and solutions
It may very well be possible that the product description that was present on your website was not properly apprehended by the customer. He may not be aware of the actual benefits of the product. So, you need to mention clearly the pain points that your product was made for and how it provides solution to make the customers' lives easier. Provide additional details on the product to convince him to buy instantly.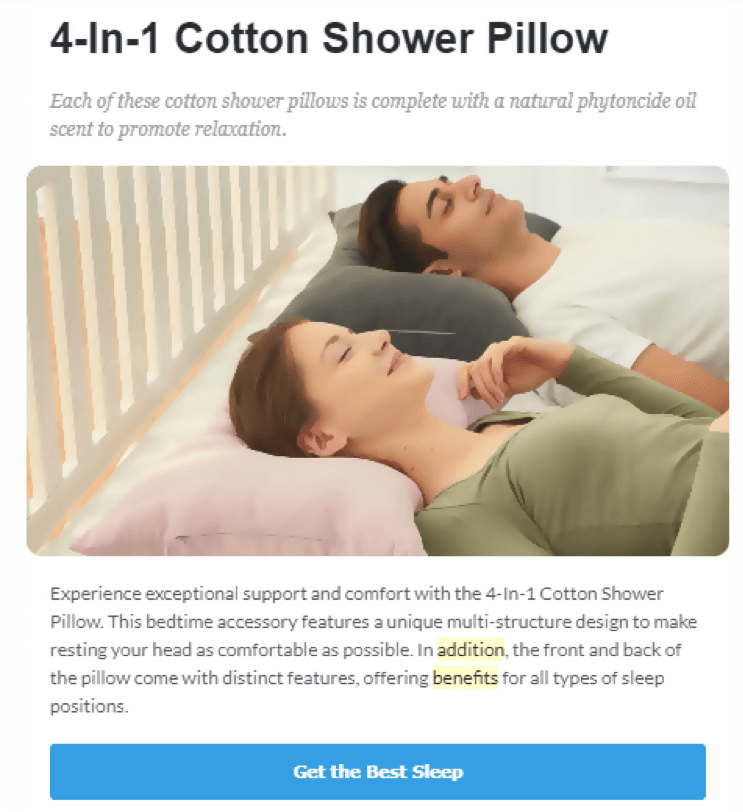 #7. Show them the scarcity of stock
Some people might just have left thinking of buying that product at a later stage. You are not going to let that happen because an opportunity delayed is an opportunity lost. You need to create urgency by highlighting the scarcity of the product he just wanted to buy even if product is still using print on demand idea. Tell them that only few items are left and they need to act fast otherwise they may not get the same product in the future from anyone.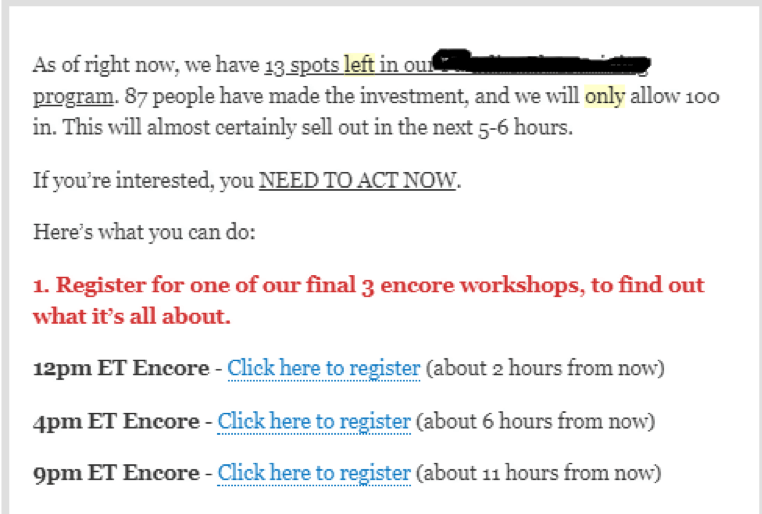 #8. "Is your Wi-Fi ok?" Strategy
Many online shoppers wouldn't abandon their carts intentionally. There may be many reasons why they left their purchase incomplete. Something might have diverted their attention, or they may have just forgotten to complete the purchase. A good reason for why they left their purchase incomplete could be a problem with their internet. Their browser might have crashed. A problem with their internet might have occurred and so on.
So, a good strategy would be to emphasize on this matter and start your email text by asking them this simple question, 'Is your W-Fi ok?" Then quickly highlight what you have to offer to convince him to complete his purchase.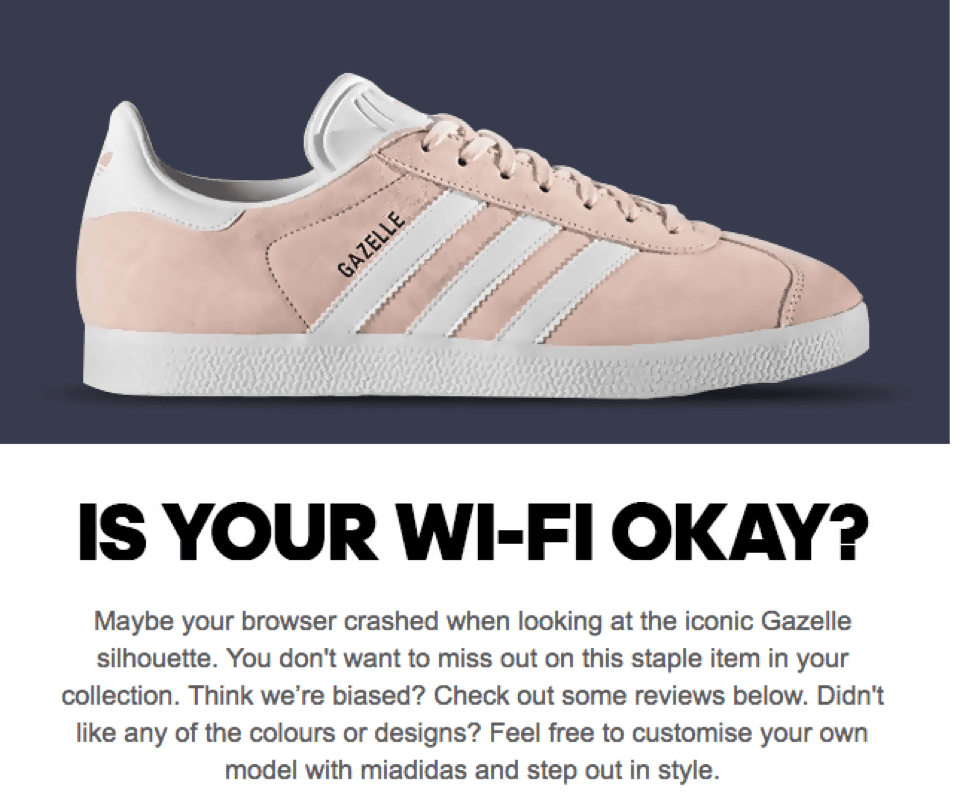 #9. Make use of your social proof and customer reviews
Try your best to capitalize on your reviews and social proof. Most of the people tend to follow the majority. They will buy what others are buying. According to stats aggregated by Forbes, , 90% of the consumers prefer to read reviews before visiting a business. Try to use this fact in your abandoned cart email. Show them how many satisfied clients you have for that particular product which he was about to buy. Tell them that it has been in the list of your bestsellers so that they feel confident about their choice of product and buy from you instantly.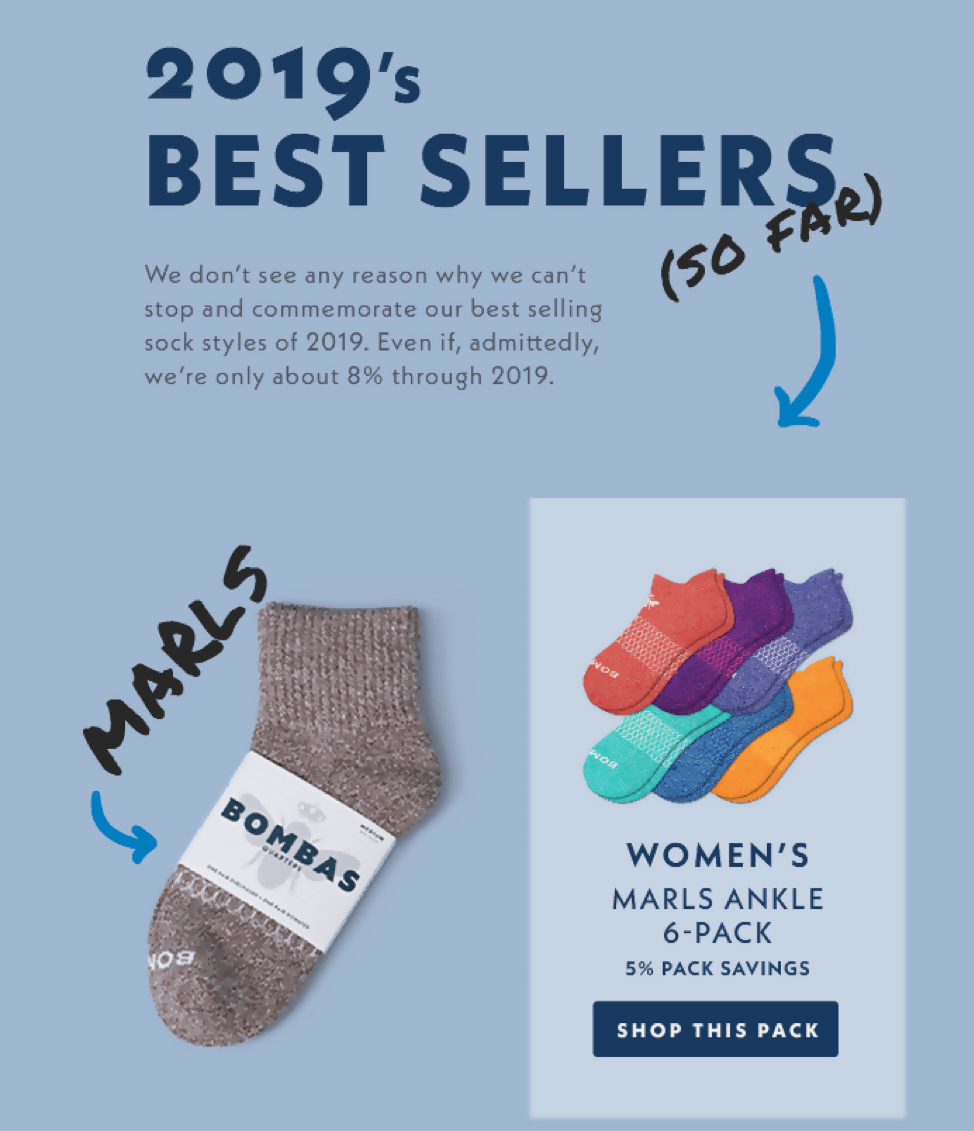 You can also make use of the positive reviews that your customers have left on your website. Gather them and include them in your email to fetch better results.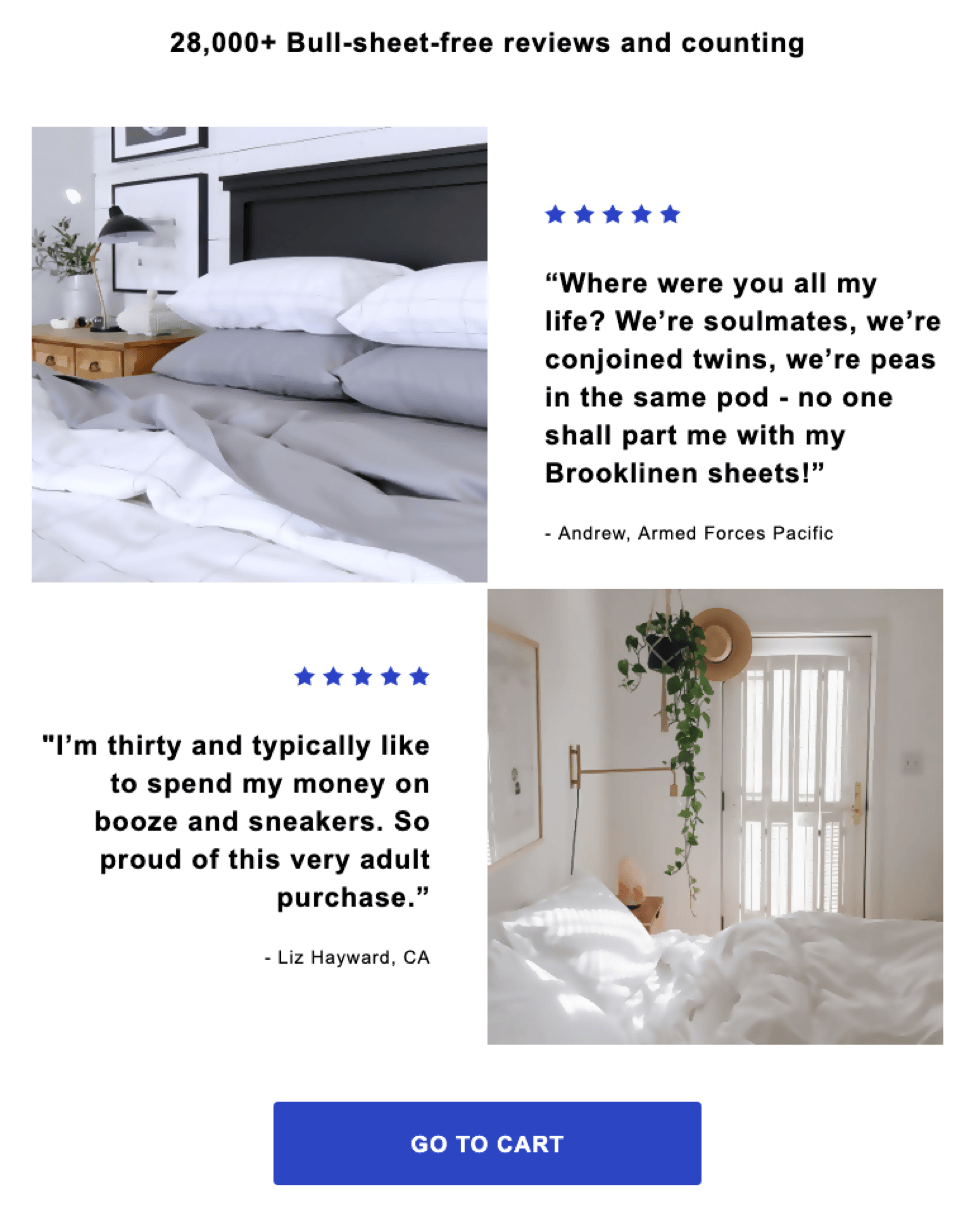 #10. Make your email mobile-friendly
In their research, Barilliance found that the shopping cart abandonment rate for mobile were even higher (85.65%).
This is one of the most essential parts of email marketing especially when it comes to sending the abandoned cart emails to potential customers. As we discussed earlier, your customers might have left due to the slow response from their internet or your website speed. So, you need to be extra careful about your email. If your email is not responsive and user-friendly, you would waste your last chance of getting the customer back. Make sure that all the CTAs are in place and are clearly visible in your email when it opens up on a mobile phone.

#11. Give them an offer they can't refuse
Your email is probably the last chance of getting that customer back on your website for completing his purchase. While you can send more follow up emails but bombarding his mailbox would not leave a good impression of your website. So, you need to act smart and include all that you have to offer in that single email.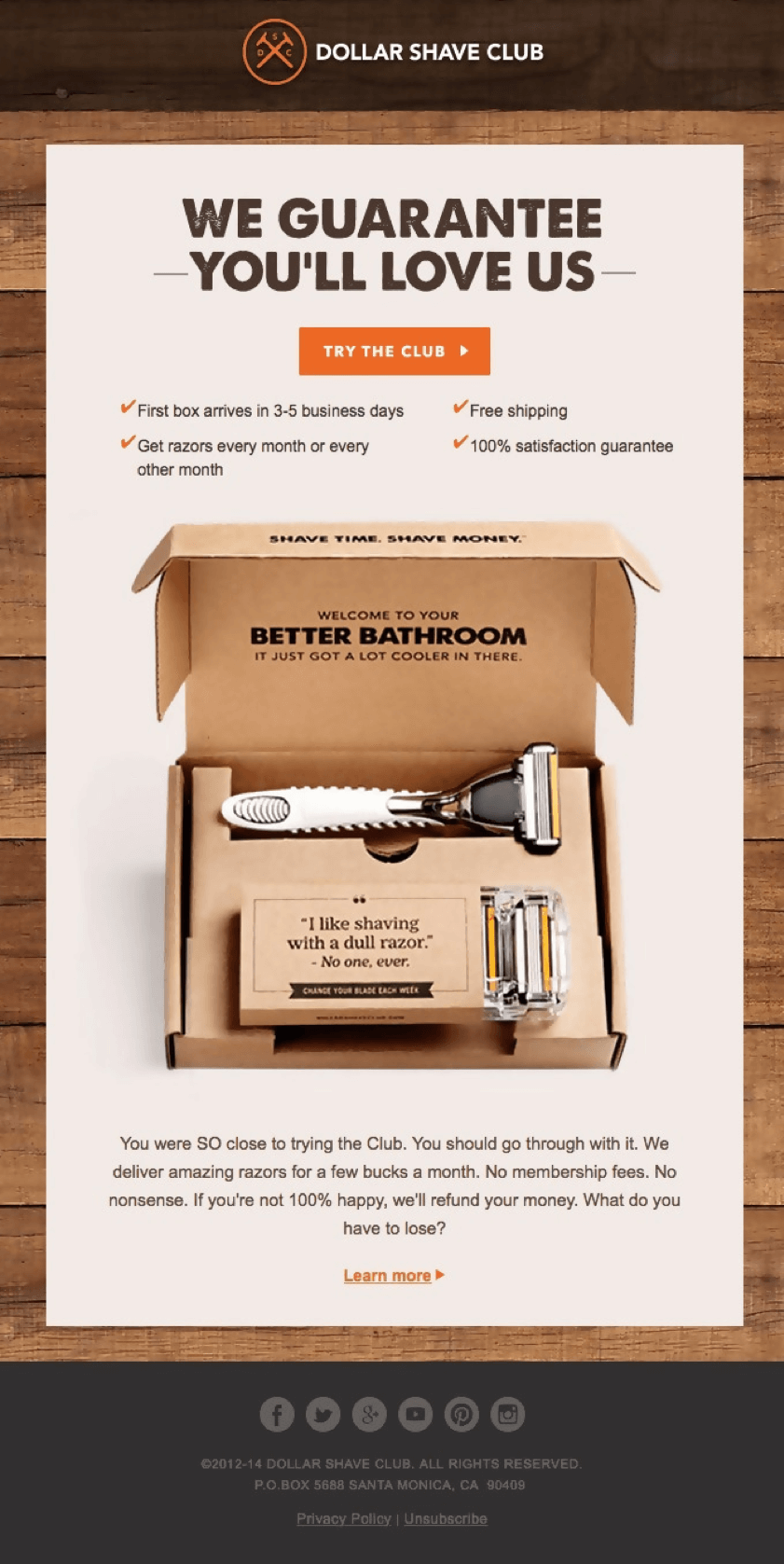 You can see in this email from Dollar Shave Club that they have neatly shown the picture of the product with the box. They have highlighted the features of the product and they are offering free shipping. They would have made their email perfect if they could offer a discount code or created an urgency of the limited stock to tempt the potential shopper.
#12. Make your purchase simple and a click away
After all the efforts done by you to convince your customer to complete his purchase, you would not want to make your buying process difficult for the customer. You have to keep it neat, simple and a click away for the customers so that they buy immediately without much hassle if they are successfully convinced.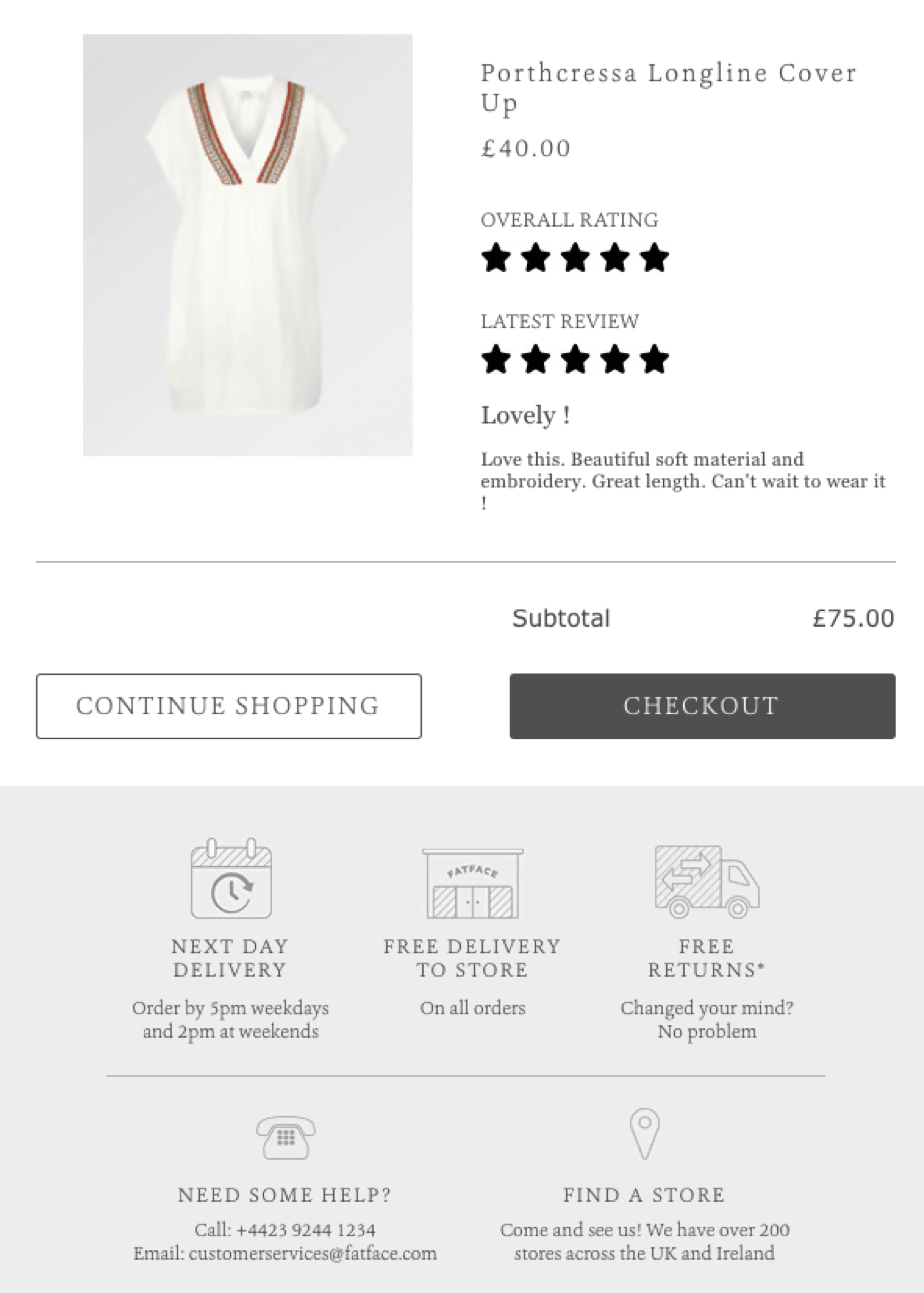 As this simple email shows all the necessary information and CTAs, this is a perfect example of making things easier for the potential shopper whether he or she want to buy that product or continue shopping on your website.
Should you use all the strategies?
The above-mentioned strategies are thoroughly researched and always yield positive results. There is no harm in using all of the strategies but you have to keep some of your cards in your hands to play while sending the follow-up emails.
Final thoughts
Abandoned cart emails are one of the most common and widely used strategies to recover the missed sales. The strategies mentioned in this article may seem easy but it requires a commitment to increasing online sales and creates the best possible emails for abandoned carts.
Did you have any idea in mind? Think about one thing you can do to differentiate your emails, even a little bit. And lastly, don't forget to track your cart abandonment rate when you apply these changes to monitor your success.
Author Bio: Hannah started as a copywriter, but it turns out her true passion is e-commerce marketing.
She is naturally inquisitive about human behavior and its interaction with the digital world. Now, she's part of the HappyPoints team with a goal to help Shopify merchants boost their business.
Her team helps merchants launch their e-commerce websites and optimize their sales conversions with fully managed Shopify store setup and theme customizations.