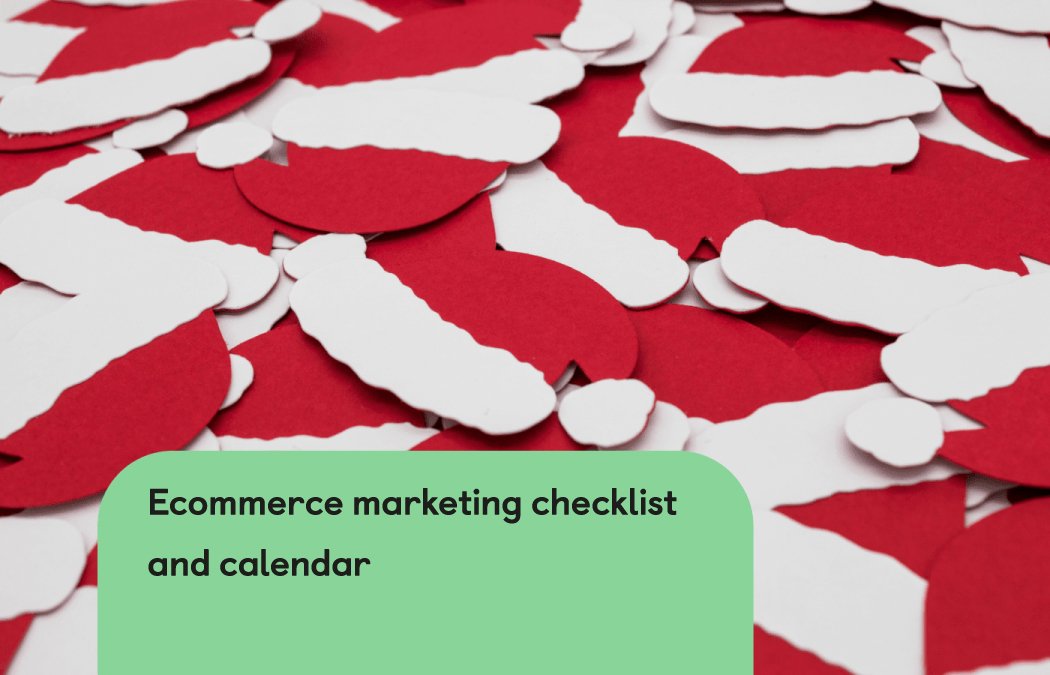 You may not have made your gift list (or checked it twice). And advent calendars won't be hanging for another couple of months.
But there's a list and a calendar you need to have right now. And that's your ecommerce marketing checklist and calendar for the upcoming festive season.
Ask any marketing expert what the number one factor for success over the holiday season is, and they'll tell you – start early. This makes sense for a couple of reasons.
Reason 1: Leaving it late will cost you – literally
Of course, leaving things to the last minute will cost you in terms of stress and the quality of your marketing campaigns. But just as important is the fact that costs for marketing go up from November. Paid ads are most expensive in Q4 – cost per click skyrockets in week 3 of November and doesn't let up until the end of December. So for a better marketing ROI over the holidays, you need to be active earlier – in this blog I'll tell you how to do this.
Reason 2 – Customers are doing their festive shopping earlier and earlier
Back in the old days, Thanksgiving used to signify the start of the Holiday shopping season – now, according to the latest data from Facebook, the start date is more like Halloween or even before.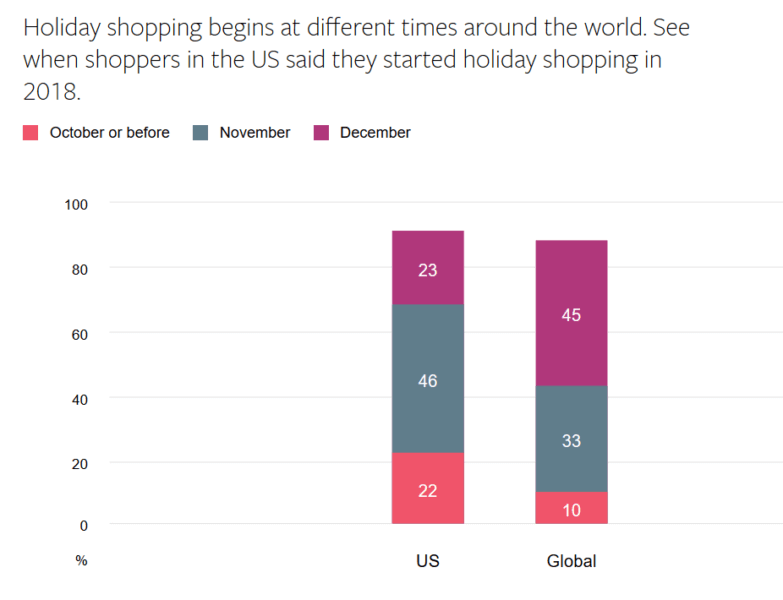 (Source: Facebook)
Miss out on October through a lack of planning, and you could miss out on 22% of your potential sales in the US. That's a big hit.
There's snow time to waste
Joking aside, if you haven't got your holiday planning in order, it should now be your top priority.
But don't worry, this blog is here to help with two handy resources.
1. A Holiday Checklist. We'll take you through the key steps you need to follow.
2. A Holiday Calendar. This goes through the key dates for your diary you need to be aware of.
Let's go!
Your holiday ecommerce marketing checklist
1. Decide on business goals
2. Choose appropriate target products
3. Define discount strategy
4. Define marketing strategy
5. Audit and update website
6. Set up and test campaigns
7. Organise customer support
Let's consider each of these stages, then define a timeframe for executing all of your holiday season marketing.
1. Decide on business goals
Hopefully you already have a clear idea of your sales targets for Q4, and how these fit into your overall goals for the year. But perhaps they need re-visiting or adjusting based on your performance so far this year.
You should also be considering other aspects of your business beyond simply your sales targets: improving profitability, reducing overheads, building brand awareness, growing customer loyalty. A successful festive season can help you achieve all of these goals. Here are a few quick suggestions of how this could work:
Improving profitability. Rather than focusing purely on sales volume, you can instead focus on the number of sales made per order. Increasing average order value (AOV) is a great way to improve profitability (and we'll discuss this more later on in the blog).
Reducing overheads. Perhaps you are happy with your sales volume, but want to reduce how much you have to spend to achieve this volume. You could do this by reducing your dependence on paid ads and focusing more on SEO and organic traffic.
Building brand awareness. The holidays are an ideal time to build a relationship with your customers and get people engaging with your brand. Social projects or donations to charity, plus some good humoured posts on social media can do a great job of building affinity with your brand.
Growing customer loyalty. Instead of focusing purely on sales, how about building customer loyalty for the long term through great user experience, personalised offers and accessible customer support.
Spend some time thinking clearly about your overall goals for this period. This is going to be the foundation for all of your holiday season marketing, and having a clear focus will make everything ten times easier.
With your business goals set, define your specific marketing goals and set clear, measurable KPIs. These could be qualified leads, conversions, traffic, cost per click, marketing ROI or other metrics related to your specific business goals.
Limit yourself to up to 3 KPIs – any more and you'll lose focus. Then make sure you have the tools in place to measure these KPIs. After the craziness of the holiday season, you're going to want to sit down with some concrete data in order to judge if this year was a success, and why. Plus you'll want the opportunity to celebrate with your team when you hit those KPIs and score your best-ever results. No data, no party.
2. Choose appropriate target products
With your business and marketing goals in place, spend a bit of time focusing on your stock and products. Most likely you'll be running discounts and deals over the holiday season, and you need to know which products to feature in these deals.
Here are 3 key considerations when selecting the products to feature in your promotions or deals:
1. Demand
Consider which of your products are best suited for the holiday season. Shoppers are ready to spend big over the holiday period – consumers in the US plan to spend $1,004 on average. So focusing on expensive products with high margins is a smart approach. And think about which of your products would work well as a gift for others – review gift lists in your sector for ideas on which product types perform well.
2. Inventory
This is straightforward. If there are items you have too much stock of you'll want to shift these. On the other hand, don't select products for deals if your stock of them is low. Manufacturing and shipping new products in time for the holiday season is going to be difficult, if not impossible now. So make sure you don't target products that will run out quickly.
3. Margins
Balancing the books over the holiday season can be a challenge. Ad prices are higher and shoppers are looking for discounts. If you're not careful, you could end up paying loads in ads to sell products with smaller margins – not a great combination. So look for any of your products that have especially big margins. They will enable you to offer an attractive discount, spend a bit on marketing, and still make a healthy profit.
Finally, consider products for upselling and cross selling, or for use as free gifts to encourage higher spending. Alongside your main target product you should be considering which accessories or complementary products you can tempt your shoppers with. Tools like Tagalys helps you to promote selective products based on your sales/business requirements. If you are running a sales countdown you can also use the tool to schedule the product promotions.
3. Define discount strategy
Our blog on discount strategies for Black Friday goes through the whole process of selecting the right type of discount in detail. Here, let's just consider one point – how the type of discount you offer relates to your overall business goals.
If you're aiming for pure sales volume, target % off or $ off discounts. They're simple to understand and easy to market.
If you're looking at customer loyalty, try VIP discounts to a selected audience.
Flash sales are great for attracting new customers and building brand awareness as they have strong virality.
If you want to move excess stock, offer free gifts or create product bundles.
And if it's better profitability you're after, add thresholds that offer bigger discounts the more items are added to the cart. Or you can add a threshold for free shipping.
In terms of the most popular holiday season discounts, last year's top 5 amongst Shopify merchants were:
Site wide discounts
Specific product discounts
Coupon codes
Free shipping (either on all orders, or by order value)
Discounts on new products or holiday collections.
4. Define marketing strategy
There are, of course, lots of potential options. The strategy, or combinations of strategies, that you end up pursuing is going to be defined by your audience, your budget, your competitors and your business goals.
But there's one important factor regarding marketing during the holiday season that you must understand.
Revenue over the holiday sales season is triple that of any other time of year. But that's because so many people are shopping. When you break the figures down to individual sales, the picture isn't so pretty.
To understand why, we need to be familiar with one sales concept - average order value (AOV). AOV is the average total of the goods in a customer's shopping cart. And it's really important for your profitability because the higher the total, the more profits you make. The idea is simple. Some of your costs, such as advertising or shipping, are per order rather than per product. Let's take advertising as an example. Your advertising is spent getting customers to your site to make an order. There is no additional advertising cost if they then add another item to their order. So you can consider any additional items added as advertising free. Nice.
But the bad news is that AOV is virtually the same in Q4 compared to the rest of the year.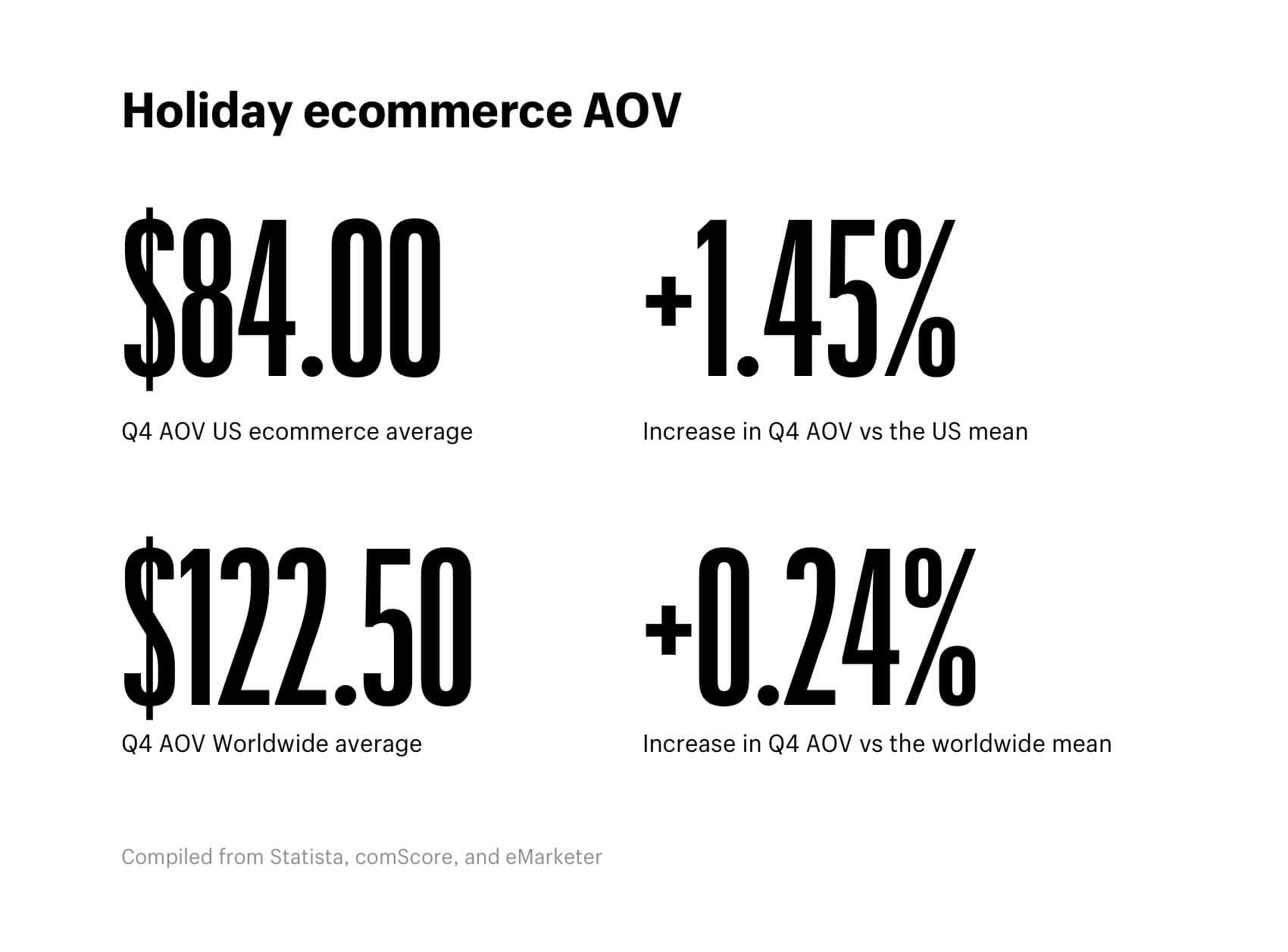 (Source: Shopify)
Worse still, as we have already mentioned, advertising costs are much higher over this period. Cost per click is more than double the average at peak times of the holiday season.
The result?
You could end up paying double the amount on advertising without getting double the amount of profit. In fact your profit per customer will be basically the same as at any other time of the year.
OK, enough of the technicalities. Here are 3 marketing strategies designed to avoid the holiday season AOV trap.
Strategy 1
Use paid advertising early in Q4 (up to the end of October) before the costs get too high. Focus your advertising not only on sales, but also on email subscriptions or opt-ins to your SMS, push notification and Messenger marketing. Then retarget to your existing leads and customers during the Holiday season when ad costs are at their highest.
Strategy 2
Win-back existing customers. You'll get much more bang for your buck focusing on winning-back shoppers who previously made a purchase but have now stopped engaging. They may be smaller in number, but you'll have a better chance of converting plus it will cost you much less to reach out to them.
Strategy 3
Use abandoned cart messaging to close sales. If you have spent a lot on advertising, you want to maximise your chances of making revenue from the shoppers who visit your site. And abandoned cart messages are a great opportunity to do this. Set up SMS, push notification or Facebook Messenger abandoned cart messages to connect with shoppers who add items to their cart but don't complete a sale.
Of course these are just for starters. There are a whole host of approaches you can take, from SEO to influencers to social media. Just be sure not to focus solely on paid ads as this could really hurt you.
What about channels?
Again, this will depend somewhat on your audience and budget. But there are a couple of rules you need to follow.
1. Your marketing has to be omnichannel. This means you can't just rely on email. And, unlike multi-channel marketing, you need to make sure your messaging is seamless and connected across multiple channels.
2. Your marketing has to be tailored to mobile. In 2018, 66% of all orders on Shopify stores came through mobile over the holiday shopping season. So target channels which are mobile friendly like SMS and Messenger to connect with your audience where they are.
Strategy 4
Easy returns matter. On average, around 40% of holiday purchases will be returned. Sometimes this is because customers overbuy to return what they don't need later. Other times its simply because the products they bought didn't work out for one reason or another and they have buyer's remorse.
Either way, making returns easy is one of the best things you can do to secure more sales, especially during the holiday rush. If shoppers know that its as easy to return as it is to buy, 80% of them are more likely to make a purchase. What's more, 66% of them will read you return policy before buying, and most won't be encouraged to purchase unless you're offering the assurance of hassle-free returns.
5. Audit and update website
So you've got your business goals, picked your target products, and defined your discount and marketing strategy. You're well on the way to holiday season success. Now it's time to take a look at your website.
Your website and online store is where all the action is going to happen. So you need to make sure everything is in shape.
Using a tool like PowerMapper, you can check that your website is operating well and there are no broken links to accessibility issues. You should also check your website's load speed to make sure it is as fast as possible – Google offer a free handy tool for doing this. If it is too slow, optimize your images to improve its speed.
Next, pay attention to your FAQs and sales related information like your returns policy. Do you present clear information on shipping times and returns procedure? Is there easy information on how to apply a promo code? This information can play a decisive role in clinching a sale, and are also important for building customer loyalty.
Then make sure you have relevant landing pages and banners prepared for the deals you're going to offer. Once shoppers have clicked through to your site from an email, ad or message, you want to present them with an enticing page that's easy to navigate.
Lego did a great job with this seasonal landing page.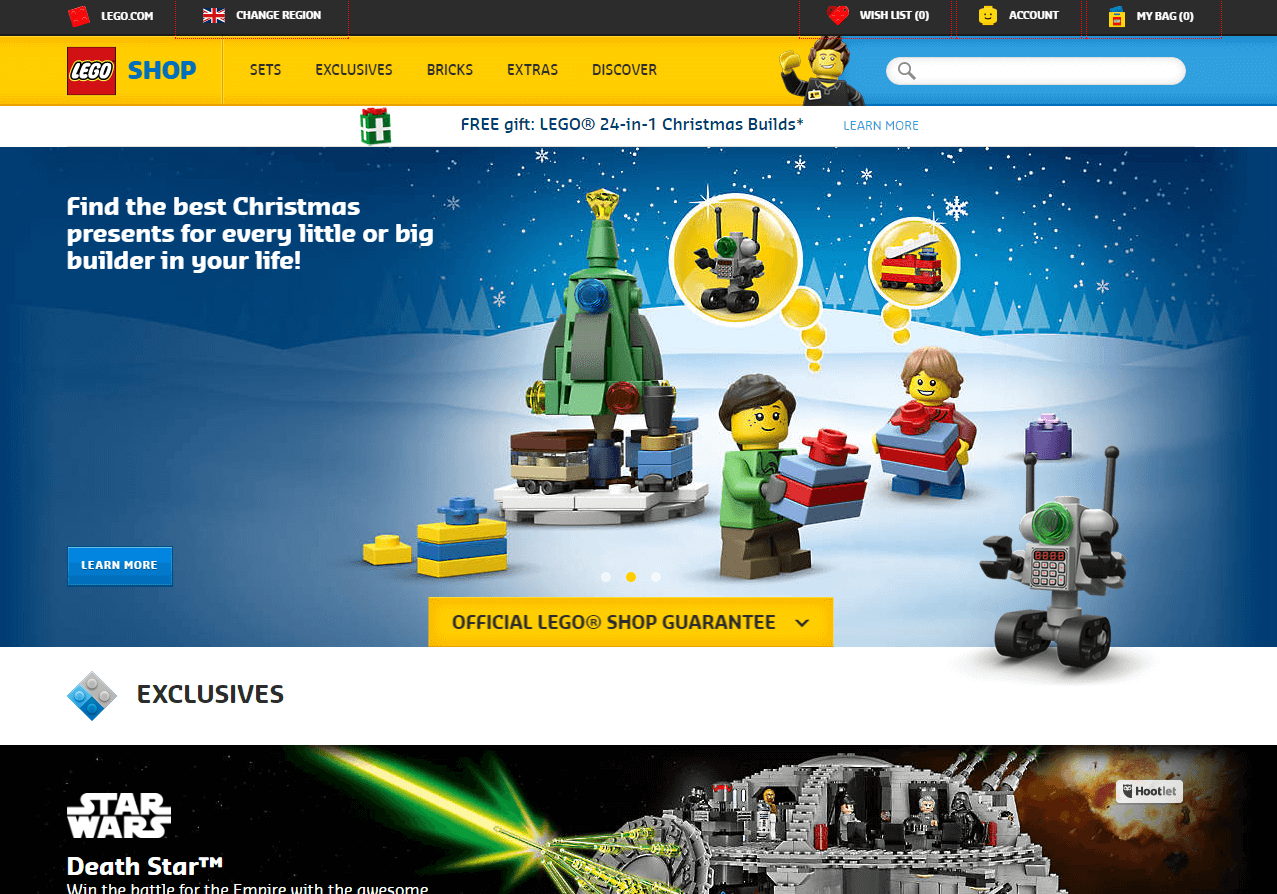 (Source: Click.co.uk)
Why it works:
The visual is seasonally themed. Shoppers instantly know they have landed on the right page for holiday shopping.
The focus of the visual and copy is on gifts. Remember that you might be communicating to a different audience than usual over the holiday season – people buying gifts for their loved ones. For example, if you're a makeup retailer, you probably assume your usual audience knows the difference between foundation and blusher. But over the holiday season explain the difference, because you may well be communicating with a hapless hubby looking for gifts for their better halves.
The message is playful. In terms of building your brand, holiday season is the perfect time to show your lighter side. Lego's offer to find gifts for "every little or big builder in your life" is a nice recognition of the fact that grown ups like to play with toys just as much as kids do.
It emphasises reliability and trust: "Official Lego shop guarantee." Use either social proof (like reviews and ratings) or highlight your guarantees and offers to build trust and confidence.
It features a banner promoting a free gift offer. Make sure you set up banners or pop ups promoting your special offers so no one misses them.
There are a couple of other web design issues you should consider too:
If cross selling or upselling play a key role in your strategy, make sure your website is set up for this. This could include adding an upsell recommendation app to your store.
If you're planning to run abandoned cart campaigns (which you definitely should be thinking about), set up and test your opt-ins for push notifications, SMS and Messenger. In your testing, see which opt-in locations (pop-ups, under "add to cart", or at checkout) perform best with your audience.
6. Set up and test your campaigns
With your website ready, it's time to get your marketing campaigns up and running.
Paid ads: As we've already mentioned, start early with your paid ads (aim for early October) and focus on acquiring leads. You should also be testing to find your best performing visuals, copy and calls to action. This way you can run just your best-converting ads over the peak shopping season.
Social: Use your social channels to build hype by teasing offers. And don't forget to share the timing of any sales or offers, plus your seasonal content.
Retargeting: You want a steady stream of emails starting from early October. Begin with more general holiday suggestions and ideas. Fashion brand Cath Kidstone use this approach to good effect:
The brand's biggest mailer is its Christmas gift guide at the end of October, which it sends to almost a million people from its database. The brand also mails its best customers to reward them at the beginning of December, adding in its spring preview collection for "an extra injection of newness".
By November your emails should be focusing on building hype for your Black Friday Cyber Monday deals. Then switch to emails relating to last minute gift ideas in December.
Use your SMS, push notifications and Messenger marketing more sparingly. Only use these channels to share high quality seasonal content, or when your discounts or sales are live.
Automated messages and triggers
Be sure to go through all the automated messages and triggers you have set up on your site.
Give your messages a holiday theme and make sure they relate to any promotions you're offering.
Think about timing. You probably want to set triggers earlier and shorten the time period between messages, especially over the Black Friday weekend.
7. Organise your customer support
Once you have everything set up and running, put the focus onto customer support. You're going to have more shoppers over this period, so your customer support is likely to be more strained than usual. According to Romain Lapeyre, CEO at Gorgias, a Shopify Plus Partner that specializes in customer service, the number of support tickets spike over the holiday season:
"Our data shows that support volume requests increase by 65% during the holiday season. Make sure to staff accordingly."
On a more positive note, the holidays are an ideal opportunity to build brand loyalty. And great customer service is a very good way to do this. Once you have your customer support set up, be sure to make it visible too. This may be through a chat bot or simply with banners or copy advertising your 24 hour support. This can be enough to swing a sale.
Finally, if you're running flash sales over Black Friday be prepared for disappointed customers. Have your customer support team prepped, and make sure there are alternative deals lined up for anyone who missed out.
Your marketing calendar for the holiday shopping season
So you've gone through your checklist (hopefully you've checked it at least twice). Let's quickly go through when you should be aiming to complete these, and then take a look at some of the key dates for your diary.
1. Decide on business goals – Complete by end of September / start of October
2. Choose appropriate target products - Complete by end of September / start of October
3. Define discount strategy - Complete by end of September / start of October
4. Define marketing strategy - Complete by end of September / start of October
5. Audit and update website – Complete in weeks 1 and 2 of October
6. Set up and test your campaigns – From week 2 of October onwards
7. Organise your customer support – Complete by the end of October
Key dates
Canadian Thanksgiving – October 14th
Singles Day (China) – November 11th
The biggest retail day in China – think the Chinese equivalent to Black Friday
The 2nd Monday in December, and statistically one of the best sales sales days in December.
Free Shipping Day – December 14th
Christmas Eve and Day – December 24-25th
New Year's Eve – December 31st
Ready for the festivities?
Hopefully these resources will have you laughing all the way to holiday season success. If you're getting started now you still have enough time to put in place a really strong holiday season plan. And don't forget to collect as much data on your KPIs as possible so you can evaluate how everything goes and run an even better campaign next year.