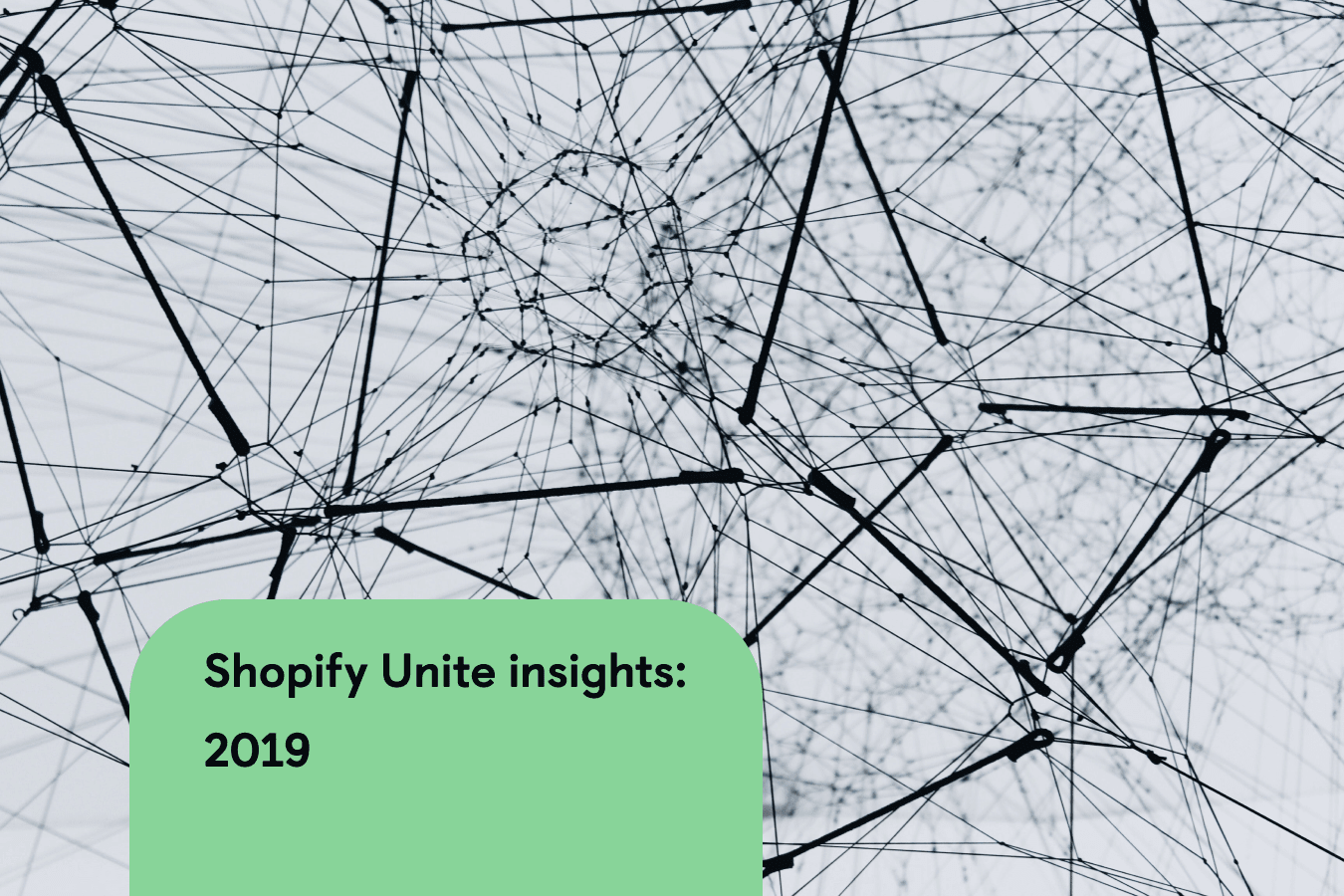 We've just returned from the Shopify Unite conference which was held in Toronto between June 18-20th. We're pleased to report on some of the exciting developments to come out of the event!
Since its inception in 2004, the Shopify e-commerce platform has grown to power more than 800,000 stores. It's the go-to platform for startups who want to build a customized storefront to sell their wares and is also used by huge brands like Red Bull, Nescafé, Budweiser, Gymshark and Kylie Cosmetics.

Shopify continues to develop and improve its enterprise solution for the future of e-commerce, as was apparent at the recent Shopify Unite conference, held in Toronto between June 18-20, 2019.

In this article, we've set out the major updates and new features announced at the conference that both Shopify and Shopify Plus merchants need to know about. Here they are below!
The Shopify Fulfillment Network
One notable development is Shopify's plans to roll out a fast and inexpensive fulfillment solution which will benefit merchants and customers alike.
Currently, the shipping element of ordering something online can something of a bugbear for customers. There's the cost involved for starters, which can often be so offputting to shoppers that they abandon their carts before completing their purchase.
Then there's the waiting time to receive an order, which in some cases, can take multiple days or even weeks depending on the locations of the buyer and the Shopify store.
From the merchant's point of view, fulfilling orders can be a struggle, with those using third-party logistics often experiencing poor service and delayed deliveries. With third-party logistics, there may be no way to offer the customer a branded experience. And of course, abandoned carts due to high shipping costs leads to lost sales. The Shopify Fulfillment Network has been designed to address these issues and make the fulfillment/shipping process a faster, more cost-effective and all-around better experience for everyone involved. It's already available in the United States, though in its early stages.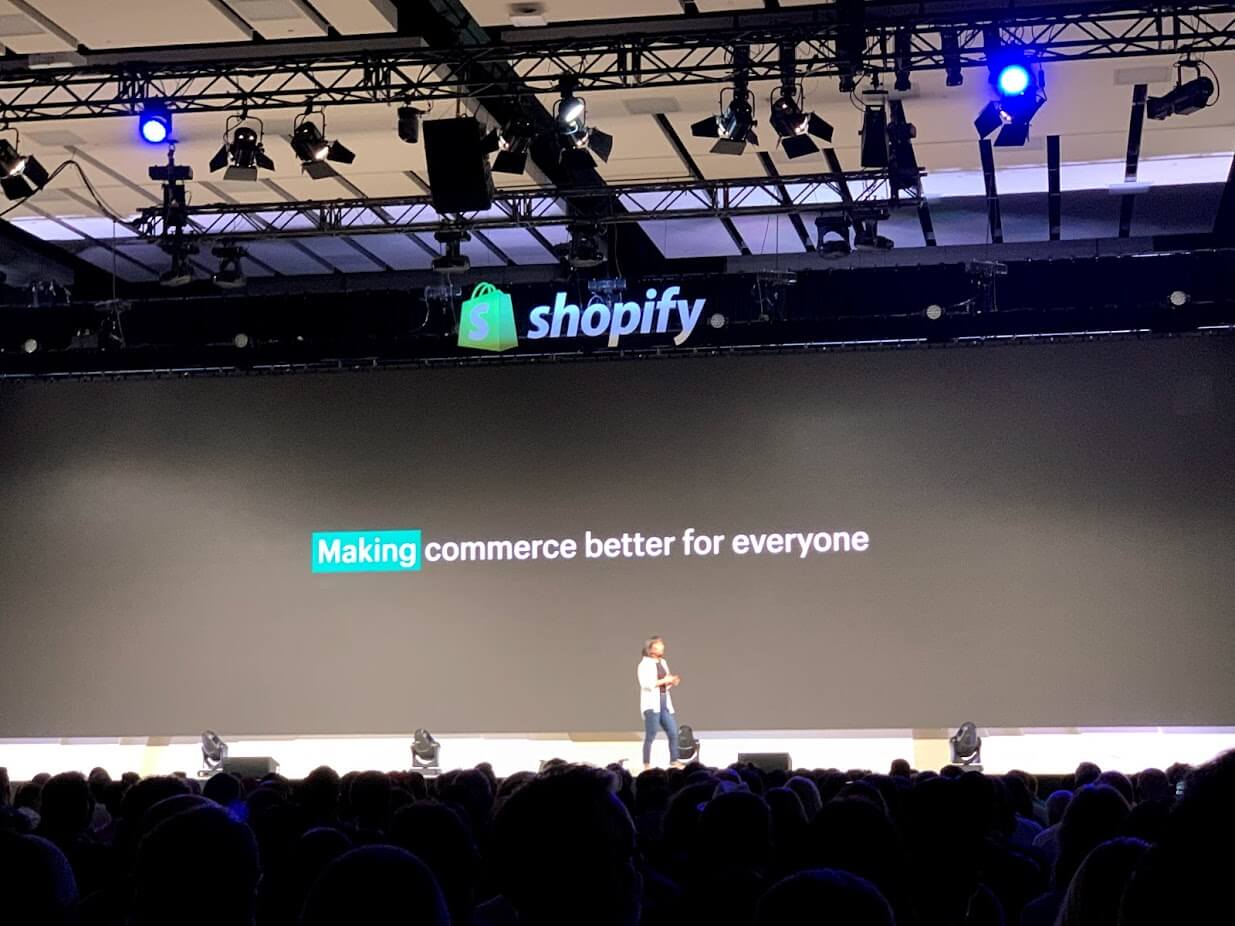 How does the Shopify Fulfillment Network work?
Shopify describes the initiative as, "a geographically dispersed network of fulfillment centers with smart inventory-allocation technology, powered by machine learning that predicts the closest fulfillment centers and optimal inventory quantities per location to ensure fast, low-cost delivery.
" The main features of the Shopify Fulfillment Network include: One back office to ensure up-to-date order, inventory and customer data, helping to reduce errors and frustration. The data syncs across all warehouse locations and channels (online, retail, Amazon, eBay, Instagram, etc.)
99.5% accuracy in relation to order picking, packing, and shipping.
The ability to schedule regular or random inventory counts to maintain stock levels.
The ability to schedule regular or random inventory counts to maintain stock levels. A dedicated account manager with logistics and Shopify expertise who can be the merchant's eyes at the warehouse.
The Shopify Fulfillment Network also supports returns and exchanges, custom packaging and kitting (which means that store branding is an option) and works for both small and large Shopify stores. Merchants can now apply for early access to ship orders from Shopify's fulfillment centers here.
Online store redesign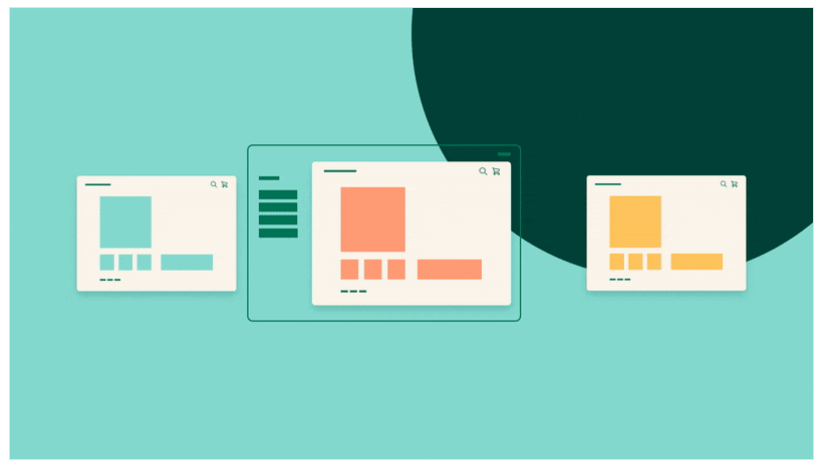 Source: Shopify.
Shopify's online store is a core part of the merchant experience. All merchants want their store to be visually appealing, yet at the same time, easy to build and manage. Shopify has announced a major upgrade to the online store, which will bring about further customization options and greater flexibility when it comes to design - all to improve the store editing experience, without the need for coding.

The improvements include adding Sections across the entire online store (not just the homepage), introducing Master pages, where multiple pages can be edited from one place, and content portability - the ability to change themes and keep content intact.

Read this in-depth article for more details and to check out other changes happening to the online store - including the introduction of subscription apps for the checkout.
Shopify order editing
Shopify is introducing a new feature later this year that will be very much welcomed by both Shopify and Shopify Plus merchants alike - the ability to edit customer orders after payment has been made and before the order has been fulfilled.

Merchants will be able to edit product type, quantities, variant, and shipping method easily, avoiding the risk of duplicate orders, lost sales and accounting discrepancies. If there's a change in price after an order has been altered, merchants can send a payment request to the customer to obtain the difference. All records will be automatically updated with any order changes.

This feature will offer post-purchase flexibility for merchants and ensure that customers can change their mind after they place their order without the need for any awkward workarounds.
Updates to shipping profiles
Another back-office update is the improvements being made to shipping profiles, so merchants can set up custom shipping rules based on product size, weight, or shipping origin.

This feature means that merchants can provide more accurate shipping rates to customers - and potentially reduce cart abandonment issues related to unexpected shipping costs. It will be available in Shopify this summer through the Delivery Profiles API.
Updates to custom storefront tools
Some merchants may need or want to interact with their customers in a unique or complex way, regardless of their business size. That's where Shopify's custom storefront tools and headless commerce technology come in.

These tools allow merchants to build much more than an attractive storefront - they help to create highly customized, immersive shopping experiences for their customers.

Headless commerce is powered by Shopify's Storefront API and essentially separates the front end customer touch points (apps, screens, voice interfaces) from the back end technology that merchants use to run their business.

Through headless commerce, merchants have the flexibility to sell anywhere and in any way that they need to. They can control every aspect of the digital experience and make changes to one or multiple sites with speed.

New versions of the Storefront API now includes support for metafields, the ability to show product recommendations on product pages and the roll-out of multicurrency for Shopify payments for all merchants.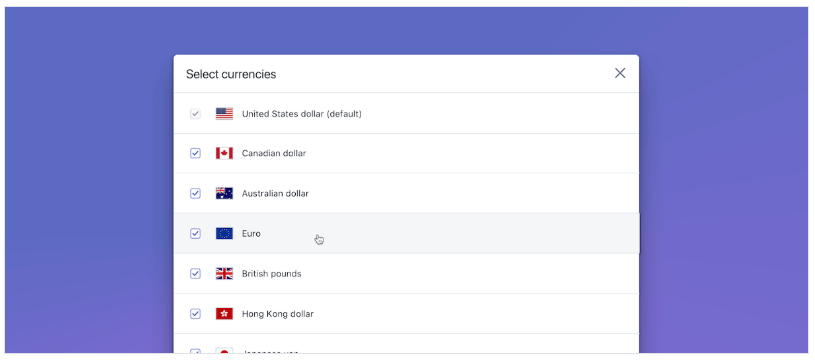 Source: Shopify.
The ability to sell in multiple languages
Shopify Admin is being launched in eleven new languages (as well as the six languages catered for previously). These new languages will help bring Shopify to more entrepreneurs than ever before.

Additionally, new Liquid APIs have been created so merchants can provide localized shopping experiences for cross-border shoppers. Merchants will be able "speak" to buyers in a language they're familiar with and thanks to the update to multicurrency payments, they'll be able to invite them to pay in their native currency.

The Partner Dashboard is also being updated with 10 new languages so that developers can localize their app listings and give merchants around the world access to growth tools in local languages. These new languages include English, Spanish, Dutch, Italian, French, German, Brazilian Portuguese, Japanese, Simplified Chinese, and Traditional Chinese.
Video and 3D model update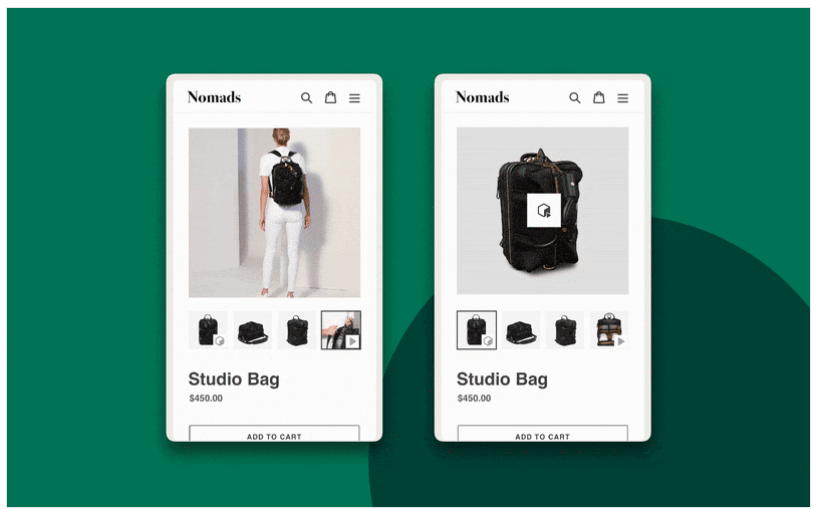 Source: Shopify.
Nowadays shoppers want more than a picture of a product before they make a decision to buy. They want to see a product up close, so they can visualize its size, shape, intricate features and even explore what it might look like in their home.

To meet this need, Shopify will soon introduce a video and 3D model update for products in Shopify Admin. Merchants will be able to showcase their products in a more immersive way and provide better browsing experiences to help drive conversions.

All merchants will be able to manage their media assets from a single location, which will be especially useful for high-volume merchants.
What is Shopify AR?
Shopify AR allows potential buyers to view products interactively, giving them a better idea of size, scale and how they will look in the flesh.

Being able to interact with products in this way can dramatically improve conversation rates, hence why Shopify has decided to invest in more powerful product browsing experiences. Read more about how Shopify AR works.
The details of the Shopify AR update
Although the date hasn't yet been confirmed for this update, it's expected to be sometime later this year. The update will support video and 3D model assets for products. Merchants will be able to manage media through both the Shopify Admin API and storefront API.

Those merchants that use one of Shopify's basic themes will be able to display their media on their storefront using the Shopify video player and Shopify AR.

In addition to this update, there will be a new Shopify player for video and a new viewer for Shopify AR. This development also means additions to Liquid, the template language used in Shopify themes.
A new opportunity for developers
As well as the video and 3D update, Shopify will be introducing a new app extension for "editor applications" so that merchants can get more hands-on with their media assets. When this is launched, developers will have the opportunity to build image and video editing apps, or AR apps, to allow merchants to create and edit their media via Shopify Admin.
Shopify AR with video
This soon-to-be-launched update benefits developers, merchants, and of course customers, by helping to deliver a richer shopping experience that should lead to more conversions.
POS cart app extensions
Around 100,000 merchants use Shopify POS to power their stores. Shopify is making significant improvements to POS including the introduction of cart app extensions to enable merchants to apply promotions quickly to a customer's cart.

Important customer information like reward milestones, or birthdays, are surfaced automatically, so staff won't need to navigate to different apps to get alerts. This new feature will mean a faster, more seamless checkout experience for both customers and staff alike.

In addition, Shopify has redesigned POS from the ground up and given it a cleaner design, a combined back-office that syncs all customer data and a simple interface for store staff.
Loyalty and promotions app extensions
As of now, merchants can benefit from POS cart app extensions that allow them to see loyalty and promotion information directly in the customer cart area. Both staff and customers can expect a faster, easier and generally more seamless checkout experience, due to the following:
Fewer clicks are needed to apply a discount, which in turn, reduces the time it will take from approx. 15 seconds down to around 5 seconds.
Loyalty/promo information will be immediately visible, so the need to navigate to another area of POS is eliminated.
From a customer's point of view, the seamless process should make them feel valued.
More opportunities for developers
The new Shopify POS cart app extensions opens up a world of opportunities for developers who are interested in building loyalty and promotion apps for use both in-store and online. And those existing developers with embedded POS apps will be given new functionality to help improve the user experience.
Shopify POS redesign
Another related development is that the Shopify POS has had a redesign from the ground up. The new POS features a cleaner design, compatibility with all current apps and provides developers with better accessibility.

Retail merchants will benefit from:
Seamless workflows
A faster checkout process
Faster refunds and exchanges
A simple interface for store staff with large tap areas
A combined back office that syncs customer data, orders and inventory
An app that scales to the size of the merchant's business.
All in all, these new developments to Shopify POS will go a long way in helping merchants to offer standout customer experiences, as well as providing many new possibilities for developers.
Predictive search
Merchants can add predictive search to their Shopify store using the JSON API. This search tool suggests products as the customer begins to type in the search bar, helping them find what they need while providing a new way for them to explore a store.
Shopify developments: the impact on business for Shopify stores
The redesigned online store will mean a much-improved editing experience for Shopify merchants, without them having to enter a single line of code. They'll be able to customize their stores at page level and switch themes when they want to in the knowledge that their content will follow.

The video and 3D model update will open up an entirely different browsing experience for customers, as they'll be able to get up close and personal with the products they're interested in.

This update will likely increase conversions for Shopify stores. In fact, Shopify estimates that when a buyer clicks on a 3D model, they're more than twice as likely to go on to complete their purchase, compared to if they don't.

The updates to custom storefront tools will allow those merchants with complex or unique needs to provide an enhanced, immersive shopping experience through cutting-edge technology - voice shopping, interactive mirrors, virtual reality and more.

The addition of eleven new languages will positively impact both merchants and customers around the world. Many customers will benefit from a localized experience when shopping and be able to learn about products in their native language and go on to buy them in their own currency.

By introducing these new languages, Shopify is taking great steps to expand its platform to entrepreneurs globally who are looking to set up an e-commerce business for the first time.

Finally, the Shopify Fulfillment Network promises to make fast, inexpensive shipping an internet standard. Customers will benefit from great value shipping and faster deliveries, while merchants will be better informed and more able to keep their customers happy.
Updates specific to Shopify Plus stores only
The all-new Shopify Plus (coming soon)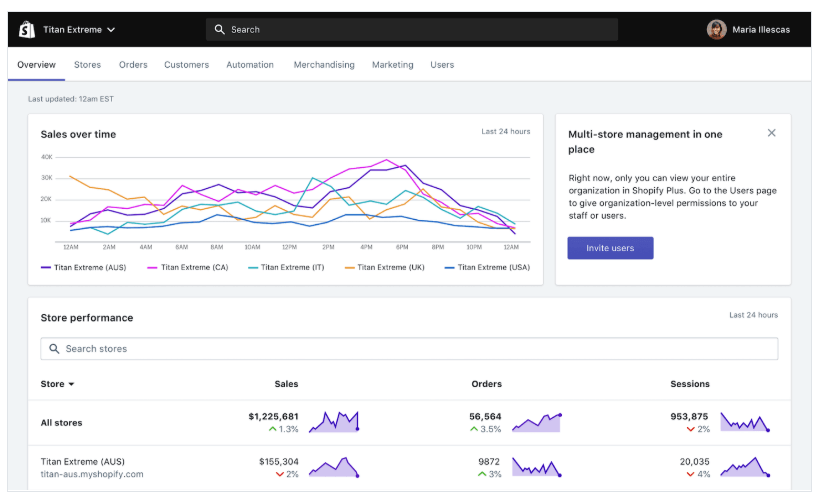 Source: Shopify.
Shopify Plus powers some of the fastest-growing e-commerce brands around, many of which have multiple stores. Shopify has put a great deal of focus into re-evaluating Shopify Plus so that it better meets the needs of those businesses trying to scale up.

Shopify Plus merchants will soon be able to use a system that centralizes the most important parts of their business - stores, staff, workflows, customers, and data.
One login for all stores
The all-new Shopify Plus will allow merchants with multiple stores to see insights and analytics from each of them in one single place - a merged identity account. No longer will Shopify Plus merchants have to maintain separate logins for each and every store.
Simplified process for adding new stores
Merchants will be able to add future stores to their organization automatically in just a few clicks, rather than doing this manually, which is currently a time-consuming process. Going forwards, merchants will be able to clone stores and keep them in sync through the all-new Shopify Plus.
Central user accounts
Managing staff will become easier as all user accounts will be managed centrally. Instead of adding new users to multiple stores one by one, Shopify Plus merchants will now be able to grant access to the relevant stores and set the necessary permissions all in one place.
Centralized records for customers
Customer data will also be centralized for those with multiple stores, meaning that whenever a customer calls with a query, it doesn't matter which store they've made a purchase from. This change will help merchants to understand their customer better and provide a more seamless shopping experience for them.
Streamlined workflows creation
Shopify Plus merchants will now be able to create workflows using Shopify Flow, an automation tool, across all of their stores - and see which workflows are on one or all stores at a glance.
Shopify Scripts
We've touched on some of the new Storefront APIs already in this article. One of them is purely relevant for Shopify Plus stores, however, and that is support for Shopify Scripts.

Shopify Scripts are small pieces of code that allow you to create personalized experiences for customers in the cart or checkout area. An example is applying a discount to a cart based on the number of cart items. Plus merchants can choose whether to run scripts in their store only or through their store and certain apps.

The updates to POS will complement Shopify Scripts. Shopify Plus merchants will be able to play around with and test out promotions with automatic discounts before creating a truly personalized experience through Shopify Scripts.
Further growth and expansion for Shopify Plus merchants
As well as all the benefits provided by the updates to the online store and the other new products and features mentioned in this article, the all-new Shopify Plus will revolutionize the way that Plus merchants manage multiple stores.

Instead of working on each store as a separate entity, Plus merchants will be able to view insights, analytics, customer data and staff accounts in one single place. This major update will save a lot of time for busy Shopify Plus merchants and help them scale their businesses more efficiently going forward.