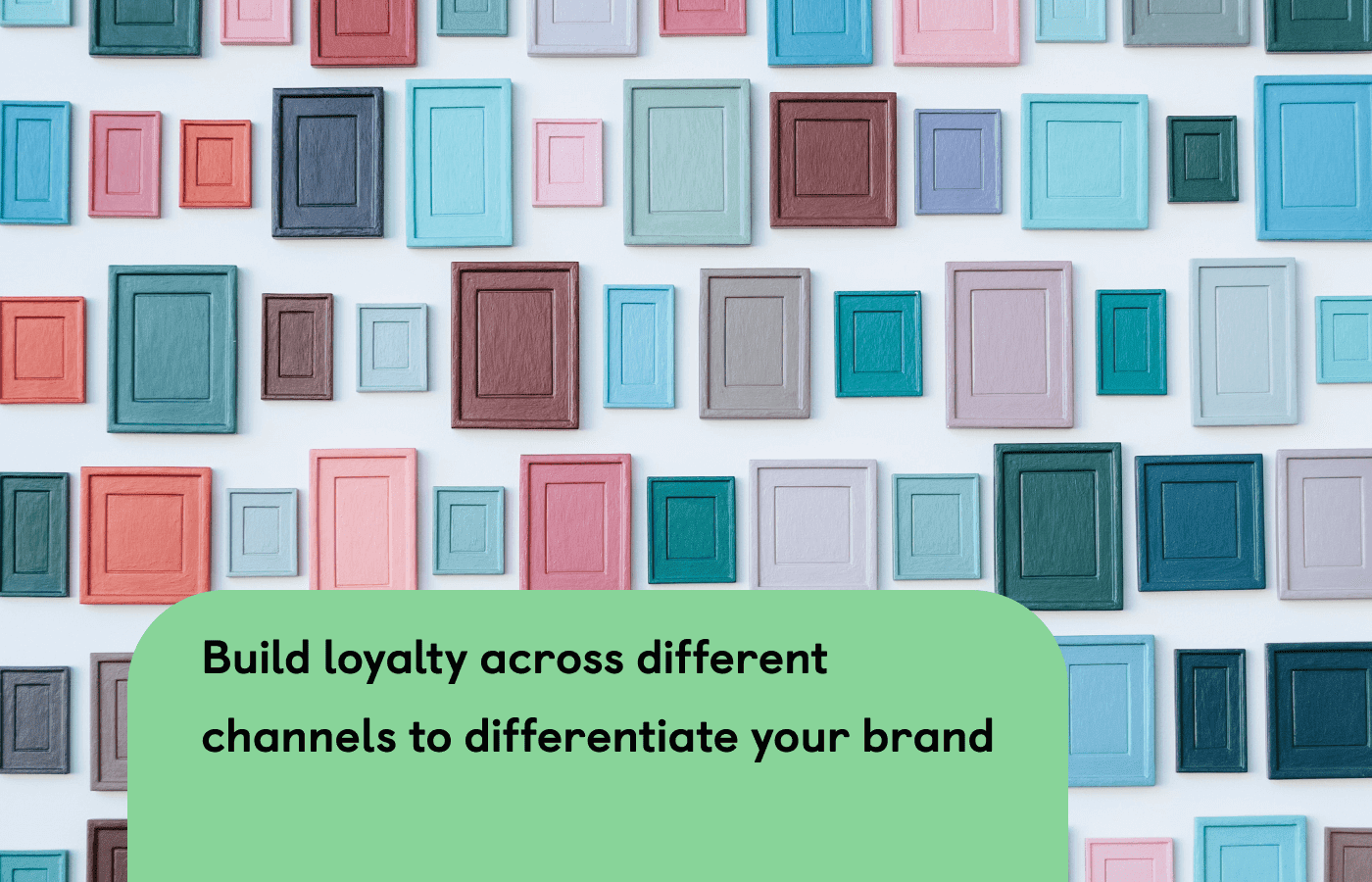 Tik Tok, IGTV, Voice search. As the list of marketing channels keeps getting longer, customers are getting tired of hearing marketing messages; about a third of all online users have some kind of ad-blocking technology on their browser.
Shoppers today are trading in the buzzes and beeps for interactions that help them forge genuine relationships with the brands they shop from. In fact, when we asked what would make a customer loyal today, 66% said that they would be motivated to return to a store if they could create ongoing relationships with the brand.
So, what can you do to stand out and connect with customers in ways that matter?
By focusing on crafting messages that make your existing customers feel valued and understood, you'll be able to differentiate your content on otherwise saturated channels.
In this article, we'll highlight three key channels that are at the top of their game, and share how you can craft channel-specific content that will make your brand stand out, your customers return and your revenue numbers sky-rocket.
You've got mail
In 2019 alone, 293.6 billion emails were sent and received every day. Statista has even predicted that this number will rise to over 347.3 billion by 2022 – proof that email marketing isn't going anywhere any time soon.
And, this isn't surprising. For modern marketers today, email marketing is a no-brainer. Firstly, it yields a high ROI; for every $1 spent on email marketing, DMA predicts that you should expect an average return of $42.
Secondly, email marketing is valuable for both acquisition and retention. An attractive email campaign can convince your browsers to make their first purchase. Meanwhile, personalised content can encourage a first-time customer to shop with you again.
So how can you level-up your email marketing to keep driving ecommerce growth?
Welcome emails have an average open rate of 82%. Use them to give your customers a positive impression of your brand from the outset. One way to do this is to incorporate the perks of your loyalty program.
For example, 100% Pure uses its welcome emails to communicate the benefits customers will get for signing up – such as seasonal savings and early access to products. This makes new customers feel positively towards the brand from the first interaction.
Point available emails and monthly loyalty updates nudge customers to return to you when they weren't planning to. This is because you're notifying them of the points they have waiting in their account that they could use on future purchases.
For example, Beauty Bakerie sends point update emails that show their existing customers the loyalty points they currently have in their account and how close they are to their next reward.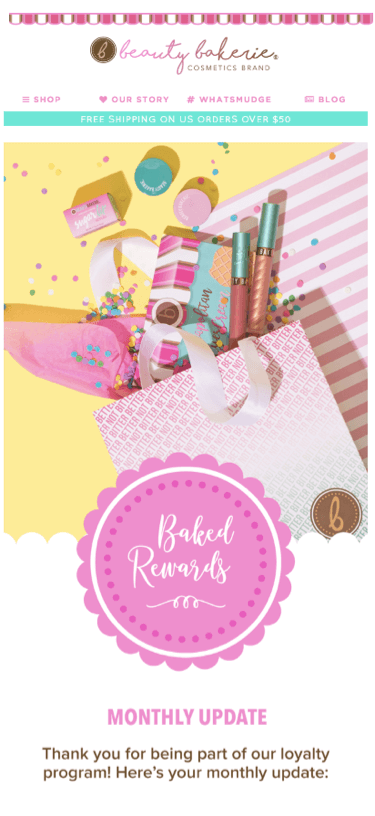 Don't forget to text back
SMS might not be a channel you've used before. But, think about it: it could be the perfect way to differentiate the conversations you have with customers.
Research shows that SMS marketing messages have a whopping 98% open rate and a 209% higher performance rate than email or Facebook. This is because they're timely, hyper-personalised and direct. Also, an SMS marketing message arrives directly in a recipient's inbox and will remain as an alert until it's opened.
SMS marketing is an effective way to get your messages heard. But, your efforts can't end there. You need to make sure they're interesting enough for your customers to click through and convert. One way to do this is to use them to make your existing customers feel special.
Through your loyalty program, you could run an exclusive double point event to keep spreading the love after a big discount event (such as Boxing Day or Black Friday). Then, use your SMS marketing to tell your customers about it. This way, they'll be more likely to return and shop with you as they got the text directly to their phone and will act in the spur-of-the-moment.
For example, Vitabiotics set up a campaign that put a positive spin on Blue Monday. For one day only, they offered their most loyal customers double points per dollar spent. This made their members feel valued and encouraged to return, even when they weren't planning to.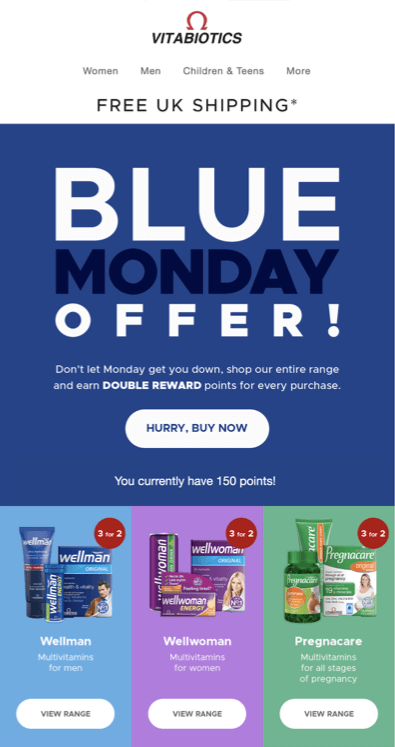 You could also use your SMS marketing to surprise and delight your customers. Try sending texts that let them know that you've given them an exclusive perk for just being a loyal customer.
For example, for a short time, Lively gifted their members a free pair of socks with every order. They let their customers know about this exclusive, time-limited reward with catchy messages, such as, "Free gift in your cart now".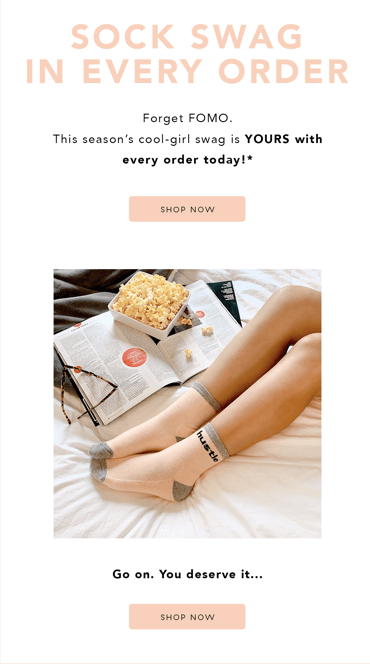 Give them a little push
Finally, on-site push notifications offer the perfect opportunity to engage with your customers while they're shopping in ways that are helpful and fun.
In the pre-purchase phase, create push notifications that educate new customers about your loyalty program. This fresh content will stand out from the other discount-driven pop-ups consumers are used to seeing.
You could even make these pop-ups more eye-catching by using them to promote your impossible-to-turn-down sign-up perk. For example, Never Fully Dressed displays a pop-up to new customers that tells them they'll earn 250 points for joining their program.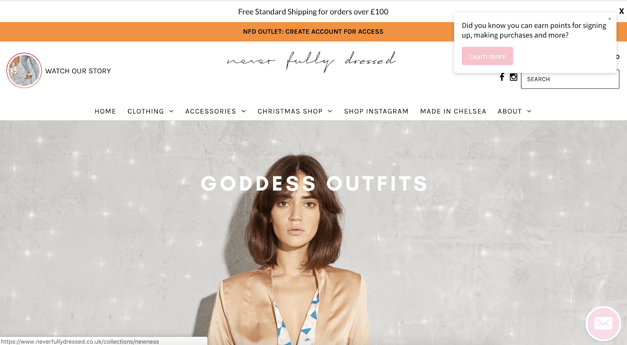 While your customers are shopping, you could also use push notifications to drive up their current order value.
These notifications could tell customers that they're near a point threshold and that if they add something else to their cart, they'll be able to claim a reward. Or, they could show how close they are to moving into a higher tier of your loyalty program where they'll be able to access more exclusive perks – such as free shipping.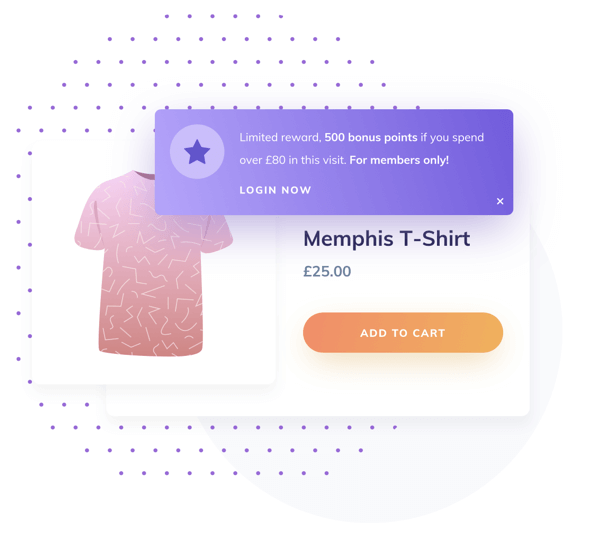 These push notifications will get more clicks from your customers as they're tailored to each individual's membership status. With 65% of customers saying they would be more loyal to a brand if they receive personalised offers, keeping customers up-to-date on the perks they're close to accessing will give them a reason to return to your store and repeat purchase.
So many channels, so little time
While the volume of marketing channels out there can feel overwhelming, you don't need to hop on every trend to get heard. There's still value in taking the time to differentiate your content on the channels that are already bringing you success.
When looking for ways to refresh your messaging, take the time to craft a positive first impression, use personalised content to your advantage and talk to your customers in places that you know they'll listen.
About LoyaltyLion
LoyaltyLion is a data-driven loyalty and engagement platform that powers ecommerce growth. A loyalty program is about more than points and rewards. It is about unlocking real insights to increase customer lifetime value. With LoyaltyLion, you can build a better understanding of what drives longer-lasting customer relationships, and use those insights to connect and accelerate your existing marketing efforts. Proven to increase retention and spend, LoyaltyLion is trusted by thousands of fast-growth ecommerce merchants worldwide.