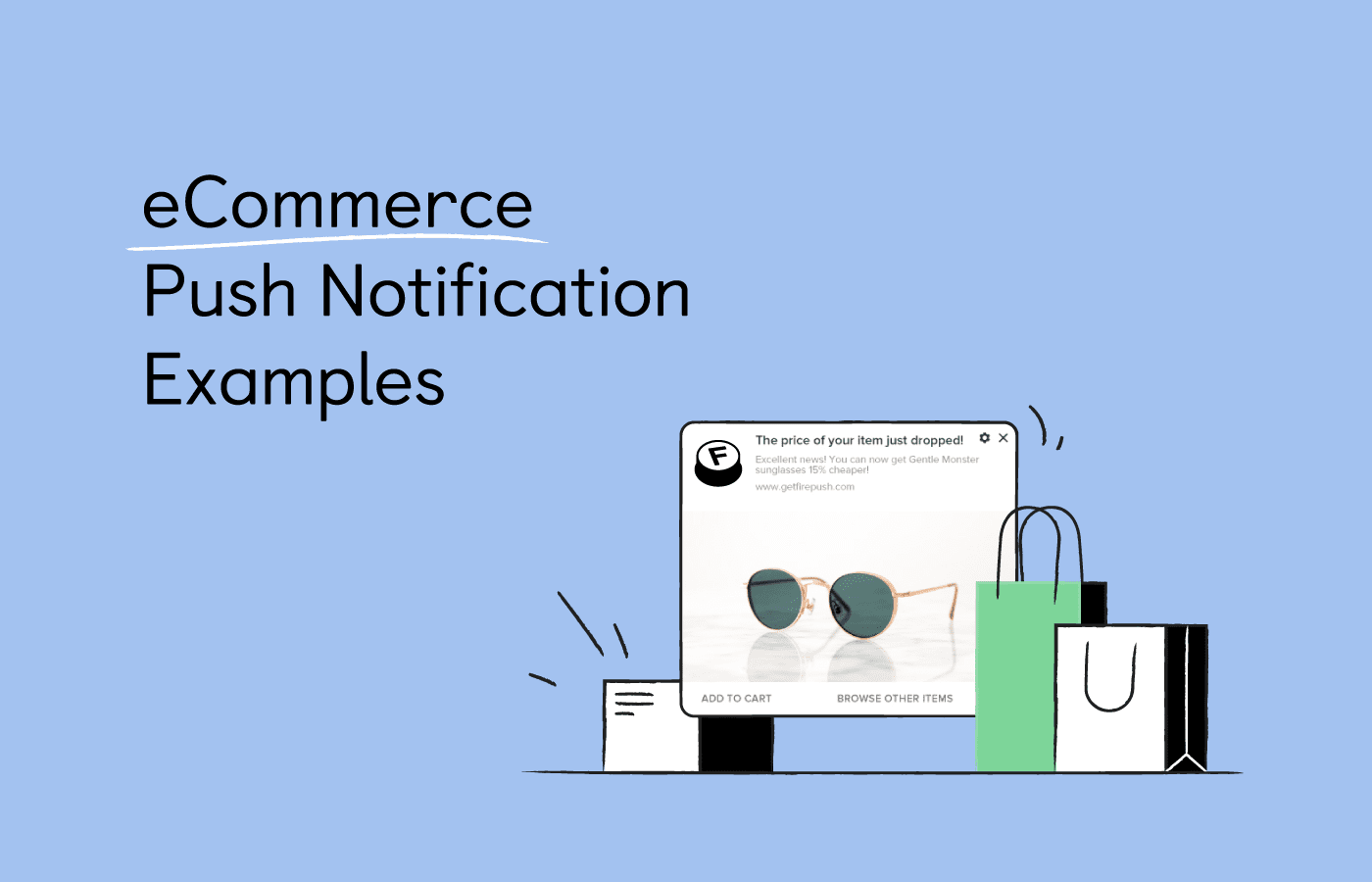 In the eCommerce world where marketing content is readily available for customers, businesses can fight tooth and nail to get their offers noticed.
Web push notifications can help break through the noise.
Many customers have the patience to spend time looking for the best deals, and using push notifications is an excellent way to help by delivering your deals directly to them. That's right. Web push notifications appear in browsers, so shoppers will definitely notice.
Read on to know how Shopify stores are making profits with this strategy.
In this guide:
Six eCommerce push notification examples
Best practices to engage online customers with web push notifications
Not here for examples of pushes? Consider these guides:
Want to test your push notifications, maybe? Give our push notification length tester a go.
Upload logo
Image size: 192 × 192 pixels
Upload hero image
Image size: 720 × 240 pixels

Google Chrome

Yay! Your order is on its way
Thanks for your purchase! Your order has now been dispatched and will be with you on Thursday.
getfirepush.com
Chrome
·
getfirepush.com
·
Now
Long time no speak!
We miss seeing you around. Can we tempt you back with a 15% discount on your next purchase?
Hero image
Glad to have you on board!
getfirepush.com
Thanks for joining our newsletter. We'll keep you up-to-date with product news, discounts and more!
Generated automatically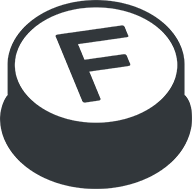 Why Push Notifications for eCommerce Marketing?
Loyalty rewards. About 57% of customers spend more on brands to which they are loyal. You can nurture customer loyalty with web push notifications by sending them once in a while.
Sales campaigns. You can share sales announcements, price drop alerts, and other promotional messages with web push notifications directly with customers.
Shopping cart recovery. Almost 70% of all products in shopping carts get abandoned. Web push notifications are one more way to add to your strategy to remind customers about forgotten items.
Easier shopping. About 55% of customers say that easy shopping makes them stay loyal to eCommerce brands. Web push notifications help find relevant products faster by leading customers to product pages directly from browsers.
6 Push Notification Examples to Increase Sales
Push notifications engage eCommerce customers and raise awareness of your sales, promotions, and deals.
Here are six push notifications examples from Shopify stores.
1. Sales promotions
Two-thirds of online customers made purchases because they found a discount somewhere online. But why put them through all the trouble of finding those discounts?
Shopify push notifications can deliver your sale announcements and promotions directly to customers' browsers. This will make them happy—no need to search for coupons elsewhere.
That's not all.
You're in charge of setting the times to send promotions. You can try every frequency and strategy you read about in eCommerce business guides.
Let's show you some eCommerce push notification examples with sales promotions now.
This browser push notification example promotes a new sale of bracelets. It offers 30% off—a nice deal to drive shoppers to Shopify stores.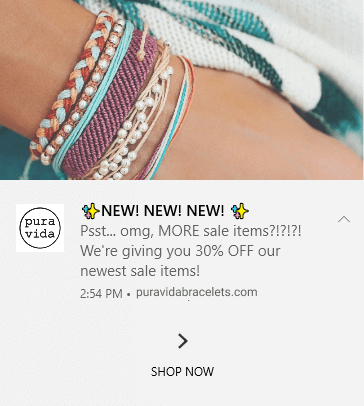 It's a nice example of how to write a good push notification, too. The message is short and mentions all things a customer might be interested in.
Just like that, eCommerce businesses convert high-intent customers who subscribed to get sales promotions.
But there's more—
With web push notifications, you can notify when an item goes on sale.
Using a Shopify web push app, send a message to encourage shoppers to return and buy a product at a reduced price. This way, you can convert price-sensitive customers—including those looking for price watch alerts.
Intelligent Blends has sent 2.5 million sale promotion push notifications, and received over 5,500 orders... Want to know how much revenue that was? The answer (and more) is in this Intelligent Blends case study.
2. Price drop alerts
Over 50% of customers wait to buy products until they go on sales. Also, they subscribe to price alert websites to get the best eCommerce deals.
Many of your Shopify customers do that, too—
So let's bring your deals to them.
One way is to send push notifications with price drop alerts. Add requests to subscribe for them to product pages, so customers could sign up to receive them.
Here's how a request form looks like.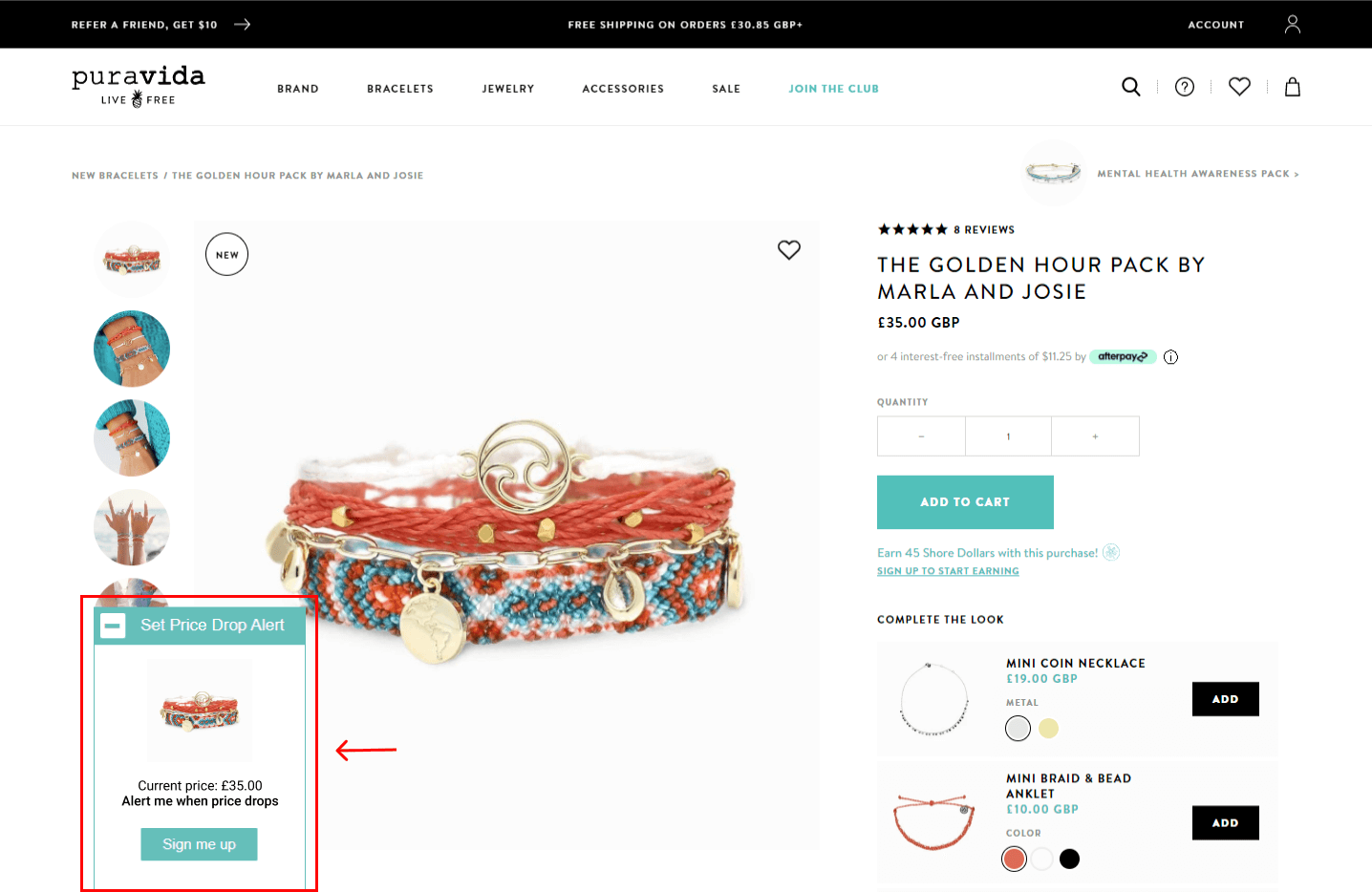 When a customer subscribes, they will get notifications in their browser when the price drops. So, your subscribers won't have to subscribe for product price alerts with third parties. All you need is a Shopify browser push notification app.
Ultimately, your store can become a go-to place for a group of eCommerce customers. Wouldn't be great if they thought of your store as a deal-tracking site?
Exactly.
So, the plan is to 1) Collect web push notification subscribers, 2) Keep them in the loop with price drop notifications, and 3) Increase eCommerce sales.
Shopify store owners don't need a ton of plugins to notify customers about promotions. Add one free push notification app - it's got all push notifications examples you need.
3. Invitations to join branded social media groups
About 54% of customers research products on social media.
That's millions of dollars in profits. To get your piece of that pie, your eCommerce business should start building your social media follower base. Shopify push notifications can help.
For example, you can use them to share reminders to join your social media group. Proozy, a Shopify clothing store, encourages subscribers to connect with this push notification example.

Subscribing is simple—
A customer clicks the push notification to go straight to your brand's social media page.
And the best news is... you can get social media followers automatically thanks to browser push notifications. Do that, and start getting your piece of that multi-million-dollar pie.
4. Shopify coupon alerts
Over 59% of online shoppers search for coupons before buying (Business 2 Community). That's a lot of interest. So why not share coupons with them directly?
Push notifications are perfect to share Shopify coupons and discount codes with subscribers. They're fast and will be noticed easier in browsers.
Ideas for eCommerce web push notifications to share coupons:
Welcome messages with discounts for first-time customers
Regular push notifications with coupons.
Here's a push notification example from Inked Shop. It's the "welcome message" kind. The business thanks visitors for subscribing and shares a new customer discount.
That's a good way to make a positive first impression.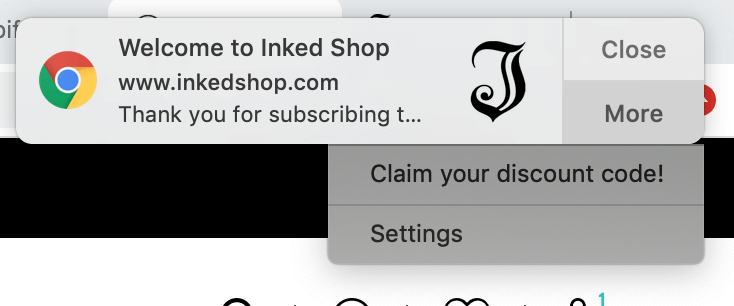 A visitor clicks on the web push notification to claim the discount code in seconds. They get a discount, you make a sale – that's push notification marketing for Shopify at its best.
Ultimately, your coupon strategy will get a boost from push notification marketing. Many Shopify stores already made a lot of money this way. By the way, check out the case study below to see one example.
Inked Shop generated $68,286 in revenues with push welcome messages. In this Inked Shop case study, you can discover their successful strategy to increase Shopify sales.
5. Abandoned shopping carts reminders
"Oh no, another customer left without buying."
We feel you. Shopify offers some standard cart abandonment recovery options, but they're never enough.
You've probably been trying to recover eCommerce sales with shopping cart abandoned emails, so let's give you one more option—
Web push notifications.
If a visitor subscribes to get browser notifications from your eCommerce store, you can send cart recovery pushes, too. They would be messages encouraging to complete purchases.
Pura Vida, for example, uses these push campaigns to recover an abandoned cart.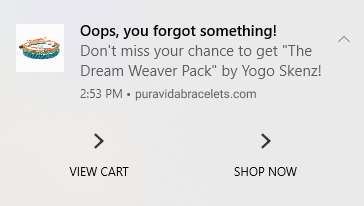 The customer can click on the notification's menu to get back to the product page or directly to the shopping cart.
Note that this push alert has two options. If the customer doesn't feel like completing the purchase, they can visit the store again ("Shop now").
Two choices equal more sales opportunities!
6. Back-in-stock notifications
Someone is visiting your Shopify store. They take a look around and yes–there's that product they want.
But wait, what's that?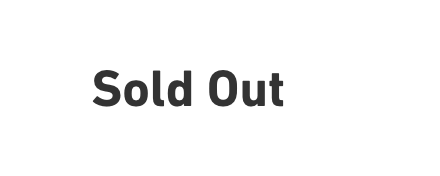 So close... The customer leaves–no reason to stick around. But we're going to give them a reason. We want $1 million in sales, remember?
This is how we can make people get back to your store—
Give them a way to know when the product becomes available.
That's where web push notifications really shine because they get delivered fast and directly to customers' browsers.
Add a Shopify push notification app to your store. It'll allow customers to subscribe to browser notifications with a special button to product pages.
If a visitor subscribes, they will get a browser push notification like this.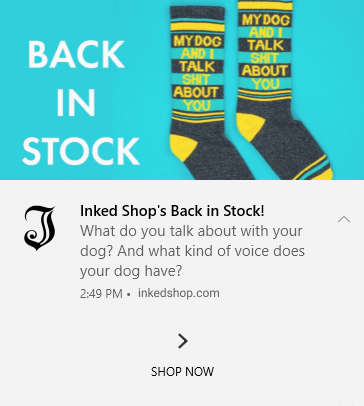 Appearing in your customers' browsers like that will help you to sell more on Shopify. But first, add web push subscribers to your website to be able to share eCommerce promotions.
The only thing left to do—
Add a free push notification app to your Shopify store.
Push Notifications Examples: Summary
Here you go, the six best push notification examples to raise awareness of sales, nurture leads, and recover sales. They show the best practices for push notification marketing that successful eCommerce stores use.
Once again, six best push notification examples:
Sales promotions
Price drop alerts
Invitations to join branded social media groups
Shopify coupons promotions
Shopify abandoned cart reminders
Back-in-stock notifications.
Make sure that your offers are relevant to customers. This personalized experience will result in more loyal customers, store visits, and sales.