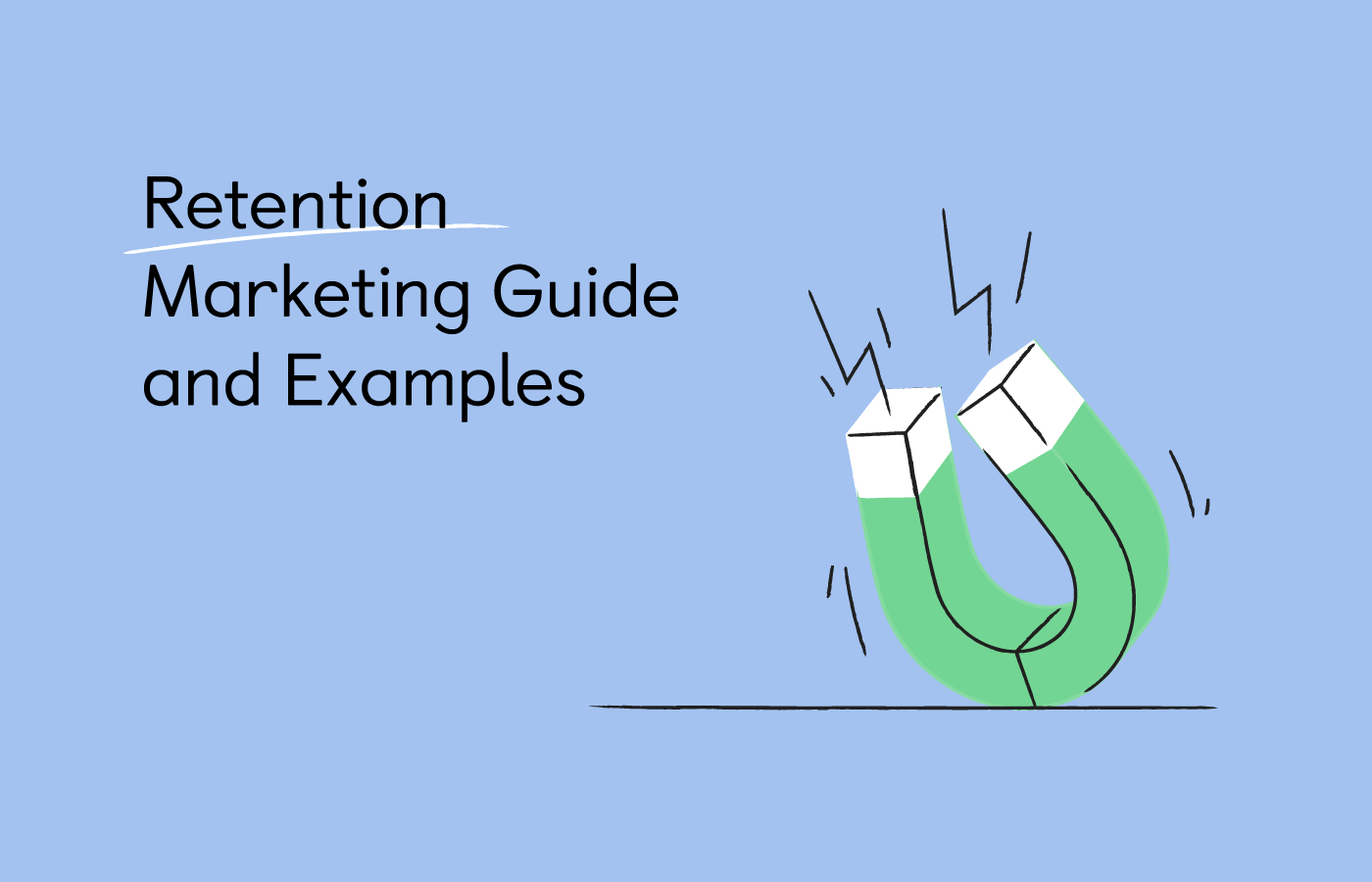 "I love the atmosphere and the coffee. The chocolate cake is to die for."
This is what a customer of a coffee house in Henderson, NV said when asked if he had visited the place before. To keep this customer coming back, the business needs retention marketing that focuses on his favorite products and experience factors.
In eCommerce, Shopify store owners should also focus on that "chocolate cake" their customers are looking for. A customer retention marketing strategy is the way to get there and learn what brings shoppers back.
In this guide, you'll learn how to do effective retention marketing and keep more customers.
Go to content sections:
Looking for something else? Check out these articles:
What is Retention Marketing?
Retention marketing means promoting a business to existing customers. This strategy is designed to encourage customers to choose the same business in the future by keeping them connected, updated, and rewarded.
Retention marketing happens at three levels (Leonard L. Berry):
Level I: Financial bonds
Level II: Financial and social bonds
Level III: Financial, social, and structural bonds
Each level brings customers a little closer to the business by rewarding them for a continuous relationship. The purpose of each marketing activity throughout this model is to develop long-term relationships with customers.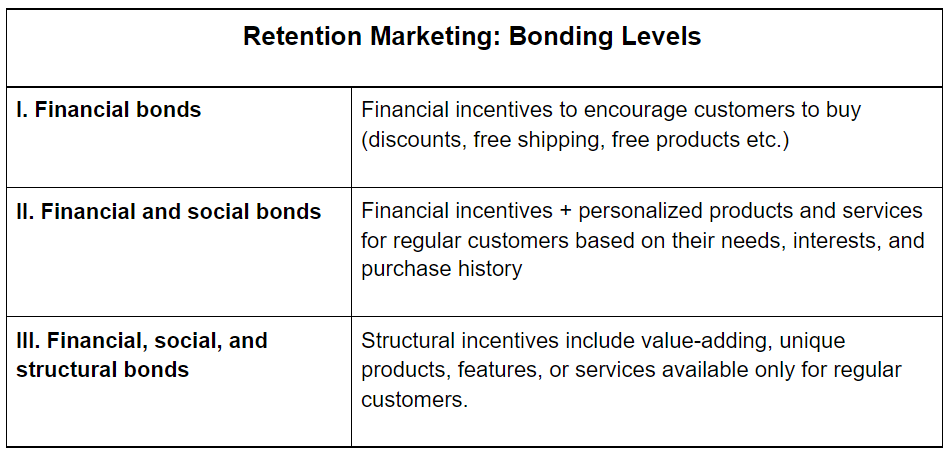 Adopted from Berry, L. Relationship marketing of services—growing interest, emerging perspectives. Journal of the Academy of Marketing Science.
Benefits of Customer Retention Marketing
Selling to existing customers is easier and cheaper. When online businesses collect at least 50 customers, they should focus on retaining them besides attracting new ones. This is where customer retention marketing comes in.
The benefits of using retention marketing:
Increase sales. About 57% of customers spend more on brands to which they are loyal (Accenture)
Reduce customer churn. Around 85% of customers say that businesses could do more to retain them (Customer Needs and Solutions Journal)
Decrease marketing costs. The cost of retaining a customer is up to five times lower than the cost of acquiring a new one (Invesp)
Achieving these benefits means doing specific strategies. Let's look at effective customer retention marketing strategies from eCommerce businesses.
Customer Retention Marketing Strategies & Examples
Here are eight great customer retention marketing strategies online businesses use to increase the number of repeat customers. Each strategy includes an example from an eCommerce brand.
1. Loyalty Programs
Rewarding loyalty is like a Starbucks coupon card: it always keeps you motivated to go buy another coffee. Customers appreciate when brands show their gratitude for shopping with them, so they are more likely to continue doing so.
That's why 90% of companies now have some kind of a loyalty program. Customers are looking for them: in the travel industry, for example, loyalty programs are a consideration for 46% of clients.
Loyalty Program Example: Honeybee Gardens
This Shopify store does customer retention with Honeybee VIBee Club, a loyalty program with numerous rewards. Repeat customers can earn "buzz bucks," aka loyalty points, in many ways, including following the brand on social media, referring a friend, or simply having a birthday.
The rewards system is great because it features different perks. For various amounts of buzz bucks, customers can get discount coupons, free products, store credits, free shipping, and other bonuses. Besides, the loyalty program' name is super creative!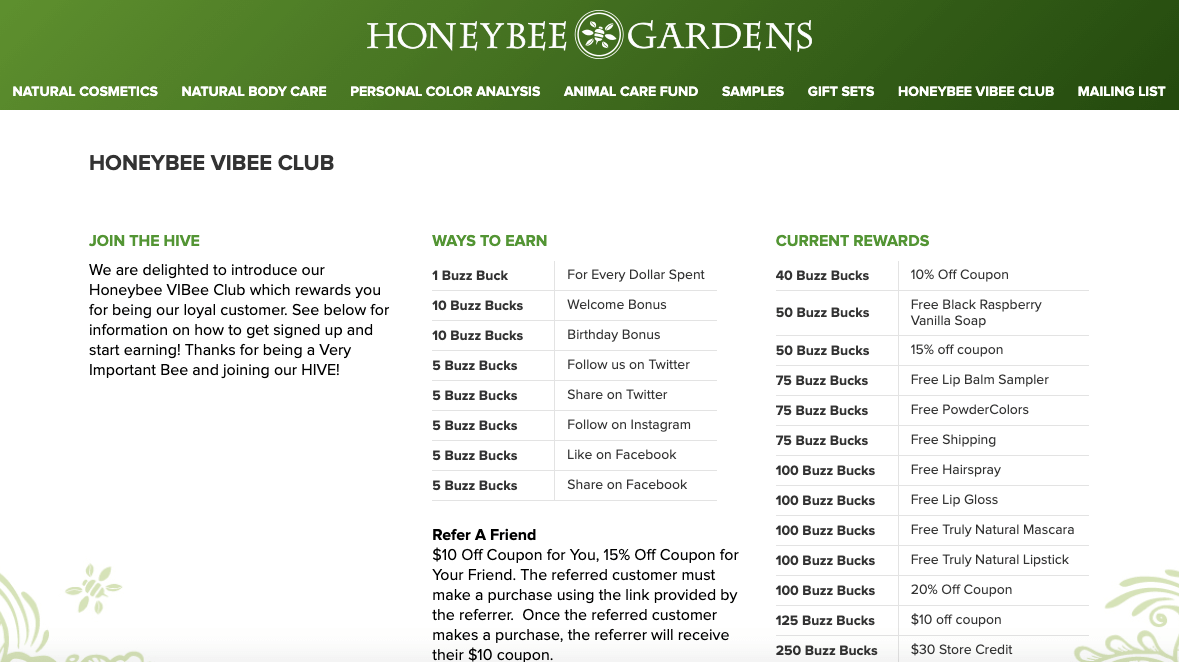 2. Email marketing
Online businesses use emails to send customer appreciation letters, discounts, sale promos, abandoned shopping cart reminders, news about social responsibility projects, and other messages that improve customer retention.
Indeed, email marketing is a great strategy to stay connected to customers. It's an easy and direct way to update them on brand news and sales, share useful product-related content, give discounts, and do other things to enhance loyalty.
Example: Beardbrand
Beardbrand, a men's grooming brand, offers an amazing example of customer retention marketing with emails. Every email is written in a playful, conversational language, has great visuals, and contains plenty of website links.
The email below is an example of how the brand makes both new and repeat customers feel a connection by communicating in a unique style. Those who appreciate this kind of vibe will be interested in checking out the brand's products once more.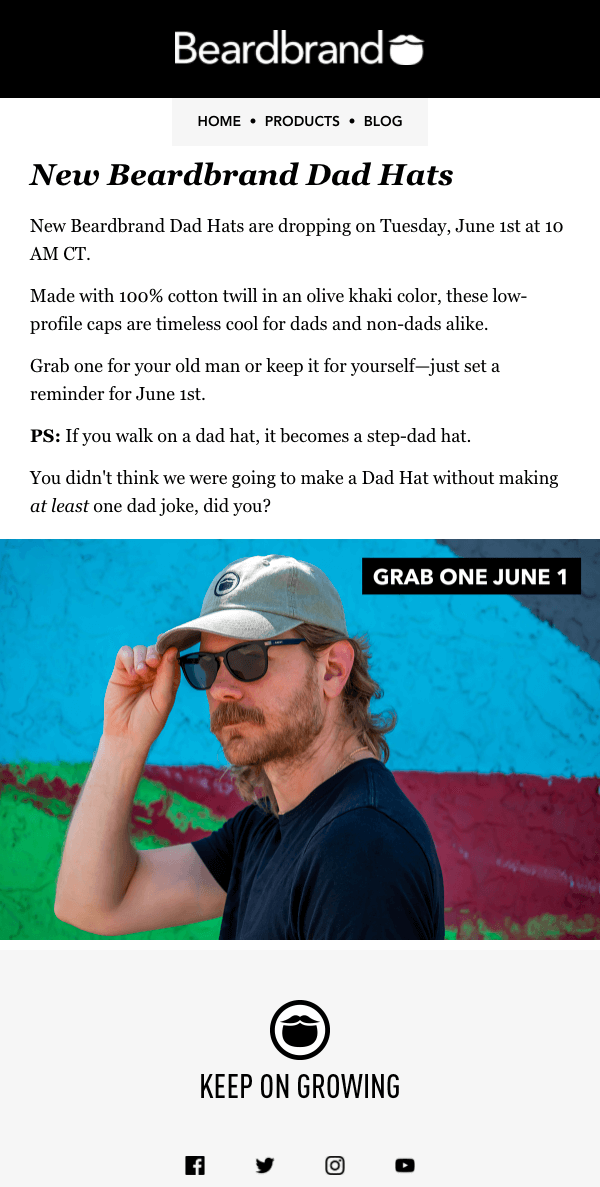 Helpful resources for customer retention on Shopify:
3. Referral programs
Referral programs can improve customer acquisition and retention by rewarding repeat customers for giving you new ones. A referral bonus is another reason to continue buying, so many businesses use such programs in their retention marketing strategies.
Customers recommended by others also have a 37% higher retention rate. The explanation is simple: people trust recommendations, so they're likely to stick with the brands their friends use, too.
Example: Stio
Stio, an outdoor apparel brand, offers $40 for referrals as a part of its retention marketing strategy. A customer gets $40 off their first order when their referral makes a purchase (who also gets $40 off).
The "Refer a friend" approach has customers endorsing your business. So, it's an organic way to increase customer acquisition and get some word-of-mouth going. And participating in the campaign is easy: choose the method (email or link), type in an email, and share the code.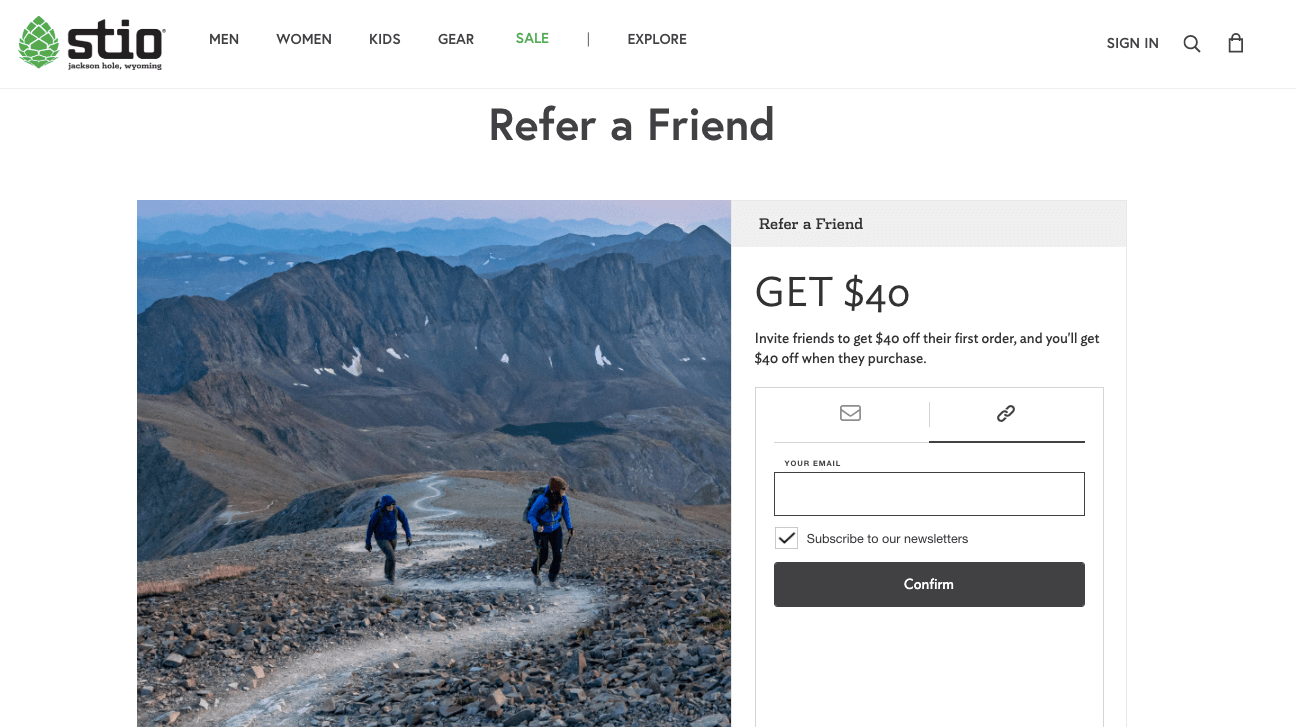 Referral programs are easy to make with special apps. This list of the Best Shopify Apps has both free and paid Shopify referral apps.
4. Retargeting campaigns
Retargeting marketing campaigns remind customers about products they viewed or left in a shopping cart. It's a personalized strategy to encourage conversions that also works great for customer retention.
Retargeting campaigns keep customers updated and connected by "continuing the conversation" after they leave. Businesses do retargeting campaigns with paid pads, push notifications, emails, and other tools.
Example: ELO
ELO, a Shopify clothing store, used browser push notifications to retarget existing customers. Besides abandoned shopping cart reminders, the brand notified customers about sales in categories they browsed or bought from.
The revenue from push notification retargeting campaigns has been phenomenal. According to ELO's CEO Umar Quamar, they bring between $6,000 and $7,000 for every $850 spent. You can read more about the campaigns and performance in this ELO Case Study.

Useful guides about retargeting:
5. Top-notch customer service
Getting a customer to buy again is just a part of a customer retention strategy—servicing them is another thing. Customer service can be a dealbreaker, as 61% of customers are likely to stop doing business with brands due to a single poor customer service experience.
That's why businesses should do retention marketing after establishing a robust customer service system. The system can include self-help options like FAQs and real-time support tools like live chat and chatbots.
Example: Care Package Depot
Selling personalized gift boxes requires a lot of communication with customers. That's why Care Package Depot's owner, Kelly, personally serves customers via live chat. It integrates with her CRM, so she has information to provide the best possible customer experience.
Customers who have questions about products can quickly get answers. This is an example of exceptional customer service that offers an easy way to get in touch with the brand and chat with the owner like you would with a friend.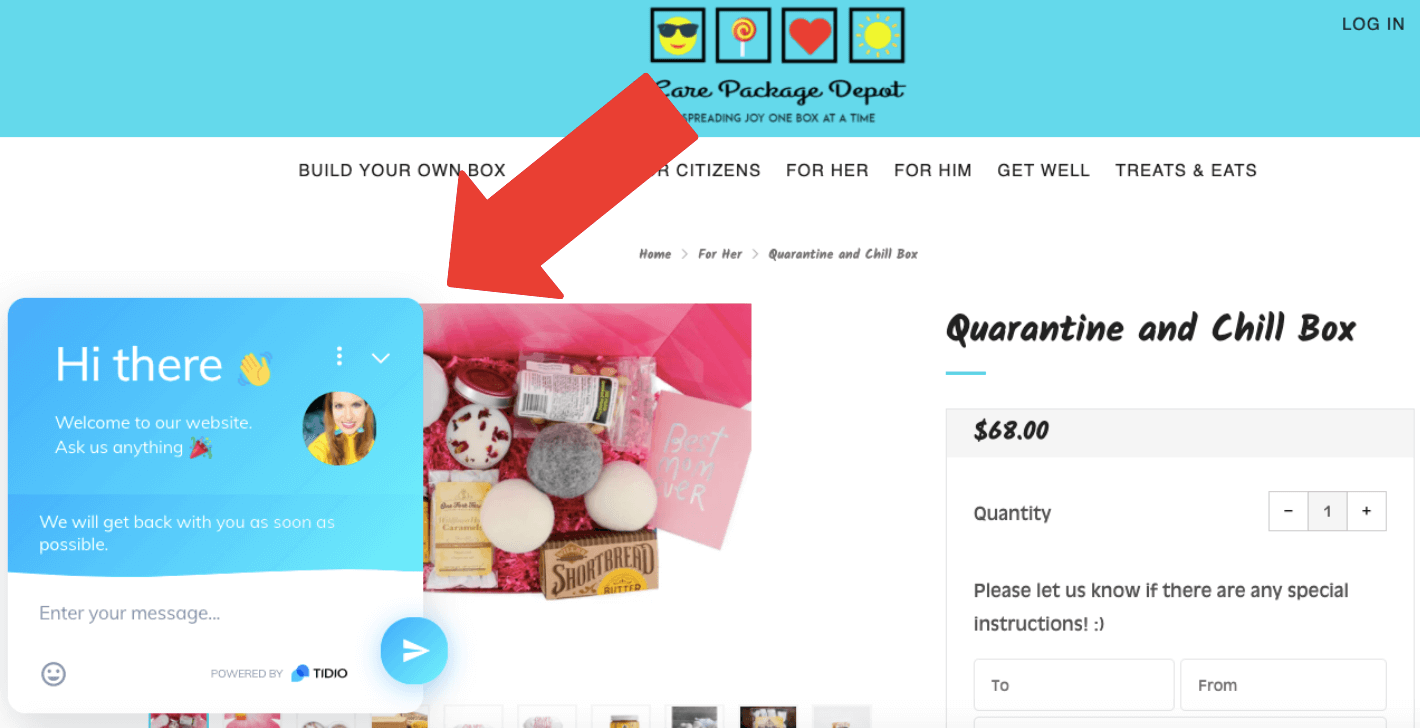 6. Discounts & coupons
Many customers are looking for the best deal. That's understandable, so discounts are useful in customer retention marketing strategies. For example, online stores share discounts with existing customers via emails or websites to establish "financial bonds" with them.
eCommerce research also supports that promotions such as discounts have a positive effect on a customer's own perception of a product's value.
Example: The 5TH
This watch store's customer retention strategy involves regular discounts for both new and existing customers. The 5TH shares sales and discounts with repeat customers via email newsletters that lead them to product pages like the one below.
Customers who are interested in buying a watch would be glad to learn about the sale and the discount. It would reduce the total order cost, which is something many shoppers value.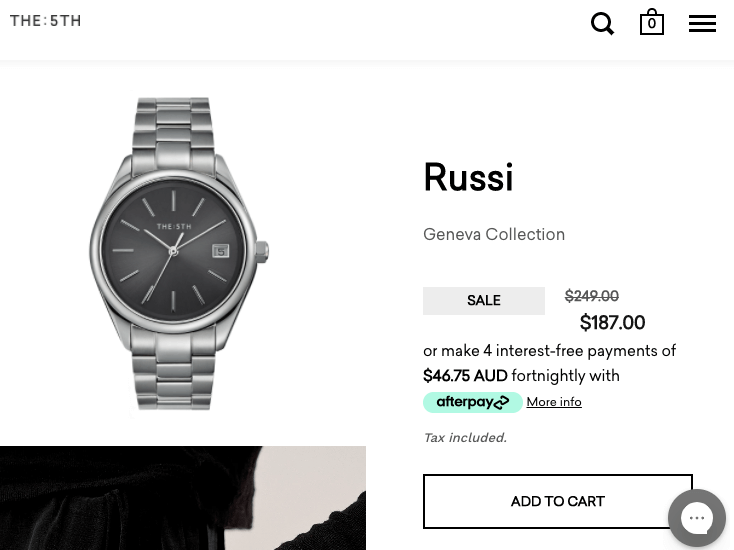 7. Social responsibility programs
Businesses that practice social responsibility try to minimize their impact on communities, the economy, and the environment. They do so by reducing their carbon footprint, engaging in philanthropic efforts, and using other ways to contribute positively to society.
Customers are more likely to become loyal to a business if they share the same views. In fact, over 84% of customers say they are inclined to be loyal to businesses whose values align with theirs.
Example: Meow Meow Tweet
Meow Meow Tweet calls itself a "positively natural" vegan skincare business. Sounds cool, but what exactly is the brand doing to stay true to that?
Meow Meow Tweet suggests these activities:
Keeping production low in waste through repurposing and using biodegradable materials for product packaging.
Using ingredients from certified plant populations to minimize the impact on the environment and communities.
Supporting charities in the categories of Earth & Nature, Animal Justice, and Social Justice categories by sharing profits with them every month.
Awesome values, indeed!
People whose values are aligned with these will be more likely to try the products and become repeat customers. Besides, this customer retention marketing strategy benefits customer acquisition, as many new folks might also want to learn more.
Sharing content related to these values through emails and other channels can help update customers on social responsibility news. This would reassure them that they're buying from the right business.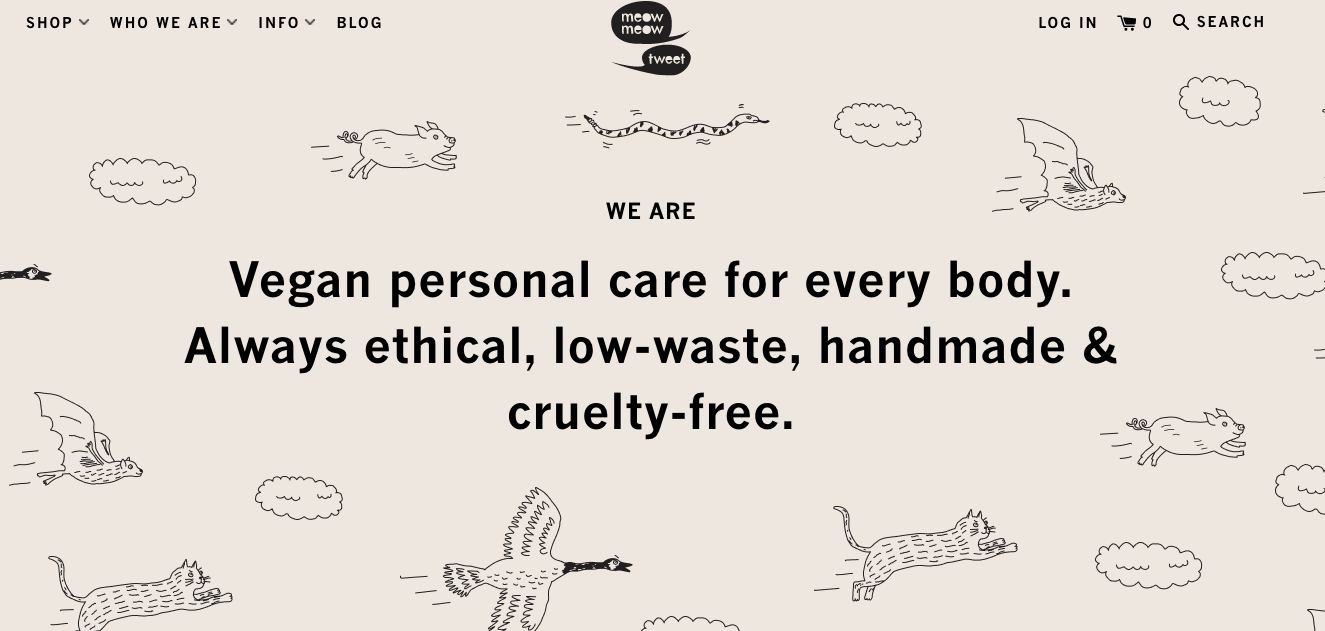 Ivory Ella donates 10% of profits to the Save the Elephants project. Here's how this clothing brand spreads knowledge about its social responsibility program: Ivory Ella Case Study
8. Subscription service
A subscription-based customer retention strategy involves providing the same product on a set time schedule (such as weekly, bi-weekly, or monthly). Subscription models can improve customer retention for many eCommerce businesses—from food brands to streaming services.
You can do retention marketing by sharing information about your subscription service and its benefits. Besides placing this info on product pages, write about the service on your blog and mention it in emails, SMS, etc.
Subscription service example: Gratisfied
Gratisfied, a healthy food company, allows getting subscriptions for their products.
Subscribing means receiving 10% off all products and automatic delivery according to a customer's time schedule. For many shoppers, this offer has a lot of value, since they might not have time to visit the store often.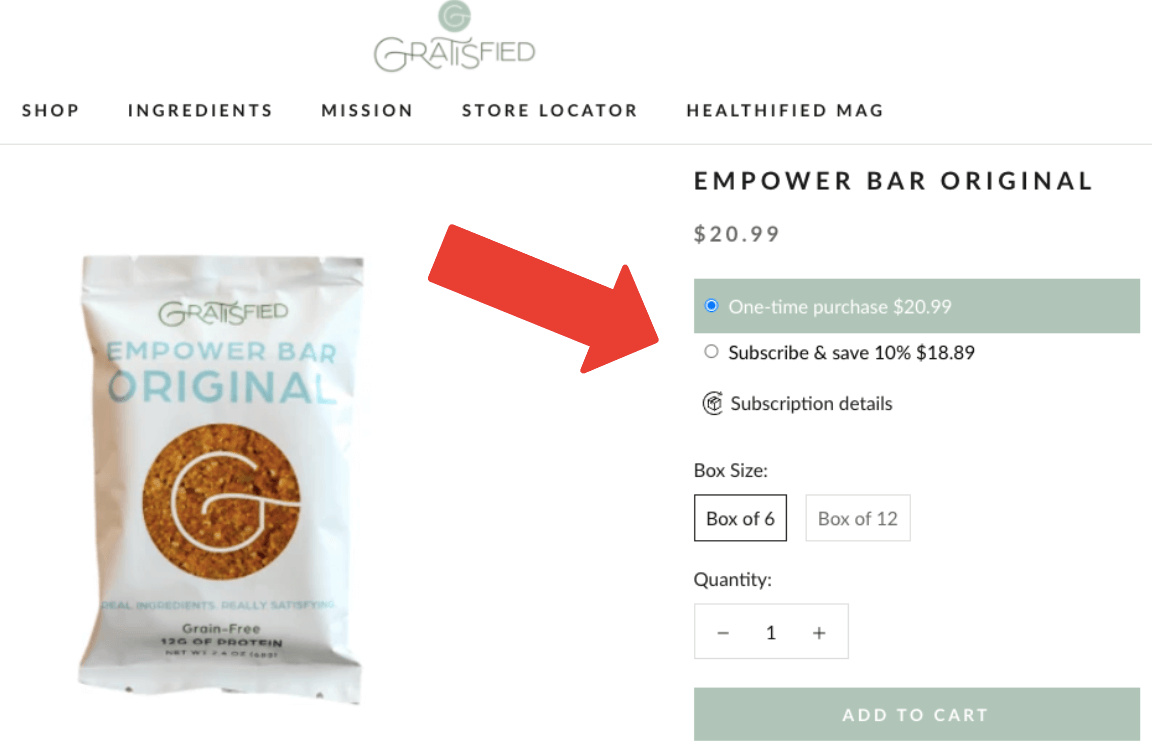 How to Get Started with Customer Retention Marketing
Retention marketing strategies work differently for different customer groups. So, they'll have a good chance of working if you segment repeat customers to target retention marketing at those who are likely to be interested.
Consider using retention marketing strategies from this guide to increase your sales. Research customers, use the three "bonding" levels, and experiment to find the best techniques. Do that and you'll have the best chance to recover your investment and get nice profits.