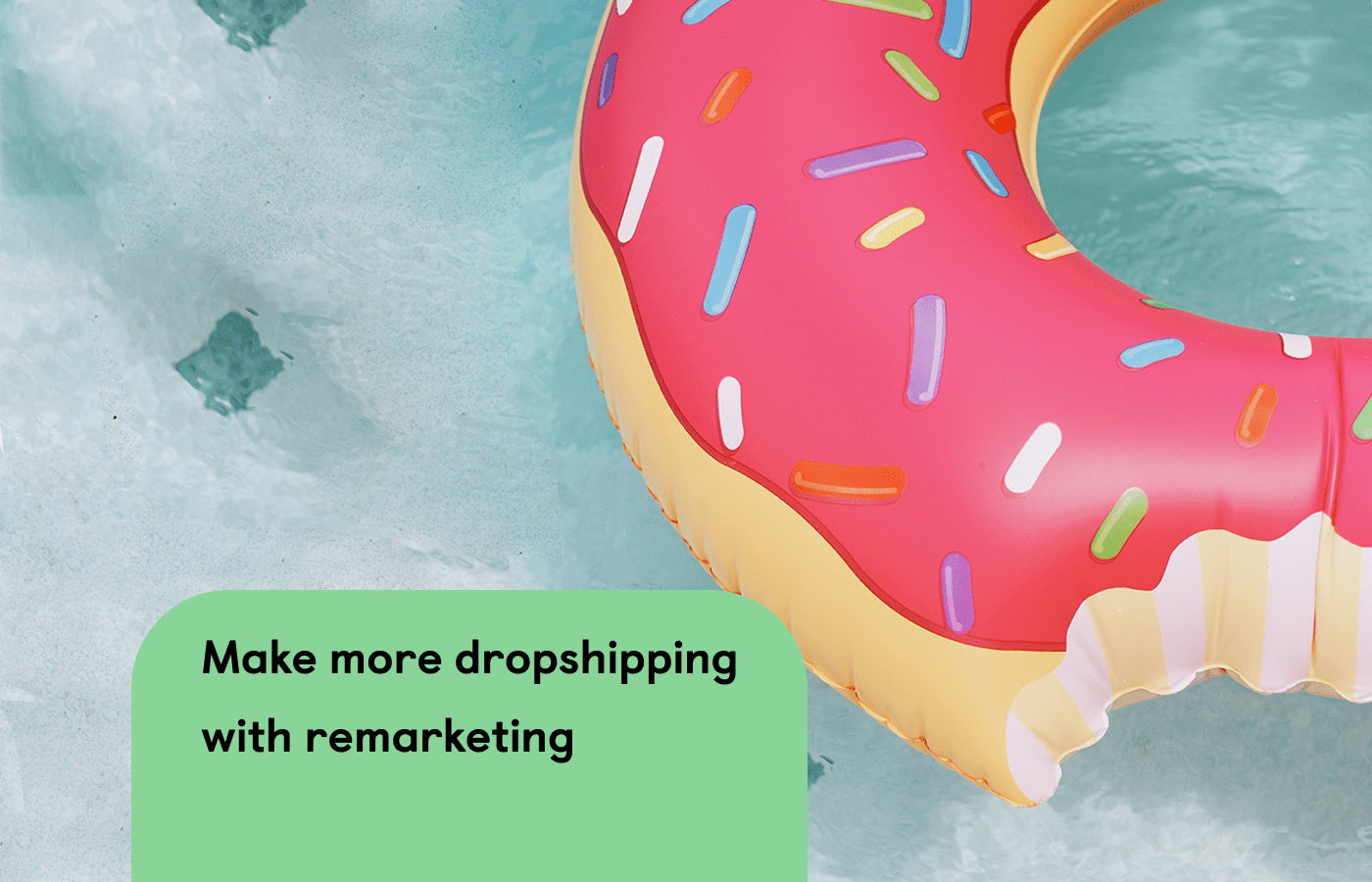 So you want to make more money from your dropshipping Shopify store?
This blog is all about the most important weapon in your arsenal for doing just this - remarketing. Remarketing means re-engaging with the people who have already visited your site or even made a purchase.
In this blog we will share this:
Not what you were looking for? Check out these instead:
Get a FREE consultation to find right marketing strategy for your dropshipping store
Book my demo
4 things to know to make more money dropshipping
There are 4 factors that every successful dropshipping store has to think about if they want to make more money:
Traffic, conversions, average order value and margin.
If this sounds too technical, don't worry. You'll already be doing things related to each of these factors, even if some of the terminology is new to you. Let's quickly define what they are:
Traffic refers to the volume of visitors to your ecommerce store or pages you have on platforms like Amazon and ebay.
Conversions means the number of these visitors who go on to make a purchase.
Average order value refers to the value of all the items they purchase in one go.
Margin means the amount you get from these sales after the supplier has taken their cut.
All clear? Great.
Because these 4 factors are all you need to understand to be able to increase the income of your dropshipping store.
Fit Small Business have put together a super simple equation for working out the income that you can get from your store. It looks like this:
(Traffic x .02) x (average order x .20) = estimated income
They estimate that the average dropshipper will see a conversion rate of 2%. In other words, out of all the visits to your store, 2% will make a purchase. They also estimate that an average drop shipper will get margins of 20% on their core products - this means you keep 20% of the total sale value, with the rest going to the supplier and on shipping.
Let's add some numbers to this to make it more real. Let's say on an average day you get 1,000 visitors to your store, and on average they spend $80 per visit. Here's how that would break down using the equation above.
(Traffic of 1,000) x (Conversion of 0.02) = 20 x (Average order value of $80) x (Margin of 0.20) = 16
The final sum is 20 x 16 = $320.
Why Increasing Traffic is Hard for Dropshippers
Most dropshippers focus their marketing efforts on increasing traffic, but the reality is that moving the dial for this factor takes a lot of hard work and hard cash. Why? Because dropshipping is highly competitive. The low costs of getting started in dropshipping that you enjoyed also apply to everyone else, and ecommerce is an increasingly crowded space The more traffic you want, the more you're going to have to pay for it.
In 2019, the average cost per click for Google Ads in the retail sector was $2.11.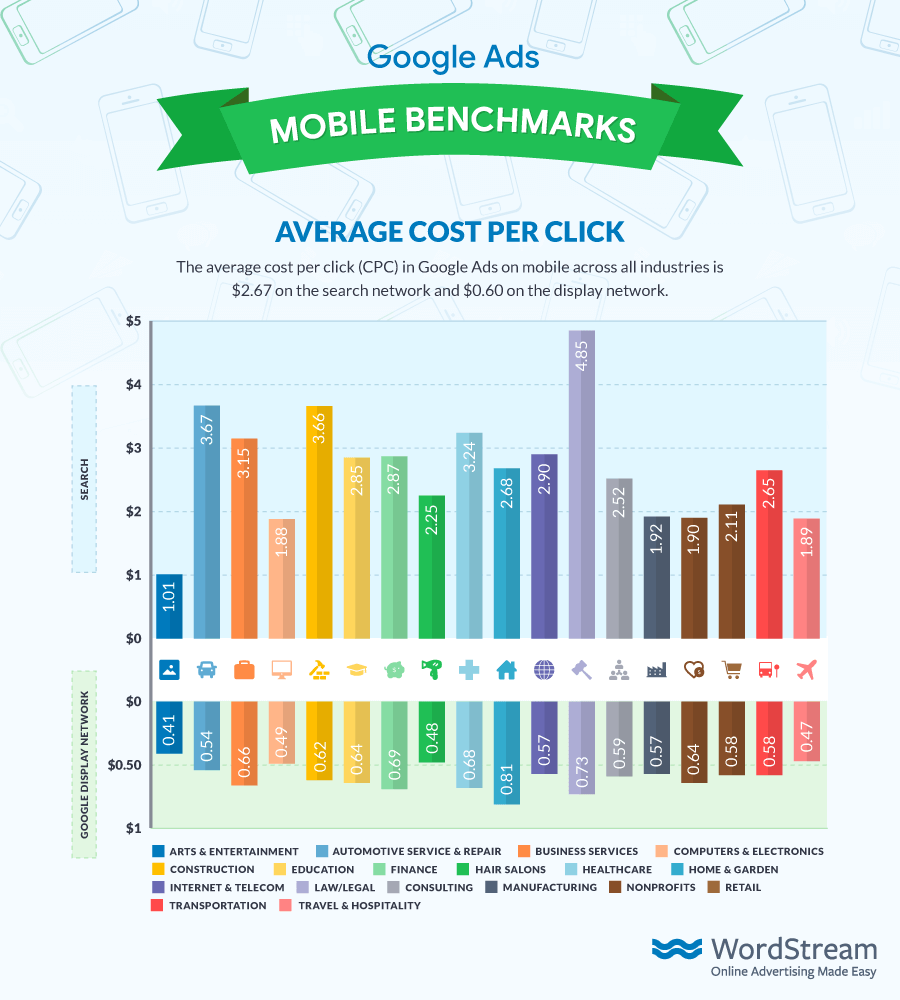 (Image Source: Wordstream)
Of course, you need traffic to get started. But once your traffic is at a steady level you're going to find it increasingly expensive to get more of it.
Why increasing margin is hard for dropshippers
This is even tougher to increase, unless you can buy in large enough quantities to cut a deal, e.g buy from wholesale boutique clothing supplier like BrandsGateway. In the end, your suppliers are doing most of the heavy lifting when it comes to the actual sale. They're responsible for storing the product, packaging it up, shipping it and any import or export costs.
Your suppliers will offer better prices to ecommerce stores who can buy in bulk because this is more profitable for them. In short, it's going to be really tough to increase the margins you get on a sale.
How to Make More Money on Shopify With Remarketing
Improving conversions is the single most effective way to make more money as a dropshipper. On average, only 2% of users convert into customers on their first visit to your store, so it is key to remarket those you have already attracted effectively. It's all about earning more from the traffic you already have. This handy blog explains what conversions are and how to optimize for them. But today we're interested in why remarketing is so effective at boosting conversions and how you can use it for your dropshipping store. Let's take a look at the most effective remarketing strategies for increasing conversions.
Why abandoned carts are the most important remarketing tool for dropshippers
This is the big one in terms of boosting conversions. So, what is an abandoned cart? The term refers to a very common situation - a shopper arrives on your site, adds items to their cart, but then leaves your site without completing the purchase.
Estimates vary, but studies suggest around 70% of shoppers end up abandoning their cart before completing the purchase.
This means you could be losing 70% of your potential sales because of abandoned carts. Although it's important to understand that there are many reasons why shoppers abandon carts and recovering all these sales is not realistic, even turning 2% or 3% of these potential sales into actual sales could be the difference between making a profit and making a loss.
Abandoned cart remarketing is super simple and also very affordable. You set up automated messages that are sent to customers who add items to a cart but don't complete the purchase. These messages are typically sent in a flow of 3 messages, the first shortly after the abandonment, and then two more sent usually within 24 hours (in our detailed breakdown of Shopify Plus stores using abandoned cart remarketing to boost sales, we include research on the best timings to use for your 3 message flow). So once you have set them up, they basically run themselves.
Why Push Notifications Are Your Best Option for Abandoned Cart Recovery
Push notifications are going to be your optimal channel for abandoned cart messaging. There's a few reasons for this.
Firstly, they are inexpensive, so you don't need to worry about sending large quantities of these messages.
Secondly, they are highly visible to shoppers and have strong urgency. Emails are easily missed, and not effective as a reminder to shoppers shortly after they have abandoned a cart. Our research shows messages opened 50 minutes after a cart is abandoned have the highest return on investment. SMS are highly effective in terms of immediacy, but are more expensive.
Thirdly, push notifications are triggered earlier in the sales process than email or SMS. Usually emails and phone numbers are left during the checkout process. But users can sign up for push notifications when they first land on your site. This means they don't need to get to the checkout to trigger abandoned cart messages - if they add items to their basket and then leave your site this is enough to trigger the messages.
Other Automated Remarketing Tools for Boosting Conversion
There are other tools you can use to turn more of your traffic into actual sales. The most straightforward to use are automated messages. Just like abandoned cart messages, these are automatically triggered by specific actions by your customers. Let's take a look at a few types:
Welcome messages - These messages are triggered when someone subscribes to one of your channels, like push notifications or SMS. Shopify marketers will often include a discount or exclusive offer as part of these messages. So how does this help convert traffic into sales? Well, by offering a special discount to new arrivals, you increase the chances that they will make a purchase.
Gourmet coffee pod store Intelligent Blends has generated over $92,000 just from its welcome messages, earning more than $0.50 in revenue for every message they send.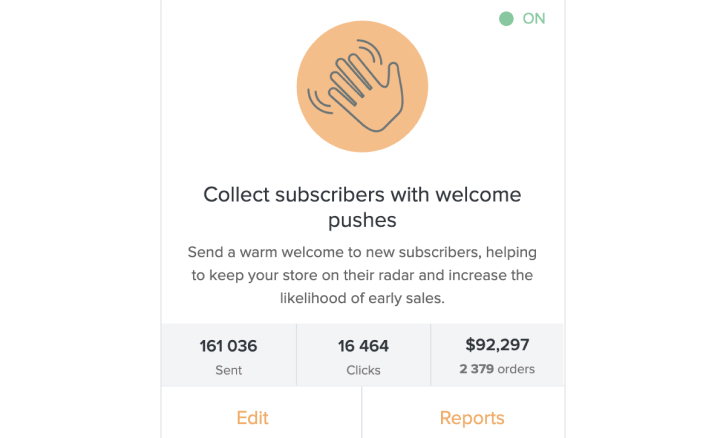 Price drop alerts - Here customers can sign up to receive messages if the price of an item they're interested in goes down. If you have price sensitive customers this is a really smart option. Instead of losing a sale because of the price, you now have a potential future sale instead.
Back in stock alerts - Managing stock availability is one of the biggest challenges for dropshippers because it's something you're not in control of. But one way to manage this situation is with back in stock alerts. The messages automatically notify customers when an item they're interested in is back in stock. So what could have been a missed sale because an item was out of stock becomes a future sale opportunity.
Win back customer messages - These messages are triggered if an existing customer hasn't interacted with you for a specified period of time - for example, 6 months. You can use these messages to inform customers of new product ranges, or of course, you can offer them a deal or discount for their next purchase. Retargeting your existing customer base is much more cost effective than finding new customers.
Promotional remarketing messages for increasing conversion
The final remarketing message type that you can use to increase the amount of sales you get from your traffic are promotional messages.
What are promo messages?
Instead of being automated, these are campaigns that you set up and launch yourself, usually as a mass message sent out to all your subscribers. We'll talk later about how you can use these messages to increase average order value. But they are also highly effective at increasing conversion.
How can they help with conversions?
There are a whole range of different strategies you can try with promo messages, depending on your audience, your stage of development, and the type of product you're selling.
Shopify store InkedShop sends a daily promo push notification offering a "deal of the day" to its customers. It has generated over $120,000 in additional sales with this approach.
Fashion retailer Ivory Ella is focused on getting its existing customers to purchase additional items. It does this through push notification campaigns promoting limited edition items and special offers. It has already generated over half a million dollars in revenue just from these campaigns.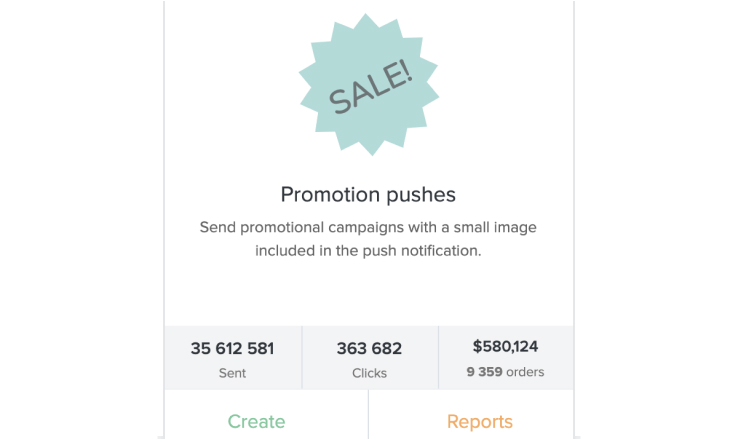 And there are many other strategies you can follow. The key principle is to know your audience and offer them value through these promotional messages.
How conversions will impact your revenue and profitability
We've seen how remarketing can improve conversion by generating additional sales from existing customers, or nudging new customers to make a purchase. So, how is this going to impact your overall profitability as a dropshipper?
Let's think back to the example sum we looked at the start of this blog:
(Traffic of 1,000) x (Conversion of 0.02) = 20 x (Average order value of $80) x (Margin of 0.20) = 16
With a conversion rate of 2% this store generates $320 per day.
Let's imagine we can improve the conversion rate by just a couple of percentage points, to 4%. Suddenly, this store is generating $640 per day - a huge improvement.
Using remarketing to increase average order value on your Shopify dropshipping store
Improving conversions is definitely the best place to start when it comes to making more money from your dropshipping. But there's another area we should also briefly consider - boosting average order value.
The idea here is really simple - you try to get your buying customers to buy more, or purchase more expensive items that you make a bigger profit from.
Some of the best ways to do this include:
Cross-selling: Here you try to persuade customers to buy additional items on top of the one they originally wanted to purchase. Amazon are the kings of this approach.
Up-selling: Here your aim is to get customers to purchase a more expensive model than the one they originally intended to purchase.
Product bundling: Here you offer products as a bundle, encouraging customers to buy multiple items rather than just one. Subscription ecommerce stores are using this tactic very effectively.
Remarketing can help to increase average order value too. Here are a couple of tactics you can try:
Run promotions using thresholds: Just like the promo campaigns we described above, you reach out to your existing subscribers with a deal or offer. But this time, try setting a threshold for the discount offered. For example, "Spend $30, get 20% off. Spend $40, get 30% off." This will help to push up the total value of the amount customers purchase, making the overall deal more profitable for you.
Use customer segmentation to upsell: With channels like SMS and email, you can segment your customers into different groups. Once you have done this, you can aim to sell more expensive models to customers who bought entry-level products.
How increasing average order value will impact your profitability
Just like boosting conversions, increasing average order value is a really smart way to make your dropshipping operations more profitable.
Let's return to our theoretical store and plug in some improvements to average order value to see how this impacts overall revenue. Our conversion rate is now 4%. And let's imagine we've used the tactics above to increase average order value by just $10, up to $90.
(Traffic of 1,000) x (Conversion of 0.04) = 40 x (Average order value of $90) x (Margin of 0.20) = 18
With our improved average order value, daily revenue increases by a further $80, up from $640 to $720.
A remarketing action plan for dropshipping Shopify store
As we have seen, achieving small improvements in the conversion rate and average order value of your store can more than double your daily revenue. Just think how much extra traffic you would need to achieve the same result (and how much this would cost you).
Of course, you won't be able to achieve these improvements overnight, but you'll be amazed at how quickly remarketing strategies can start adding additional revenue to your store.
To get you started here's a quick action plan that you can follow to get your remarketing activities up and running.
Add abandoned cart push notifications - these are very affordable, and will instantly start adding revenue to your store that you otherwise would have lost.
Add some additional automated remarketing messages - Welcome messages and Back in Stock alerts are both effective for dropshippers, and you can try these on different channels like email and push notification.
Start running promotional campaigns - These take a bit more time to get started with (though once you're up and running it can take less than 5 minutes to set up an SMS or push notification campaign). Choose a specific event to focus on, such as an upcoming holiday or a store-wide deal you're planning. Then launch your first campaign to drive extra revenue.
Incorporate strategies for increasing average order value - Have a try at upselling to a specific group of your subscribers using SMS or push notifications.
You're well on the way to boosting your revenue and profitability using remarketing. But there's one more important topic we need to discuss - channels. Let's take a look at the strengths and weaknesses of three main channels you can use: SMS, email and push notification.
Dropshipping remarketing channel 1: Push notifications
Benefit 1 - Affordability: Web push notifications are cheaper than other remarketing tools like display ads (which close to a third of users block anyway). They are also less expensive than emails and considerably cheaper than SMS. As the whole aim is to make more money from your store, going for the most cost-competitive channel makes sense.
Benefit 2 - Visibility: While an email can sit unread for days in the Promotions or Other tab, push notifications are delivered to the screen immediately. Thus, 70% of pushes reach their target (compare that to email open rates that rarely exceed 15% for retail). And while email is great for sending messages that can wait or be repeated (like a launch of a new product line next month), web push notifications are best to use for instant communication.
Benefit 3 - Simplicity: Finally, push notifications are easy to set up. With email, you might need a whole team of people working on a single newsletter, from copy and images to layout and QA. The simplicity, automated nature and timeliness of push notifications make life easier. Besides, desktop and mobile browsers optimize the messages to look equally good on all screens.
Best push notification message types for dropshippers
Abandoned cart. As we have already mentioned, around 70% of all sales are abandoned at checkout. In a brick-and-mortar store, you'd have a salesperson jump in to close the sale. Abandoned cart push notifications have the same effect, converting wandering users into customers. And the conversion rates of those clicking on abandoned cart messages can be upward of 20%, as seen in the experience of Pura Vida Bracelets, an ecommerce business in the fashion sphere. And, as we mentioned, push notifications are the best option for abandoned cart messaging because they can be triggered without the customer having to go to the checkout.
Automated back in stock messages and price drop messages. The instant and automated nature of push notifications lets you inform your client about the item being back in stock virtually the same moment you add it. And nothing beats an announcement that the very same item you were considering buying yesterday is now 20% cheaper. Using push notifications for sending these alerts is going to be more effective than letting them know of an offer or pricing by email, which has a higher chance of going unnoticed.
Promotional messages. From fire sales to more tailored offers, push notifications are highly effective for sharing promotional messages. The most important thing to remember is conveying value to the customer – a deal, a discount, free shipping, etc. Simply reminding users that your store exists can annoy users and drive them to opt out.
Marketer's pro tips: Whatever web push notifications platform you are using, make sure to utilize all of its features like scheduling for different time zones and segmenting your audience. Being really short and clear with your text is another aspect to have in mind – experiment with the headline, making sure the value of your offer doesn't need to be second-guessed. And try spicing up your copy with an emoji or two – the tech behind web pushes displays them correctly on every platform.
Dropshipping remarketing channel 2: SMS
The main benefits of SMS for dropshippers
Benefit 1: Speed - When immediacy is what you are looking for, look no further than SMS. According to industry insights, SMS of all types – whether personal or commercial – have an open rate of 98%, which is impossible to imagine for any other channel. And if it takes an average user 90 minutes to respond to an email, the response time for texts is… 90 seconds.
Benefit 2: Mobile-friendly - Being mobile-friendly is a must in ecommerce today, and SMS is ideally for these devices. While some people prefer checking their email only on desktop (for example, at work), their phone rarely leaves their sight. Filters might catch emails, and push notifications can expire after a certain period, but texts are delivered with no intermediaries. And with the shortening attention span (now being close to 8 seconds), sometimes a 140-character text is all you need to drive sales.
Benefit 3: Supporting other channels - Finally, you shouldn't rely solely on SMS. Although relatively cheap (check this table comparing prices by country), the cost will definitely add up when you're sending out thousands of texts per week. However, in certain periods (think fire sales and Black Friday weekend) launching a bulk SMS campaign will provide a tangible boost to your marketing efforts.
The best SMS message types for dropshippers
Win back customers. As we have already discussed, it costs a lot to acquire new customers, something every dropshipper is aware of. So this makes fostering customer loyalty extra important. When it comes to digital channels, texting is the most direct and intimate. Reward your customers for their loyalty – sending out a special offer on the month of their birthday might be a good idea to start with.
Promotional messages. Ideally, bulk SMS campaigns should be reserved for occasions like Black Friday, Cyber Monday and Singles Day. Getting an offer every week might drive users away, unless you are in a business where people order from you weekly (in which case, kudos to you!). Having said that, a promo SMS during a massive sale can provide that much-needed boost. In the case of Phaser FPV, a niche electronics eshop, a bulk SMS campaign generated 20% of its revenue during Black Friday 2019.
Marketer's pro tips: By adding SMS to your mix of email and push notifications, you become truly omnichannel. What you don't want to become is annoying. That's why it is advisable to set up filters that ensure, for example, that a person who had purchased an item after clicking on a newsletter doesn't get a promo SMS the very same day.
Dropshipping remarketing channel 3: Email
The main benefits of email for dropshippers
Benefit 1: familiarity - Email newsletters have been a tried and trusted marketing tool across multiple industries, ecommerce being no exception. A study of 30 billion emails sent in 2019 shows that retail emails have a lower-than-average open rate of 13.9% (the average benchmark for all industries being 17.8%). Still, even if email does seem to underperform more instant remarketing tools, like SMS and web push notifications, it can and should be put to use.
Benefit 2: Affordability - Like push notifications, email is cheap. Studies have shown ROI for email to be in the 3,000-4,000% range, which is unprecedented when compared to any digital marketing tool that is based on pay per clicks or impressions.
Benefit 3: Great for certain demographics - By including newsletters into your marketing mix, you will easily connect with the demographics who are most accustomed to communicating with businesses via email (this, by the way, does include millennials, who have been shown to use email more than any other generation).
The best email types for dropshippers
Due to its seemingly infinite customizability, email is the perfect channel to:
Provide a discount to first-time customers (a welcome email with a coupon can help you generate your first sale with a user minutes after they subscribed);
Send out aggregated information about your products (think weekly newsletters and seasonal deal announcements);
Get the word out about promotions (and make sure to encourage urgent action by letting the customer know that the campaign expires soon; you can check out Firepush's countdown emails to see how it works);
show off your creative side (share your content, be it an informative blog post or a video celebrating an occasion meaningful to your target audience).
Marketer's pro tips: Email campaigns can both drive sales and serve as a reminder about your brand. As shown by a Rapt Media survey, 63% of consumers improve the way they see a company if it provides them with relevant and engaging content. This works especially well in niche markets, where you know what makes your audience tick (for more tips on driving sales with niche e-commerce stores, look no further than our Phaser FPV case study).
How to Make Money with Dropshipping: Takeaways
If there's one thing we want you to take a way from this very detailed exploration of remarketing for dropshippers, it's this:Focus less on traffic. Much less. Sure, traffic matters. But so do all the other elements of your dropshipping operations. And hopefully we have demonstrated that you can make bigger gains more quickly by focusing on other areas of your operations.
So instead of thinking about how much traffic you have, think about how you can turn traffic into sales. Here's a quick reminder of some of the best ways you can achieve this using remarketing:
Start with abandoned cart messages - these are simple to set up and highly effective. In terms of cost, they offer very strong ROI.
Use push notifications for abandoned cart messages - their affordability, visibility, and the fact that they are triggered earlier than other channels makes them the perfect match for dropshippers.
Use an omnichannel approach - SMS, push notifications and email all have their own strengths and weaknesses. For the widest reach and biggest impact with your remarketing, use a blend of all three channels.