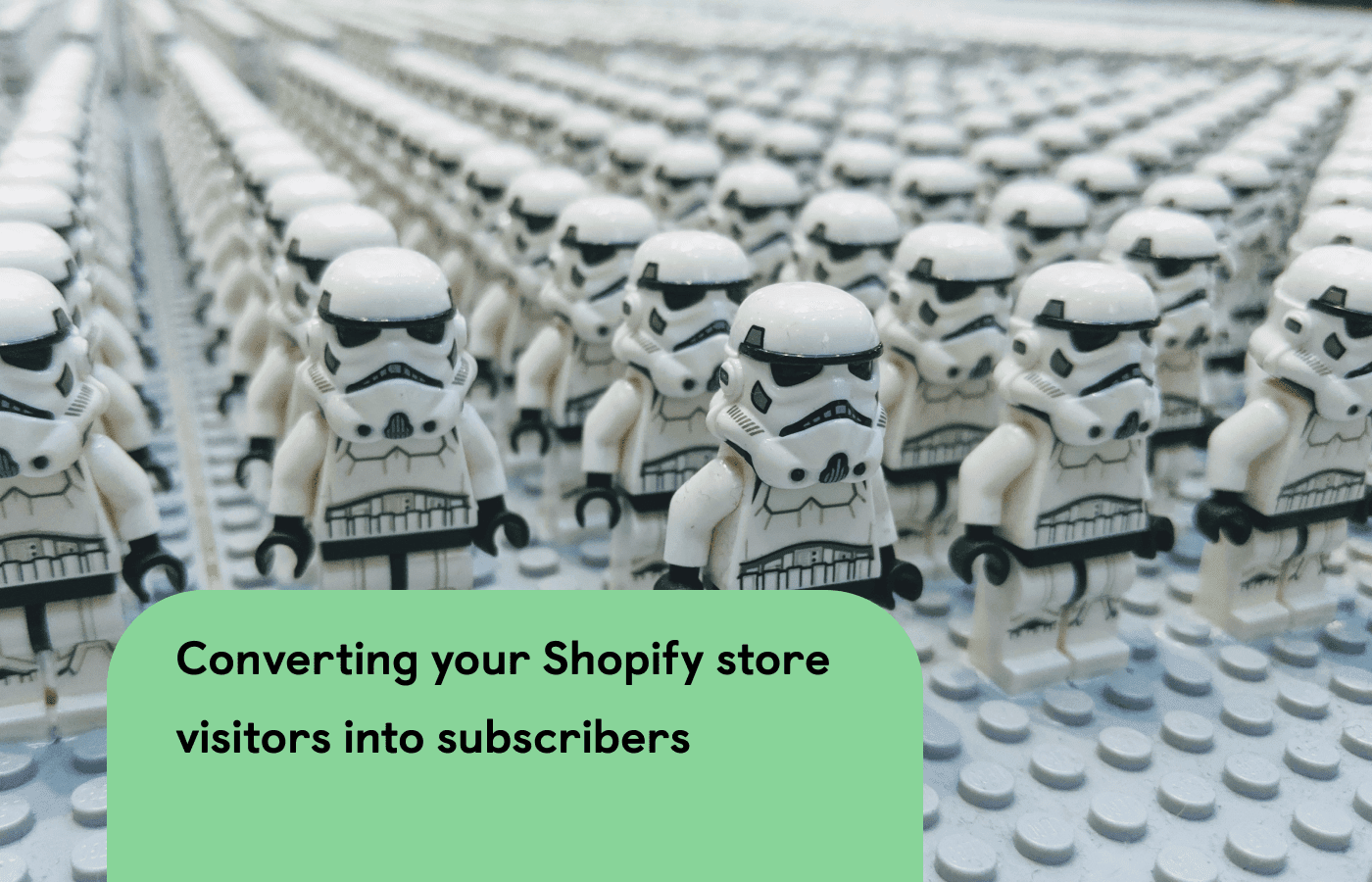 Looking for new ways to increase sales for your Shopify store?
The first step is to focus on converting your online store traffic into subscribers (genuine leads).
Subscribers are crucial for any ecommerce store for this simple reason: it's much easier to sell your products to an audience that's already interested in what you have to offer and is actually waiting to hear from you, right?
Check out out suggestions to help you increase your subscriber numbers.
Check out these guides in case you'd like to explore something different:
Firepush offers dedicated support and FREE consultations to find right strategy for you
Book my demo
1. Use Website Popups
With Shopify popups, website visitors both sign up and convert. Pop up software uses a frictionless sign-up process that leads to personalized and interest-based email marketing with an increase in open rates of up to 42% and up to double the revenue from these campaigns. Pop-ups are responsive and optimized for all devices to provide an outstanding user experience.
Consider a popup that appears when a visitor is intending to exit your website to increase signups. Use this option as a way to get the visitor to subscribe to notifications before they leave. For this to be successful, you should offer the visitor something of value in return for their subscription. Take a look at this screenshot below as an example.
What's good about this particular exit popup is that it tempts the visitor to sign up by not just offering a discount incentive for purchases, but also providing a testimonial to help with validation. It portrays a sense of urgency, to encourage the visitor to sign up right there and then.
2. Offer Valuable Incentives
Using an incentive to turn a web visitor into a subscriber is a good strategy. Discounts can work nicely for some stores; after all, most people are open to a bargain. However, some web visitors won't think a 10% discount is worth subscribing for - that's a pretty small incentive. Bigger incentives will get better results, but you'll need to consider whether a hefty discount strategy is right for your store.
Free shipping on the other hand, is a different incentive altogether. Shipping costs are one of the leading causes of shopping cart abandonment according to the Baymard Institute. If free shipping is a feasible strategy for your store, offering this as an incentive could help to decrease your cart abandonment rate as well as encourage new signups.
A free gift with the subscriber's first purchase can not only incentivize a web visitor to sign up on the spot, but also help convert them from a subscriber into a customer quickly. For other ideas on the types of incentives you can provide your subscribers, check out this helpful Shopify blog.
3. Use Referral Marketing
All of the tactics above are ideal for getting customers who are already on your store to subscribe. But what about those who haven't visited your store yet? You may actually be able to get some of them to subscribe to your channels too, by using referral marketing. Referral software allows you to generate revenue using your own network. And you can also use it encourage subscriptions by getting your loyal customers and followers to reach out to their.
You can create pre-written posts that include eye-catching visuals for your customers to share on Facebook, Twitter and LinkedIn. In the posts, encourage people to subscribe to one of your channels, or direct them to a landing page where they can become a subscriber. You can even provide your customers with Promo Codes so they can pass on discounts to anyone who does sign up.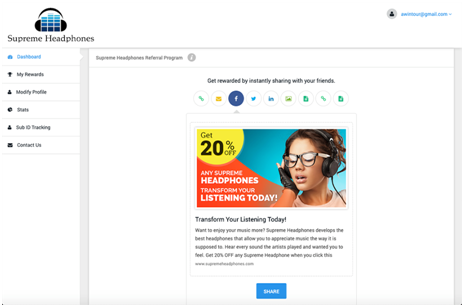 4. Write a Blog
By adding a blog to your Shopify store, which is a simple process, you can help drive more traffic to your store and keep web visitors there for longer. Use your blog to inform readers about new products and turn on the commenting function to get a conversation going.
You could set up a separate RSS subscription feed so web visitors can subscribe only to new blog posts if you wanted.
Grow your social proof
A tried and tested way to increase your number of subscribers is to grow your social proof. A store visitor is more likely to convert into a subscriber if they can see that others trust and recommend your store and your products.
Prompt customers to leave a review and considering adding Shopify apps that display how many social media followers you have, or how many people are viewing your products in real time.
Tools to Build Lists of Subscribers
Here are a few useful Shopify apps to grow email lists:
Firepush. An omnichannel marketing app that allows collecting subscribers with email, SMS, and push notification forms
Wisepops. A top-rated app for creating exit popups and other popups to collect subscribers with marketing messages and email capture forms
Email collection bar. Add a customized bar to your Shopify store to share marketing messages and collect leads
Generate More Leads on Shopify: Summary
A single subscriber is worth their weight in gold. It's a person who is interested in your store and who potentially wants to make a purchase. Imagine how valuable hundreds of subscribers will be! You can increase your subscriber numbers by making sure your online store is visually appealing, that you're offering good incentives and that you're growing your social proof.
What's more, by giving your potential subscribers a choice of how they'd like to be contacted, you're more likely to retain them. And once you've got those all important leads, you can work on further conversions - turning your subscribers into loyal customers.