How to pick the best Shopify App for push notifications
Push notification marketing is driving huge results for Shopify stores. It is helping new stores to turn traffic into sales and established ones to engage their audiences and turn one-off customers into loyal ones.
Because push notifications are so useful, there are multiple apps offering push notification marketing for Shopify stores. So we've put together a list of the top Shopify apps providing push notifications in 2020 - and then compared them. Everything you find in this comparison is based on information available on these apps' websites and app store descriptions - we've just saved you the time of having to go through them all.
What makes a good Shopify push notification app?
A good Shopify push notification app is like a Swiss army knife. It should have a wide range of functionalities above and beyond its core purpose.
Before you begin your search for the perfect Shopify push notification app, make sure you have a good grasp of what this channel can add to your marketing mix and how you can use it - this beginners guide to push notifications is a good place to start. When searching for the best Shopify push notification app for your store, you need to look into:
The number of channels this app supports: could email and SMS be useful to have as well, either now or in the future?
The message types it offers: do you need automated abandoned cart pushes, sales-driving promo campaigns, or invitations to generate social proof? There are a wide range of message types to consider.
The methods for growing subscribers: how will your store visitors sign up for push notifications, and does the app offer the right tools to drive more opt-ins?
The reporting tools provided: will you be able to accurately monitor the effectiveness of your campaigns, so that you can make adjustments to maximise ROI?
And then of course there are issues like customer support and pricing to factor in.
To help you choose the tool that best fits the needs of your Shopify store, this blog will dive deep into all these aspects for 6 of the most popular push notification apps:
PushOwl,
Aimtell,
iZooto,
Push Monkey,
Smart Push Marketing (SMP),
Firepush.
Key push notification app features for different types of Shopify store
The first step in your quest to find the right push notification app for your store is to think about what stage of development you're at. That's because app features that might be super important for a brand new online store might not be valuable for a store that's already well established. And vice versa.
So, before we compare the best shopify popup apps, let's have a quick run through which features will be most important for different types of stores.
What are the key push notification app features to look for:
If you're a new Shopify store?
When you are just starting out, you will need to focus on growing subscribers. Volume is going to be important to any successful remarketing campaign, and will help as part of your strategy to turn high traffic into sales. So look carefully at the subscriber growth tools.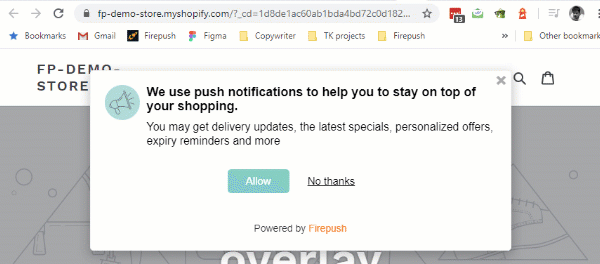 Look for apps that offer smart sign-up options, including double opt-in that will ensure a higher quality of subscriber
You will want to test different strategies and learn which message types work best for your customers. If the app has limitations in the range of message types, you will be left with too generic a solution. So pick an app that offers a wide range of message types, especially automated messages that a small team can easily set up.
Naturally, pricing matters, so find an app that offers a free plan with a good range of features.
Finally, don't forget that there's a good chance the app you choose now is the one you will still be using 5 years down the line (switching apps is a hassle after all). So, while finding the best pop up for Shopify app that offers multiple channels and smart reporting tools may not seem important now, these may come in handy in the future.
If you're a growing Shopify store?
When integrating a push notification app into an already growing Shopify store, you know that volume will be increasing soon. And more volume means more costs, so going for an app with flexible pricing will be beneficial from the get-go.
You will also want to experiment with different message types, so you can then optimize your remarketing strategy. Plus, you may be focused on multiple areas of your marketing funnel - awareness, engagement, conversion, customer loyalty - at the same time. Or you might need to build a strategy for communicating with two target audiences simultaneously like the one Ivory Ella uses. Eitherway, having a range of message types to deploy can be a real benefit. So pick an app offering a wide range of manual and automated message types.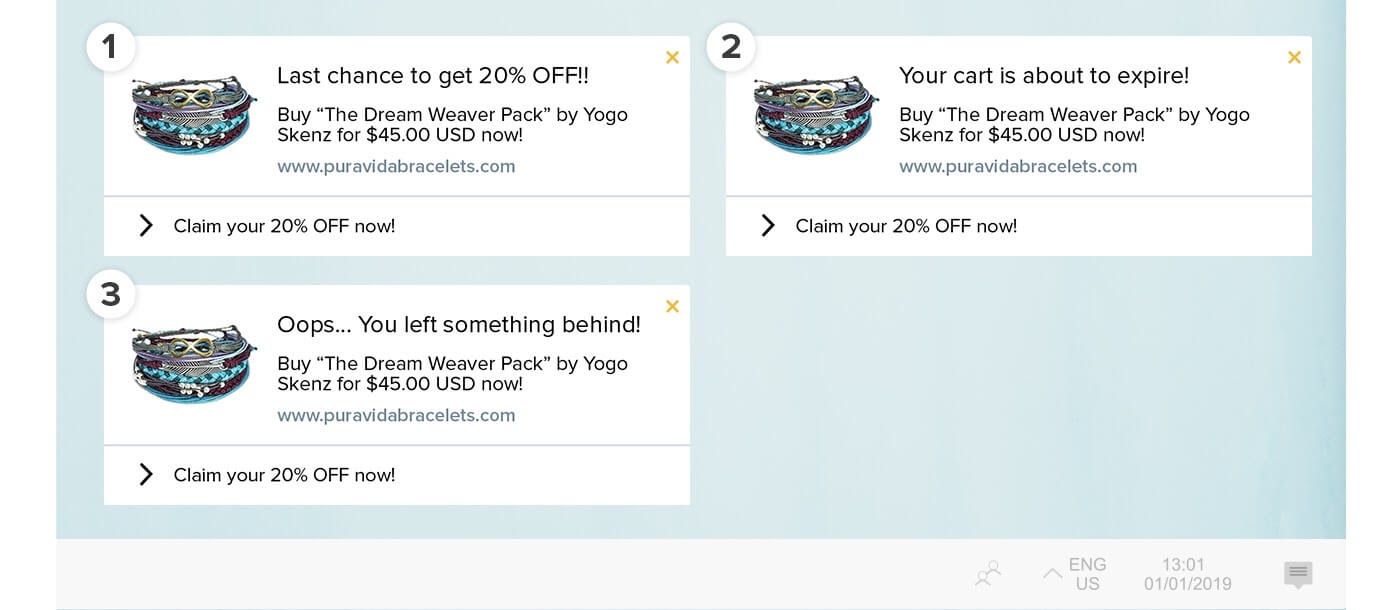 Ensure your push notification app includes promotional campaigns and smart automations like abandoned cart push notification flows like this one.
As each case is unique, eventually you will find yourself in need of tailored advice, and that's where customer support steps in. So look for apps that provide a dedicated strategy manager. Unfortunately, not all apps do, which may mean you are left to learn from your own (sometimes costly) mistakes.
If you're a Shopify Plus store?
Ultimately, you will want a push notification app that integrates with all the additional functionality of Shopify Plus, like Shopify Flow and Script Editor.
Having an integrated and multi-faceted omnichannel strategy is also critical at this stage. You should be looking to boost sales and engage your audience through email, Messenger, SMS and web push notifications. So find an app that offers omnichannel marketing.

An omnichannel flow like this one will help you connect with your customers on the channels they are on
Dealing with a lot of volume, you will want to get your questions answered ASAP. Make sure the app has 24/7 support available, plus strategy managers and integration engineers.
Maximising your ROI will also be critical at this stage. So pick an app with advanced reporting tools so you can accurately assess the full impact of your push notification campaigns.
What's the best Shopify app notification: for pricing?
Marketing automation is not the most expensive service in the world, but you still want to be getting a full range of services at the best possible price. So let's take a look at several popular apps from Shopify app store in terms of their approach to pricing. All of these prices apply to the offering of these services on Shopify - in some cases, these apps offer services on other platforms as well.
Aimtell: Web Push Notifications for Mobile and Desktop Browsers
Starter plan - $49.99/month for 10,000 push subscribers
Plus plan - $99/month for 50,000 push subscribers
Pro plan - $199/month for 10,0000 push subscribers
Enterprise plan - $299/month for unlimited push subscribers
Aimtell can be an attractive option for merchants with a substantial database of subscribers, but the entry barrier is very high for newcomers. Besides, while Aimtell provides broad options for subscriber targeting, ultimately it lacks an omnichannel approach. Here is a more detailed Firepush and Aimtell comparison.
Smart Push Marketing by hextom
Basic plan - $9.99 month for 1,000 push subscribers
Business plan - $29.99/month for 10,000 push subscribers
Advanced plan - $79.99/month for 25,000 push subscribers
Plus plan - $149.99/month for 50,000 push subscribers
Smart Push Marketing is definitely not the most expensive app out there, but the pricing does not cover 24/7 support (it only offers support via email), and the merchant gets access to only one marketing channel. Get more details with this comparison of Firepush and SPM.
Push Monkey
Free plan - Covers 1 website and 100 subscribers
$19/month plan - Covers 1 website and up to 2,000 subscribers
$36/month plan - Covers 1 website and up to 5,000 subscribers
$53/month plan - Covers 1 website and up to 10,000 subscribers
$168/month plan - Covers 1 website and up to 50,000 subscribers
$328/month plan - Covers 1 website and up to 100,000 subscribers
$653/month plan - Covers 1 website and up to 250,000 subscribers
It is also possible to add more than one website up to 5 sites, with the monthly subscription pricing increasing per site added
Like many others, Push Monkey bills based on the number of subscribers. The pricing ranges from $19 for 2,000 subscribers all the way up to $653 for 250,000 subscribers, which is significantly more than what competitors are charging.
PushOwl
Free plan – PushOwl doesn't offer a free plan
$19/month plan - this covers up to 10,000 impressions
$38/month plan - this covers up to 20,000 impressions
$57/month plan - this covers up to 30,000 impressions
Enterprise plan – this is customised for enterprise level customers
PushOwl offers competitive pricing in comparison to most other Shopify push notification apps, although it's important to note these prices only cover one channel - push notifications. To compare PushOwl's pricing with an omnichannel app offering SMS and email marketing as part of the package too, check out this detailed comparison for Firepush and Pushowl.
iZooto
Free plan - iZooto does not offer a free plan
Rise plan (iZooto's basic package) - Starts at $85/month for up to 30,000 subscribers
Rise plan $135/month - for up to 50,000 subscribers
Rise plan $250/month - for up to 100,000 subscribers
Rise plan $450/month - for up to 250,000 subscribers
Grow plan (iZooto's package with more advanced targeting and campaign functions) - starts at $250/month for up to 30,000 subscribers
Grow plan $400/month - for up to 50,000 subscribers
Grow plan $650/month - for up to 100,000 subscribers
Grow plan $975/month - for up to 250,000 subscribers
Ultimately, iZooto is a great option for the publishing sector with mass audiences (no wonder it is used by the likes of Conde Nast and Bloomberg Quint) and for Shopify stores who invest heavily in big budget content marketing. But in terms of pricing it isn't going to be a good fit for most Shopify ecommerce stores.
Firepush
Free plan - up to 1,000 web pushes
$29/month for 15,000 web pushes
$38/month for 20,000 web pushes
$48/month for 25,000 web pushes
$57/month for 30,000 web pushes
Custom enterprise plans are available to high-volume merchants looking to send over 30,000 web pushes per month.
It's worth noting that these prices for Firepush packages also include email marketing Facebook Messenger. SMS marketing is also available with each of these packages, with pricing for SMS campaigns determined by the region you are sending them in.
What's the best push notification app: for message types?
You may not be aware that both automated and manual push notification messages are available. And the type of store you run may have a big impact on which message types you use most. Here's a quick breakdown of the main message types and what they're most useful for (and for a full explanation of different push notification messages, read this detailed guide to web push notifications).
The most valuable push notification message types for you to try
Welcome messages. These can be used not only to greet the new subscriber, but also to provide them with a personalized offer.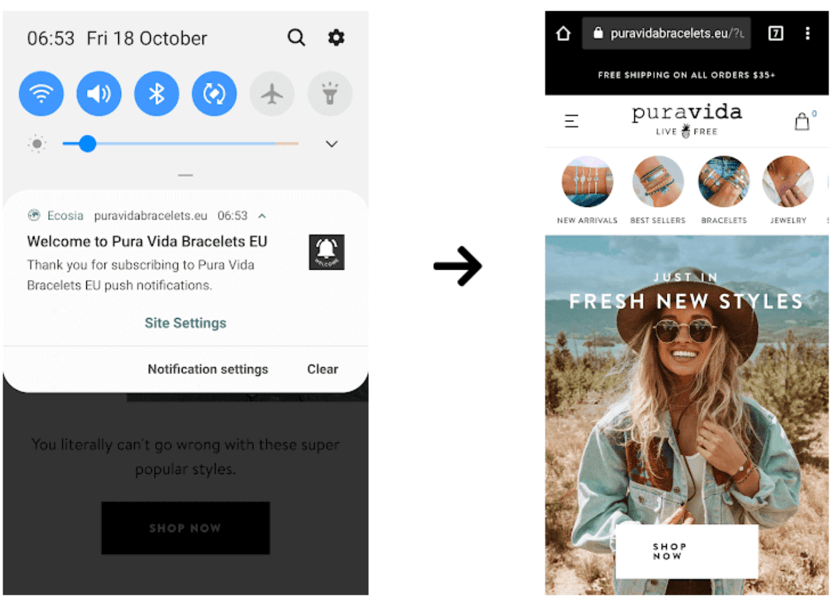 Welcome messages are effective for engaging new subscribers and driving first sales
Abandoned cart messages. These are automated reminders sent out to customers that have placed an item in their cart encouraging them to complete the purchase. An incentive in the form of a discount or free shipping can encourage them to complete the purchase. As this guide to effective abandoned cart strategis for Shopify stores shows, these automated web pushes are an essential part of any successful marketing mix.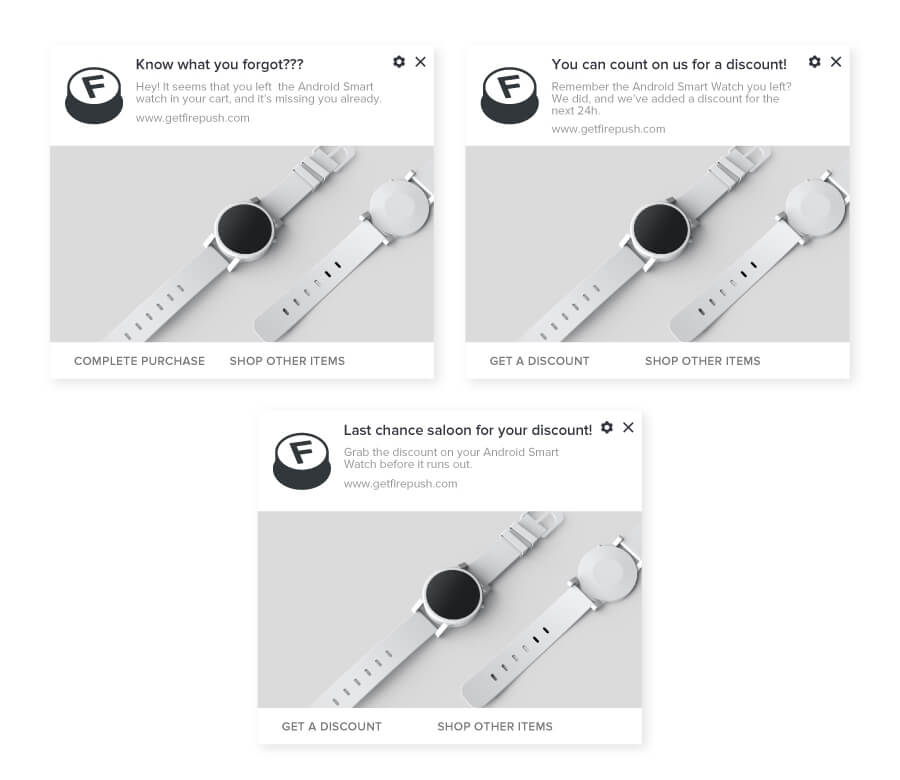 A flow of 3 push notifications can be automatically sent to customers who add an item to their cart but don't complete the purchase
Promotional messages. There are multiple ways one can attract new sales, including bulk discounts, flash sales and expiring offers. Push notifications with countdown timers will add extra drive to your promo messages.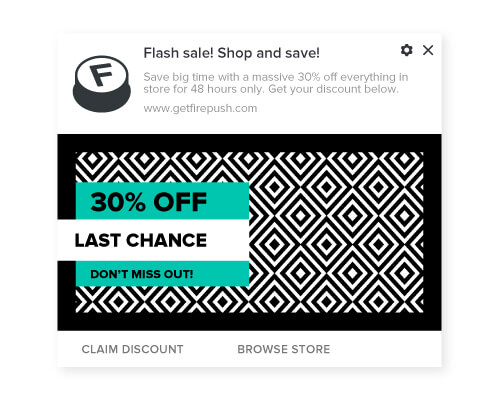 Use promotional web push notifications to promote your seasonal sales
Delivery update messages. A good way to foster trust is keeping your customers updated on the delivery process.

An example of a delivery update push notification displayed on desktop
Back-in-stock messages. Letting the customer know when you have the item they were looking for is not just good tone, it also helps drive back sales.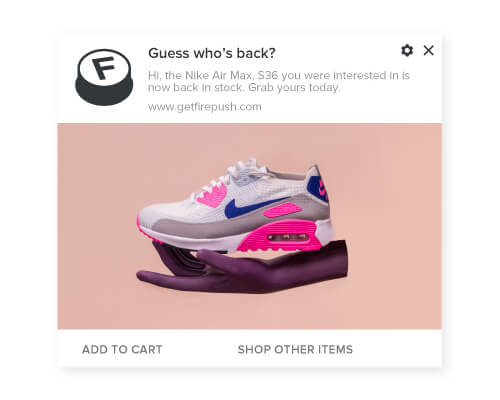 Use back in stock push notifications to automatically inform your customers when their favorite items are available again
Price drop messages. These messages can help to keep a connection with price-sensitive clients.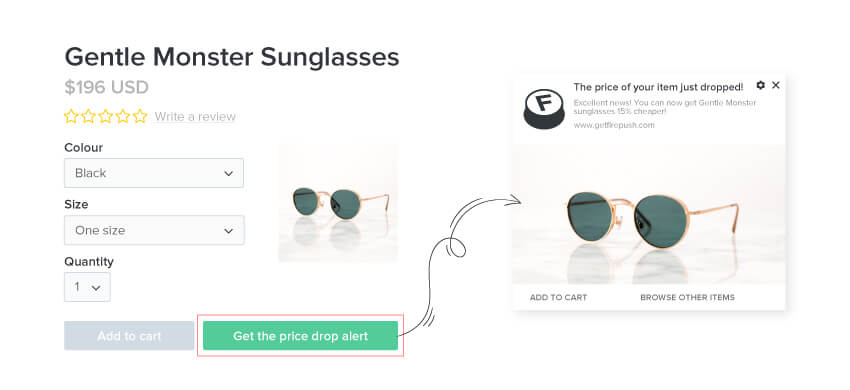 An example of a price drop push notification informing users that their favorite items are now available for less
Ask for review campaigns. Collecting and displaying customer reviews is one of the main elements of building trust.
Win back customer messages. As increasing life-time value should be a priority for all merchants, contacting regulars who haven't shopped in a while is a common strategy.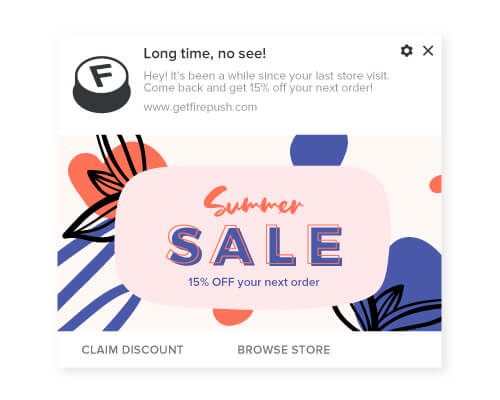 An example of a win back customer message that includes a 15% off incentive
The differences in message types offered by the 6 Shopify push notification apps
Aimtell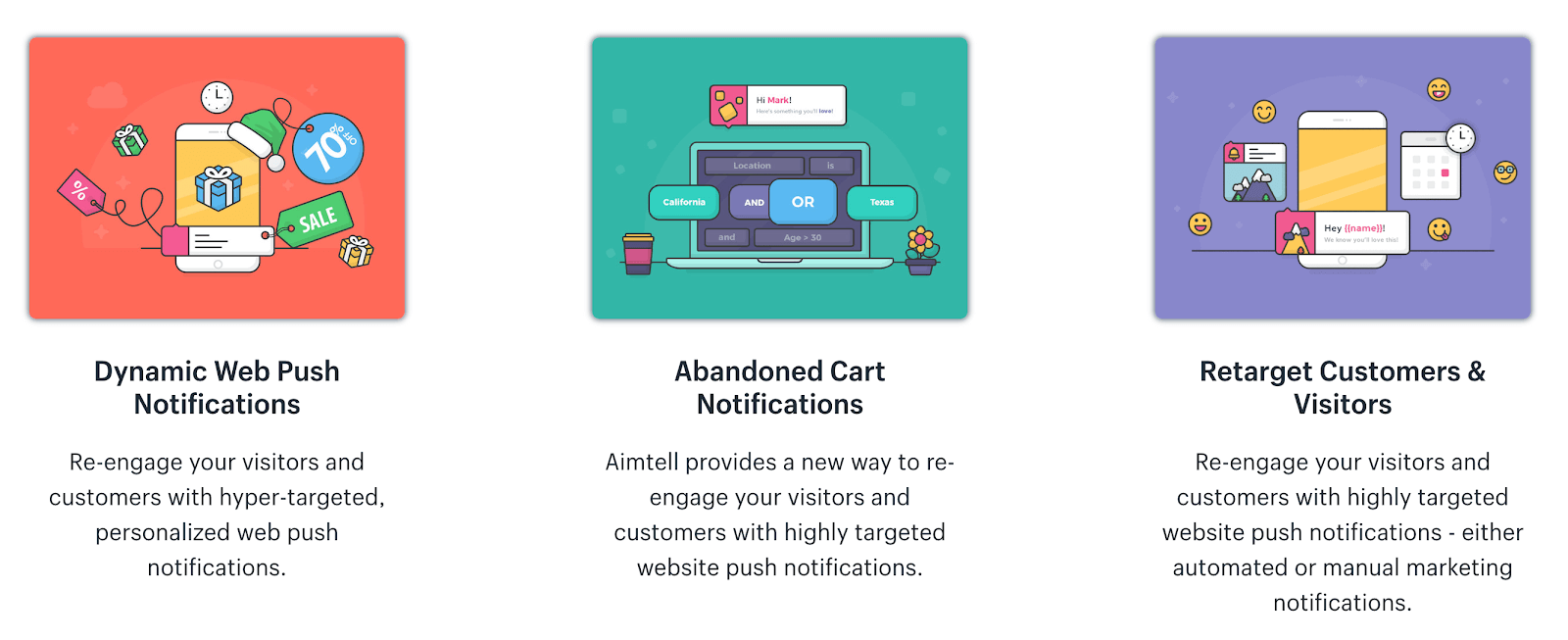 Aimtell offers a selection of message types that cover all the stages of funnel abandonment. They also provide price drop, back-in-stock messages, as well as messages related to the shipping process. Aimtell currently doesn't provide pushes that ask for reviews or messages that relate to payment status.
Smart Push Marketing
SMP has a wide selection of messages aimed at abandoned cart recovery. As with the previously mentioned tools, they do not have the option to ask customers for reviews.

Push Monkey

Push Monkey has a very limited range, only offering abandoned cart pushes and manual promotional pushes.
PushOwl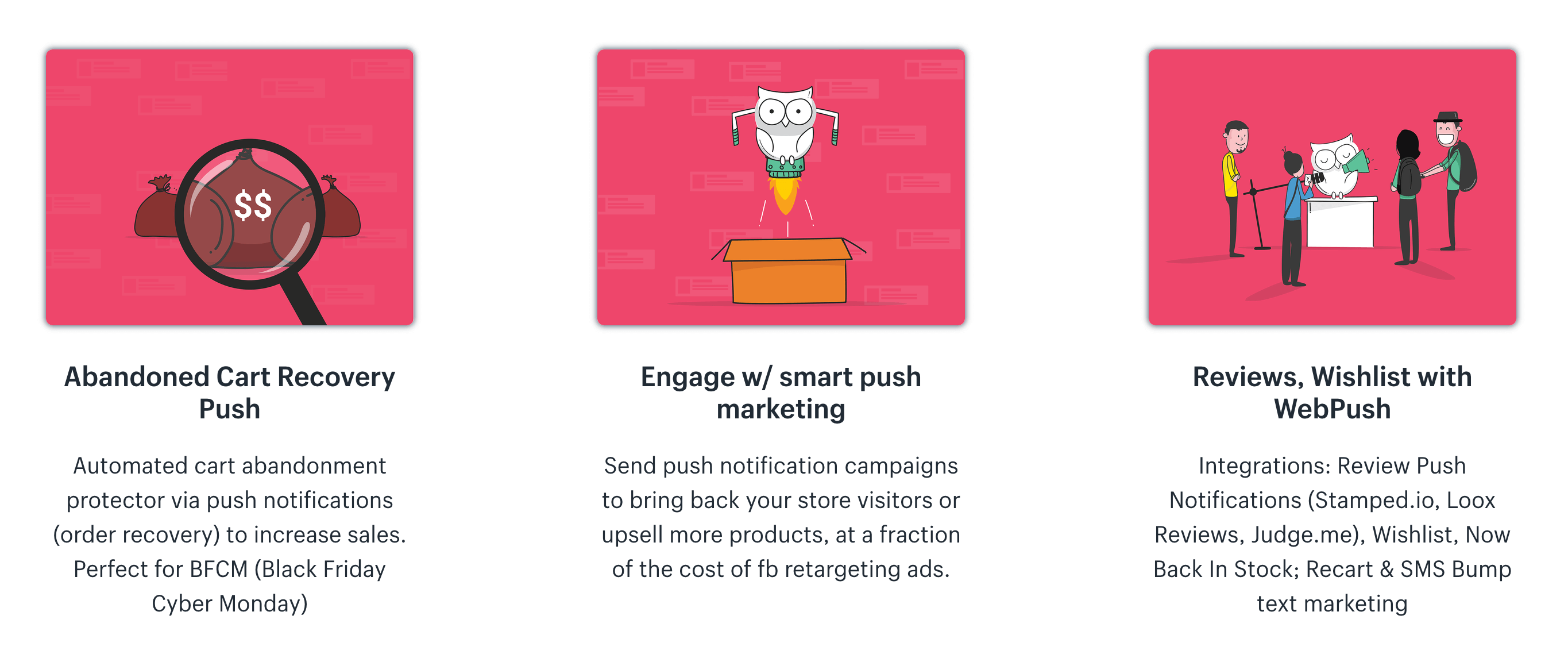 PushOwl provides a wide range of message types, including welcome pushes, abandoned cart campaigns, price drop messages, back-in-stock pushes and more. Their tool does lack messages that inform the customer about their payment status.
iZooto

iZooto fairs slightly better, offering manual push notifications (for promotions or sharing content), along with 4 automated push types: welcome messages, abandoned cart messages, product view retargeting messages and collection view retargeting. But it does not offer delivery, price drop or back in stock messages.
Firepush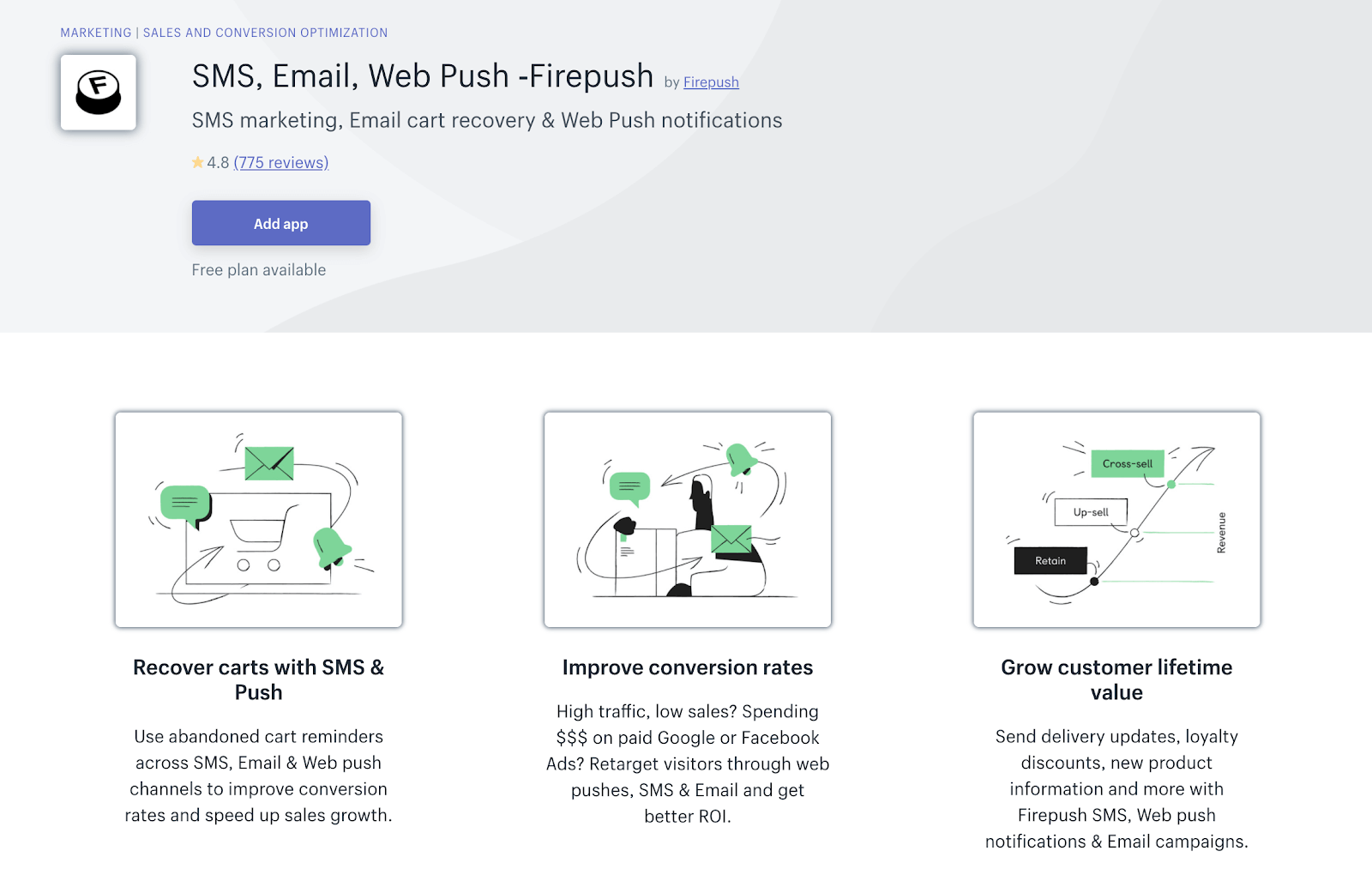 Out of all the apps reviewed, the Firepush Shopify app is the only one to offer all the message types listed above. It also has one message type that no other app offers - push notifications with discount codes and timers. These are ideal for running a flash sale, or for seasonal sales like Black Friday.
And because it provides multiple channels, Firepush also offers more versatility, as email and SMS are more suitable for certain types of messages. For example, due to its personal nature, SMS serves as the preferred medium to win back customers, while email can be used to nurture long-term customers.
What's the best push notification app: for subscriber growth?
For Shopify stores implementing push notification remarketing strategies, every subscriber matters. For example, Shopify store Intelligent Blends uses an omnichannel approach to generate $12 in revenue per push subscriber.
One of the key advantages of push notifications over other channels is that sign up is quick and simple - users don't need to provide their phone number or email address in order to subscribe. Nevertheless, encouraging site visitors to subscribe can still be tough. And one of the key factors is how you present them with the opportunity to sign up.
The problems with standard subscription pop-ups
I'm sure you've seen the standard browser prompts for allowing push notifications, like this.

These prompts are already outdated, mainly due to changes in the way browsers allow push notification opt-ins. Chrome and Firefox recently introduced "quieter" opt-ins which affect how and when browser prompts are shown to users. There are a few important steps to take to manage Chrome and Firefox's opt-in changes, one of which is to set up a 2 step opt-in (which we will discuss in more detail).
So why are browser prompts going out of fashion, and why are browsers like Chrome and Firefox limiting their visibility? It's because they have some major drawbacks.
They feel intrusive to users, especially when triggered at the beginning of a browsing session.
They are visually unappealing.
Perhaps most importantly, they present users with a very limited choice - either accept notifications or block them. But let's imagine that a site visitor doesn't want to accept notifications right now because they've just arrived at your store for the first time and they haven't made up their mind about you yet. So they hit "block". Then they browse your store and like what they see - an offer to subscribe now would be positively received. But they have already blocked notifications, so the chance is gone forever.
2 step opt-ins
2 step or double opt-ins are where your users are asked to confirm twice that they want to receive push notifications from you.
Double opt-ins are important for demonstrating that you meet the highest data protection standards, including the European GDPR standards, and are in line with recent opt-in changes made by browsers like Chrome and Firefox. They also ensure you only send out push notifications to people who have a realistic chance of converting and don't waste money on people who didn't actually intend to subscribe. Here are the different
Other ways to get push notification subscribers
So it's critical that the Shopify push notification app you choose offers alternative ways to subscribe than just browser prompts. The most common forms are:
Sign up boxes: Rather than popups, these subscription boxes form part of your page, just like an email subscription box. They include clear call to actions, and you can add additional text to emphasise the benefits users will get from them.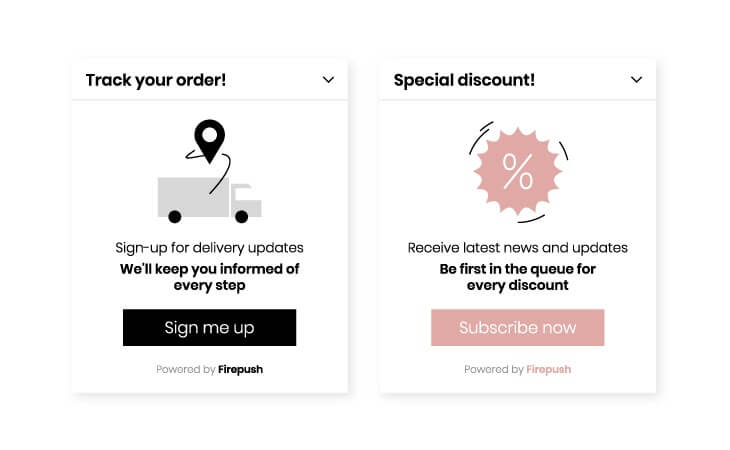 Examples of a push notification sign up boxes
Flyout widgets: These are a more sophisticated option, and are highly effective. Rather than a large box, with flyout widgets a small icon is displayed. When clicked on, an invitation to subscribe opens up.

Flyout widgets offer a visually appealing and discrete way to sign up push notification subscribers
Embed button: Here, instead of a whole box, a small button is embedded into your site. They are discrete and can be customised to fit your store's design. You can alter the call to action to emphasise a specific value they will get from subscription (like receiving price drop alerts). These are perfect for product pages.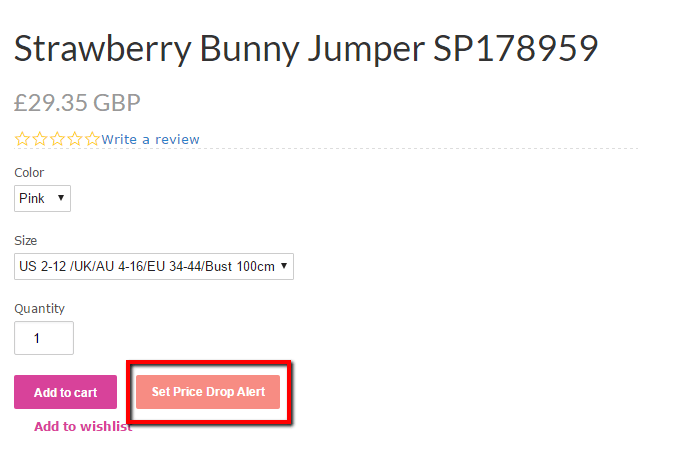 Embedded buttons on product pages with a clear value indicated are an effective way to gain new subscribers
Comparison of the sign-up options of the 6 push notification apps
Aimtell
Aimtell has a very limited range of options for signing up push subscribers. Even with Aimtell's paid plans, you won't get flyout widgets, embed buttons or sign-up boxes. This could be really limiting in terms of building up your subscriber base. What's more, you only get 2-step opt-in with paid plans, and not with Aimtell's free plan.
Smart Push Marketing
The situation with SPM is virtually the same. Whatever plan you sign up to, whether free or paid, you'll have to do without flyout widgets, sign-up boxes and embed buttons. This will only leave you with clunky browser prompts. SPM does at least include 2 step opt-in with both its free and paid plans.
Push Monkey
With Push Monkey, you will have to rely on browser prompts, although it does at least allow you to customise when they pop-up. Push Monkey doesn't offer flyout widgets, sign-up boxes or embed buttons, and there's also no double opt-in available.
PushOwl
2 step opt-in comes with PushOwl's paid and free plans. The free plan also includes flyout widgets for your opt-ins. If you shell out for the paid plan you also get embed buttons. But PushOwl does not include sign-up boxes in any of its plans.
iZooto
iZooto offers browser prompt and sign-up boxes with all of their paid packages. They also offer flyout widgets with a few different design options, such as headers, sidebars, bells and sticky bars. Embed buttons are not available, and there is also no 2 step opt-in available.
Firepush
Firepush offers 2 step opt-in with both its free and paid packages, enabling you to build a high quality subscriber based. And in terms of opt in types, it has the whole package - flyout widgets, sign-up boxes, and embed buttons. The first two are available with Firepush's free plan, while embed buttons come additionally with paid plans.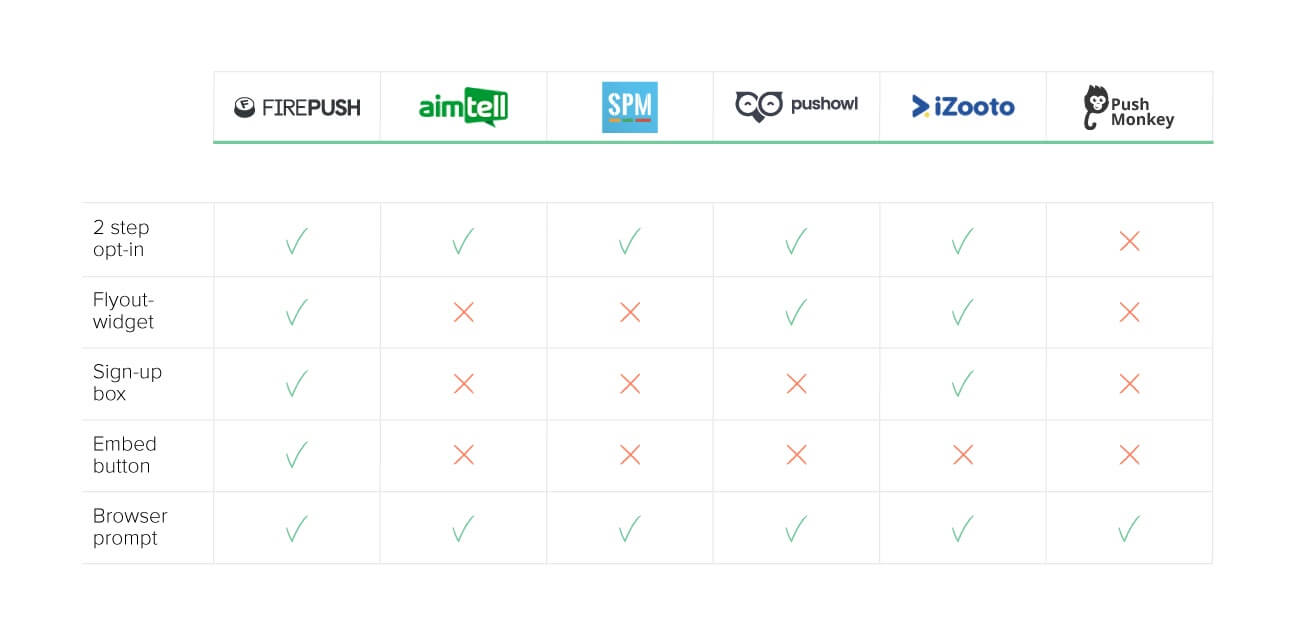 A breakdown of the different sign-up options offered by the biggest Shopify push notification apps
What's the best push notification app: for reporting?
Reporting may not be the first thing you consider when thinking about a push notification app for your Shopify store. But it's important. You need to be able to keep track of how your different push notification campaigns are performing in order to both maximise ROI and bring in more revenue.
And this means more than simply looking at open rates. Good apps will include reporting tools that tell you how many of those who click a push notification go on to convert into a sale.
They can even tell you how much revenue you're generating in relation to how much you're spending on pushes - this is known as ROI, and Shopify Plus stores like Inkedshop have used push notifications to generate ROI of $10 for every $1 spent.
Aimtell
Aimtell does provide more advanced reporting tools - but only if you're ready to pay for them, as only basic reporting tools are available with the free plan. With paid plans you get data on click through rate, ROI and revenue generation as well.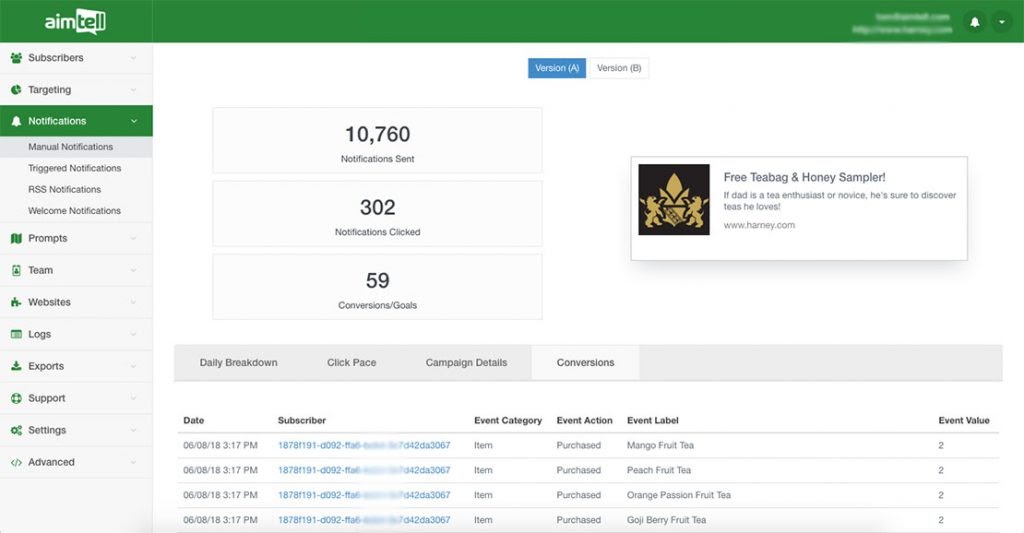 Smart Push Marketing
With SPM, you will have to settle for the basics in terms of reporting. SPM provides no reporting on conversions, revenue generation, ROI or click through rate. You will get basic data such as subscriber numbers, clicks and impressions, but that's it.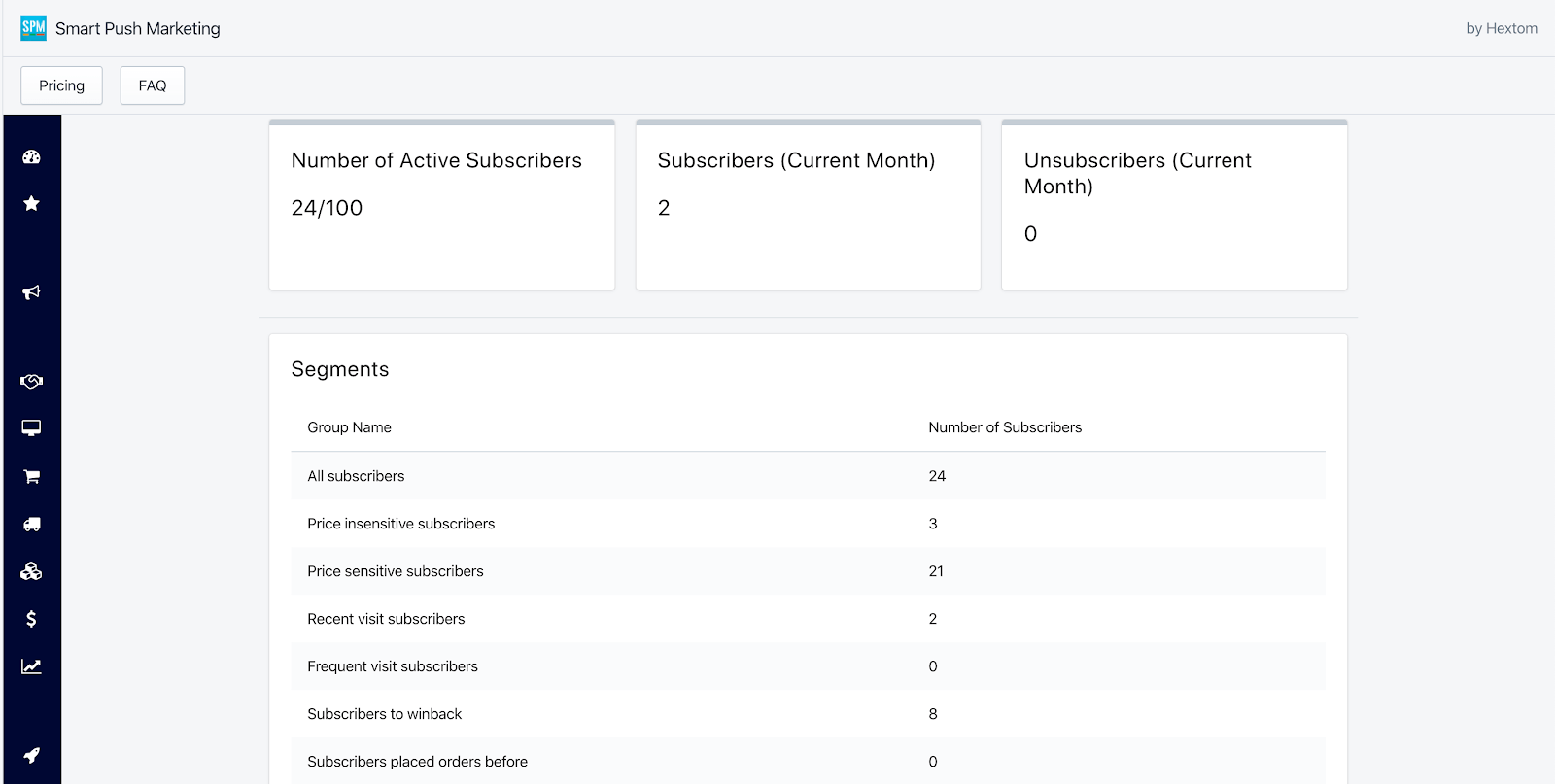 Push Monkey
Push Monkey provides basic information on subscriber numbers and clicks, plus some useful additional information. You can monitor the overall value of your abandoned and rescued carts, and see which of your products and markets are performing best in terms of subscriber growth. There is no data provided on click through rate, conversions or ROI.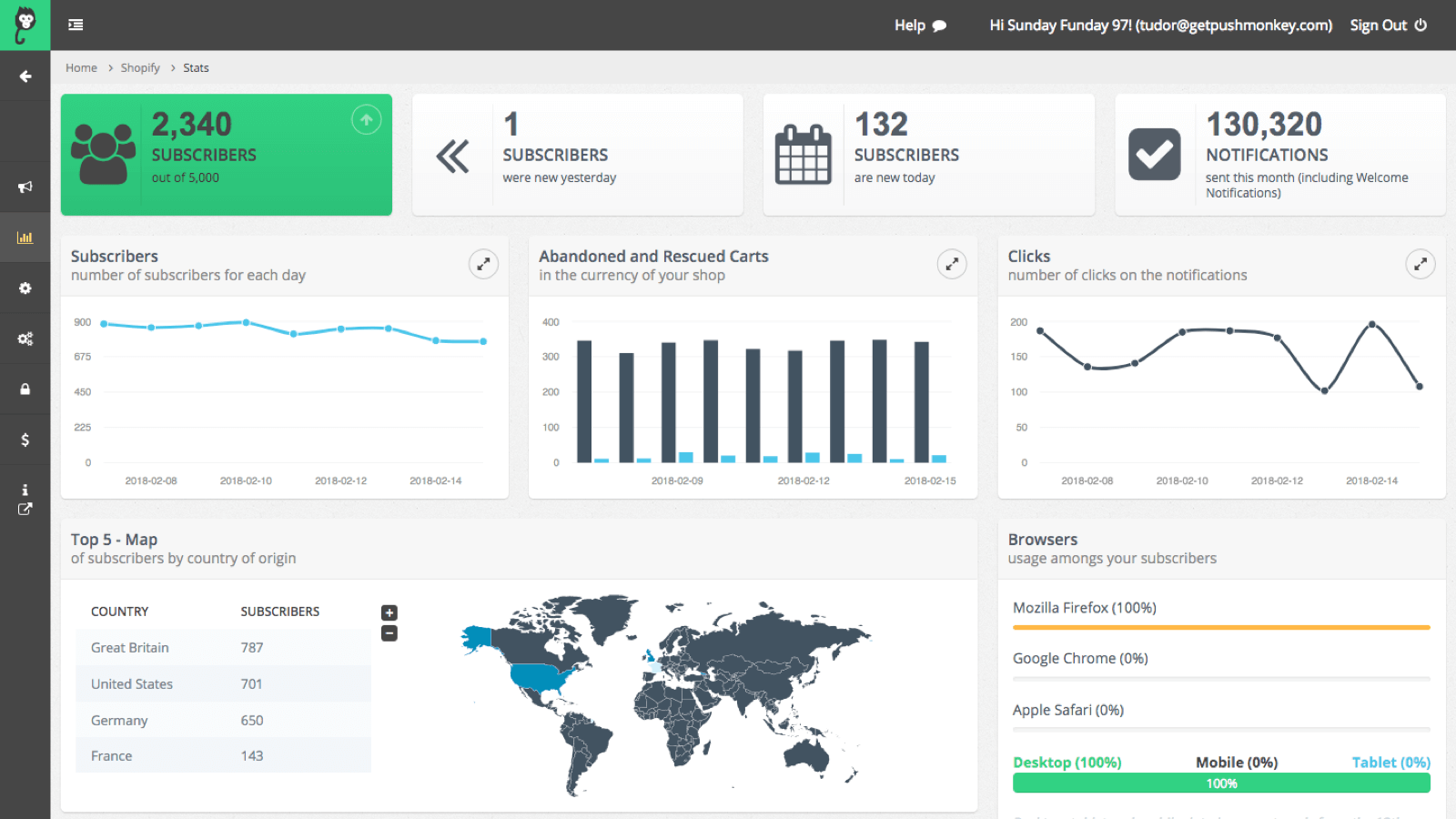 PushOwl
With PushOwl you'll get details of the number of subscribers you have, plus impressions and clicks. It also has some more advanced tools for monitoring revenue growth from your pushes, although it does not calculate ROI for you.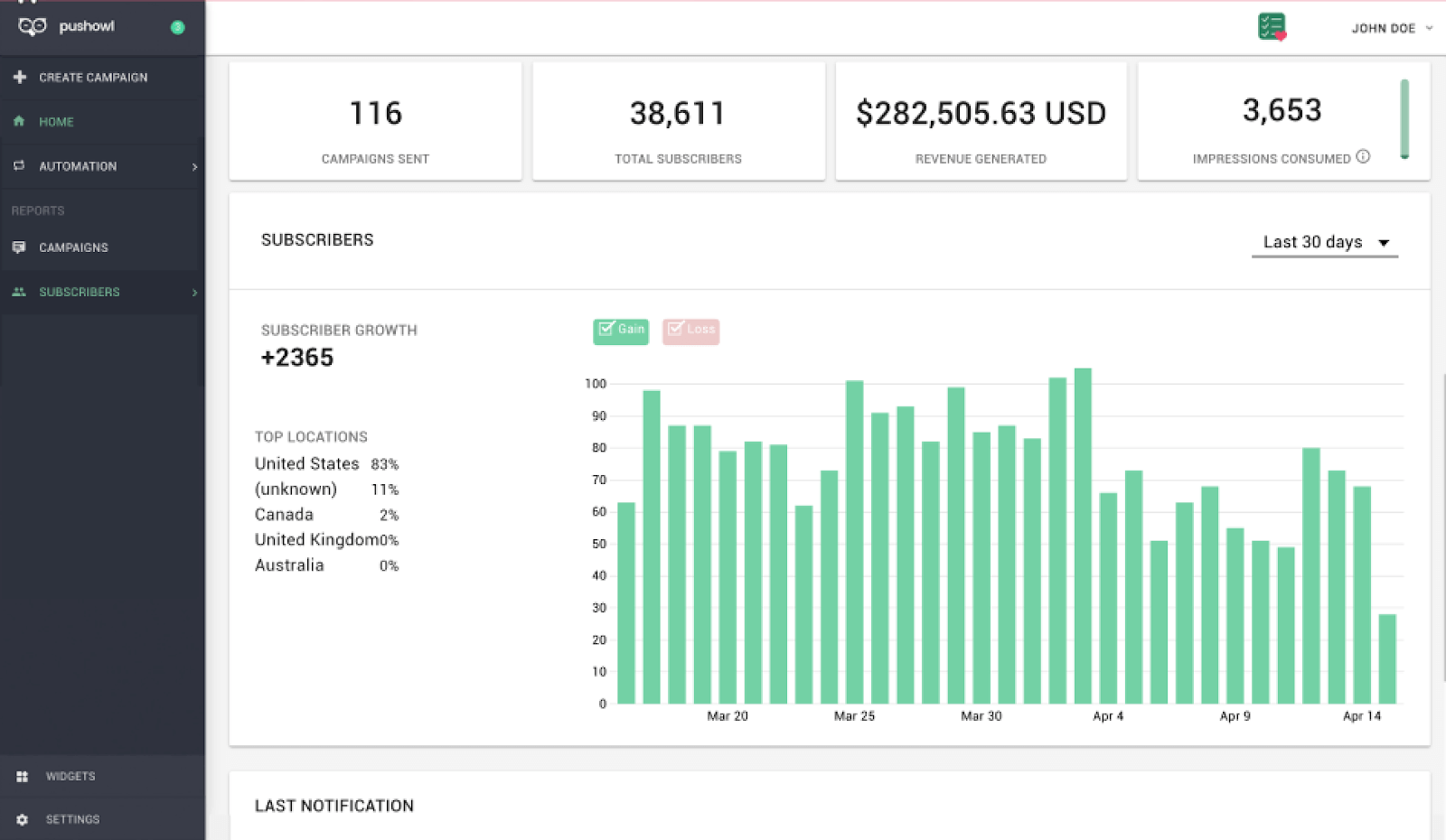 iZooto
iZooto provides a somewhat more detailed picture. Its reporting tools allow you to monitor clicks and impressions, and also see click through rate and audience reach. However, it still lacks critical data on conversion rates, revenue generation and ROI.

Firepush
With both free and paid plans, Firepush offers a range of recently updated reporting tools that you can use to ensure your campaigns are as effective as possible.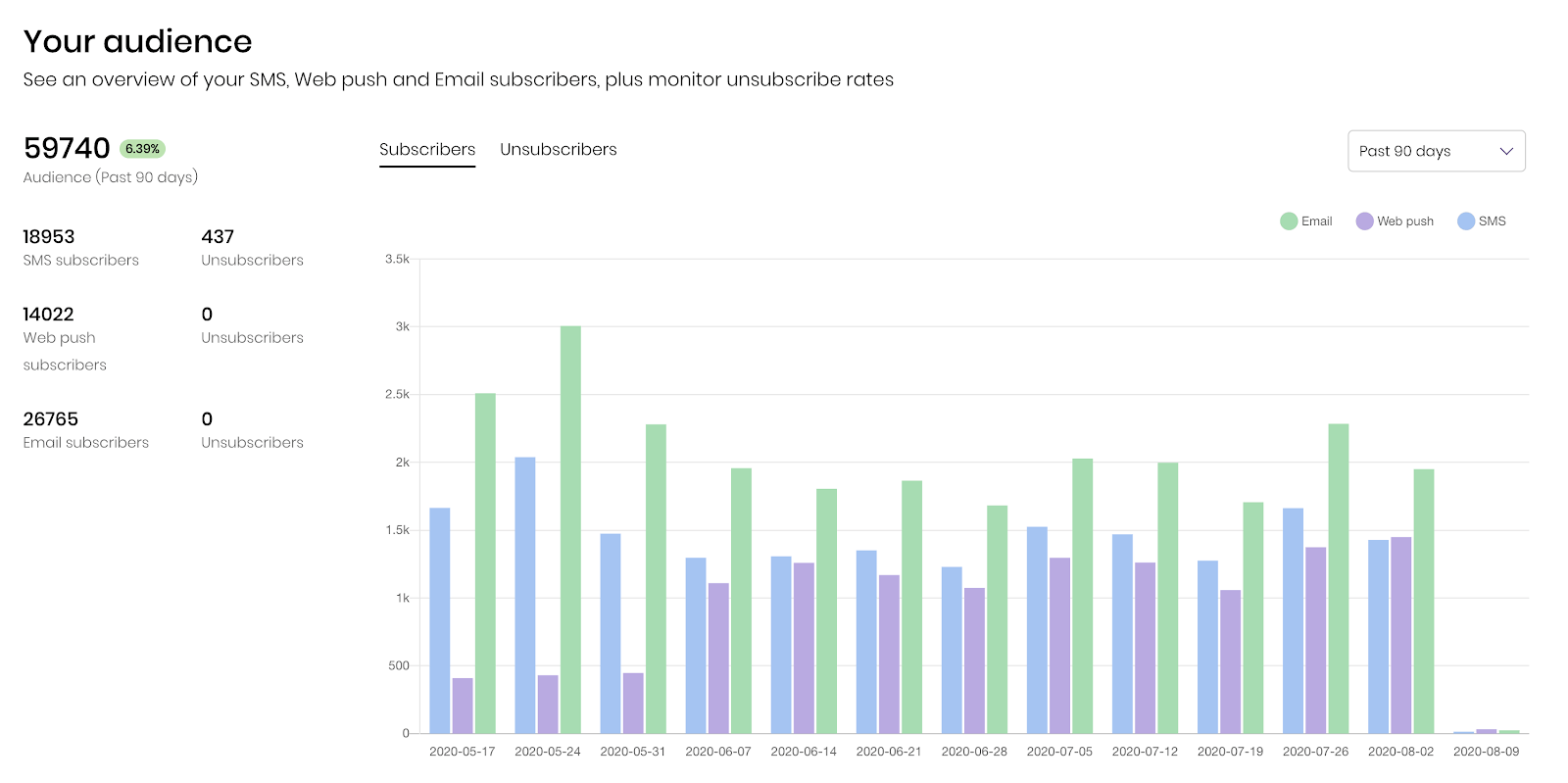 Firepush reporting tools include an at-a-glance overview of your audience across different channels
Along with basic data on subscriber numbers across 3 different channels, you can also see the impact these campaigns are having.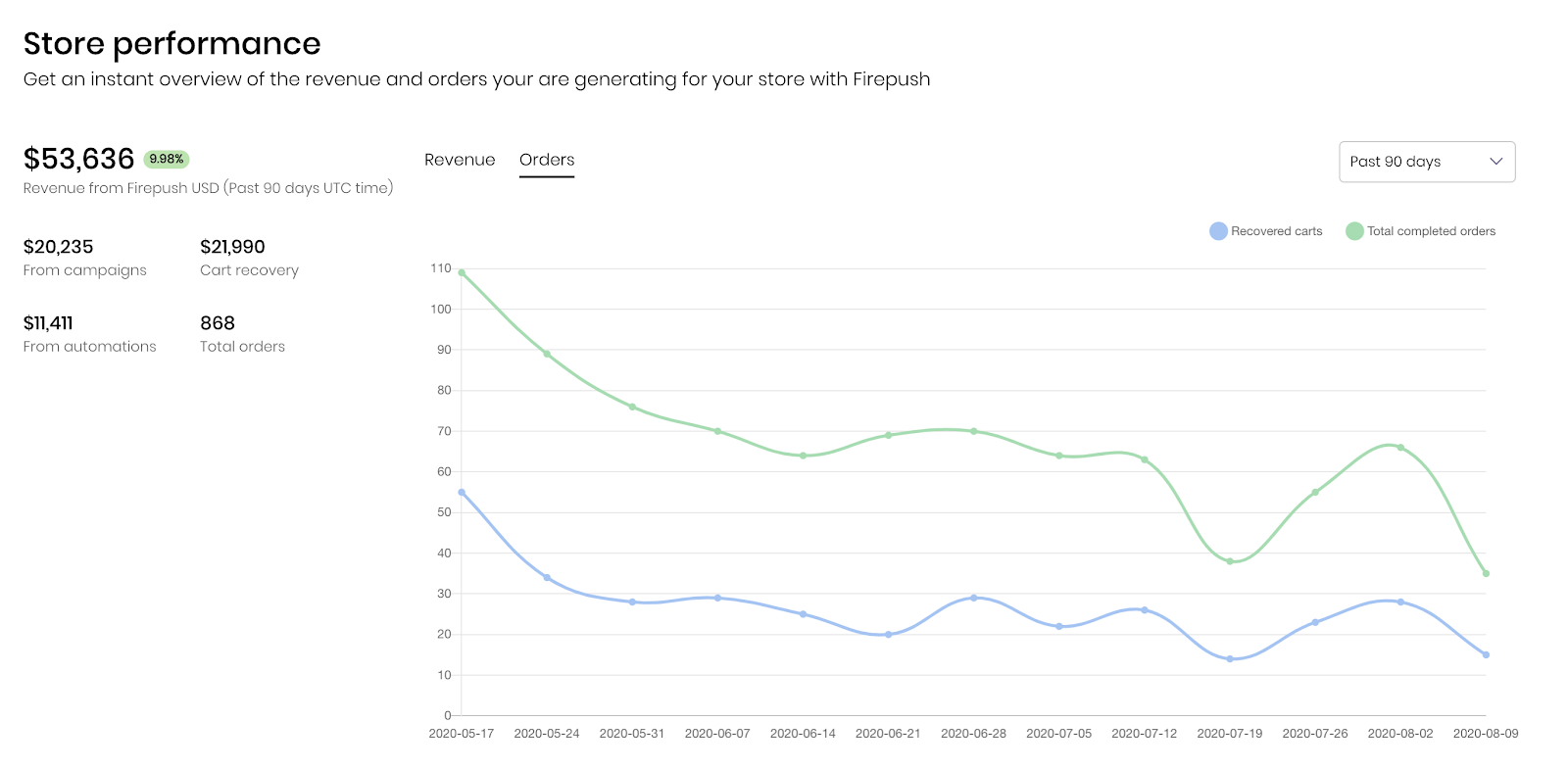 You get a breakdown of you store's performance and where your orders are coming from
One valuable reporting tool is the breakdown of where your revenue and orders are coming from in terms of message type. For example, you can see how much abandoned cart messages are contributing to your overall revenue from push notifications. This can help you to make data-based decisions on where to allocate your marketing budget.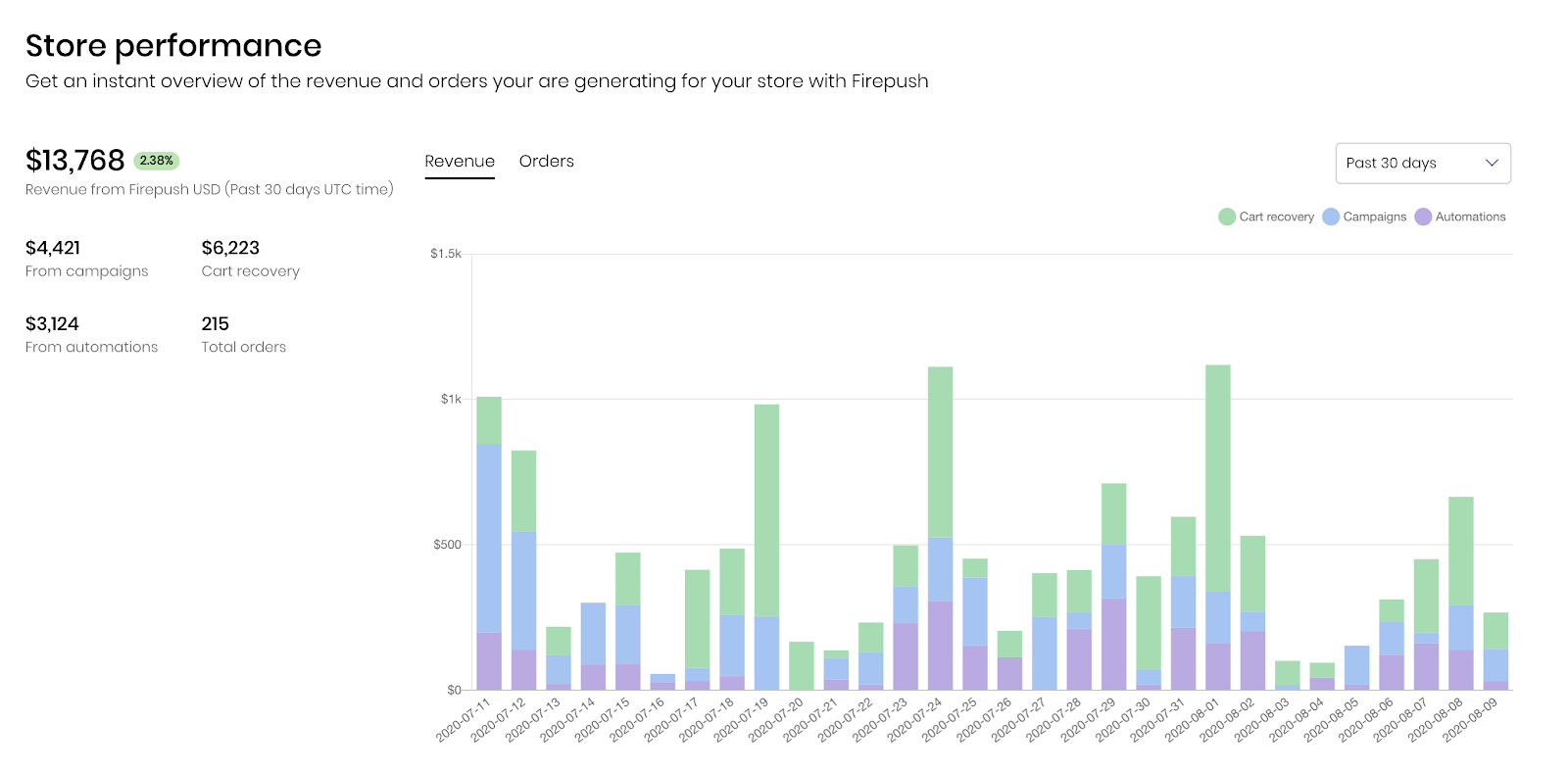 You can quickly evaluate which campaigns are bringing in the most revenue
Firepush reports allow you to monitor click through rate, conversion rate, the number of orders generated, the amount of revenue generated, and the return on investment you are getting from each of your push notification campaigns.

Firepush reporting also lets you dive deep into each campaign, including clicks, conversion rate, and ROI.
What's the best push notification app: for customer support?
Customer support is always going to matter when looking for an app for your Shopify store. And with push notification apps this is especially true. That's because there are many factors to consider that will impact the success of your push notification campaigns:
Which automated push notifications should you set up for your store?
What's the best way to set up and execute your push notification campaigns?
What timings work best for abandoned cart pushes?
What's the right cadence to use in terms of push notification frequency?
How do your push notifications integrate with your other remarketing activities on other channels?
And the list goes on.
Instead of figuring out the answers to these questions yourself - which can take a lot of time and also cost you in lost earnings - you should be looking for an app that will provide support and advice to ensure your push notifications work well from day one.
Here's a breakdown of the customer support on offer from the 6 different push notification apps.
Aimtell
Offers support by phone and email
Smart Push Marketing
Offers support by phone and email
Push Monkey
Offers support by phone and email
PushOwl
Offers support by phone and email
Offers 24/7 chat support
Offers Dedicated Strategy Managers with their paid plans. These are members of the app's support team who are there to provide you with detailed advice on how to best use push notifications.
Offers Integration Engineers to support you in getting set up (available with paid plans)
iZooto
Offers support by phone and email
Firepush
Offers support by phone and email
Offers 24/7 chat support
Offers Dedicated Strategy Managers with their paid plans. These are members of the app's support team who are there to provide you with detailed advice on how to best use push notifications.
Offers Integration Engineers to support you in getting set up (available with paid plans)
Marketer's tip: Why using multiple channels matters
Effective remarketing is not only about reaching users at the right time with the right kind of message. It's also about building a connection, rewarding loyalty and increasing the life-time value of your customers. Communicating with the user via several channels – SMS, Web push notifications, newsletters, FB Messenger – helps to do just that.
Different channels can complement one another. You'll probably find email newsletters more versatile and suitable for promoting new items. SMS, a channel that has an industry-average open rate of 98%, is best utilized for bulk Black Friday or Cyber Monday campaigns. Web push notifications sit somewhere in between the two and serve well for retrieving abandoned carts, announcing price drops and flash sales.
So it's worth looking into which additional channels are offered by the Shopify push notification app you choose. Here's a breakdown of what various apps are offering in terms of channels:
PushOwl – Web push notifications only.
Push Monkey– Web push notifications only.
Aimtell– Web push notifications only.
Smart Push Marketing - Web push notifications only.
iZooto – The core functionality is web push notifications, but they also offer Facebook Messenger as a channel.
Firepush – Web push notifications, SMS, email and some access to Facebook Messenger.
Other Shopify apps to support your push notification marketing
Once you have selected your Shopify push notification app, it's a smart idea to consider which other apps might support your push notification marketing.
Additional channels
You can start by considering other channels beyond push notifications - after all, the more channels you are messaging on, the more likely you are to connect with your customers. If you have selected an omnichannel app for your push notification marketing, they'll offer other channels to use, such as email marketing and SMS marketing. If not, adding these channels is a sensible idea (though remember, if you are using different apps for different channels, coordinating these can be problematic).
Social proof
Another good area to think about is social proof. You can use your push notifications to request social proof from your users. So why not add a Shopify app for requesting photo reviews like Proofo. You can then use these reviews to improve conversions on your site and build trust in your brand.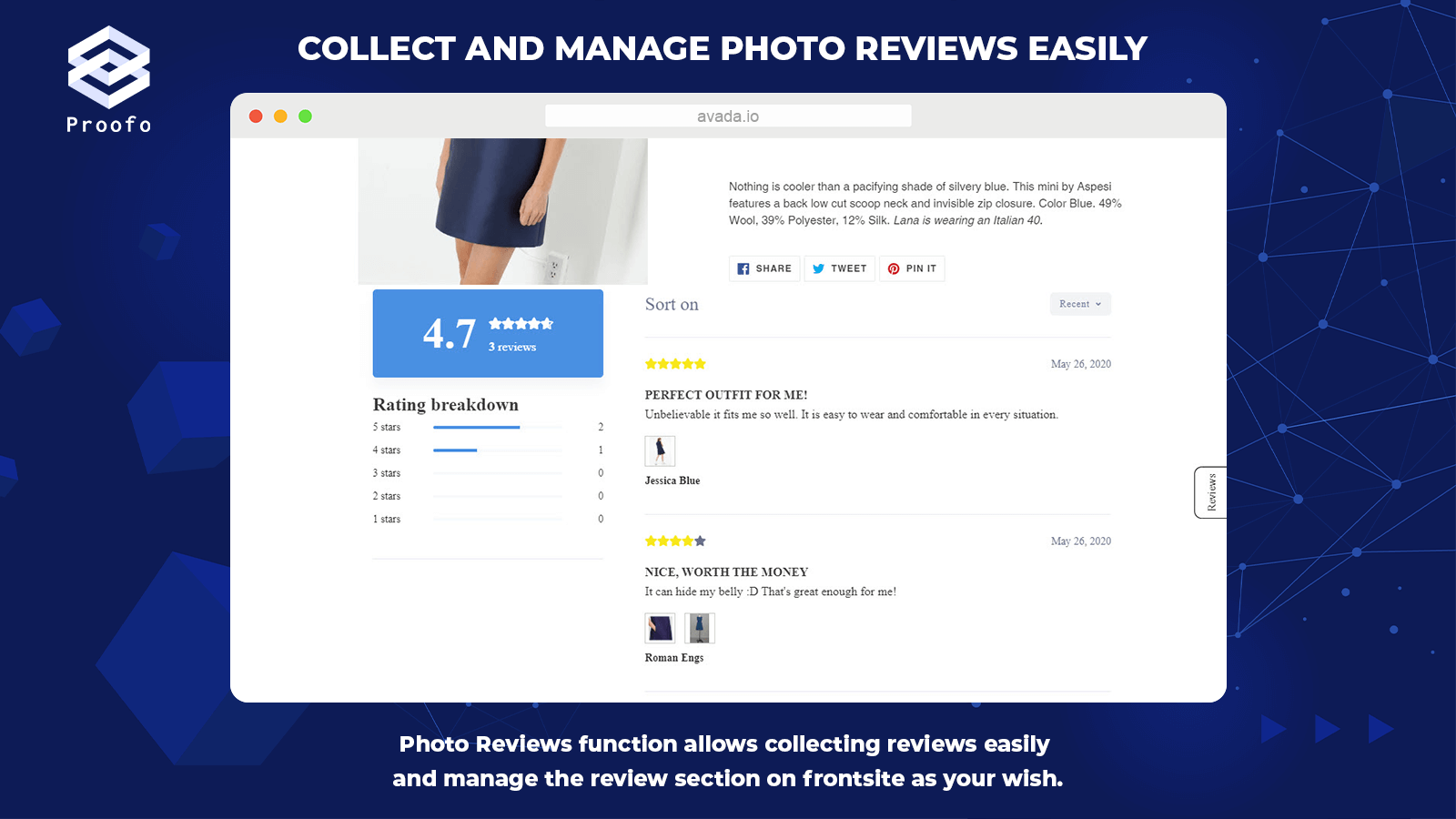 Proofo offers a smart, simple way to collect photo reviews from your customers, including via push notification
Here are few of the other key features of Proofo:
Proofo will show real-time purchases to visitors on your store, showing customers that your store is trusted by others and increasing a sense of urgency.
The notices that show on your store go well beyond just purchases. You can include pop-ups that show how many customers have added an item to their cart, how much stock you have left, or how many total customers are on your store at any moment.
All pop-ups are fully customizable, and with a wide range of colors, fonts, borders and animation effects available.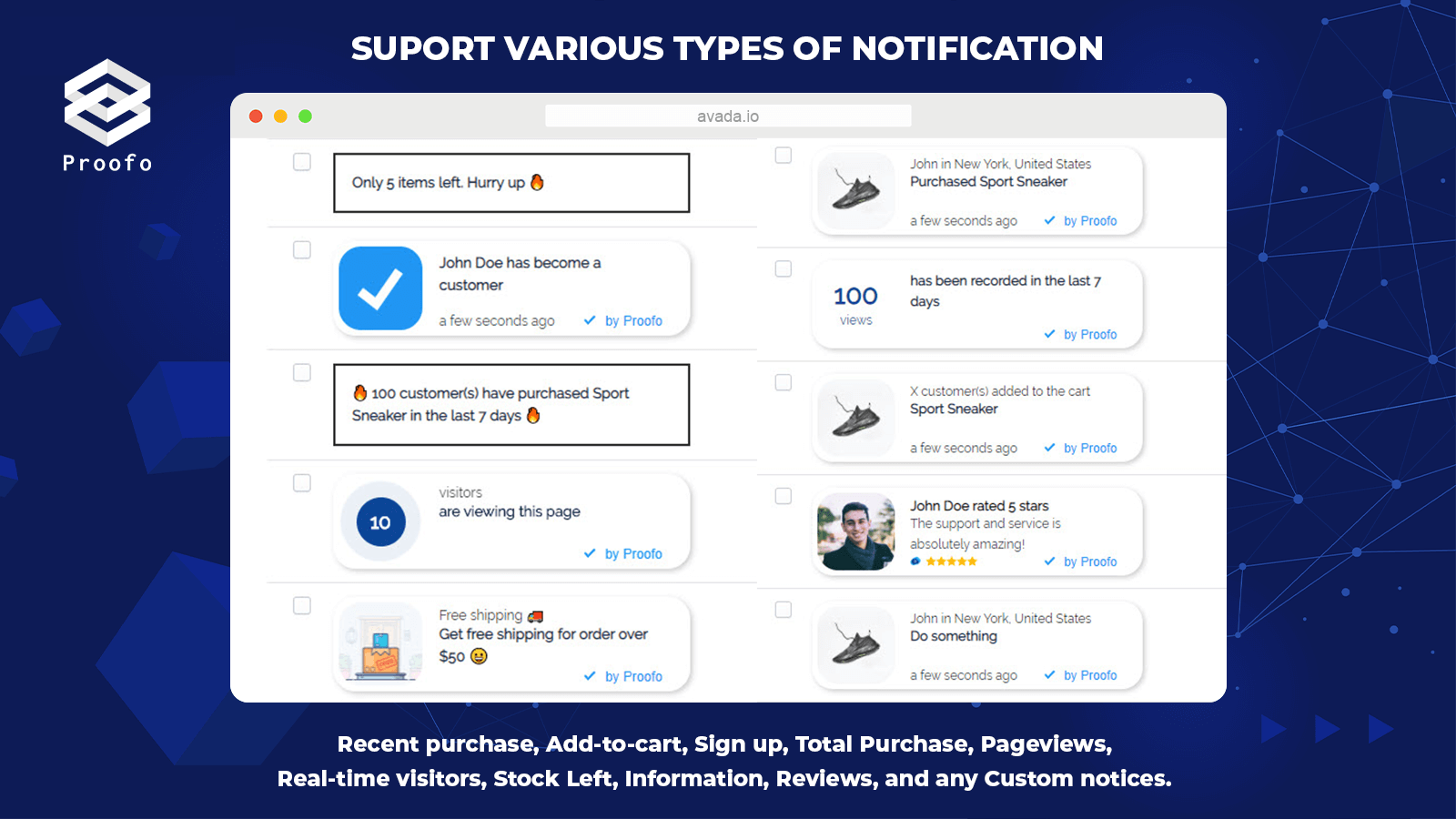 Proofo enables you to add a number of pop-ups showing that your store and products are popular
Key takeaways
There are many factors to consider when you're selecting a push notification app for your Shopify store. So think carefully about your busy priorities, your team and your needs.
Here are some key points to consider:
If you're new to push notifications, look for apps that offer free packages so you can try it out before you invest your marketing budget into it. It's also worth looking into customer support, as you may need some help setting up push notifications and choosing which types of messages are most suitable for your store.
Look for apps that are omnichannel. Even if you only need push notifications right now, in the future you may need SMS and email marketing too. Rather than having to find new apps for each of these channels, having everything in one place will save you time and money. Most importantly, an omnichannel retargeting app like Firepush will automatically coordinate the messages sent on different channels, so you won't end up spamming your audience with the same message on multiple channels.
Choose an app with the sophisticated opt-in solutions. The success of your push notification marketing will depend on your ability to build up a high quality subscriber base. A range of sign-up boxes, including fly-out widgets and embed buttons, will be more effective than generic pop-ups.
Firepush is an omnichannel app offering a range of push notification sign-up options
Learn more