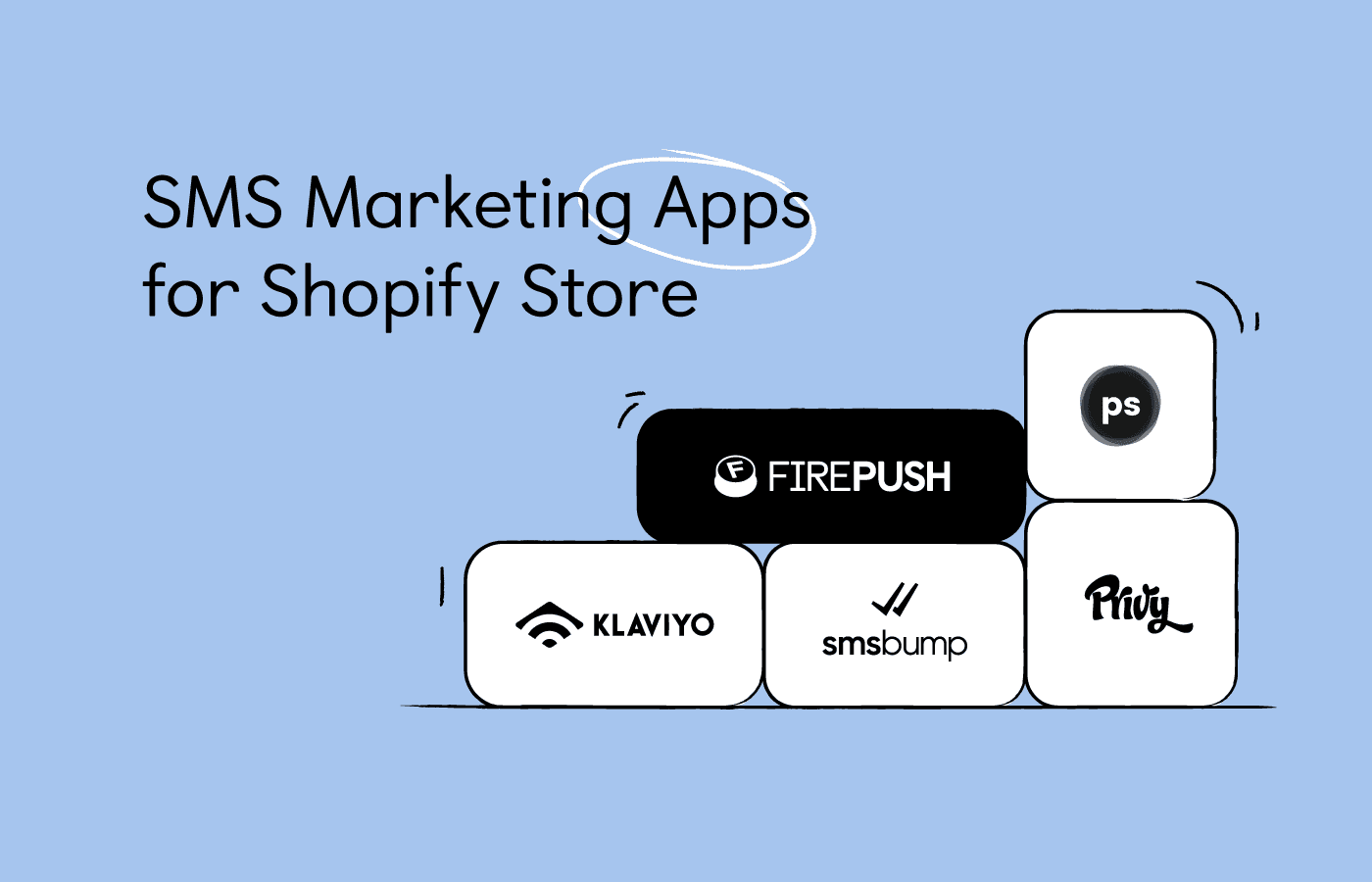 Did you know that Matti Makkonen, an engineer who invented SMS, never patented the technology?
Yes, he didn't make any money off his innovation.
That's a shame. The global text marketing business is worth $100 billion - more than technologies like blockchain ($3 billion).
Makkonen didn't make any money – but you can. Text message marketing is a reliable way to reach customers and sell. Just get a Shopify SMS app.
In this guide:
What is text message marketing?
Is text message marketing effective?
How to do text message marketing?
Best text message marketing software.
What is Text Message Marketing?
Text message marketing is sending SMS messages to deliver promotional campaigns to customers for marketing purposes. Also called SMS marketing, text marketing allows customers to opt in to receiving text messages like sales, promotions, and order updates.
Text message marketing has become an essential part of a mobile marketing strategy for online businesses. SMS help improve customer experience and build positive relationships.
Why Use Text Message Marketing?
Wondering if SMS marketing is an effective strategy to promote your products? These statistics will be helpful if you're considering text messages to promote your products.
SMS open rate is 98%, compared to 20% for email (Gartner)
Smartphone owners are 50% more likely to make a purchase right away while using their device (Think With Google)
Customers redeem texted coupons 10 times more often than traditional coupons (Adobe).
That's why both small businesses and large Shopify Plus stores add SMS marketing to their strategies. Here's the process they follow.
How To Do Text Message Marketing?
Successful online sellers use a set of the best practices of text message marketing to get sales. Here are six essential steps to sell with SMS.
Get permission. Text message marketing laws require prior consent and the ability to unsubscribe (U.S.-based Shopify stores must comply with Telephone Consumer Protection Act (TCPA) and CTIA)
Segment customers. Customers expect relevant offers when they opt in to receive SMS messages. Check purchase history for more targeted promotions.
Write clear text for SMS. Get to the point asap to have a chance to engage customers
Encourage buying. Show how to benefit from your text message: "Use this coupon for 20% off your next order."
Add a link to your store. A link will make it easier to see your offers
Use SMS marketing apps. A text message marketing app can send hundreds of messages automatically, saving you time and effort.
Speaking of SMS text message marketing software, let's now check out best-rated Shopify SMS apps.
Best Text Message Marketing Apps
Shopify stores use these top-rated SMS marketing software to text promos to customers and increase sales. Check out this list of great apps to learn about more tools for optimizing your Shopify store.
Firepush – Easy, affordable, and effective, works for Shopify Plus stores
SMSBump – Automations to collect subscribers
Privy – Automate customer onboarding and sale recovery
Postscript SMS Marketing – For easy customer segmentation
Tone SMS Cart Recovery – Human operators to text your customers
SMS marketing + Cart Recovery (Shipway) – Send text messages to 220 countries
Messent – Text message marketing for small business
Octane AI – Effective to drive sales from Facebook.
Omnisend – Email marketing + SMS
SMS & Messenger Marketing Tobi – Chat with customers via chatbots
Klaviyo – Simple mass text message marketing to U.S.-based customers
1. Firepush
A simple app with customer segmentation and automatic campaign to send SMS and create a personal brand experience.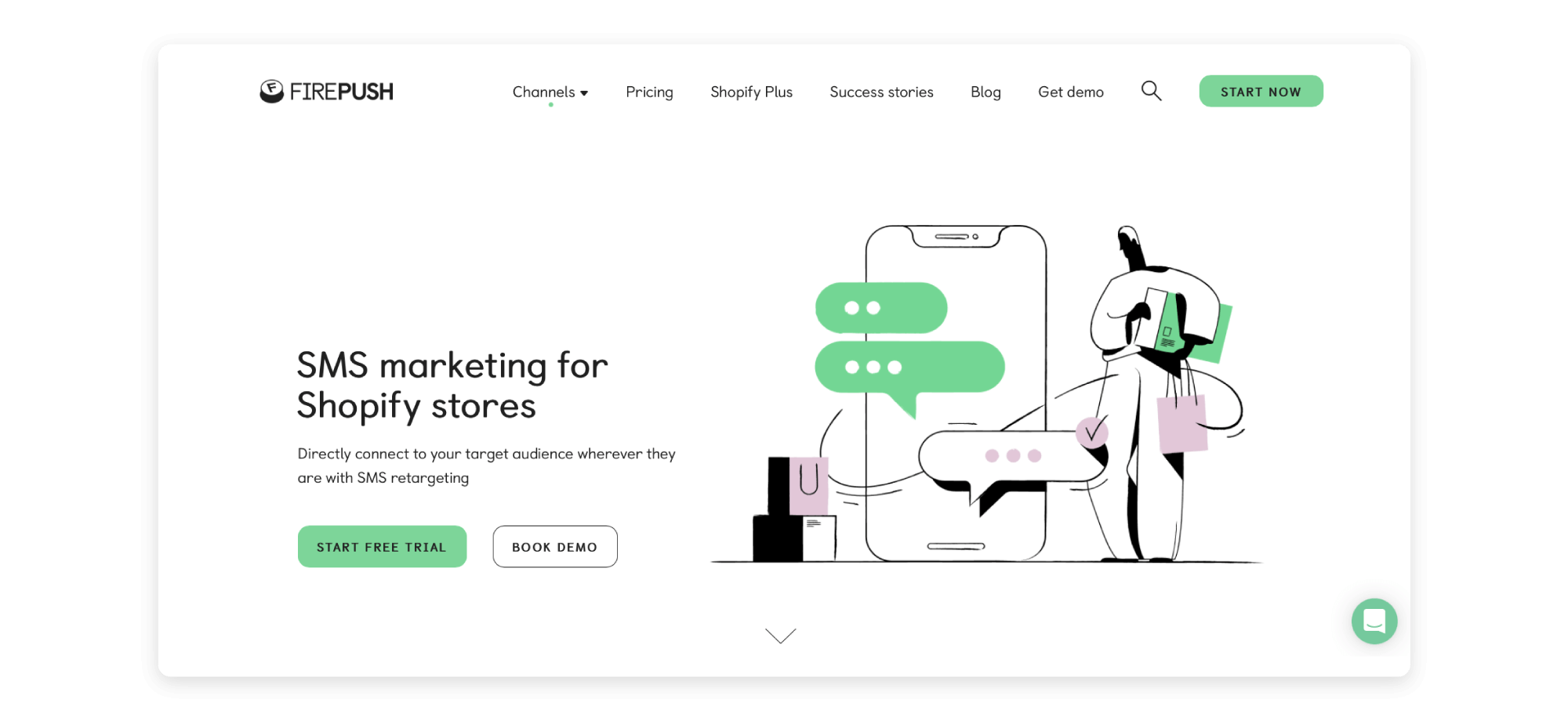 What you will like:
Send your customers SMS with sales notifications, discounts, and coupons
Try different strategies with 11 marketing SMS campaign types
Manage three marketing channels (SMS, push notifications an email) in one single dashboard.
With Firepush, you can send SMS for any kind of customer interaction (welcome messages, order confirmations, delivery updates, price drop, loyalty discounts, etc.). You'll create a more personal customer experience with your brand.
You can check Firepush reports to know how well your SMS campaigns are selling. Whether it's cart recovery, discount, or promo campaign, you'll see where your text message marketing is working.

Of all business SMS apps here, Firepush's ability to increase Shopify sales makes it one of the best text marketing options:
Pricing: Free. Premium plans start at $15/month.
2. SMSBump
Create SMS and MMS campaigns and monitor analytics like order tracking, link clicks, and conversion rate.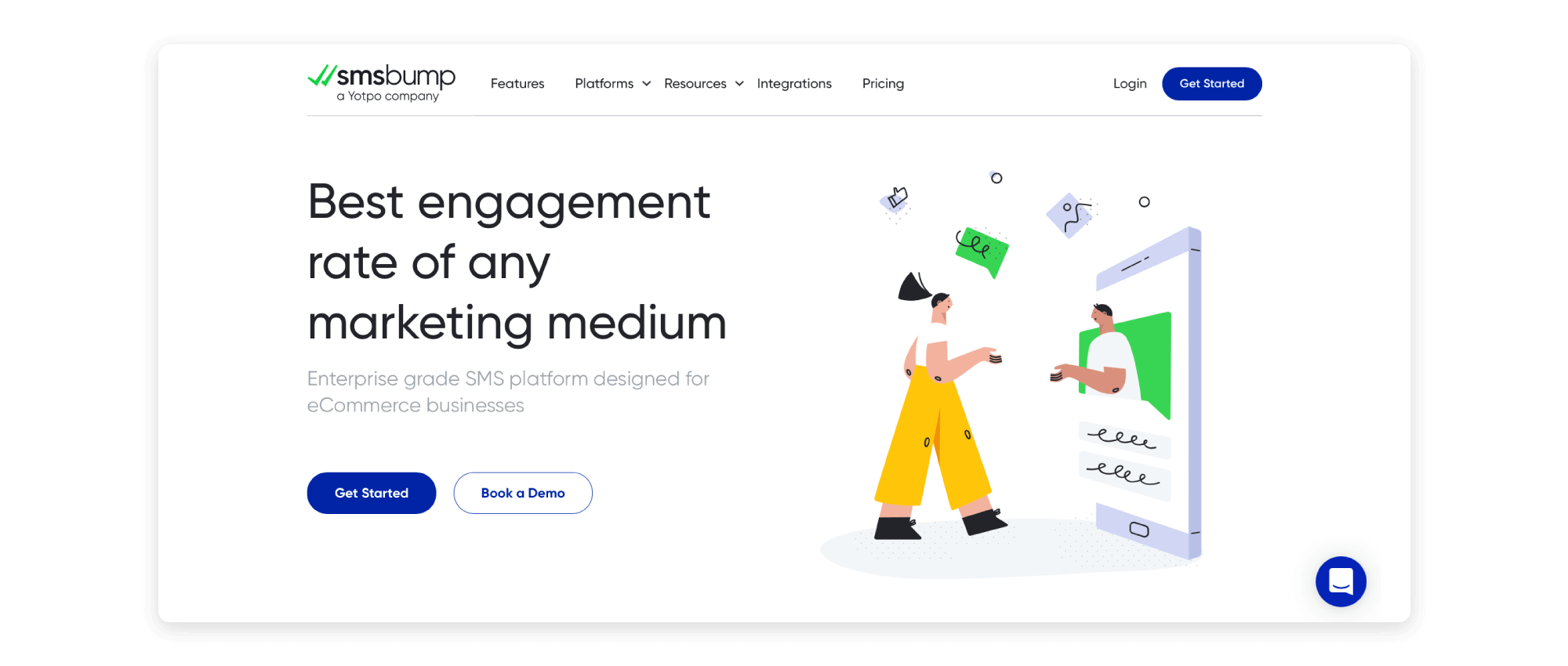 What you will like:
Automated SMS and MMS campaigns
SMS segmentation for effective customer targeting
A/B testing of text message campaigns.
SMSBump is an all-in-one SMS app for Shopify stores. You can create TCPA-compliant text message campaigns, schedule them for later, and track performance with analytics. Multiple campaign types are available, including customer activation and Shopify cart recovery.
Analytics is simple in this text message marketing app. Users can track many SMS campaign stats like orders made, SMS by country, clicks, and amount spent. To collect subscribers, SMSBump uses pop-ups, floating buttons, and embedded forms.
Pricing: Free. Premium plans begin at $19/month.
3. Privy
Automated text messages to welcome new Shopify customers and recover abandoned sales.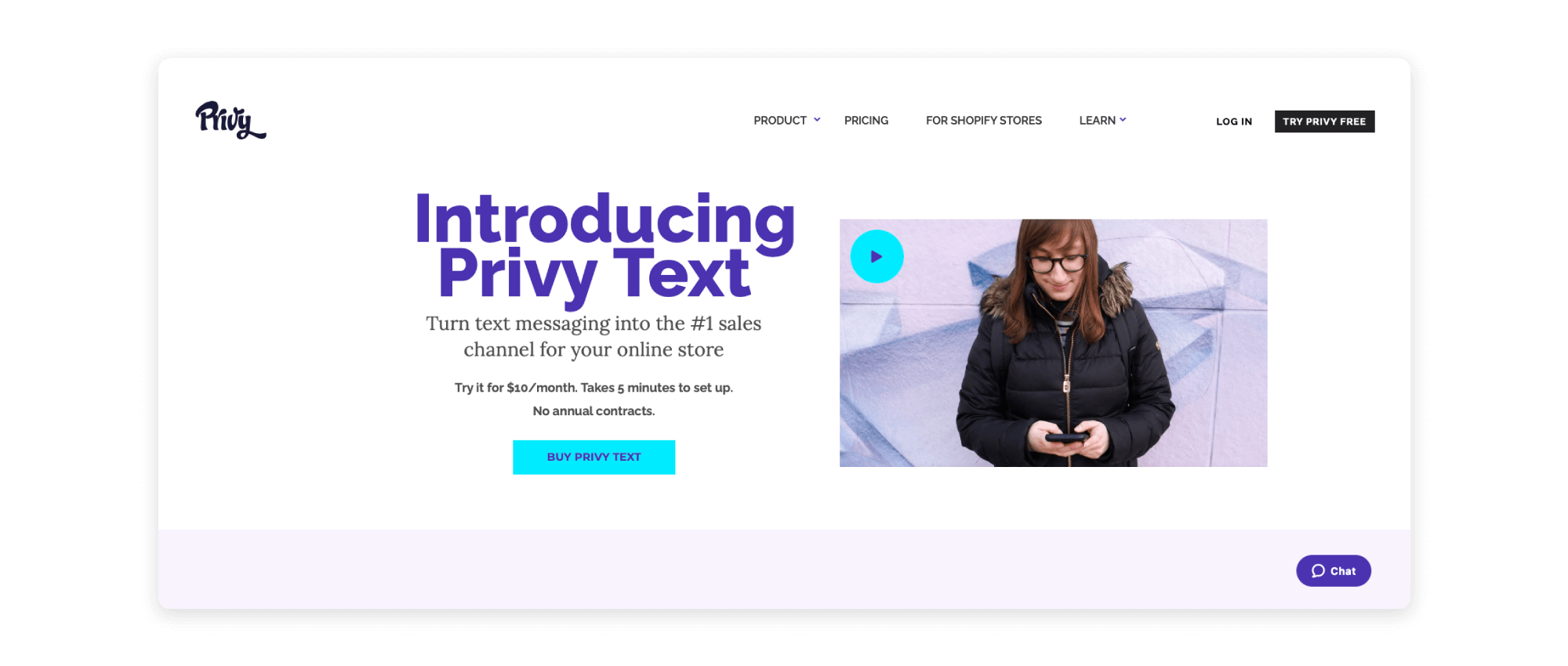 What you will like:
Two SMS types: after sign-in and cart recovery
Shopify coupon integration
Pop-ups and banners to collect SMS subscribers.
Privy's text message marketing feature is recent and limited to welcome messages and abandoned shopping cart reminders. The company is focused on developing Shopify pop-up and email tools, so business SMS functionality is rather a bonus.
Privy's limited SMS solutions make it an option for small Shopify online stores. For example, you can send after sign-up messages to confirm delivery details. Also, abandoned cart SMS will be useful to remind customers about products they left.
Pricing: $10 per 100 SMS contacts.
4. Postscript SMS Marketing
A complete text message Shopify app for full SMS marketing automation.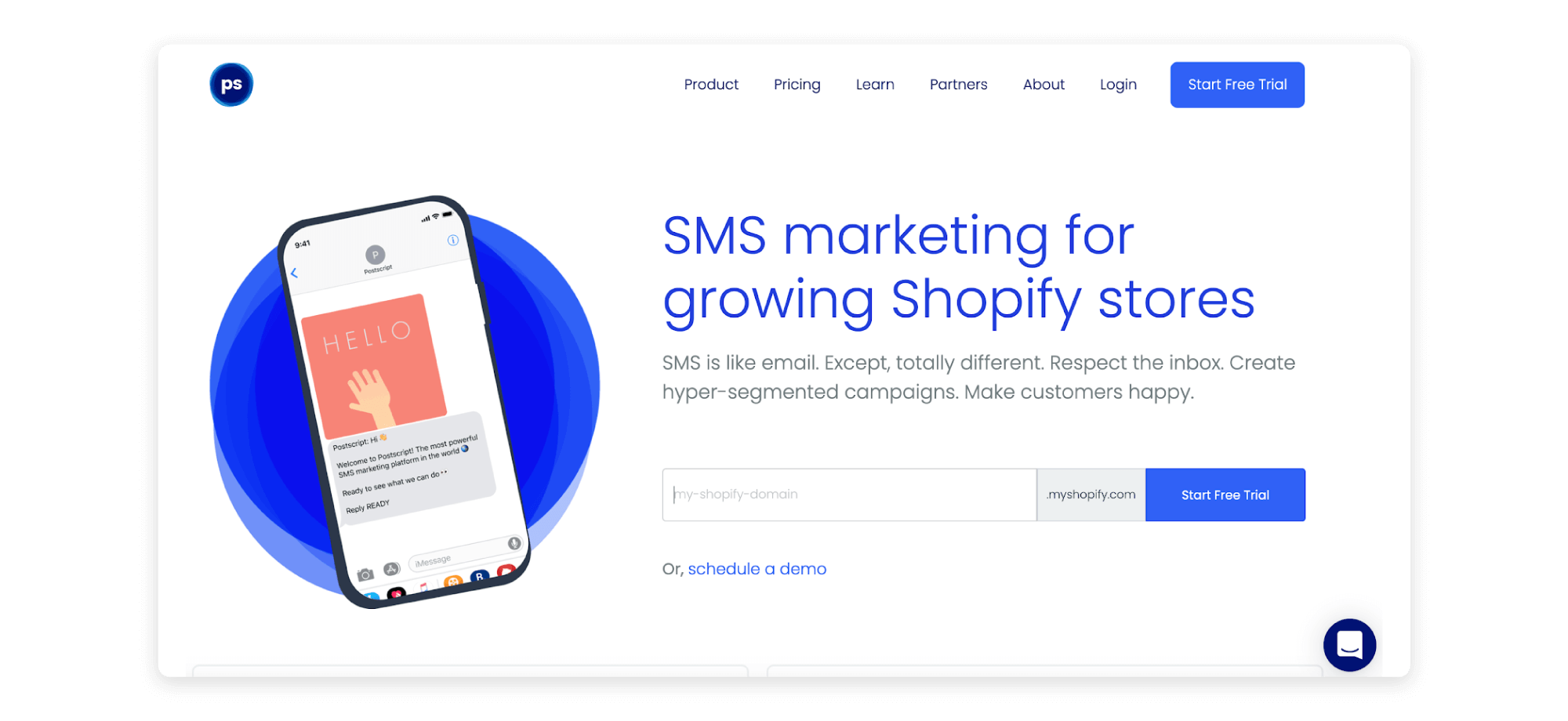 What you will like:
Automated text message marketing campaigns
ROI tracking and analytics
Customer segmentation for personalized marketing.
With Postscript SMS Marketing for Shopify, you can build a TCPA-compliant list of subscribers and send automated campaigns. Various pop-ups, email opt-ins, and landing pages are available to help collect as many subscribers as possible.
Postscript SMS marketing allows sending welcome messages, order shipping notifications, abandoned cart reminders, and loyalty offers. Each campaign has segmentation and automation resources for a more efficient workflow.
Pricing: from $25/month. A 30-day free trial available.
5. Tone SMS Cart Recovery
Relationship-based SMS marketing with real people who text your customers.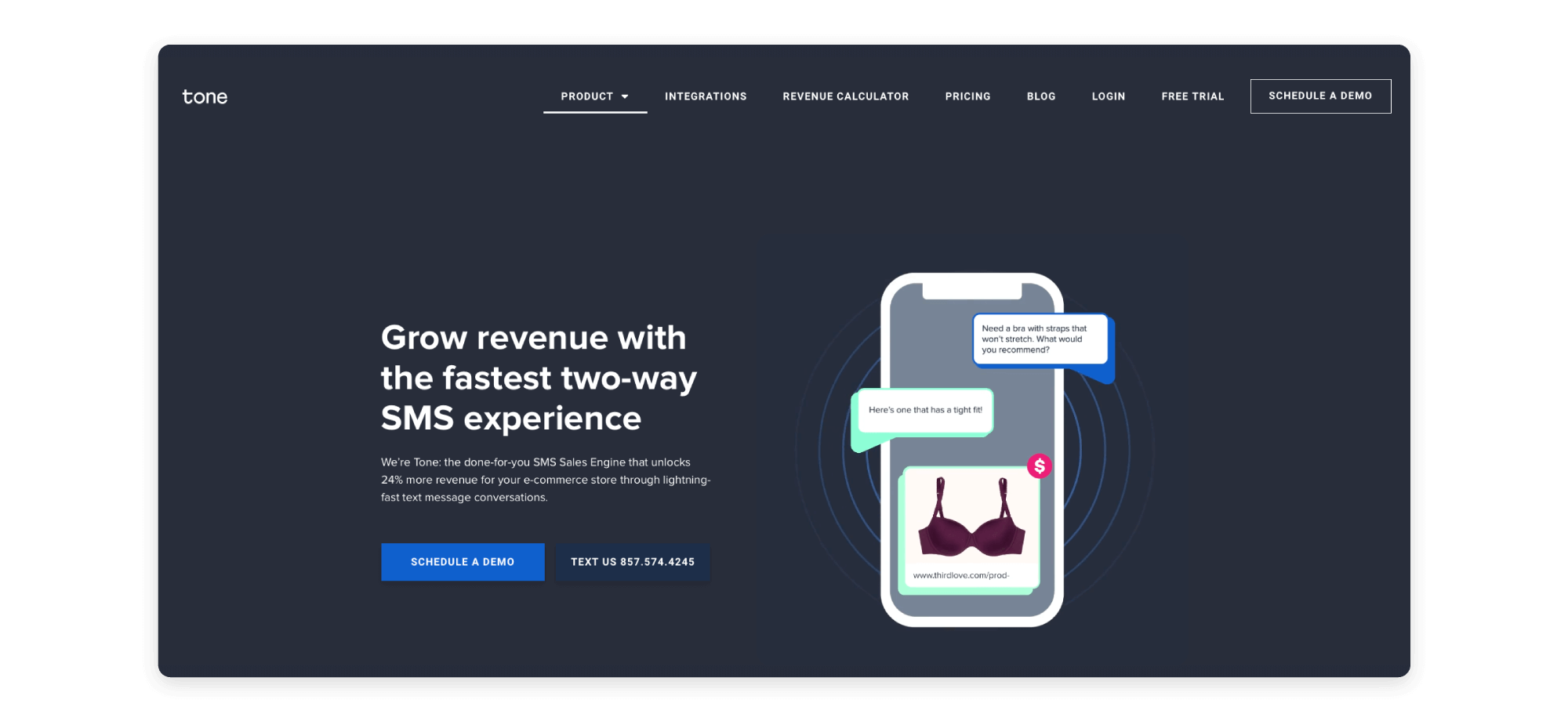 What you will like:
Shopify abandoned cart recovery with texts from real operators.
LiveText feature: customers can text your business and get a response while browsing your store.
Automated customer segmentation and targeting.
Want real people to send business SMS to your customers? Tone is a mobile text message marketing app for that. Tone users get a team of people to text customers who abandoned shopping carts to find out the reason. The team answers questions and educates customers.
Another interesting feature is LiveText. Customers can text Tone's team while they're browsing your Shopify store and get their questions answered. Tone claims it's a tactic to build customer relationships in a personal way.
Pricing: Free to install, $.023 per message.
6. SMS marketing + Cart Recovery (by Shipway)
An intro-level text message marketing for small businesses on Shopify.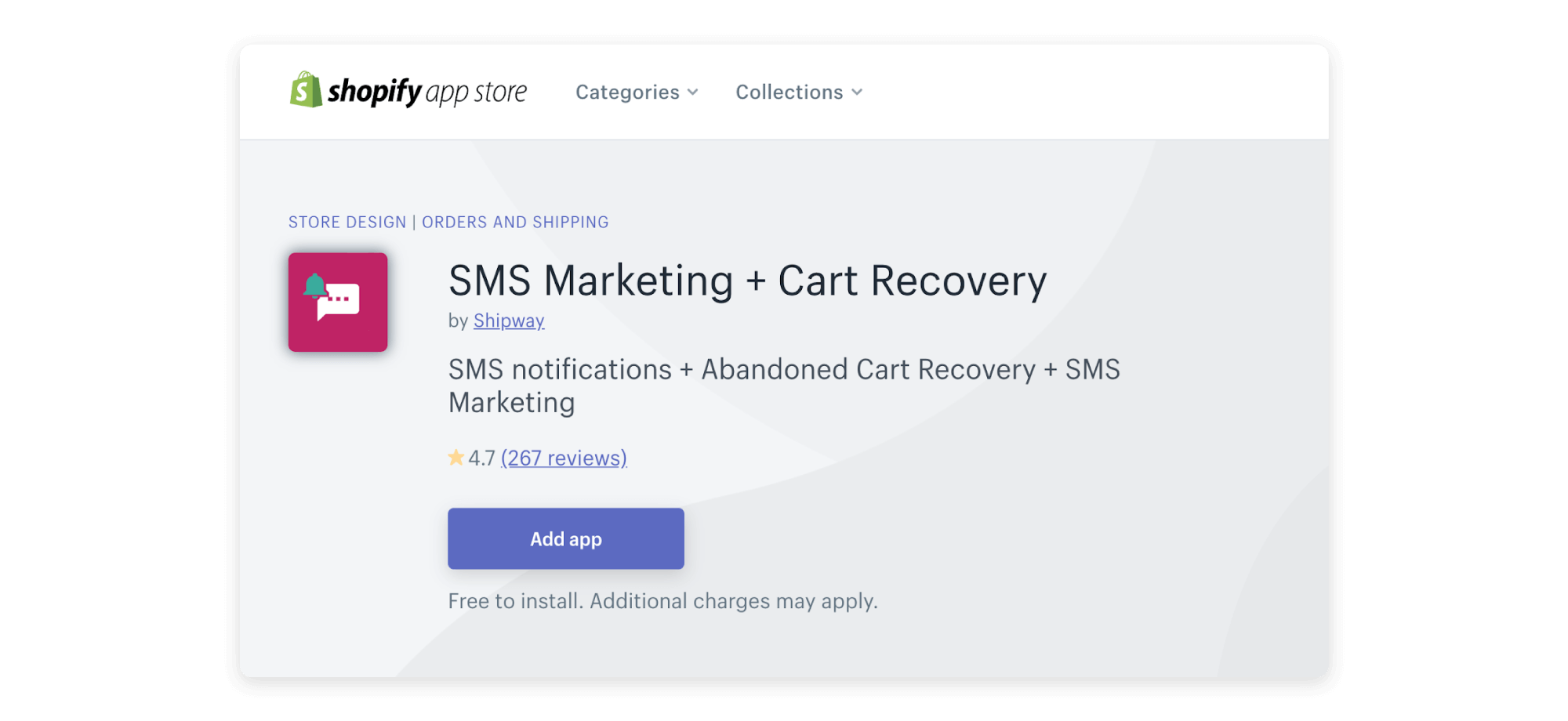 What you will like:
SMS for account creation, order creation, in-transit, and abandoned shopping cart
Works in 220 countries
Shortened URLs for tracking numbers.
If you're looking to do SMS text message marketing as a small business, check out Shipway. This Shopify app gives a limited but decent SMS range, including order-related and promotional messages.
Order-related text message marketing include order placed, order fulfilled, order paid, order canceled, and in-transit messages. The promotional ones are customizable, so you can send Shopify discounts and other text message marketing campaigns.
Pricing: Plans start from $30/month.
7. Messent
An SMS app for small Shopify stores, good for basic text message campaigns like promotions.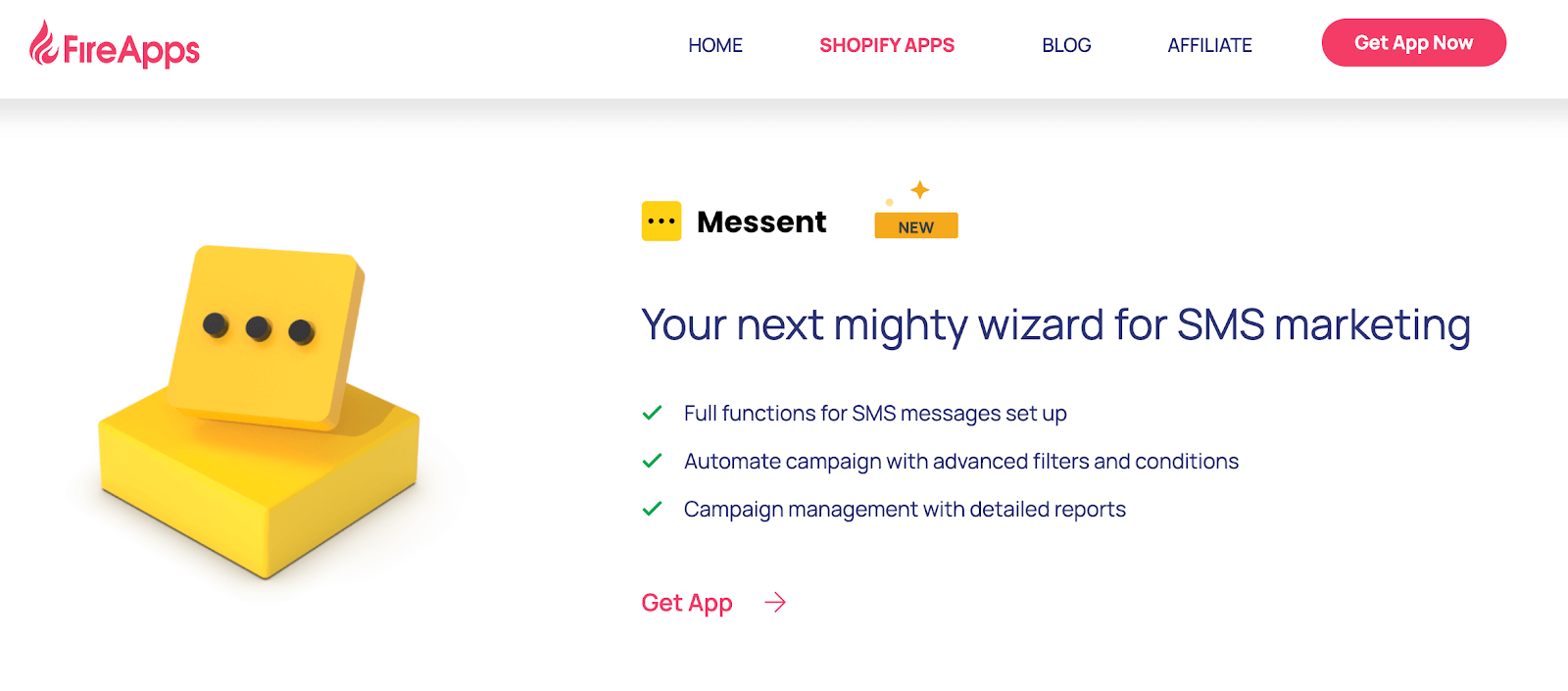 What you will like:
A simple SMS campaign scheduler tool
Automatic shopping cart recovery campaigns
Basic text message marketing stats to track ROI
If you're looking for a text message marketing app for beginners, Messent is a good option. The app has simple interface and campaign management options such as a visual editor for charting out message flows.
Messent also has basic campaign analytics to help track sales. You'll be able to track campaign cost, conversion rate, and performance by the time of the day.
Pricing: Free to install. The cost per SMS varies on the merchant country.
8. Octane AI
A Shopify app to manage Facebook Messenger and SMS automation in one place.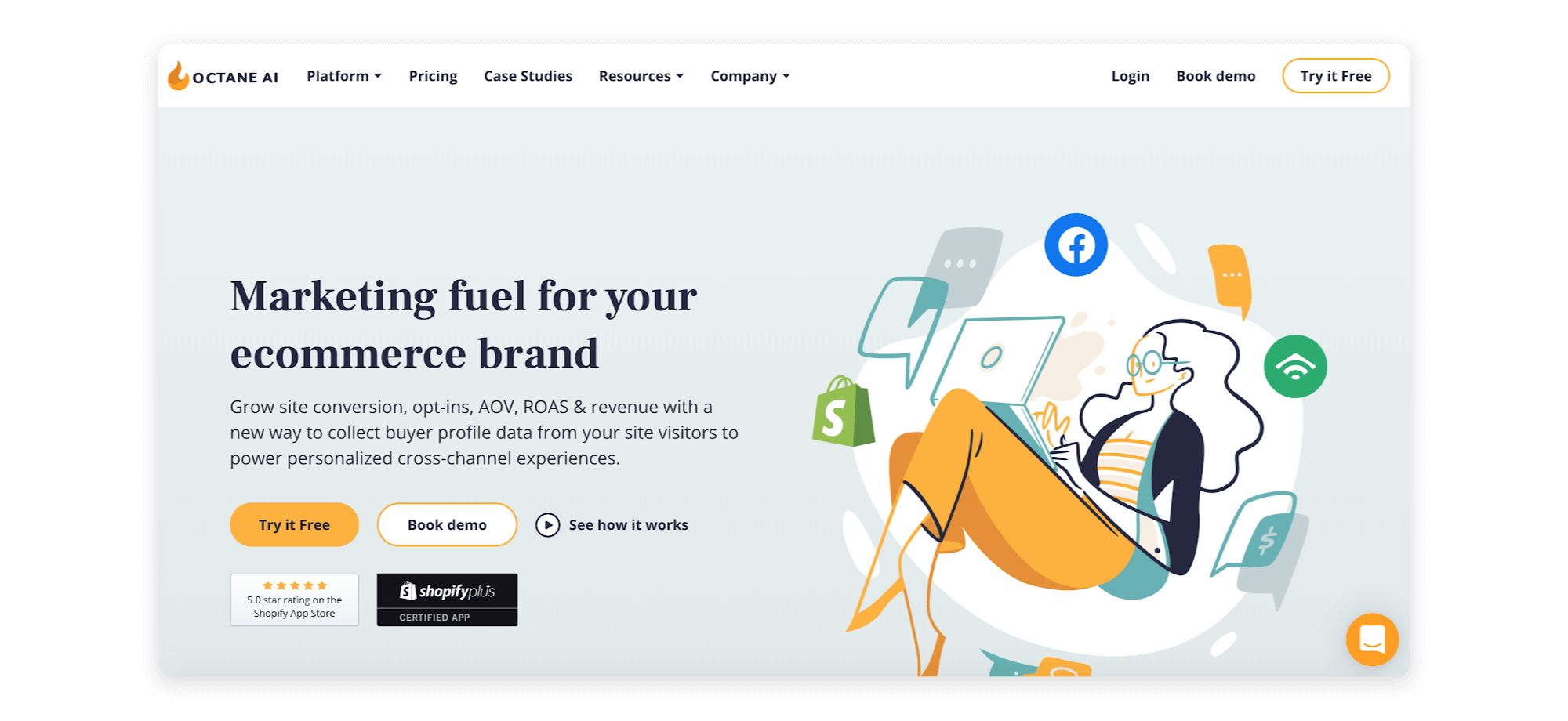 What you will like:
Shopping quizzes for customers to find which products they need
SMS and Facebook messaging to recover abandoned carts
Facebook ads are based on customer insights.
Octane AI is an all-in-one Shopify app for email, Facebook, and SMS marketing. You can capture leads with Facebook ads, Messenger opt-ins, and pop-up windows. The app also gives a small selection of TCPA-compliant lead capture options with an easy subscription.
Quizzes are a unique feature. You can create one for your Shopify store (no coding needed), record customer preferences and lead visitors to products based on their answers. But there are only three quizzes, even in the most expensive plan.
Pricing: from $29/month ($0.015 per msg, limited to 250 customers).
9. Omnisend
Create automatic text message and email campaigns with a visual editor.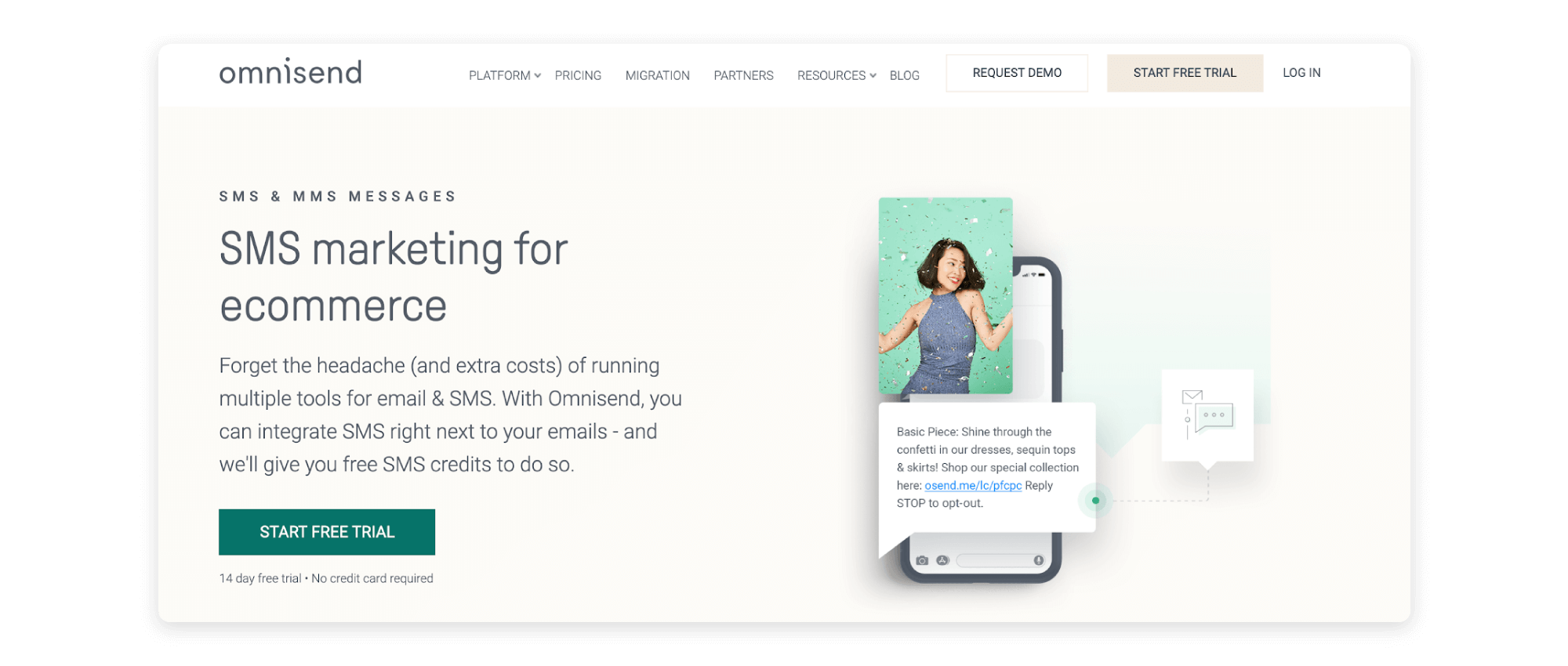 What you will like:
Pre-built business SMS and MMS messaging campaigns for abandoned cart recovery and promotions
Customer segmentation based on their behavior and purchases.
Omnisend is a digital marketing tool known for email campaign automation. Text message marketing is a relatively new addition. Notable features are customer segmentation and a drag & drop campaign automation editor for emails and messaging.
The free version of Omnisend doesn't have SMS. To get unlimited text message marketing, you'll need to get the paid Standard plan. But there's a 14-day free trial for testing.
Pricing: plans start at $16/month ($0.015 per SMS and $0.045 per MMS for U.S. users).
10. Tobi: SMS & Messenger Marketing
A text message marketing app that combines SMS & Facebook Messenger to reach more customers.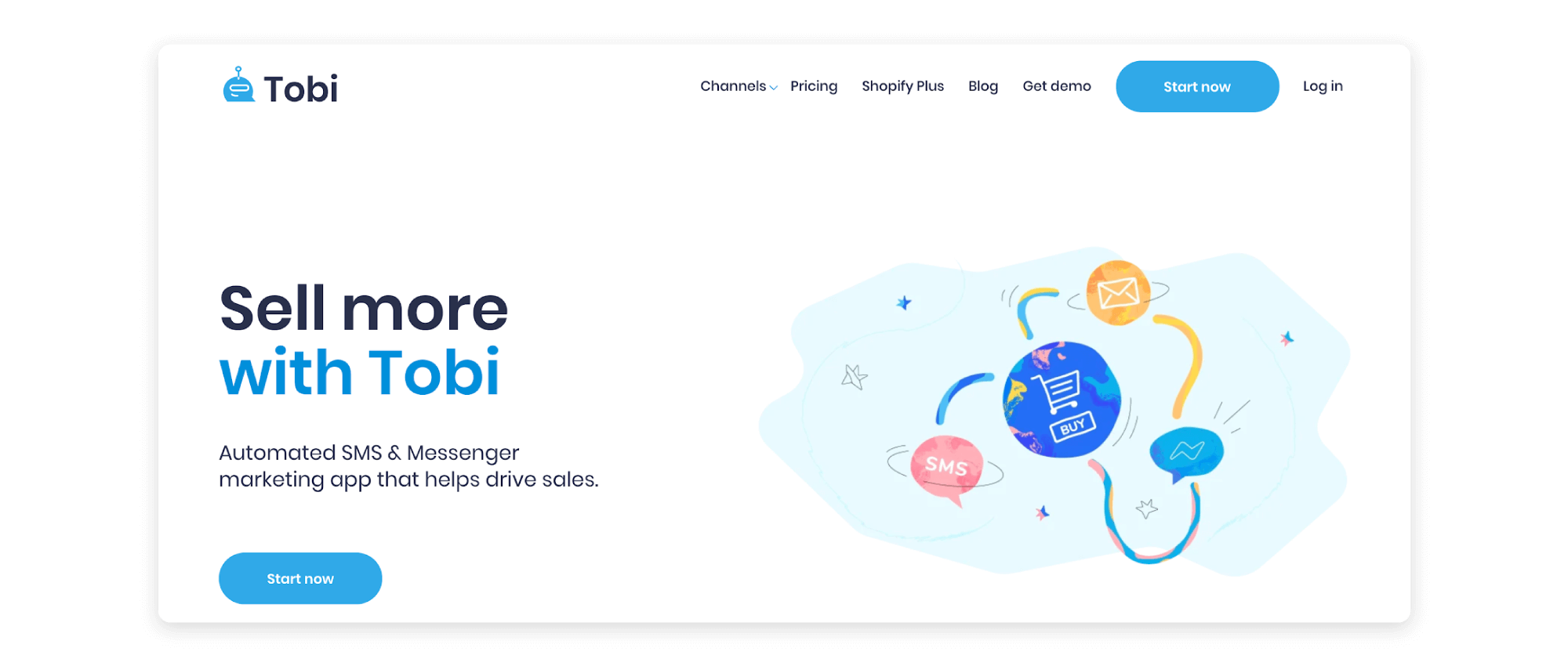 What you will like:
Order updates and promotional SMS & Facebook messaging
Shopping cart recovery via Messenger and SMS
Custom Facebook Messenger menu.
With Tobi, you can do text message marketing for restaurants and small online stores. Since many customers choose to contact businesses via social media, Tobi can help connect with them there.
Text message marketing service in Tobi is designed to send bulk SMS discounts and order updates. There are also pre-written SMS templates to save you time.
Pricing: Plans start at $18.85 (price per text message for US customers: $0.0199).
11. Klaviyo
An email marketing service with business SMS functionality for U.S. numbers.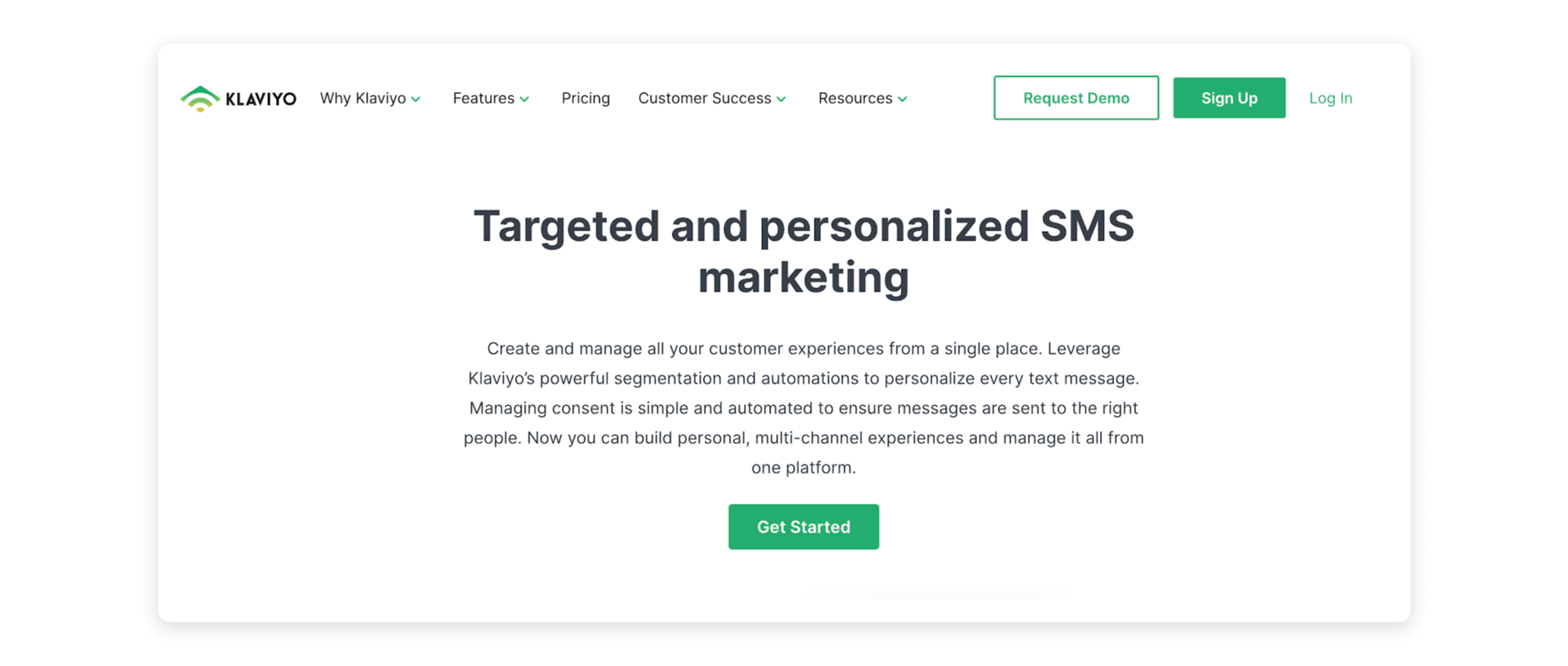 What you will like:
Pay-as-you-go pricing
Automatic consent management
Customer segmentation to personalize marketing offers.
Klaviyo is marketing software for small Shopify stores. Emails are the core feature, but you can also send SMS to customers who prefer them. This text message marketing software manages compliance with the Telephone Consumer Protection Act automatically.
The texting feature is limited: there's no campaign templates, advanced analytics, or testing. Still, if you're looking to do basic SMS marketing for small business and send occasional messages, Klaviyo is a good option.
Pricing: Free to install. Price for one SMS: $0.1, MMS: $.03
Text Marketing Software: Summary
Text message marketing allows businesses to send promotional and transactional SMS messages to customers and subscribers.
A Shopify store can sell more by letting their customers know about sales and order delivery updates via text message marketing apps.
Best text message marketing apps for Shopify stores:
Firepush
SMSBump
Privy
Postscript SMS Marketing
Tone SMS Cart Recovery
SMS marketing + Cart Recovery (Shipway)
Messent
Octane AI
Omnisend
SMS & Messenger Marketing Tobi
Klaviyo
Make it easier for yourself to do marketing via text messages, try SMS apps. You will automate getting text message subscribers and sending campaigns–two major time-eating tasks.