Why an omnichannel approach is your best bet for abandoned cart issues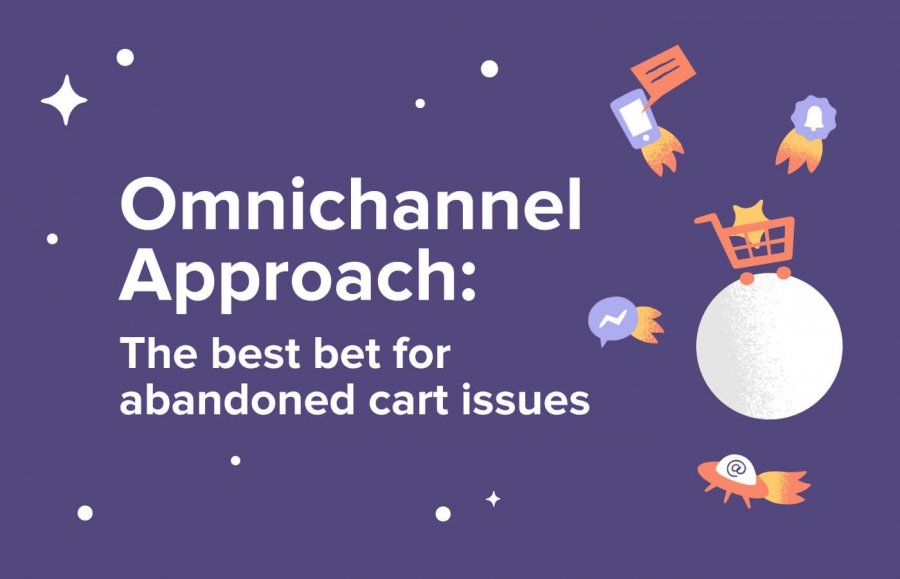 Almost 70% of online shopping carts are abandoned, according to the latest figures from the Baymard Institute. When you consider how much lost revenue that could potentially equate to, it's clear that abandoned carts are a major problem for online businesses.
This article sheds some light on the reasons why some shoppers decide not to go through with their intended purchase and provides some smart remarketing tips to help you tackle abandoned cart issues for your store.
Why shoppers abandon their carts
Many shoppers are simply browsing and click "add to cart" as a way of saving items they can look at again later. They might be comparison shopping or hunting for gift ideas, for example.
Some are put off by shipping costs, or taxes, while others experience technical problems at the checkout, or they think the process is too complicated. If you can make sure your store is working effectively and has a clean design, you can avoid that problem straight away.
Likewise, if you can offer free shipping from time to time, or on certain products, that would be a huge incentive for shoppers to continue their purchase.
As for the large proportion of shoppers who are browsing or haven't made up their mind about your product, you can employ an omnichannel marketing strategy to bring them back to your store.
How an omnichannel approach can help
Omnichannel marketing is all about creating a seamless customer experience. Rather than interacting with your customers on individual channels, e.g. email, Facebook Messenger, or live chat, you can integrate your marketing communications to make them more service-focused and meet your customers wherever they are.
Below are a couple of scenarios to help explain why omnichannel marketing is a good approach to take if you want to improve your chances of recovering lost sales from abandoned shopping carts.
How To Run Fully Automated Remarketing Campaigns?
Start Now
Scenario 1 - using a single channel approach
Providing you have an email address for your would-be shopper, you could send them an email follow up when you notice they've abandoned their cart.
In theory, your would-be shopper could check their emails on-the-go while they're out and about and decide to take action. However, email open rates are typically around 20%, so the reality is that your email may be left unopened. If your email is opened by your would-be shopper on their mobile device, they may not have time to read your email in full and put it on the backburner to address later. By which time, they may forget.
Scenario 2 - using an omnichannel approach
Not only can you remind your would-be shopper about their abandoned cart through an email, you can also send them an alert:
Straight to their phone via a text message (texts have an open rate of 98%).
Via a web browser push notification.
Through Facebook Messenger.
The beauty of omnichannel marketing is the fact that your customer analytics and marketing channels are integrated.
With omnichannel marketing, marketing, you can begin to understand your customer; what they're spending patterns are and how they interact with your communications. Then you can deliver the right message to them at the right time, via the channel where they're most likely to take action.
Tip! This blog from Shopify gives some great examples of abandoned cart email reminders, which you can adapt for other channels too.
How to combine different marketing channels
There are Shopify apps available to help you utilize different marketing channels, all from one dashboard. One example is Firepush. Through this app, you can automatically send abandoned cart reminders through web push notifications, SMS, Facebook Messenger and email, through one easy-to-use platform.
With Firepush, you'll get access to customer insights and use those to influence your marketing communications. Several flexible Firepush plans are available to suit both small and large online businesses.
Firepush has recently introduced a 40% bonus on selected plans for sending SMS messages and emails, which offer great value to Shopify stores that have a lot of subscribers or want to send frequent communications. Learn more about Firepush plans. A free trial with full access is also available.
Summary
Omnichannel marketing involves using behavioral intelligence to learn more about your customers and when and where they're likely to take action. It's a strategy that effectively helps you cast your net wider, across all channels, to help you win back more would-be shoppers back to your store.