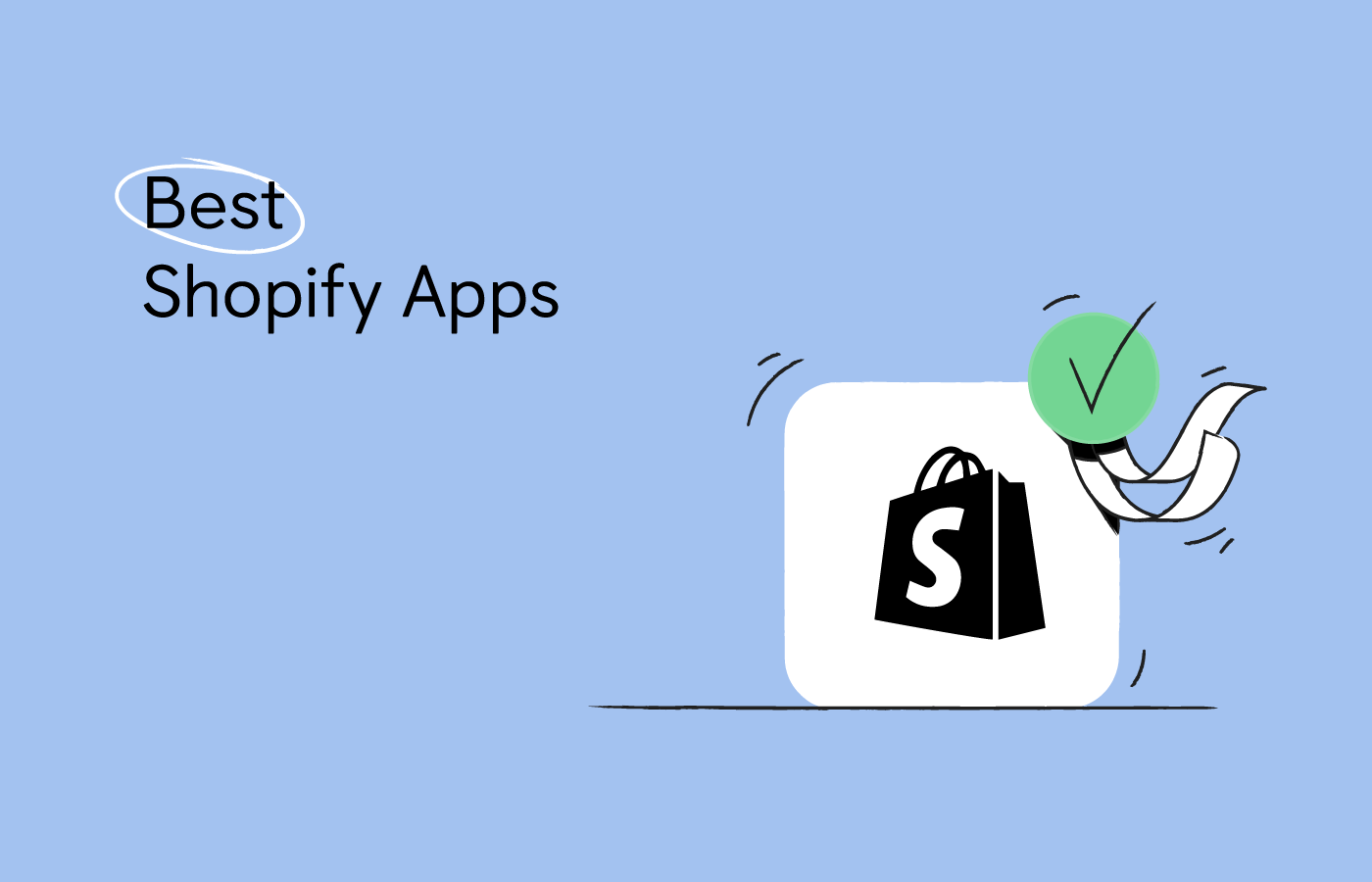 All successful Shopify merchants manage their stores and bring in more profits with the best apps.
But the Shopify App store is bursting at the seams with every possible app, so the search often takes a lot of time.
There's a better option—
Check out the collection of the best apps for Shopify in this guide.
What Are The Best Apps For Shopify Stores?
Your store needs top apps for Shopify to win leads and customers, increase customer satisfaction, and create a steady income flow. We have a collection of the best Shopify apps to run a store and increase sales.
These apps have the highest ratings in their categories (also, many are free or have free plans).
Let's start with the most important Shopify apps to promote your store.
Best Email Marketing Apps for Shopify
Email is in the top three most effective marketing channels for 94% of businesses. Here are the best Shopify email marketing apps to collect subscribers and send campaigns.
1. Firepush Email Marketing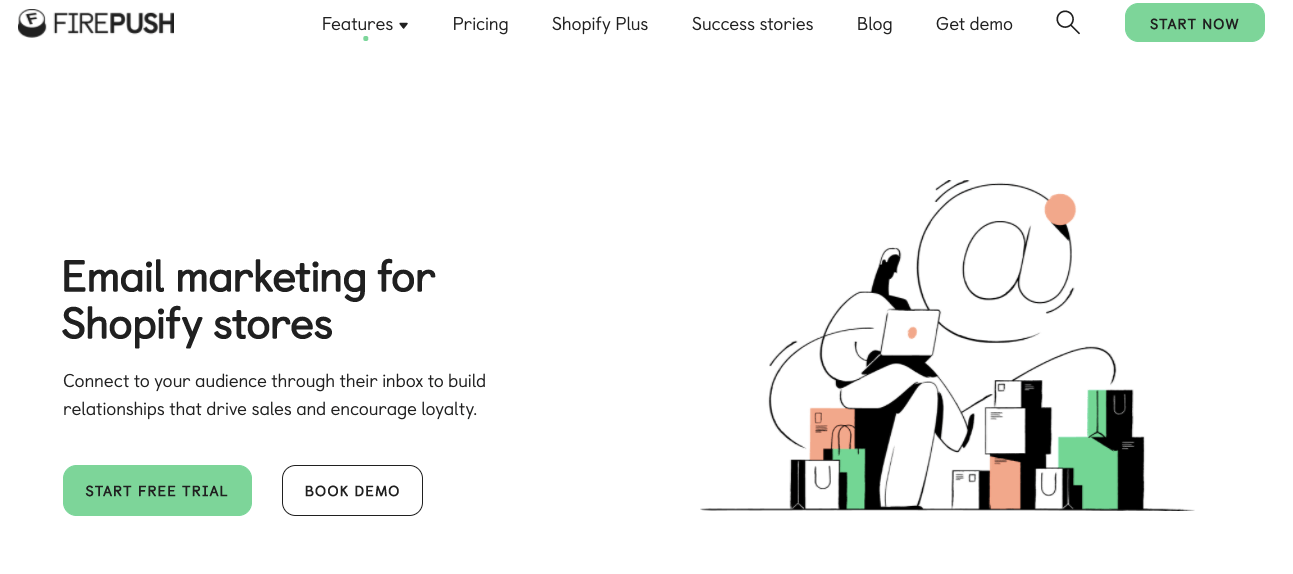 Firepush is easy to set up and create email campaigns. No designer skills are needed thanks to a simple email design tool. Also, there's a collection of email templates to share coupons, sales, product news, and recover abandoned carts.
We built Firepush for Shopify store owners who need a simple email app. We'd rather not over-promote it—just know that Firepush has a 4.8 rating from 780+ Shopify store owners and you can try it for free.
Best features:
One-click customer segmentation for more personalized campaigns
Email templates for different marketing goals (promotions, welcome emails, etc.)
Includes SMS marketing and web push notifications
Price:
Free to try for 14 days and 300 emails. Premium plans cost $15/mo (6,000 emails) and $29/mo (15,000 emails).
Why use Firepush?
Connects to a Shopify store in seconds
Provides useful analytics to track performance of email campaigns
Contains both promotional and transactional email templates to promote your store and improve customer experience
Has one of the most affordable premium plans among Shopify emails apps
2. Omnisend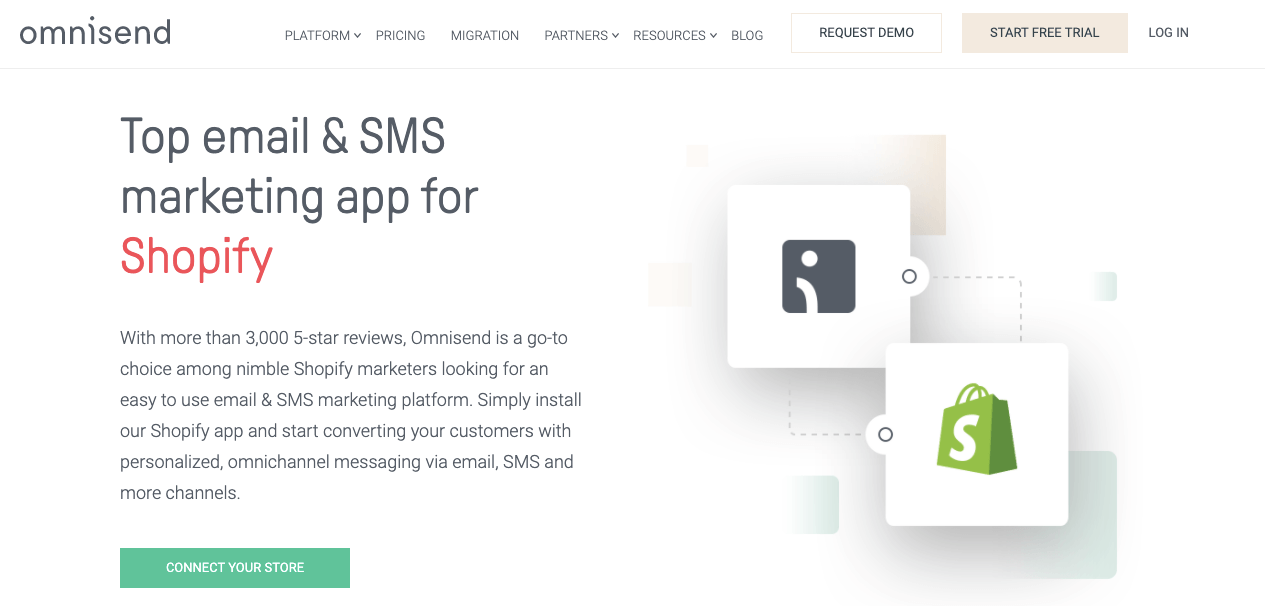 Omnisend is one of the most popular Shopify email marketing apps. You can set up email campaign automation for just about any customer journey thanks to pre-developed templates. The dashboard is pretty straightforward, so beginners won't have problems with navigation.
Segmentation is another reason why Omnisend is among the best Shopify email apps. You can segment email subscribers automatically or make custom segments based on their lifetime value, product interest, or engagement.
Best Features:
Pre-built automations to make email campaign creation quicker
Customer segmentation to create more targeted personalized email campaigns
Simple drag-and-drop email editor for email designs
Price:
Free to install. Premium plans begin at $16/mo.
Why use Omnisend?
Omnisend has an extensive library of email templates, so you can try different campaigns and strategies. Deep segmentation is also a great feature for increasing open rate and click-through rate.
Tips for more effective email marketing for Shopify:
Best Shopify Apps for Conversions
You need the best Shopify apps to increase sales. In this section, find top Shopify apps that help with lead generation, customer reviews, and social proof.
3. OptinMonster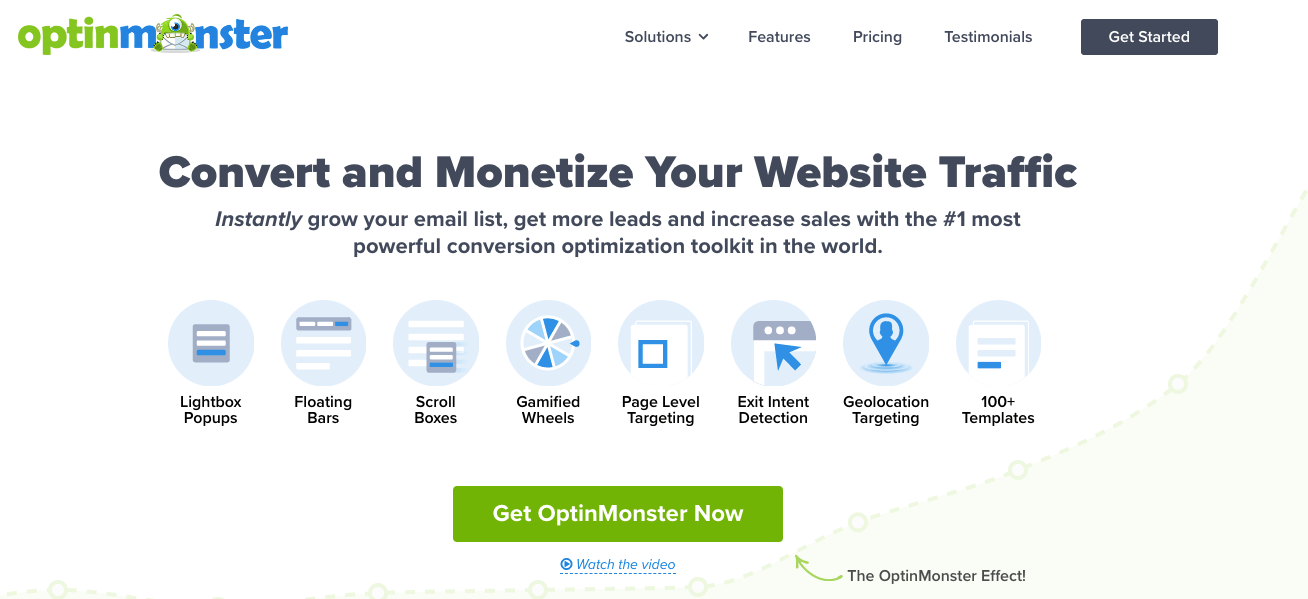 Shopify store owners use OptinMonster to build email lists. This Shopify app detects when eCommerce store visitors are about to leave and shows them a pop-up window. But it's not only pop-ups: OptinMonster has floating bars, gamified wheels, and more lead generation features.
You can offer coupons, discounts, and other perks with OptinMonster. And this strategy can work fantastically: eCommerce research shows that up to 70% of customers will consider buying if given a discount.
Best Features:
100+ customizable pop-up window templates to generate leads
On-site lead generation tools: email pop-up windows, floating bars, spinning wheels, countdown timers, and more
Built-in testing tools to help you define which lead generation pop-ups bring you the most leads
Price:
No free plan. Premium plans begin at $14/mo for small Shopify stores. Growing businesses can consider Pro or Growth plans ($47/mo and $80/mo, respectively) to get advanced analytics, testing, and campaign scheduling.
Why use OptinMonster?
OptinMonster is one of the best Shopify apps for conversion because you can use a bunch of different lead generation tools to get visitors' emails. So, you can put lead generation on autopilot, which is useful for Shopify stores with small marketing teams.
4. Loox - Photo Reviews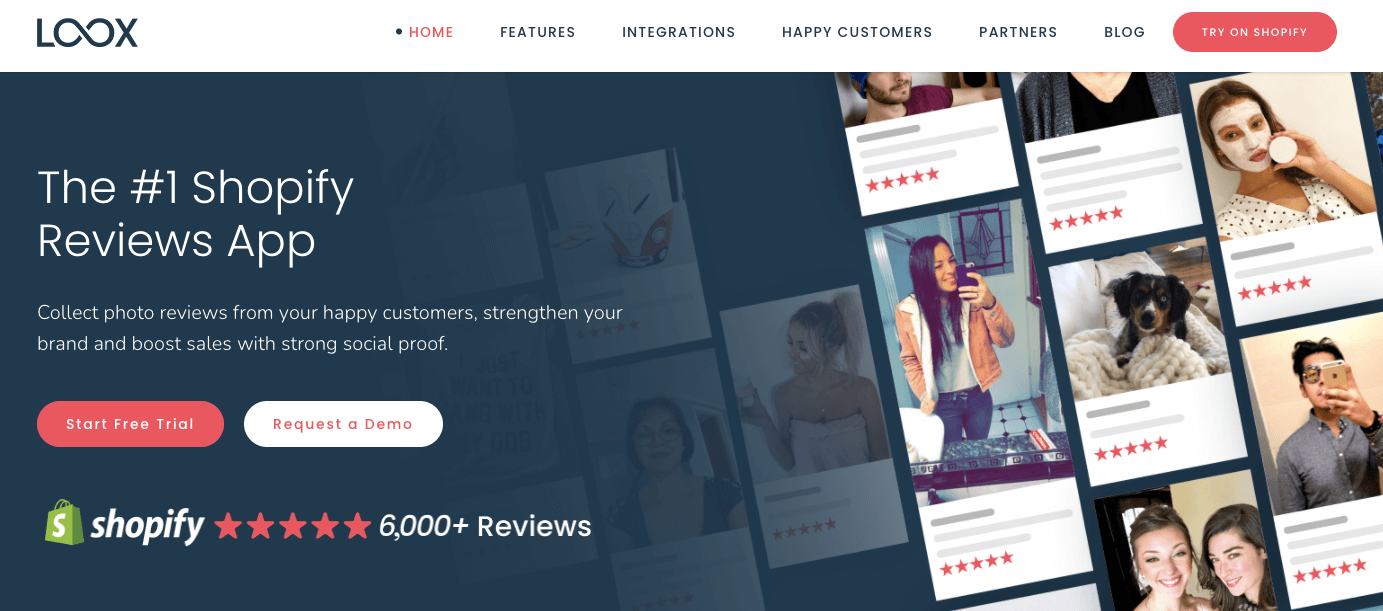 Loox is one of the best review apps for Shopify with 6,100+ 5-star testimonials. With Loox, you can get visual customer reviews—a powerful Shopify marketing strategy.
Getting reviews with Loox is pretty easy. First, you add your data and send out automatic review emails to collect reviews in one place. Then, you choose how to display them on your Shopify store: pop-ups, carousels, sidebars, etc.
Best Features:
Customer review collection on autopilot thanks to automatic emails
Add discount codes and other incentives for reviews
Multiple ways to showcase photo reviews in different places on Shopify stores
Price:
Loox has a 14-day free trial but no free plan. If you'd like a try, consider the cheapest paid plan for $9.99/mo with 100 monthly review request emails. This way, you can check if Loox generates reviews for your Shopify store.
Why use Loox?
Loox is one of the best Shopify apps for conversion optimization because of three things. One, the app does most of the work automatically, so you save time. Two, Loox effectively takes care of the essential trust signal: customer reviews. Three, the app does photo reviews, which are more credible than traditional ones.
5. Instafeed - Instagram Feed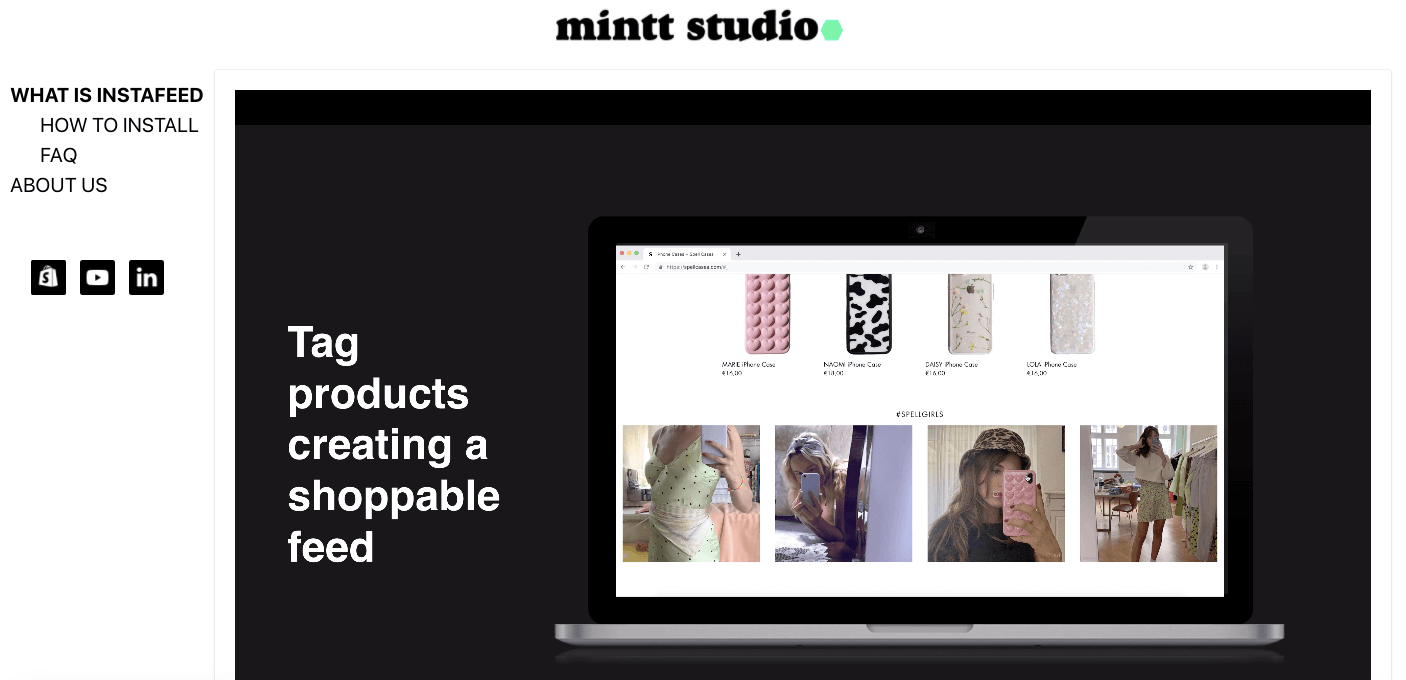 Did you know that 4 in 10 online shoppers begin product searches on Instagram and Facebook? They often check out inspiration-packed Instagram feeds and end up buying products they love. If you'd like to generate more sales from social media, too, consider Instafeed.
Instafeed places an Instagram feed with photos of customers enjoying your products on your Shopify store. You can turn your business's Instagram account into a sales-generating machine by tagging products and driving people to your online store.
Best Features:
Good-looking, elegant Instagram feed for Shopify stores
Shoppable Instagram features to generate sales from people visiting your Instagram profile
No coding skills are needed to add the feed, customize it, or integrate with mobile store versions
Price:
A free plan has a simple feed with pictures and usernames. You can either try the free version or go for a cheap Pro version ($3.99 per month) because it adds likes and allows product tagging.
Why use Instafeed?
If Instagram is a part of your Shopify marketing strategy, Instafeed can be a tool to drive potential customers to your online store. Instafeed is one of the best Shopify apps for this purpose because it's lightweight, elegant, and fully compatible with Instagram.
More tips to increase Shopify conversions:
Best Shopify SEO Apps
Here, find the best Shopify SEO apps for your Shopify store. Plug in SEO is an all-in-one option to manage every SEO need and TinyIMG is a dedicated app for image optimization.
6. Plug in SEO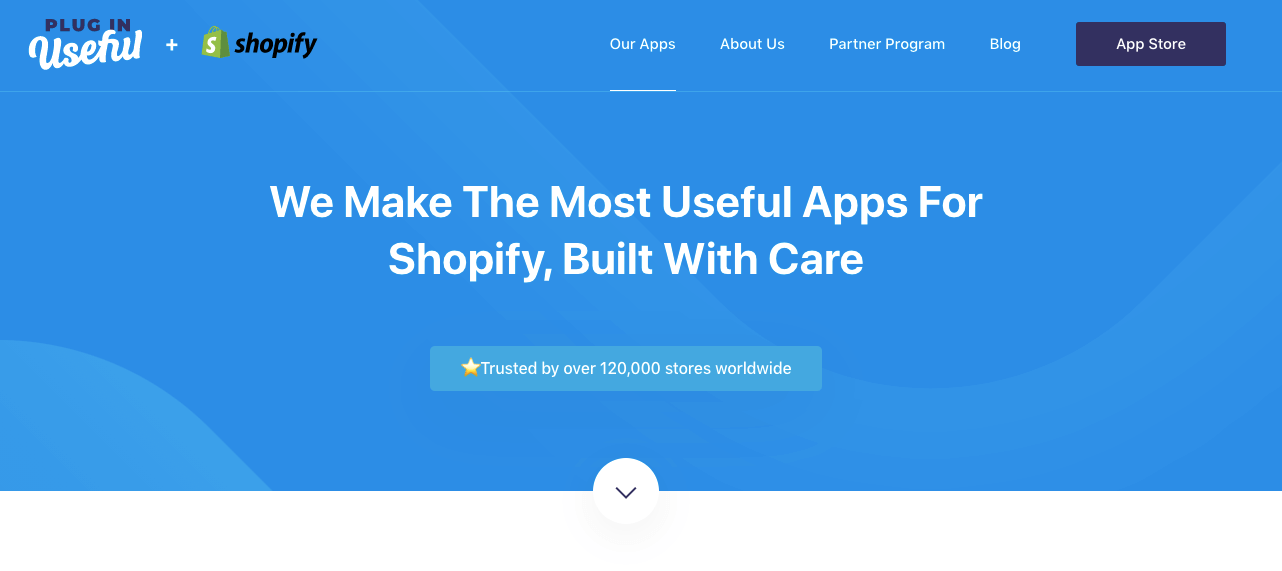 Plug in SEO is the best SEO app for Shopify based on user reviews. It's an all-in-one app, which means it takes care of all SEO-related aspects, including optimization of keywords, images, links, and site structure.
Plug in SEO is simple to use. Once added, the app looks for SEO issues and generates a report with simple recommendations for fixing them. So, you can do some optimization without having a lot of experience with Shopify SEO.
Best Features:
Periodic Shopify store SEO check
Templates for meta titles and descriptions
Clear instructions for fixing SEO problems by yourself
Comprehensive SEO checks to evaluate Google rankings, loading speeds, filenames, site structure, and other essential ranking factors
Price:
Prefer to fix Shopify SEO problems yourself? There's a free version with unlimited checks and fix instructions. If you need support, you can try the paid plan for $20/mo—it's got premium support and training videos.
Why use Plug in SEO?
Plug in SEO is one of those Shopify SEO apps that are simple enough to let you fix many problems yourself. So, if your SEO budget is limited, you can rely on this Shopify app to optimize your store's performance.
7. TinyIMG SEO & Image Optimizer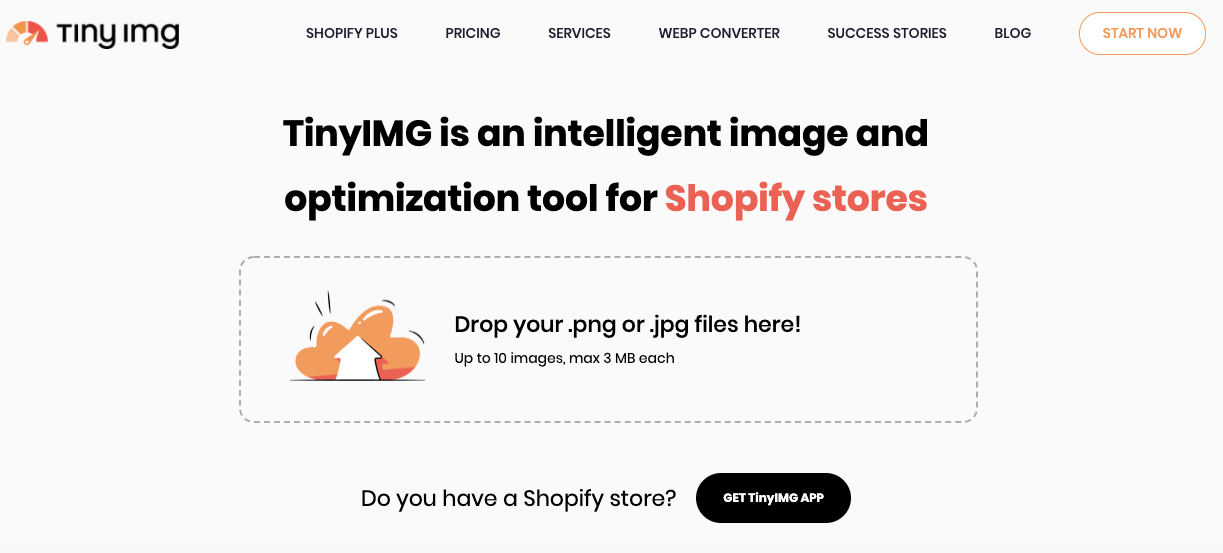 Unoptimized images are the top reason for slow-loading websites. Since site speed is a ranking factor, getting those product images optimized is important. And you can still make them look stunning enough to attract clicks and sales.
TinyIMG is the app you want for that. It's one of the best apps for Shopify when it comes to optimizing images and improving SEO performance. You can reduce image sizes by up to 70% without sacrificing the quality.
Best Features:
Image reduction technology that reduces image sizes by three quarters and preserves the quality
Automatic addition of ALT tags and titles to make images more SEO-friendly
Deep check of Shopify store for image optimization opportunities
Price:
If you're running a small Shopify store, consider a one-month subscription for $4.99/mo for 300 optimized images. There's also an annual subscription with $0.99/mo and 1,000 image optimizations.
Why use TinyIMG?
TinyIMG is the best Shopify SEO app for image optimization because of several reasons. First, it's simple to set up and use for beginners. Also, there's no need for technical SEO expertise to optimize images—the app does that for you. Plus, Shopify store owners love it: TinyIMG has a 4.9 rating and lots of positive reviews mentioning superb customer support.
Best Shopify Review Apps
About 87% of customers read reviews for online businesses. To get a good chance to get sales and grow your business, you need the best review apps for Shopify.
8. Judge.me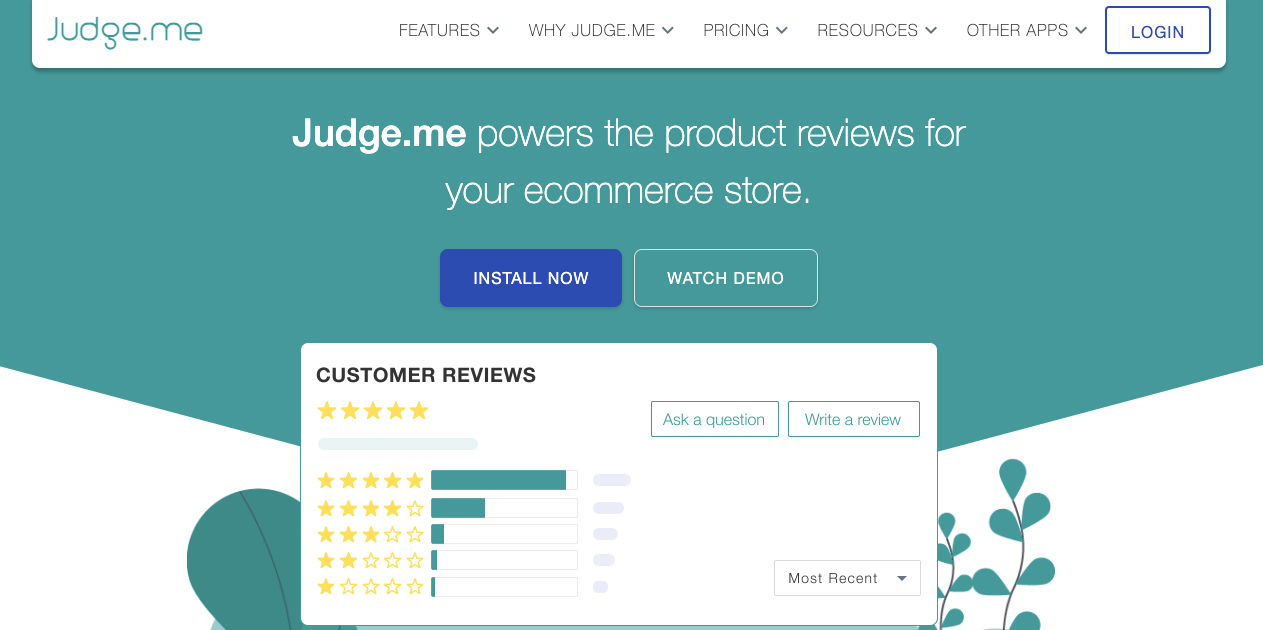 The folks at Judge.me know what they're doing. Their product is the best review app for Shopify with the highest rating. Judge.me has 5 stars on Shopify App Store from 4,200+ users, which is amazing.
Photo and video reviews, email requests, reminders, on-site widgets and badges—Judge.me has an impressive range of features. This must-have Shopify app also adds review stars in Google search results like in this image below.

Also, you can use many features of this essential Shopify app for free. This makes Judge.me an excellent option for new eCommerce stores.
Best Features:
Review widgets and emails in 34 languages
Fast and easy collection of reviews with automatic email requests
Lots of opportunities to display reviews: on-site widgets, photos, videos, and even in Google search results
Price:
A new Shopify business can choose the free version (unlimited review requests + site and Google snippet reviews). The only premium plan costs $15 per month.
Why use Judge.me?
Judge.me is one of the top Shopify apps for many reasons. You can set it up in two minutes, import existing reviews, collect new reviews automatically, and showcase them both on your website and search engine results.
9. Stamped.io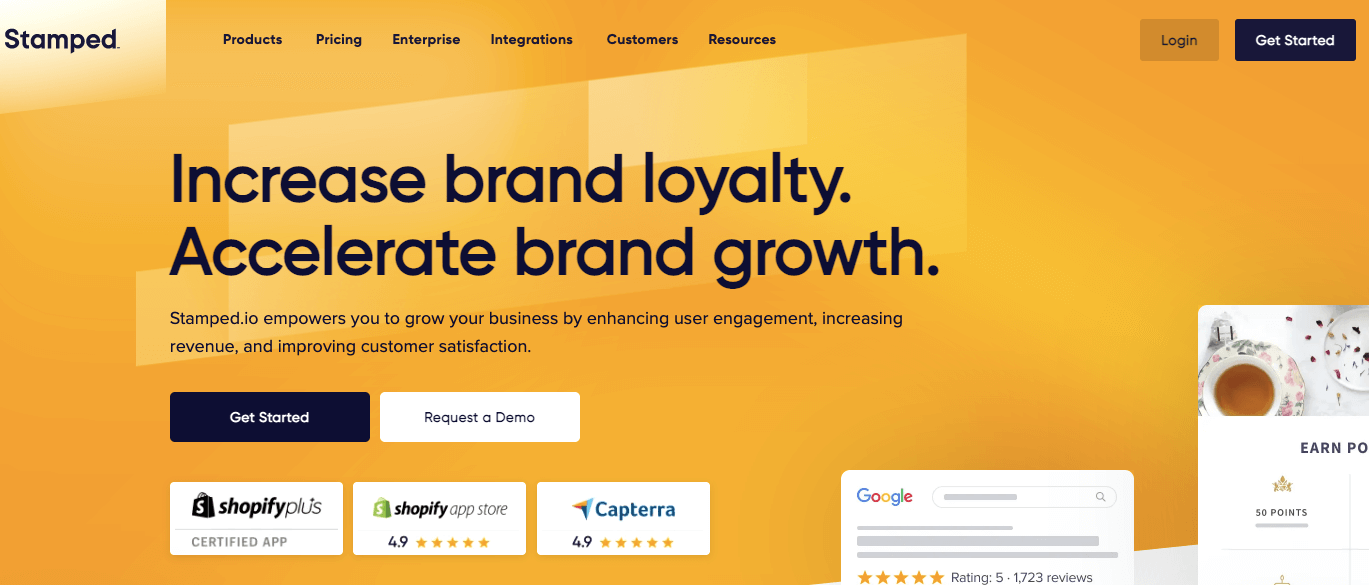 Stamped.io a highly-rated Shopify review app used to improve reputation and build trust with customers. Besides traditional and photo reviews, you can collect video reviews, Q&A-style reviews, and more.
What also makes Stamped.io a useful Shopify app is analytics. You can see products that received the best reviews, customers who wrote the most reviews, and other helpful stats for marketing.
Best Features:
Automatic email product review requests
Photo reviews that can be made into shoppable Instagram posts
Analytics and reports on reviews and reviewed products
Reward system for reviews to encourage more purchases
Price:
There's a free version that lets you collect reviews for 50 orders per month. More review requests and features like photo and checkout reviews are available in paid plans that start at $23/mo.
Why use Stamped.io?
Stamped.io is one of the best Shopify apps because it automates review management. You can collect reviews automatically and reward customers for writing them.
Another cool thing is the feature that turns a photo review into a shoppable Instagram post. This means you can showcase your products being used, which is great to earn customer trust.
Best Shopify Referral Apps
Want to try referral marketing? That's a good idea—referral leads convert 30% better than leads obtained from other marketing strategies. Here are the two best Shopify referral apps—ReferralCandy (paid) and Smile (free).
10. UpPromote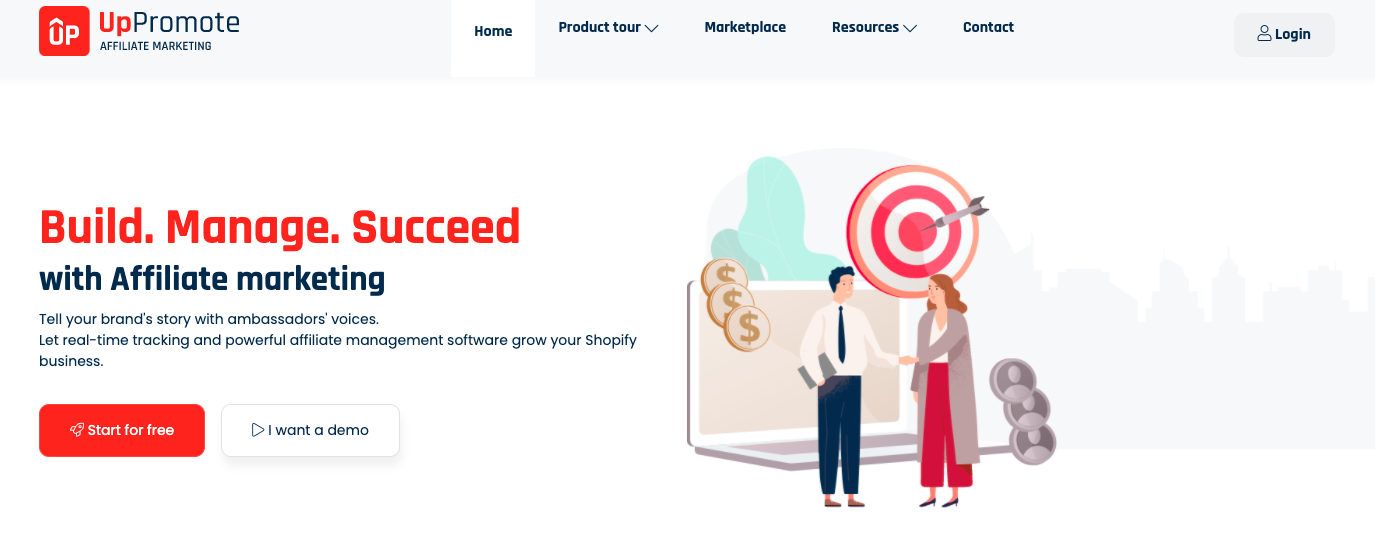 Affiliate marketing uses the affiliate's voice such as their social channels, networks, websites, etc. to advertise your products and increase sales without any upfront cost. This marketing campaign is an ideal option for all all-size businesses. If you'd like to generate more revenue from affiliate marketing, you can consider UpPromote.
UpPromote: Affiliate marketing will help you build, manage and succeed with Affiliate marketing. With UpPromote, you can automatically track all referral orders and the affiliate's performance via the accurate and real-time tracking systems. It's easy to use, especially for non-tech people.
Best features:
Quickstart guideline, and "Check your setup" feature helps you easily start to build your affiliate team

Motivate affiliates by generating m

ultiple commission programs, auto-tier commission, or lifetime commission

Auto-generate referral affiliate links and coupons to save time

Growing affiliate team by

free listing on

UpPromote Marketplace

Automatic payout via popular payment methods including PayPal
Price:
UpPromote has free plan, and different pricing options to choose from: $19.99/ month with Growth plan; $59.99/ month with Professional plan; and $119.99/ month with Enterprise plan. With all pricing plans, you will get 14 day free-trial.
Why use UpPromote?
What differs between UpPromote and others is that you can list your offer on UpPromote MarketPlace to approach more ambassadors. The app also offers a free plan. This is a suitable option if you are just starting your business and are looking for the right marketing solution.
11. ReferralCandy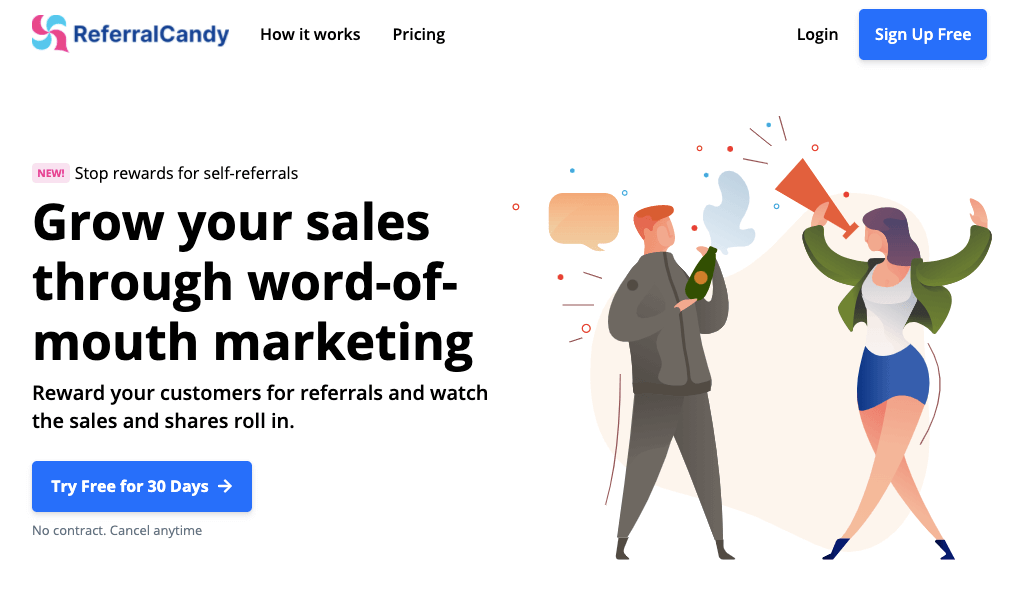 ReferralCandy is a good Shopify referral app for growing businesses. It's an all-in-one platform for referral marketing where you control everything and get analytics in one dashboard. No worries if you're a beginner in referral marketing. The reviews from store owners on Shopify App Store mention superb customer support, so you should be in good hands.
Best Features:
Easy-to-use dashboard to track referral campaign performance and sales
Helpful referral campaign analytics (top referrers, most popular products, etc.)
Branded landing pages and emails for campaigns
Price:
No free plan. Growing Shopify businesses can choose a Premium plan for $49 per month, which includes most features.
Why use ReferralCandy?
ReferralCandy is a Shopify referral app you can use to manage your campaigns from one place. You can launch any kind of campaign and give many different rewards for referrers. Helpful reports will give all the data you need to control spending.
12. Smile: Rewards & Loyalty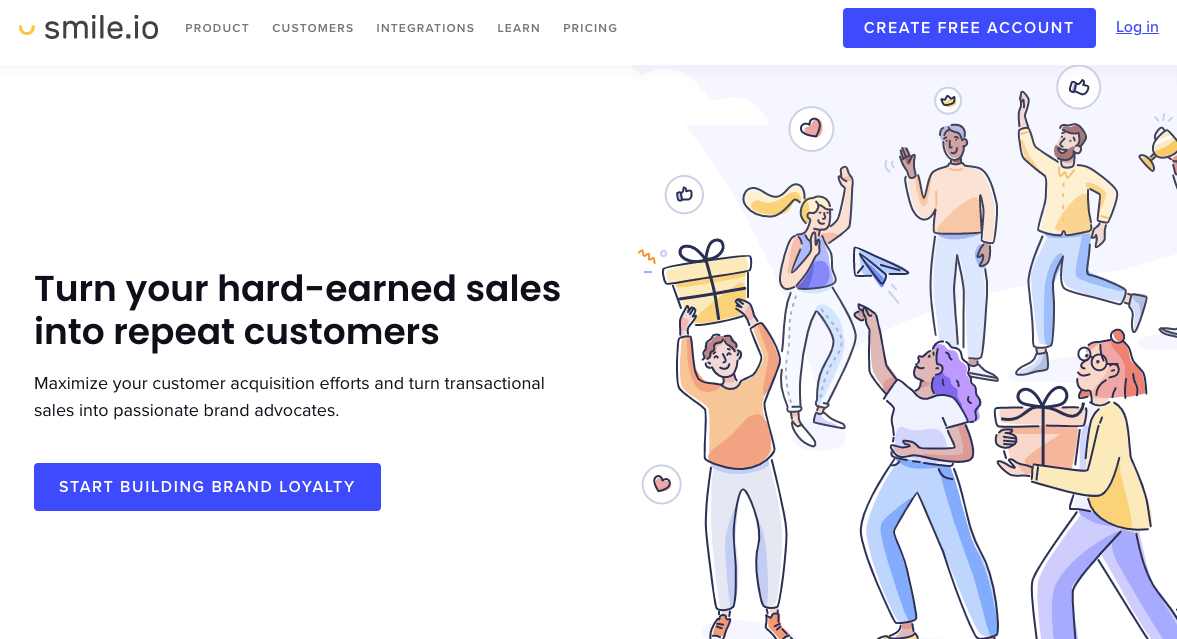 Smile can be a useful Shopify app for new and small stores. It comes with a free plan and has everything to help generate referral sales. You can create a loyalty program and encourage orders with bonuses, discounts, and exclusive perks.
Another reason why Smile is among the best free Shopify apps is analytics. You get a simple dashboard to see how your campaigns perform and make timely decisions.
Best Features:
Custom referral programs with personalized emails and pop-ups
Custom loyalty programs with rewards for specific customer actions (leaving a review, placing an order, etc.)
In-app analytics to monitor the performance of your campaigns (referral traffic, sales, referrers, etc.)
Price:
Free plan with 10+ ways to reward customers (should be enough for small stores). A disadvantage of the free version is the lack of integrations with other apps. Integrations and advanced features are available in premium plans starting at $49/mo.
Why use Smile?
Smile is a popular Shopify app for referral marketing you can use even for free. With a few clicks, you can build referral campaigns and drive sales with discounts, coupons, and other perks.
Best Shopify Apps for Product and Inventory Management
Starting a dropshipping store? Or need an app to manage inventory and shipment? These best Shopify dropshipping apps are helping thousands of entrepreneurs with those tasks.
13. Oberlo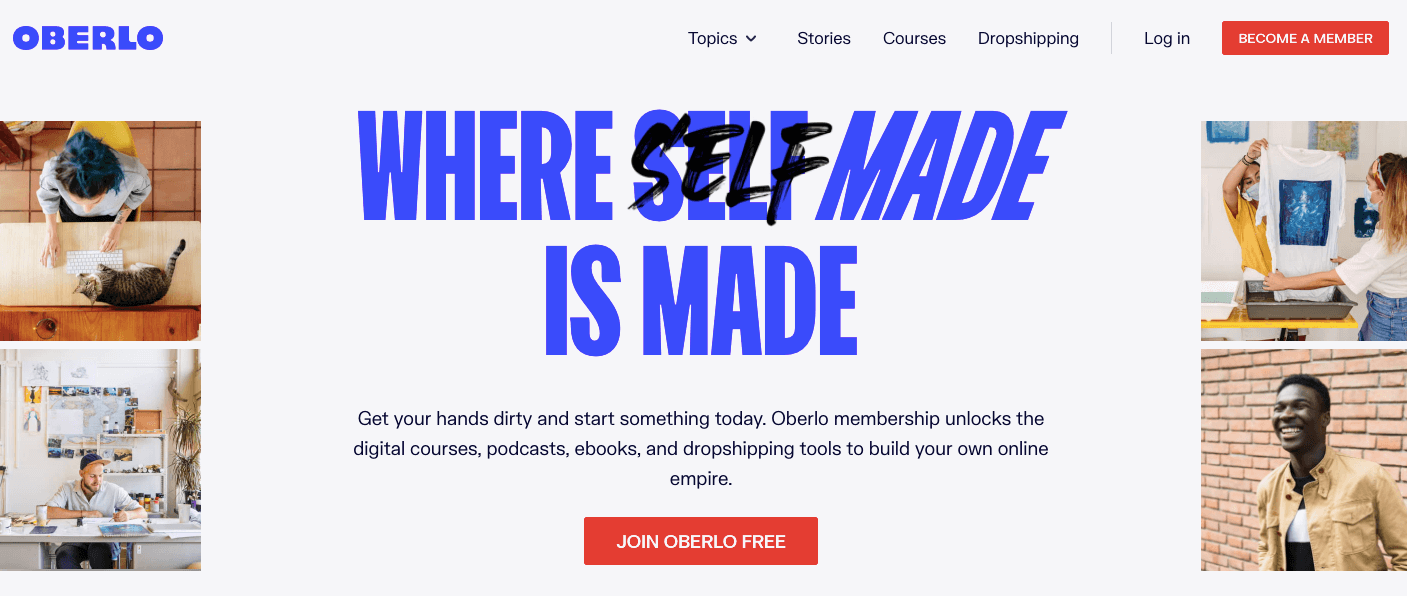 Many store owners test several best Shopify apps for dropshipping before choosing the one that works. Oberlo is often the first on the list—it provides automatic order fulfillment, inventory management, and easy product import of 30,000+ items from AliExpress and Oberlo Marketplace.
If you're a beginner, try Oberlo's free Starter plan. You can import up to 500 products and get unlimited monthly orders. There are also dropshipping guides and tips for beginners included, so this Shopify inventory app will help get started.
Best Features:
Automatic order fulfillment and inventory management
Impressive product range: up to 30,000 options that can be added to Shopify stores
Dropshipping guides and tips for beginners
Trendy product reports to help merchants find the most popular items
Price:
Free plan for 500 products. Premium plans with shipment tracking, trendy products, and bulk orders start at $7.90 per month.
Why use Oberlo?
This Shopify dropshipping and inventory app does product import and order fulfillment automatically, and has enough product options to start even a large store. Product import and store management are simple thanks to an easy-to-use dashboard, which both dropshipping beginners and experts will enjoy.
14. Printful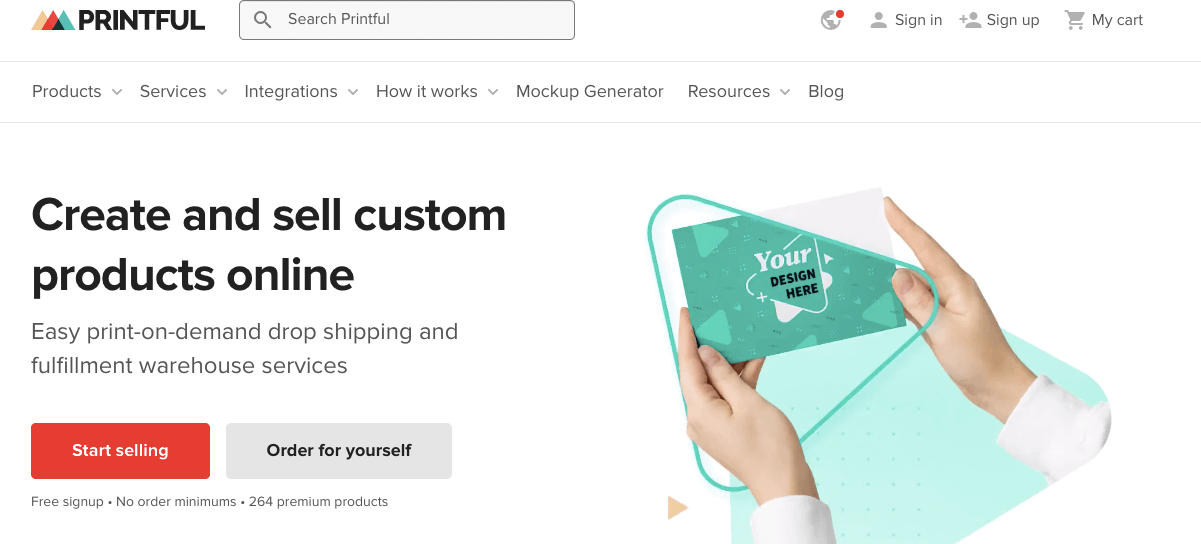 Want to start a t-shirt store? Or maybe a clothing store? Consider Printful. This is one of the best Shopify inventory management apps with a 4.3 rating from 3,300+ merchants. Printful provides quality print-on-demand dropshipping and warehousing services.
Printful has the biggest product range among Shopify inventory apps. You can sell hundreds of items, including t-shirts, mugs, shorts, and fanny packs. Printful does everything: product warehousing and product fulfillment, so you just design products and add them to your store.
Best Features:
Product storage and order fulfillment for Shopify merchants
Impressive product catalog (clothing, hats, accessories, home & living, eco-friendly)
Easy integration with Shopify to start selling within minutes
Simple product design tool to create custom items
Price:
Printful is free to use. You pay only when you make a sale, which depends on the margins you set. Example—if you sell 30 t-shirts with a Printful price of $8 for $15, your profit will be around $209.
Check this useful Printful payments guide to calculate your potential profits.
Why use Printful?
Printful is an essential Shopify inventory and dropshipping app to start a new store: easy to use, has lots of products, and does everything for you. You can start your dropshipping business from home with little upfront costs, and pay Printful only when you sell.
More best Shopify apps and tips for dropshipping:
Best Shopify Apps for Sales and Discounts
Discounts and sales are a big part of online customer experience. If you'd like a dedicated Shopify sale or discount app, this section has the top-rated options.
15. Firepush SMS and Pushes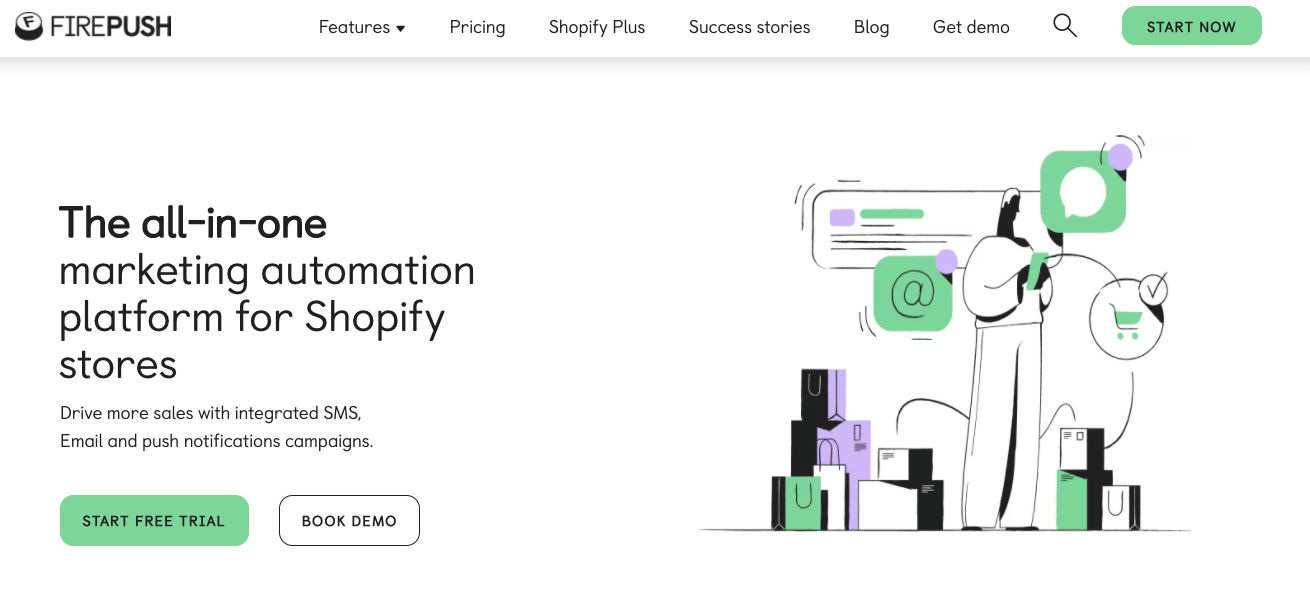 That's right, Firepush is more than the best email marketing app for Shopify.
Firepush has web push notifications and SMS messages that are excellent for sharing promos and discounts. People open 98% of SMS they receive, so you can raise awareness of promotional offers and other deals.
Also, two-thirds of customers make purchases because of discounts they find online. You can bring coupons and discounts directly to customers with Firepush's web push notifications.
There is a 14-day no-risk free trial and a free web push plan.
Best Features:
Six web push notification types to share marketing messages (discount push, price drop push, welcome push, and promotional offer push)
SMS messages for sharing news about promotions, welcome discounts, abandoned cart recovery notifications, and flash sales
SMS templates for easier creation of marketing campaigns
Price:
You can get 100 monthly push notifications with a free plan. Premium plans start at $15 per month and include both web pushes and SMS messages.
Why use Firepush?
Firepush is a Shopify discount app that shares automatic marketing messages through SMS, email, and web push notifications. So you can connect with more customers and raise awareness of promotional offers and sales.
Web push notifications can deliver thousands of messages with discounts and sales directly to customers. More info:
16. Bold Discounts

Bold Discounts is one of the best Shopify apps because it gives merchants an arsenal of tools to motivate shoppers to buy. With this Shopify discount app, you can create flash sales, storewide sales, and manage everything from one place.
When you create a sale, Bold Discounts automatically adds sale icons, countdown timers, and sales clocks to selected items. Basically, you can run any kind of sale and keep an eye on performance from the app's dashboard.
Best Features:
Custom sales in one click (storewide, timed, and product category sales)
Customizable sales countdown timers for every product
Discounts for every product or category
Sales indicators such as icons for product pages
Price:
No free plan, but you can try this Shopify discount app for free for 14 days. There's one paid plan that offers all features for $19.99 per month.
Why use Bold Discounts?
You can motivate your customers to buy with sales, discounts, timed deals, and other techniques. This Shopify sales app does all the work: you just need to indicate products and sale details.
17. PickyStory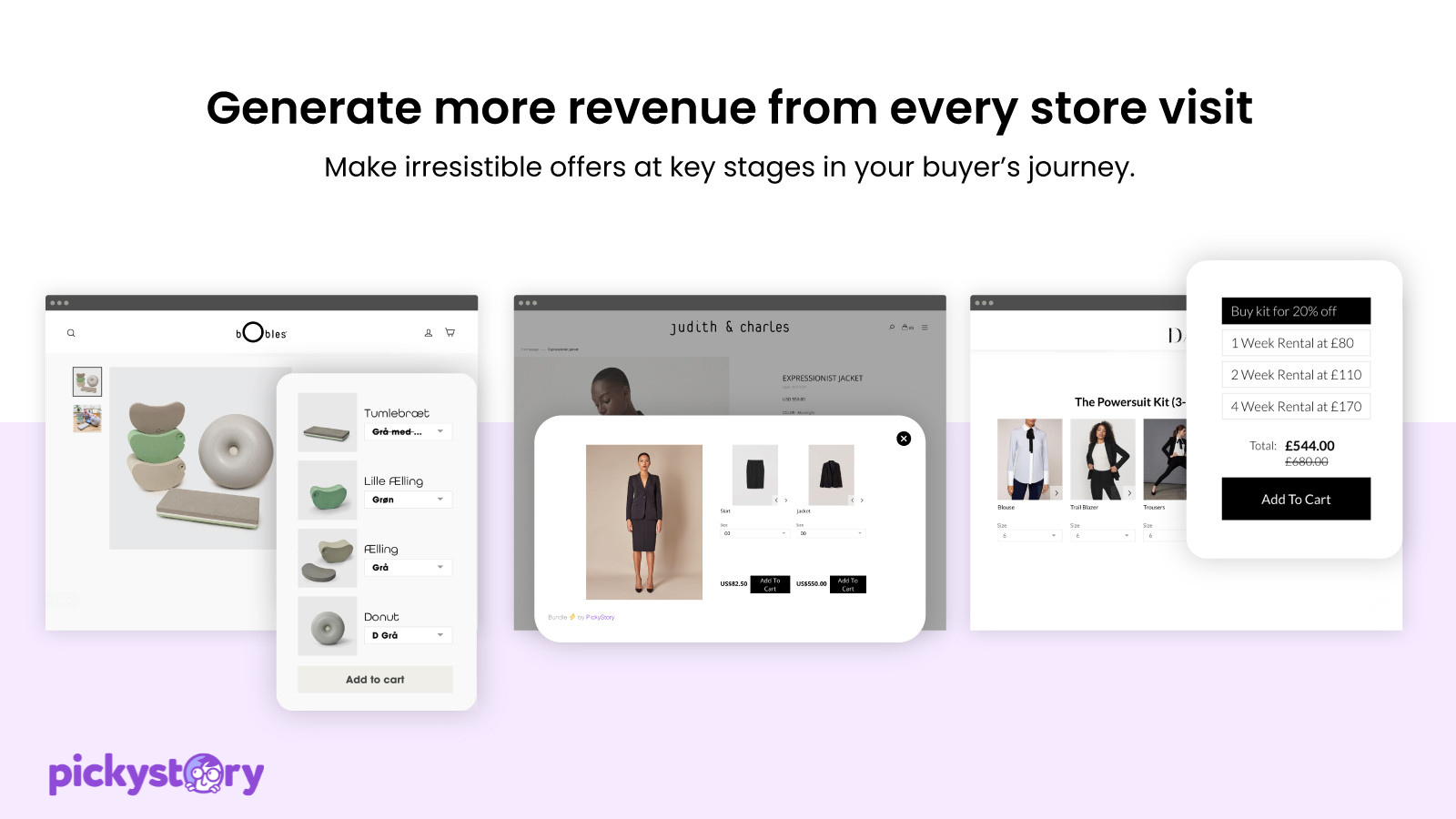 PickyStroy is an upselling & cross-selling app for Shopify that enables merchants to generate more revenue from every customer by adding deals anywhere in their store.
PickyStory comes with a whole host of benefits and seemingly endless upselling potential. One of this app's best features is its diverse range of upsell bundles and other deals that can be displayed on any page in your store.
Best features
Create and display deals on any page in your store

Auto-sync your inventory at SKU level for all deals
Add optional discounts to any deal
Customize your deals to integrate seamlessly into your store
Price
PickyStory offers several pricing plans to suit merchants of all sizes:
Start:

For merchants who sell on a small scale; $19.50/month

Pro:

For merchants scaling their business; $34.50/month

Expert:

For merchants selling in multiple locations and currencies; $99.50/month
As an added benefit, all plans are free for the first 14 days.
Why use PickyStory?
PickyStory is one of the top upsell apps on Shopify. Use PickyStory's deals to sell products together with bundles (auto or manual) on your product pages, create a gallery of shoppable looks, use kits for tiered pricing, and so much more.
Want to know how to sell more with discounts? These guides should help:
Best Shopify Apps for Customer Service
Customer service defines customer loyalty. Microsoft research found that two-thirds of customers won't buy after a single bad experience with a brand. That's why having a top-rated Shopify customer service app is a must to serve more shoppers.
18. Contact Form Builder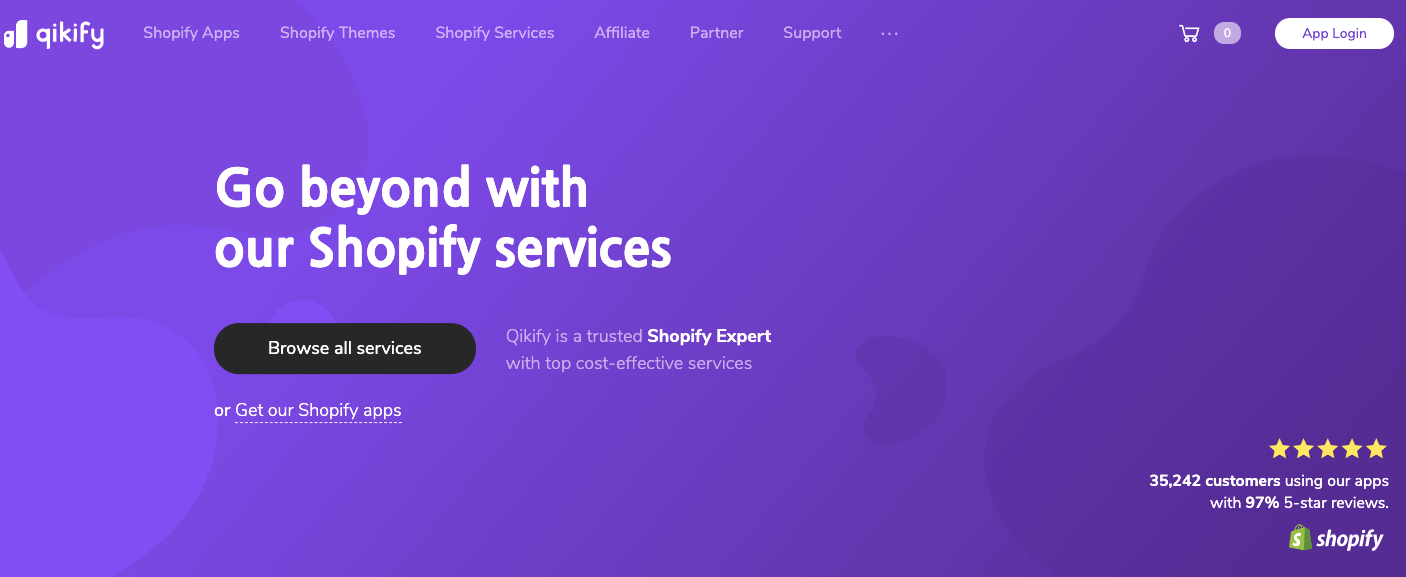 A well-made contact form makes it easy for customers to get in touch with Shopify businesses. Contact Form Builder is the best Shopify app for this goal. You can make just about any kind of contact form (pop-ups, bubbles, embedded, etc.) thanks to the app's design tool.
Not ready to create customer contact forms yourself? No worries, Contact Form Builder has enough templates to add to any page on your Shopify store.
Best Features:
Easy-to-use contact form builder tool for custom forms and buttons
Contact form and button templates
Add a contact us form or button on every page of your store
No technical or coding expertise needed to create forms
Price:
You can add only one contact form and button with a free plan. Premium plans with more options and customizations start at $5.99/mo.
Why use Contact Form Builder?
If you want to have a contact form as a pop-up, this is an essential Shopify app for this goal. Adding contact forms and buttons can make contacting your online store easier for customers and bring more sales.
19. Tidio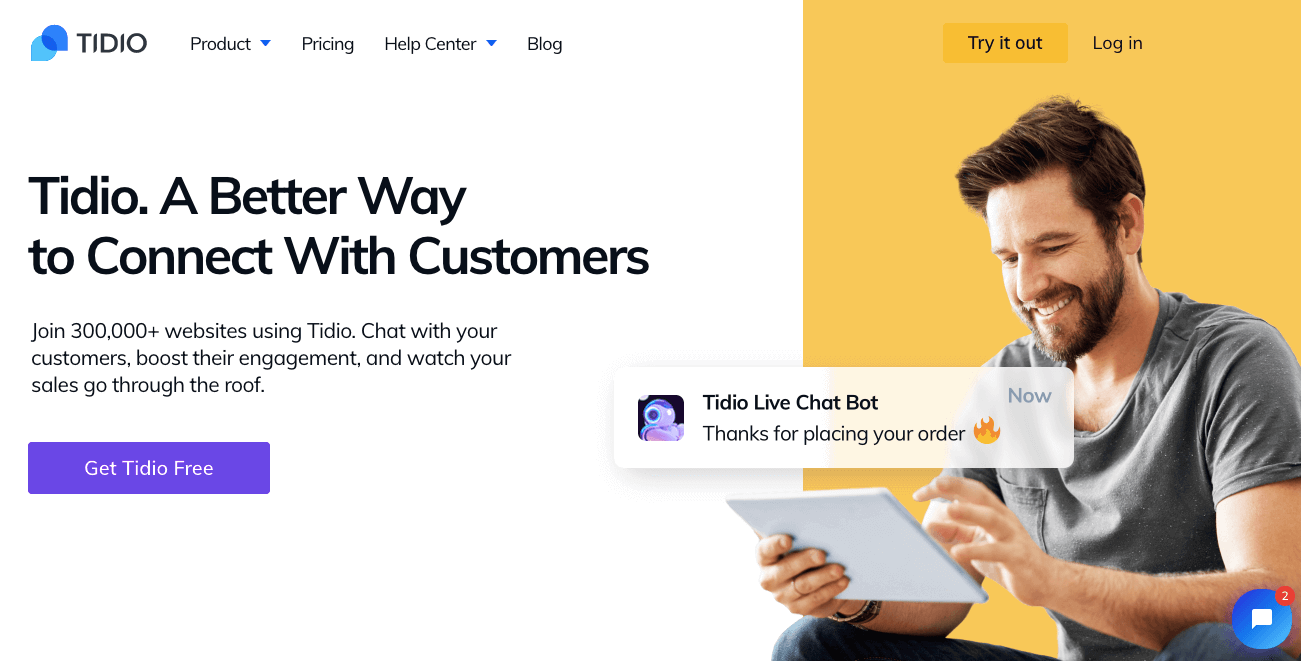 Over 50% of online shoppers prefer to chat with support in real-time. That's why having a live chat is a must to increase customer satisfaction. Tidio is a top-rated Shopify live chat app that we recommend because it's easy to use, free, and has lead generation features.
Tidio installation is quick and you get notifications of incoming conversations. If you'd like to start a chat with a visitor first, you can, thanks to a proactive chat feature. There's also a mobile app, so you can chat with Shopify customers on the go.
Best Features:
Easy-to-use live chat to communicate with Shopify store visitors
Live visitors list to view and start chatting with potential customers
Automatic welcome messages to share marketing messages and support information
Price:
There's a free plan for three customer support operators. Premium plans with chatbots and more reachable visitors start at $18 per month.
Why use Tidio?
Tidio is the best free app for Shopify when it comes to live chat, so it's a great option for small eCommerce stores. You can also start conversations with visitors and share discounts, which can help increase revenues.
Best Shopify Apps for Shipping and Returns
Fast shipping and returns are a must for a successful Shopify store. Ecommerce studies found that customers who made a fast and easy return can increase spending at that store by 158%-457%.
These Shopify shipping apps can speed up your work and keep customers coming back.
20. Returns & Shipping Automation (by Shipway)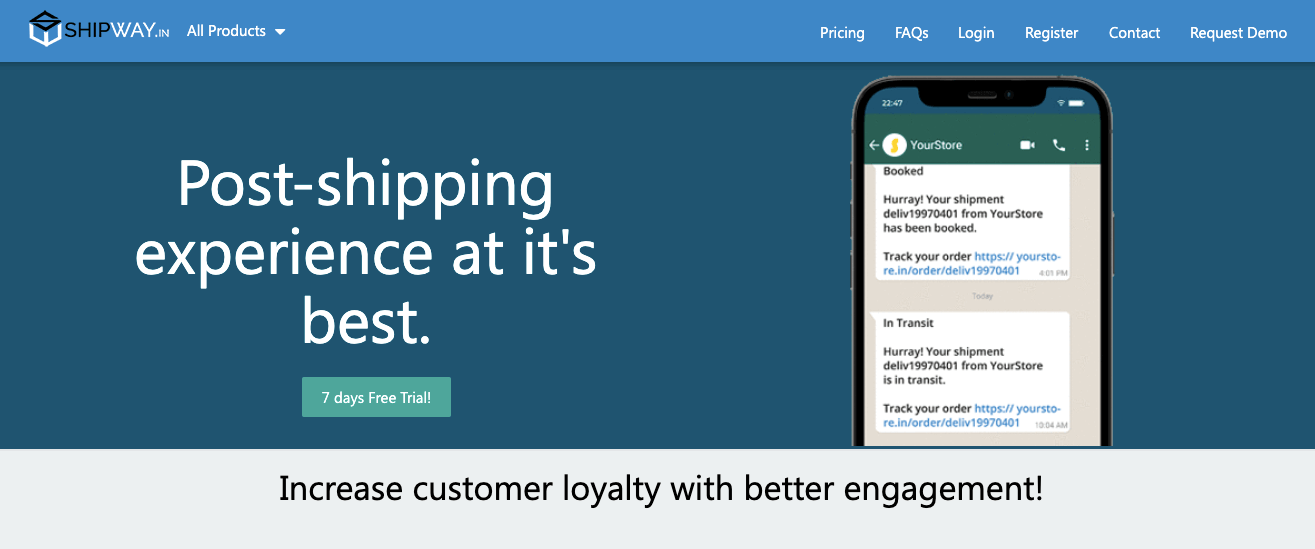 How this best shipping app for Shopify can improve your customer experience? Its name gives a hint: the app automates processes related to shipping and returns to process orders faster.
Returns & Shipping Automation does these tasks automatically: allocation of tracking numbers, generation of shipping labels, making invoices and tax reports (GSTR), self-return services, and tracking all shipments. Thanks to cooperation with major shipping companies (FedEx and DHL included), shipments get sent and delivered quickly.
Best Features:
Automation of all shipping- and return-related processes
Generation of shipping labels and documents
Integration with 500+ shipping couriers from around the world
Branded tracking pages
Price:
The app has a 7-day free trial for 500 shipments. The premium subscription cost starts at $50/year.
Why use the Returns & Shipping Automation app?
This is the best shipping app for Shopify with a flawless 5-star rating from 370+ online store owners. You can automate most processes related to product shipping and returns, and speed them up to keep customer satisfaction high.
21. Easyship - All in One Shipping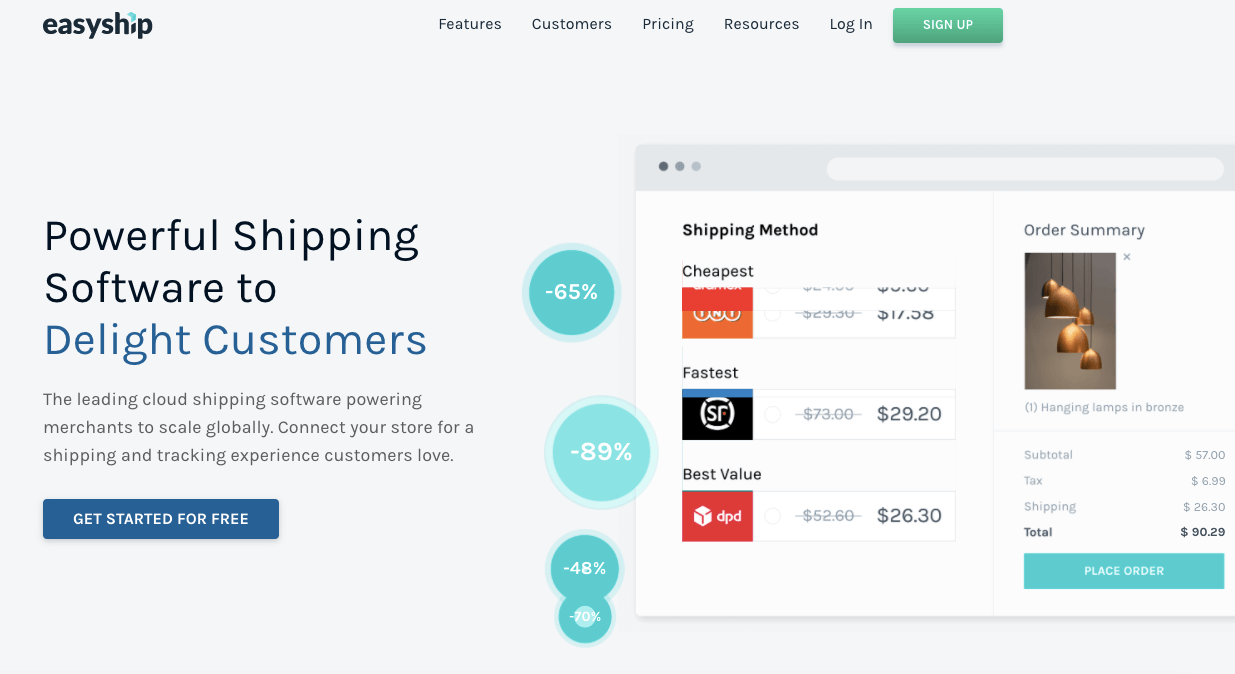 Easyship is designed to help Shopify businesses expand internationally. It's one of the best Shopify shipping apps in this regard because it automates tax duty calculations, prepares paperwork, and gives access to top international couriers.
If you're planning to deliver products to international customers, you'll enjoy special rates for Easyship users and automatic document management. The app also generates domestic return labels for easier product returns.
Best Features:
Access to 250+ international carriers
Special, pre-negotiated shipping rates for Easyship customers
Add multiple shipping options to checkout pages to increase sales
Price:
Easyship users pay for shipped orders. The rate to make a 1-4 day delivery from the U.S. to Spain with DHL is $43.30. You can choose a longer delivery time (11-17 days) and reduce the cost to $24.23. Use Easyships' shipping rate calculator to learn more rates.
Why use Easyship?
Easyship is one of Shopify shipping apps that cooperate with top couriers and offer market rates. It's a good option if you'd like to make international deliveries, and there's a chance to reduce costs a bit with Easyship's discounts.
More tips and apps for faster shipping:
Best Shopify Wholesale Apps
Wholesale sales in the U.S. reached $8.6 trillion and continue to rise. If you want to start a wholesale business, consider these top Shopify wholesale app options to get started.
22. Quantity Breaks & Discounts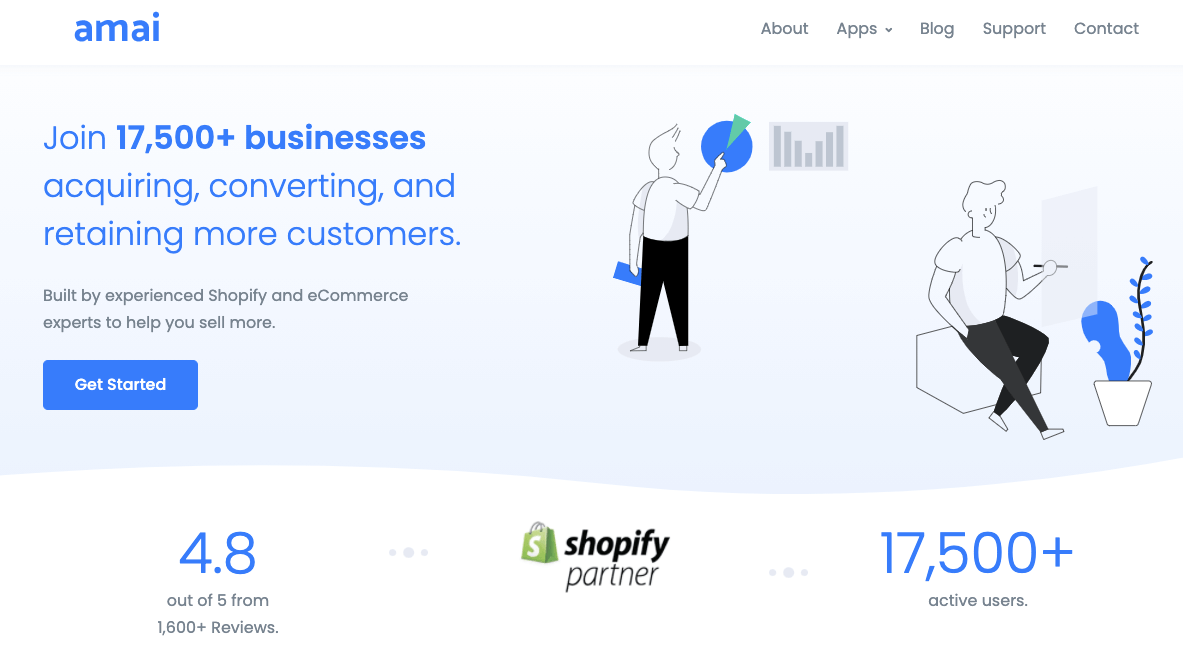 With Quantity Breaks & Discounts, you can create custom pricing and volume discounts in minutes to sell wholesale. This Shopify wholesale app has options to apply discounts to specific products, categories or the entire store. Also, you can create special offers like "purchase 2 products, get 20% off."
Quantity Breaks & Discounts is the best wholesale app for Shopify with a free plan. The functionality is very limited, but you can learn how to make wholesale pricing for sure.
Best Features:
Creation or scheduling of discounts for product and categories within minutes
Add 30 discount and sale badges to product pages to encourage buying
Display customer savings information on product pages
Price:
A free plan for 100 products and tiered pricing for the first product bought by a customer. Premium plans with no limits begin at $19.95/mo.
Why use Quantity Breaks & Discounts?
You can apply bulk discounts for 100 products for free and get your wholesale business started. This Shopify wholesale app is easy to learn and use, so it's a good option for beginners.
23. Wholesale Club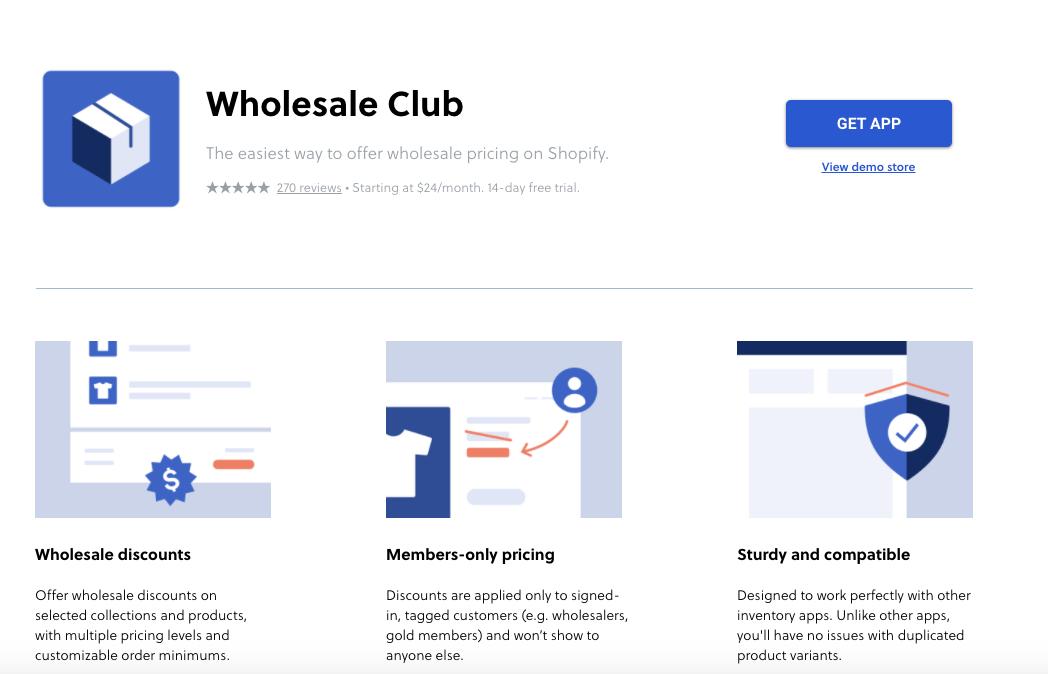 Wholesale Club is a popular Shopify wholesale app option for growing businesses. Although the app costs $24 per month, it has a healthy 4.4-star rating, with hundreds of reviews mentioning easy setup, amazing customer service, and lots of price flexibility.
You can quickly build a wholesale catalog and start offering products. The wholesale pricing is available for all customers but you also have the option to make members-only pricing for signed-in clients.
Best Features:
Wholesale discounts for products and categories with custom order minimums
Member-only pricing for better deals for repeat clients
Easy inventory management with no duplicates of products or variants
Price:
The most affordable plan costs $24/mo for 300 monthly orders. The Pro plan with unlimited orders sells for $49/mo.
Why use Wholesale Club?
This Shopify wholesale app is a bit pricey, so it might be more suitable for larger online businesses. But if you invest $24 per month, you'll get everything you need and avoid problems such as product duplicates.
Best Shopify Abandoned Cart Apps
Almost 70% of all shopping carts get abandoned. A Shopify abandoned cart app can recover up to 25% of sales with automatic options to connect with customers.
24. Firepush

Yes, that's the third time Firepush appears in this list of the best Shopify apps.
Here's why:
That's not all—
You, too, can choose to recover sales with three strategies: email, SMS, or push notifications. And, you can try everything for 14 days for free and see why 658 Shopify store owners gave the app a 5-star rating.
Best Features:
Automated cart recovery emails, SMS, or push notifications
Cart recovery campaign analytics
One-on-one onboarding session for every user
Email, SMS and push notification marketing features
Price:
The most affordable plan costs $15/mo for all abandoned cart message types and promotional campaigns. The plan also has email and SMS marketing features.
Why use Firepush?
Firepush is one of the best Shopify abandoned cart app options because it combines three recovery methods: email, SMS, and push notifications. You can choose among the three, and send out automatic campaigns. The app also has marketing options, so it could be a go-to Shopify remarketing app.
25. Discount Spin Wheel Exit Popup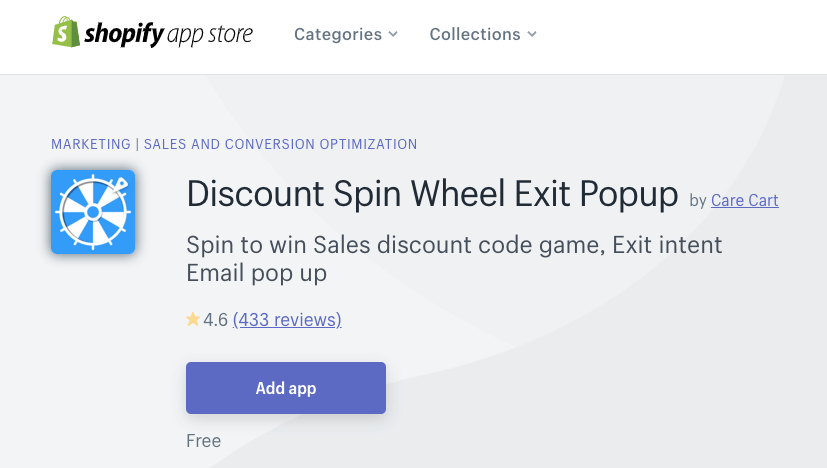 Discount Spin Wheel is a Shopify abandoned cart app suitable for new and small businesses. It's free and has a 4.6-star rating from 430+ eCommerce stores. If you're using discounts to recover abandoned carts, this free Shopify app could be an excellent option.
The app grabs the attention with a discount spin wheel full of perks. The wheel appears when a customer tries to leave the store without finishing the purchase. To get a perk, say, a 10% off, the customer has to spin the wheel.
Best Features:
Exit-intent spin wheel pop-up to prevent shopping cart abandonment
Uses gamification to engage more customers
Detailed wheel usage statistics for reporting
Customization available to change the language of wheel contents
Price:
Free to use.
Why use Abandoned Cart Recovery Hero?
"Extra costs" are the top reason why consumers don't finish the purchase. Discount Spin Wheel is one of the best Shopify abandoned cart app options that add gamification—a spinning wheel. You can try this method to recover Shopify carts, the app is free.
Tips and guides to recover more sales:
Best Business Reporting App for Shopify
Keeping track of sales, expenses, and profits is a must for successful budget management. BeProfit is an all-in-one profit calculator and business reporting app.
26. BeProfit Profit Calc & Reports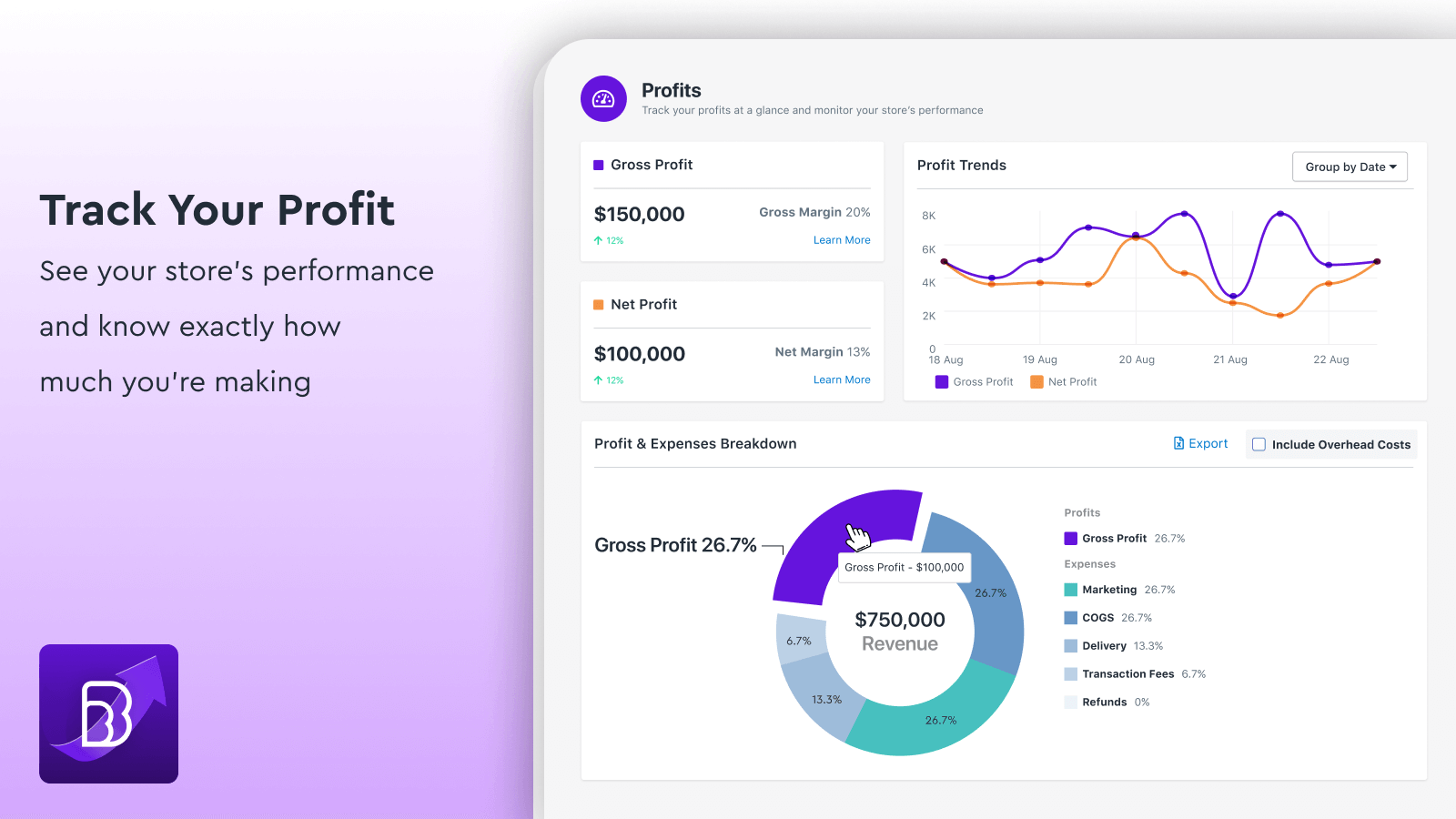 The BeProfit profit tracker app is a reliable Shopify app to calculate many useful business metrics. In one dashboard, you can track and download reports about total profits, profits per order, marketing expenses, cost per goods sold (COGS), and others.
Using BeProfit is a great way to keep track of critical financial information. Besides, you'll be able to monitor which products are selling, how much inventory is left, and whether all the taxes are paid properly.
Best Features:
Automatic tracking of essential business metrics (orders, taxes, inventory, COGS, etc.)

Customize and download reports on any metrics on demand

Integration with all major advertising platforms and Shopify
Price:
BeProfit has a free plan for 20 monthly orders. Paid plans with advanced analytics begin at $25/mo.
Why use BeProfit?
BeProfit is a straightforward app for tracking profits and generating business reports, even for beginners. You have every metric in one dashboard, so no need to search for information elsewhere. Besides, all reports are simple, and you can view and edit them on the go.
Best Shopify Apps for New Stores: Summary
Here you go, 24 best Shopify apps for your online store.
These must-have apps have the highest ratings, and they helped many folks grow their Shopify businesses. Consider using them to give your online store more features, and let them serve you well on the road to becoming a success.